Frantic race to save Wall Street giant
03/17/2008
This
is a fascinating tale of just how serious the Bear Stearns event was
and the political and financial machinery that was brought to the table
to sculpt a solution.

Frantic race to save Wall Street giant

Schwartz, who had taken over the helm from Cayne in
January, knew that without an immediate cash injection the 85-year-old
institution, which had survived the Great Depression, was bust.
He called his key adviser, Gary Parr, the deputy chairman of Lazard and
one of a handful of men on Wall Street able to raise serious cash at
short notice.
One of his first calls was to Jamie Dimon, the chairman and chief
executive of JPMorgan. Once Dimon heard the extent of Bear Stearns's
difficulties, it was clear he would have to help somehow.
The President, George Bush, was notified and Chris Cox, the chairman of
the Securities & Exchange Commission, was put on alert. Calls were
made to Tim Geithner, the president of the New York Federal Reserve,
and Ben Bernanke, the chairman of the Fed. The men gathered their teams
and began trying to work out how they would react.
---
MF Global (BIG brokerage) shares slump 64%
03/17/2008
The share price of MF global has fallen off a cliff. If you have money there, get it out. Now.
SAN FRANCISCO (MarketWatch) — MF Global Ltd. shares slumped 64% on
Monday amid a broad decline in other brokerage stocks. MF Global is a
leading commodities broker. The stock was recently down 64% at $6.21
during midday trading, outpacing most other brokerage shares
I wish I could keep up with
everything…right now I am merely trying to help dodge bullets and
protect what you've got. If you have money at MF Global there's a
pretty good sign here that something is badly wrong.

Last year I had money with a Futures outfit called Lind-Waldock. I saw
their share price plunge one day and immediately wired my money out of
there. In this business, shoot first and ask questions later.

I will now be screening the share prices of all brokerages
carefully because our first clue that there's a problem always comes
from the stock price. Press releases come later. Much later. Mine
happen to be Ameritrade and Optionxpress. If you have one or more that
you;d like to put on my watch list, just let me know. So far so good on
mine….

Check out this ugliness….
---
Sunday Night (3/16) – Serious carnage in world markets, US futures, and US dollar


There is serious carnage in the overnight markets unlike any I have
seen in all my years of watching. My only question is, "How soon will
the markets be rescued?"

Update Monday (7:40 a.m.)

OK. I finally got some sleep and it seems that things in the US futures
and dollar markets remained stable between 12 and now (7:40).
Asian and European stock markets got pretty well clubbed falling by
anywhere between 2% and 5%. If the Dow fell by a similar amount it
would fall anywhere between 240 and 600 points. I fully expect the
Plunge Protection Team to be in full swing today. If they are
successful, my expectation would be for the US stock markets to close
by something less than 2% down. Say, %1.0 to 1.5%.
If they are not successful it would be the first suspected failure of
their activity in several years. Under this scenario it would shatter
an already wobbly sense of market confidence in the ability of our
authorities to be "bigger than the market". If it turns out that the
market is too large to manipulate, then I would expect a serious
decline on the order of 500+ points plus an elevated chance of
authorities simply shutting the markets down for a period of time.
What would I do if I were holding stocks that wanted to sell here?
Personally, if I just had a few remaining issues to sell, I'd wait for
the next bounce and sell then. Last weeks 400+
point Dow bonanza was a perfect gift for those seeking to lighten up. I
fully expect another gift at some point in the future. If, however, I
had not yet lightened my portfolio, I'd lighten up some today and save
the rest for the next bounce.



(End of update)

---
Update (Sunday 11:39 pm)
Here's what I know. JP Morgan has made a final bid for Bear Stearns
of $2/shr and it has been accepted (confirmed). Now please keep in mind
that this is a stock that closed at $30 on Friday and was $80 about a
year ago. If a major US financial institution can collapse like share
of a Pet.com, well, this raises questions about other banks in my mind.
Also, I wonder if JPM didn't overpay. Don't forget, it was just two
years ago (when things were simpler) that Fannie Mae that had to hire
1,500 accountants, spend 1.5 years, and $800 million just to find out
how much they made or lost in a given year. Think the guys at JPM
managed to completely price out BSC in a single weekend? I don't. So I
suspect there's an explicit backstop guarantee in there somewhere
either by the US government or the Federal Reserve.
The Fed also cut their discount rate tonight. I think it likely they
will cut their main rate (the Federal Funds rate) tomorrow before the
stock market open. Several key measures of interbank lending are
showing surprising weakness tonight.
Here's a great article by John Markham at MSN Money
that explains why stocks are probably going to get killed over the next
few months and argues convincingly that you should be out of them. This
article confirms the Wile E. Coyote posting of yesterday. Read them
both if you have any doubts.
---

There is serious carnage in the overnight markets unlike any I have
seen in all my years of watching. My only question is, "How soon will
the markets be rescued?"

he 'hope' for tomorrow was that JPM would finalize the buy-out of a
ruined Bear Stearns. If that does NOT happen, then the forced
liquidation of untold billions of highly exotic, structure financial
exotica will result forcing the balance sheets of many a large
financial institution to be ruined.
Here's what I am watching very carefully tonight (I may not get any sleep).

The first is the US dollar. It has commandingly broken to a new
low. I have a strong interest, as do we all, in seeing that it does not
break down any faster from here. If it does, we raise the possibility
of two serious outcomes. So here's the dollar. Keep an eye on it (when
this chart moves down, the dollar is sinking).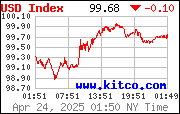 The first would be that US interest rates suddenly spike in
response to sudden selling of US Treasury bonds by foreign nations
seeking to "get away" from their US dollar holdings.
The second would be a violent 'unwinding' of the so-called carry trade
which are simply very large and very leveraged bets made by peculators
that they could borrow in one currency, lend in another, and pocket the
interest rate differential that exists between them. This is a
sure-fire money maker when things are stable and a potential neutron
portfolio bomb if the currency you have been speculating in suddenly
strengthens.
The most heavily speculated currency? The Japanese Yen, bar none.
So we're going to keep an eye on that (when this chart is going down,
the Yen is strengthening…which is b.a.d. for the carry-trade crowd).
Lastly, I am watching the stock future very carefully. As of this
writing (11:10 p.m.) S&P 500 futures are down 35 points. Ouch. If
these are not repaired later tonight, we can expect a 300-400 point
down day in the Dow….for starters.

Update (12:02 a.m.)

The main concern here is that we could face a systemic failure of the
world financial system. While this might seem highly improbable, even
now, the probability is something greater than zero.
Even the head of global credit strategy at Morgan Stanley recently put the odds at "50%" of a systemic financial crisis.
So what would a 'systemic crisis mean to you and me? That's very
hard to say at this time because we've never seen this particular
constellation of troubles before.
My main concern would be to coast through the rough patch that
might arise and stick around for the next few weeks. If I wake in the
morning and find that the fed is slashing their main Fed Funds rate,
that the stock market is tanking and that bank stocks are plummeting, I
will get myself down to my bank and, suspicious activity reports
notwithstanding, I will take out a sizable amount of cash to protect
against the possibility of a bank holiday.
Odds are that this all blows over, but then again, maybe not. Since the
cost to me of taking cash out is very low (current checking yield =
1.05% per annum) but the risk of leaving it in is very high, I will
gladly trade a few stares from the teller for peace of mind.
Of course, this is just one person's response and yours shoudl make sense to you.
Good night.

Update (12:39 a.m.)


OK – one last update. What do I happen to like in this current
environment? Over the short term, I am favoring two very liquid things.
Gold and silver. As the dollar gets killed by the
erosive effects of the constant bailouts, gold will shine. Further, gold
and silver are traditional 'safe haven' stores of wealth that tend to
benefit from uncertainty and turmoil.
Foreign currencies. I especially like the Swiss franc,
but also hold some Canadian dollars. I am not a fan of the Euro, but
only because I do not understand (read: trust) the political
establishment that rules the Euro.
---
The
fed cut rates yesterday, although not as much as 'expected' (read:
'hoped') by the ever hopeful stock selling industry. Nonetheless stocks
rocketed higher by a huge amount. Did this make sense? Not if these
data mean anything.


Lots of items are clearly pointing towards recession, which, if true,
*should* be very stock unfriendly. In each case below I am providing
some commentary, a link, and then a snippet from that link (in the
quote box).

Exhibit A:

Tax receipts by the government are one set of data that I trust
because they are not "seasonally adjusted", hedonically adjusted or in
any other way manipulated. They simply are what they are. And taxes are
very sensitive to economic conditions, so they are pretty reliable
indicators of how things are going. In February the government reported that tax receipts were down by 12.1% over the prior year.
That's a very significant decline and it clearly signals some pretty profound economic weakness if not a recession.
TRIBUNE NEWS SERVICES March 13, WASHINGTON – The federal government
budget deficit widened to a monthly record $175.6 billion in February,
as a weakening economy reduced tax revenue for the second consecutive
month.
Revenue last month fell 12.1 percent, while spending
increased 17.1 percent, the Treasury said Wednesday. The shortfall was
bigger than the $170 billion deficit economists had forecast and
compares with the previous record of $120 billion in February of last
year.

Exhibit B:

I know we don't manufacture nearly as much as we used to but our
manufacturing base still gives us some indication of how things are
going. Last week the Empire State Index which measures manufacturing
throughout a fairly large region in the NY/PA/NJ area reported a huge
decline, much larger than expectations, to a new all time record low.
WASHINGTON (MarketWatch) — Manufacturing activity in the New York area
plunged for the second straight month in March, the New York Federal
Reserve Bank said Monday. The bank's Empire State Manufacturing index
fell to negative 22.2 in March, a record low reading. The index had
fallen to negative 11.7 in February from 9.0 in January. Readings below
zero indicate contraction. Economists were expecting the index to
improve slightly to -5.0 in March.

Exhibit C:
Job losses. A net loss of 63,000 jobs was reported for February.
This was the combination of a terrible 89,000 jobs lost in construction
and manufacturing but offset largely by addition of 50,000+ jobs in two
areas; Leisure & Hospitality and Government Hiring. So we're
producing a lot less but that's apparently offset by the fact that
we're taking more vacations and working for the government in ever
larger numbers.
Actually, it's even worse than that. The government uses a variety of
methods to estimate the rate of job creation and one of the more
suspect items in their repertoire goes by the ear-catching name of "the Birth-Death model".
What this model does is either add or subtract jobs from the actual
data that is sampled from establishments (businesses). For the past
five years the B-D model has only added jobs for 10 out every twelve
months and February is always an "add" month. How many jobs did the B-D
model add? 135,000. Without these 135,000 modeled jobs the reported
employment number would have been closer to negative 200,000 jobs. To
help you understand why I am deeply suspicious of the output from this
model is illustrated by the fact that it calculated that 9,000
construction jobs were added to the economy in February. This brings us
to…
Exhibit D:
Housing. There has never been a big downturn in
housing that was NOT associated with a recession. In fact, history is
quite a burden for anybody who wants to claim that this time will be
different and that we won't have a recession even though housing
activity is falling off by the largest amounts ever recorded. The most recent data?
WASHINGTON (AP) –
In another sign of
troubles in housing, construction of new homes fell by a larger-than-expected
0.6 percent in February to an annual rate of 1.065 million units.

So, taken all together, we have weak tax receipts, declining
employment, slumping manufacturing, and housing in a free fall but,
thankfully, a buoyant stock market. Don't fall for it. Something has
broken down. Once the stock market used to be called 'the great
discounting machine' because of its ability to rise and fall in advance
of news, either good or bad. Now? It's so far behind the news that we
can only speculate as to why, or for how long, but we can be sure that
the risks of holding stocks right now are extremely asymmetrical; that
is, the chance of losing 30% is probably equal to the chance of gaining
10%.
But
the real cause for concern is not in the fundamental economic data
listed above, but the extremely troubling signs that remain in the
financial arena. The ones that give me the most pause are:
The TED spread measures how willing
banks are to lend to each other and, when things are healthy, is
usually within 30 'ticks' (30/100 of a percent) of T-bills. Today it
started out at 165 ticks away (yikes!) and shot straight up to finish
the day at 203 (gulp). This tells us that banks are refusing to lend to
each other, that their confidence is at an unusually low ebb, and that
the valiant efforts of the Fed may have reinflated stocks but their
actual target, system liquidity, is not responding as hoped. In times
past, such as in 1987, the TED spread has had an uncanny ability to
blow out (like we saw today) right before a big market crash. I'm not
saying we're definitely going to have a market crash, but this sign
alone makes me very nervous for anybody holding a lot of their assets
in stocks.
Treasury bonds continue to
get bought, bought, bought. This too is usually a reliable sign that
economic weakness is on the way and is a very strong indicator that a
recession is either here or will be soon. Again it's not a 100%
certainty, but we can state that either stocks or bonds are making a
colossal mistake here because they are signaling very different things.
Rumors, rumors, rumors. Besides the
vast number of articles indicating that Lehman may be next in line, I
am hearing lots of grumbling about the prospects of a great many banks
and brokerages. Where there's smoke there's usually fire. Is it
possible that the problems began and ended with Bear Sterns? Yes, but
it's not probable.
My bottom line? I consider the mysterious stock buying spree of Monday
and Tuesday to be a gift for those seeking to lighten their stock
positions. My concerns about the viability of the banking system remain
fully in effect and nothing I have seen over the past three days has
done anything but confirm my beliefs about the seriousness of the
underlying situation.
More to come…
---
Inflation; 90% of Americans say they are concerned about rising prices, according to a new poll
03/19/2008
Despite the 0.0% inflation reading proclaimed by the government for
February, it would seem that the average American is experiencing
something else. While we are told one thing, we experience another and
for many this creates a sense of confusion
NEW YORK (CNNMoney.com) — Americans are worried about the economy, and inflation tops their list of concerns.
[However] through a series of recent speeches, Fed
officials have made it clear that their primary concern is
unemployment. Though they have stated that rising inflation is a worry,
the central bankers have pledged to continue to cut rates in an attempt
to prevent the economy from entering a recession and losing even more
jobs.
"The Fed's biggest concern right now is supporting the
financial system by trying to stimulate growth," said Bullard. "The Fed
is counting on the fundamentals – rising inflation should dissipate as
the economy slows."
Inflation
is clearly a serious concern and people are now talking about it and
experiencing it differently. 91% is a commanding majority.

The reason is because inflation has two components.

The first is strictly the monetary
component. Too much money is printed and this causes prices to rise.
Think of this as the 'mechanical' part. It just happens all by itself
on account of the money flooding the system.
The
second part is related to 'expectations' and this is the sociological
component. Once people expect their money to lose value, this becomes a
self-fulfilling prophesy as people rush out to buy things before their
money loses value which cause things to skyrocket in price fulfilling
the loss of value expectation. Once this takes hold inflation gets an
afterburner lit and really takes off.
The second reason is why the Fed spends so much time worrying about
whether or not 'inflation expectations remain well-anchored'.
This focus on expectations and the well-characterized,
well-understood, and oft-studied meaning that merely controlling
people's beliefs about inflation are at least as important as actually
running a sane monetary policy.
Now, for those of you who have been to The Crash Course seminar
know where I stand on this. Our "official" inflation measures are so
far below any true measure of inflation that one could consider them
fraudulent.


The reason for this? Simple. If inflation was actually reported at its true rate the following effects could be predicted:

Bonds would crater forcing interest
rates much, much higher. Who would buy bonds if the official story was
inflation was 8% but long-term bonds were yielding 3%? That's just a
guaranteed way of losing 1/2 your money to inflation every 14 years. As
long as the 'official story' is that inflation is low and bonds are
low, everyone can continue to play the game pretending otherwise. If
bonnd yields went up the cost to government would be enormous, so
there's a strong incentive to play the 'inflation is low' game.
Social Security checks would be far higher. The impetus here is obvious.
GDP
would have to be stated as being far lower than it currently is. This
is because inflation is subtracted from the reported GDP number
because, well, inflation fueled 'growth' is not growth at all, so it
must be subtracted. The higher the official rate of inflation, the
lower the GDP.
Mortgage costs would be far higher forcing house prices even lower.
Stocks would go down as the well-characterized relationship between higher bond yields and lower stock prices came into play.

In short, beyond 'keeping expectations well-anchored' there are lots of
pressures to keep the 'official' rate of inflation understated.


And so it is.

---
While
stocks seemingly are charting a brighter future against all known
current data, a mysterious and violent smack-down of commodities came
just in time to help validate the Feds decision to lower rates and bail
out big banks.

While today's news unambiguously points towards recession, stocks had
another great outing with the Dow posting another "Happy and Shiney "
print of +266 points. Of course, this is rather odd because recessions
are very bad for stocks, with the average recession peak to trough loss
being about -28%. Today we got these bits of news:

Leading index shows US economy in recession, ECRI says
NEW YORK, March 20 (Reuters) – The United States is
"unambiguously" in a recession, a New York-based forecasting
group said on Thursday, citing a nine-month decline in its
weekly measure of the economy.

Unemployment claims surge in latest week
Labor Department says 378,000 filed for
unemployment for the first time last week, well above forecasts.
Last Updated: March 20, 2008: 10:39 AM EDT
NEW YORK (CNNMoney.com) — New filings for unemployment claims rose
more than expected last week, matching the highest level since 2005,
according to a report released Thursday by the Labor Department.

CIT Group Plunges on Liquidity Concerns
Shares of CIT Group tumbled more than 44% Thursday,
after the commercial financier said it had drawn on a $7.3 billion line
of credit.

But
the big news for me was the open assault on all things commodity
related with Gold and Silver leading my personal list of concerns. It
seemed a little too cute by half to me that while the rest of the world
was plunging on Sunday evening in response to the collapse of Bear
Stearns, the US futures market quickly stabilized and then, against ALL
odds, proceeded to advance strongly the remainder of the week.

At the same time commodities got hammered and the dollar
strengthened. The reason? Well,margin requirements for commodities were
raised, or at least the threat was put out (even as the equivalent was
lowered for mortgages for Fannie Mae), and so forced liquidation
happened.

In short, everything that needed to happen to reinforce the Fed decision to lower rates happened.

What does this mean to you?

We have an enormous gift on our hands. While I understand why the
fiscal and monetary authorities want to make it seem that Gold and
Silver are undesirable (by driving the price down hard), they've
created a very unusual condition.

Nearly all the major bullion dealers are reporting that they are
out of supply for most silver products. We have a perverse situation on
our hands where the 'official price' as determined by the actions of a
very few large buyers and sellers of paper contracts, is completely out
of line with physical demand.

My view is that such a discrepancy won't last long. Now is a GREAT time
to leg in and dollar-cost-average your gold and silver purchases, should
you have any remaining to go in your personal plan.

---
A grab bag of interesting, attention-demanding articles. 
03/22/2008
Peter Schiff

Mar 21, 2008
How do you know when you're through the looking glass? A fairly good
indication is when the price of gold, which normally moves up in
response to monetary easing, instead plummets in reaction to one of the
largest rate cuts in Fed history. Apparently, yesterday's 6% drop in
gold resulted from the "hawkishness" shown by the Fed in only cutting
rates by 75 basis points, rather than the 100 points that many had
expected. It is a testament to how low the bar has been set that the
Fed can slash rates in the face of a collapsing dollar and soaring
commodity prices and still be viewed as hawkish on inflation. Is it
just me, or is Ben Bernanke morphing into the Mad Hatter?
---

Mortgage Mess Hits Home For Nation's Small Builders

TWINSBURG, Ohio — In the first wave of the housing
crisis, homeowners across the U.S. lost their properties to
foreclosure. Now, many of the nation's small and midsize home builders
are on the ropes.
Builders' problems are now threatening losses for small and
medium-size regional banks. Muscled out of the mortgage business by
large national lenders, many of these banks flocked to construction
lending as the housing market boomed. Though these institutions were
generally less exposed to the subprime-backed securities that have
generated billions of dollars in losses for national banks, they are
the front-line casualties when builders and developers can't make their
payments.
Also this week, the Federal Deposit Insurance Corp. said it had
"increased [its] overall concern" about banks with high concentrations
of construction loans, particularly those for residential developments,
its strongest warning to date about these banks.
This portends the next wave of 'revelations'
that will hit the financial world. I wrote about this phenomenon about
a year ago when I warned that the FDIC, which oversees banks, had noted
that commercial real estate loans had 'crept up' to over 300% of total
bank capital for entire regions of the country, notably the Southeast
and the West. Seems pretty obvious how this will play out. Expect a
solid wave of bank failures. Find out how exposed your bank is to this
by asking them about the ratio of their commercial real estate loans to
total capital. Remember, when a bank loses all its capital, it's out of
business and goes into FDIC receivership and your accounts become part
of that process.

---

BoE denies it is to have emergency meeting to discuss UK institution
03.19.08, 7:21 AM ET

LONDON (Thomson Financial) – The Bank of England (BOE) has
vehemently denied that it is about to have an emergency meeting to
discuss the financial wellbeing of a well-known banking institution.
A spokeswoman for the central bank said 'no meetings have taken
place, or been scheduled to take place' to discuss any institution in
the UK.

'It's complete fantasy,' she said.

Uh oh. I guess that makes it official?
---

Trading suspended in shares of German mid-sized bank IKB

Berlin – Trading was suspended in the shares of the
ailing mid-sized German IKB Industrie Bank Thursday after it announced
losses greater than previously anticipated. Trading was suspended after
the shares had fallen 2.6 per cent to 4.93 euros.
The bank, which primarily offers long-term finance to German companies,
said losses would total 800 million euros (1.2 billion dollars) over
the financial year to March 2008, up from a maximum of 700 million
euros previously made public.
The Dusseldorf-based bank said it had been forced to write down the
value of more of its assets.
---

Partying Like It's 1929 (Paul Krugman)

Contrary to popular belief, the stock market crash
of 1929 wasn't the defining moment of the Great Depression. What turned
an ordinary recession into a civilization-threatening slump was the
wave of bank runs that swept across America in 1930 and 1931.
This banking crisis of the 1930s showed that unregulated, unsupervised
financial markets can all too easily suffer catastrophic failure.
As the decades passed, however, that lesson was forgotten — and now
we're relearning it, the hard way.
---
Calls grow for U.S. to bail out homeowners, prevent foreclosures
(LA Times)
From Wall Street to Capitol Hill, calls are growing
for the government to get into the mortgage business as the only way
out of the housing crisis roiling the economy and the financial
markets.
Proposals to shore up tottering home loans with taxpayer money are
gaining traction in Congress and moving to the forefront of
presidential politics.
Federal Reserve Chairman Ben S. Bernanke has also called on the lenders
themselves to reduce the amount of principal that troubled homeowners
owe on their loans.

As I have always said, the pressures to
bailout all the parties that made blunders will be intense both
politically and institutionally. Of course, anybody who was prudent, or
saved, or has the bad luck of being young, will get completely shafted.
Savings will be decimated by the twin threats of inflation and low
interest rates while house prices will be artificially propped at
levels that are, frankly, unaffordable.
The young will get to look forward to higher future taxes to pay for
this largess, diminished future options as all this
good-money-after-bad will do zero to enhance the job opportunities for
them. Is there no blunder that the boomers will not seek to pawn off on
somebody else? Will there ever be a time when they might just admit
they made a mistake and will have to feel some pain? We'll see…but
the early returns suggest that this is not the time.
---
Fed's Rescue Halted a Derivatives Chernobyl
If
the Fed did not act to save Bear Stearns, there's a very real chance
that we'd already be living in a very different world. Don't believe
me? then believe the Wall Street insiders quoted in this well-written
article by Ambrose Evans-Pritchard.



Fed's Rescue Halted a Derivatives Chernobyl

Please read this entire article (in a UK paper, of course).
(snippet below, emphasis mine).

We may never know for sure whether the Federal
Reserve's rescue of Bear Stearns averted a seizure of the $516 trillion
derivatives system, the ultimate Chernobyl for global finance.
"If the Fed had not stepped in, we would have had pandemonium,"
said James Melcher, president of the New York hedge fund Balestra
Capital.
"There was the risk of a total meltdown at the beginning of
last week. I don't think most people have any idea how bad this chain
could have been, and I am still not sure the Fed can maintain the
solvency of the US banking system."

A little background. The author of this
article, Ambrose Evans-Pritchard, has been writing about the
irrationality and insolvency of the system for a few years. So he's got
a 'bearish bent' as they say.

But he's also been 100% spot-on the whole way. In this article he
wrote the article I would have written if I had the time, or the
talent.

Also, the man he quotes from Balestra Capital, one of the largest
and most respected funds out there, is a serious insider. He does not
use such words lightly.

The reason I want you to read this is because it reveals just how
close we came (and probably still are) to a major systemic banking
crisis. While our fiscal and monetary authorities are working over time
to paint a very different picture, behind the scenes things are still
grim and risks are enormously elevated.

In short, do not let the recent stock market pump-job, or
discordantly upbeat US news reports about how "the worst may already be
behind us" prevent you from taking decisive action to protect what
you've got and limit your exposures and risks.

---
Share