Yinon, PNAC and the Zionist / US / NATO Project to Destroy Syria
Wed, Apr 12, 2017 - 10:39am

#1

count placeholder

Yinon, PNAC and the Zionist / US / NATO Project to Destroy Syria
Yinon, PNAC and the Zionist Project to Destroy Syria
Ezra Klein, a brilliant liberal Jewish columnist did an excellent video on the drama of the conflict in Syria giving a brief history of the many factions and alliances for those unfamiliar.
https://www.facebook.com/ezraklein/videos/676576025863336/
What is most shocking to me is that Israel, one of the most powerful and active forces in the region, is not even mentioned.  It is like Israel has been photoshopped out of the story.
Israel launders oil sold by ISIS (via Turkey), arms and trains "moderate rebels," conducts bombing raids in Syria, and has tremendous influence on US/NATO war policy via its Neoconservative hold on American ME policy.
I consider this an example of how Klein, a liberal/progressive thinker (GREEN Meme), but with strong ethnic identification, can actually be serving a RED/BLUE function.  Phil Weiss has written extensively about this phenomenon he calls PEZ:  Progressive Except on the issue of Zionism.
So lets review.  Is Israel involved in the destruction of Syria?
———————
1.  Oded Yinon Plan
Oded Yinon was a journalist formally in the Foreign Minstry of Israel.  He published, in Hebrew "A Strategy for Israel in the 1980s" in the World Zionist Organization magazine, Kivunim.  Several decades later, A professor of organic chemistry, Israel Shahak, translates this into English and adds comments.  "The Zionist Plan for the Middle East."  This article articulates a strategy to reshape the Middle East for Israeli dominance. 
Summarizing, Israel must:
1) become an imperial regional power, and
2) must effect the division of the whole area into small states by the dissolution of all existing Arab states. Small here will depend on the ethnic or sectarian composition of each state. Consequently, the Zionist hope is that sectarian-based states become Israel's satellites.
In his endnotes, Shahak explains the journal and article as the internal dialog among the Israeli elites where they debate and find consensus for future policy.
Shahak translates the document to English several decades later in hopes that world attention to this strategic plan can help avoid the horror that it promises to humanity.   [Shahak sounds like a YELLOW Meme Jewish thinker actively working to pull Israel out of the grip of its RED/BLUE Meme dominance and avoid the horrors inherent in the RED/BLUE Meme approach—living by the sword and all that.]
"The total disintegration of Lebanon into five regional localized governments is the precedent for the entire Arab world including Egypt, Syria, Iraq, and   the Arab peninsula, in a similar fashion. The dissolution of Egypt and later Iraq into districts of ethnic and religious minorities following the example of Lebanon is the main long-range objective of Israel on the Eastern Front. The present military weakening of these states is the short-term objective. Syria will disintegrate into several states along the lines of its ethnic and sectarian structure, as is happening in Lebanon today."[-Quoted in Cook, Israel and the Clash, op. cit., p. 109, in the translation by The Journal of Palestine Studies, Spring 1982.]
—————————————————
2.  RED/BLUE Meme Israeli strategist move to Washington DC
The Neocons' Project for the New American Century: "American World Leadership" – Syria next to Pay the Price? by Felicity Arbuthnot
a.  Michael Ledeen, … a neo-con minded Fox News commentator… notes that Desert Storm's driving Iraqi troops from Kuwait in the early 90s was wholly inadequate.  Strategy should have been:
"regime change in Baghdad" (as) "one piece in an overall mission", which should have been: "one battle … against Iran, Iraq, Syria and Saudi Arabia."
b.   On 20th September 2001, two weeks after 9/11, the Neocon group, Project for the New American Century (PNAC) sent a letter to Bush: " … recommending the overthrow of Saddam Hussein, even if no direct link to the 9/11 attack were found." Time to redeem American: "supremacy in global politics (and for) regime changes in Iraq, Iran and Syria."  The destruction of Syria was in the design in the 1980s and again here in 2001.
c.   Professor Hamoud Salhi's gives a lecture … in June 2004, "Syria's Threat to America's National Interest."
"Syria's threat to America's national interest in the Middle East can only be understood in the context of U.S. plans to reconfigure the Middle East. Knowing now that the motive for invading Iraq was strategic, taking over Syria would give the United States further strategic depth in the region … tipping the balance of power (even more) in favor of the United States regional allies, Israel and Turkey."

 "[After thus weakening Syria]…the United States will have completed its final stage of encircling Iran. This would further tip the region's balance of power in favour of Israel and ultimately open new doors" for the U.S. "active involvement in toppling the Iranian regime."
d.  Long before 9/11, in 1996, a report by the Israeli think tank Institute for Advanced Strategic and Political Studies (IASPS), entitled A Clean Break: A New Strategy for Securing the Realm, was written as a private communication to the new Israeli Prime Minister, Benjamin Netanyahu.  The team responsible for the report was led by Richard Perle, and included Douglas Feith, David and Meyrav Wurmser.  Perle personally handed the report to Netanyahu on July 8, 1996.  It was leaked to the public several years later.
Summarizing the "Clean Break" recommendations:
The recommendations to the Israeli government to sabotage the peace process in Palestine and refuse to return captured land to the Palestinians are presented by the authors of Clean Break as part of a larger plan to allow Israel to "shape its strategic environment," by "removing Saddam Hussein from power in Iraq," weakening Syria and Lebanon, and finally Iran. Clean Break does not describe Iraq as a threat, but as the weakest of the enemies of Israel, the least dangerous and the easiest to break.

In a follow-up to Clean Break, entitled Coping with Crumbling States: A Western and Israeli Balance of Power Strategy for the Levant, Wurmser emphasizes …[that t]he changes proposed …are not expected to bring any benefit to the Arab world. Instead, the goal is clearly to weaken Israel's enemies by sharpening ethnic, religious and territorial disputes between countries and within each country. After the fall of Saddam, … Iraq will be "ripped apart by the politics of warlords, tribes, clans, sects, and key families," for the benefit of Israel. 
4.   In May of 1993, Ariel Sharon formally proposed in the Likud Convention that Israel should adopt the 'Biblical borders' concept as its official policy. From "Jewish History, Jewish Religion.  The Weight of Three Thousand Years." By Israel Shahak. Page 9
Greater Israel's Biblical Borders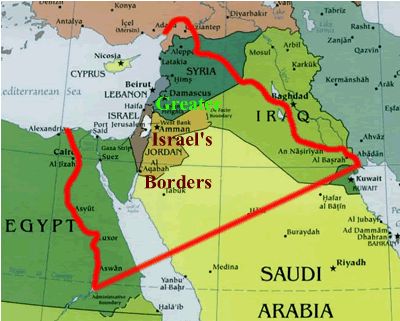 Wed, Apr 12, 2017 - 07:30pm

#2

count placeholder

Tulsi Gabbard gets it
3 minutes showing why Tulsi Gabbard Is HATED BY AIPAC ZIO-MOB WARMONGERS !

Posted by TheTruther.us on Tuesday, April 11, 2017
Christopher Bollyn's discussion of the background of 9/11.
Thu, Apr 13, 2017 - 03:03pm

#5

count placeholder

Recommend the first 3 minutes of this video
The video listed above by Time2Help is a lecture by Christopher Bollyn.
In the first 3 minutes he lays out his central thesis and I recommend the first 3 minutes at least.
–that the War on Terror was a consciously designed construct to bring the economic and military might of the USA / NATO into war against the Muslim world for the purpose of improving Israel's regional dominance in the Middle East. (This is a very RED / BLUE Meme world view!) 9/11 was a brilliantly organized and implemented event that took the GWOT operational.
I have heard Bollyns talks, once in person, and twice on video and find him to be pretty clear, not too overly rhetorical in style, and easy to listen to.
AS always, the qualifier:
1. The Militant Zionist / Likud / Neocons who did this are mostly Jewish.
2. But most Jewish people are NOT Militant Zionists / Likud / Neocons.
3. It is especially important that the progressive Jewish community step beyond their instinctive ethnic identification and be able to see what this militant faction is doing.
Jim Lobe is a Jewish commentator who writes on this group extensively:
Although a number of prominent Catholics are neoconservatives, the movement remains predominantly Jewish, and the monthly journal that really defined neo-conservatism over the past 35 years, Commentary, is published by the American Jewish Committee. At the same time, however, neo-conservative attitudes have reflected a minority position within the US Jewish community as most Jews remain distinctly liberal in their political and foreign policy views.
In fact, liberal American Jewish people are very reluctant to learn about what their militant brethren are doing and are horrified when they finally let it in.
Thu, Apr 13, 2017 - 09:37pm

#6

Status Member (Offline)

Joined: Oct 03 2008

Posts: 96

count placeholder

Watch it all…
sand-puppy;
I thought that I had a good handle on this… This video is one of the best I have seen… I am a student of spiral and have read most of KW's books. However, I was turned off after some correspondence with one of the leading lights of spiral who I had corresponded with over several years. In some correspondence in which I asked if he would be willing to meet with someone from Boulder who might have an interest in spiral, I, as an aside, asked him what he thought of a David Ray Griffin book on process theology. He replied that — essentially — DRG was persona non grata due to his books on 9/11.
Thu, Apr 13, 2017 - 10:32pm

#7

count placeholder

Bloomberg Reporter, Lake, Says 50,000 Troops to Syria
http://www.zerohedge.com/news/2017-04-13/trump-may-send-50000-troops-syria
It appears that Mike Cernovich, who earlier this week wrote that Trump's national security advisor, Gen. H.R.McMaster, was planning on sending as many as 150,000 troops to Syria, may have been right again. According to Bloomberg commentator Eli Lake, who has now made a habit of confirming Cernovich "conspiracy theories" (he did so previously with the Susan Rice scoop), Trump may be on the verge of escalating the proxy war in Syria by sending anywhere between 10,000 and 50,000 troops on the ground, and – if Cernovich is indeed correct – as much as three times more.
[Lake] says that McMaster, has been quietly pressing his colleagues to question the underlying assumptions of a draft war plan against the Islamic State that would maintain only a light U.S. ground troop presence in Syria." McMaster's critics inside the administration say he wants to send tens of thousands of ground troops to the Euphrates River Valley.
*sigh*.
Probably not enough if history is any guide.
What it will take until enough people say "enough is enough"?
What was the body count for WWII, 60 million? Vietnam, 2 million?
What's the GWOT body count so far?
…what does one do with this knowledge?
It seems to fall into the same bucket as the 3E's, peak oil and climate change. Impossible to unknow and equally impossible to do much about. And, most maddeningly, not possible to speak about in polite society.
It's hard not to feel that the world we live in becomes increasingly FUBAR the response from nearly all quarters will be incomprehension in two flavours: passive or belligerent.
Truly we are living in a looking-glass world.