What tools will be good for the transition?
Wed, Sep 21, 2011 - 07:57am

#1

Status Member (Offline)

Joined: Sep 18 2011

Posts: 2

count placeholder0

What tools will be good for the transition?
I guess a good tool to have will be one that will:
A. Give a sginificant advantage in doing some work.
B.will be hard to manufacture, so there will be need for such tools, and only you will have one.
C.will need training to use, so you will be the only one in the area able to use it, so there will be no point in stealing it.
I haven't thought about it much but things that come to my mind:
Topographical maps, Laser pointers, calculators…
what do you think?
Wed, Sep 21, 2011 - 11:36am

#2

Status Diamond Member (Offline)

Joined: Dec 13 2009

Posts: 1461

count placeholder0

tools
Good topic, falsealarm.
Hubby hopes to be a repair guy post crash. Tools are a very important part of that. Hubby is a building systems technician (fire alarm, security, HVAC, computer) and we have to duplicate the tools he would normally borrow from his company work van. The biggest expenses will be ladders and an oxy/aceteylene welding set..
You bring up a good point: if you have tools but they get stolen, what good were they? Camoflage during any unrest will be a great idea, but luckily we have a large shed. For home you simply want to have a basic toolkit but I have to stress that they must not be POWER tools and they have to be high quality. Think Sears Craftman hammers and contractor-grade everything else. Stock up on work gloves, too. . . cotton AND leather ones.
I'm concentrating on gardening tools: decent rakes and shovels and hoes and such. A high quality hand spade and hand rake and extra lumber for a square foot garden are just as important as compost and seed. On thing we discovered is that a nice brass hose sprayer lasts nearly forever; the cheap plastic ones are not the way to go.
We have bought extra garden tools, axes and saws (with replacement blades), multi-tools, ratcheting cargo straps and a heavy duty come-a-long… extra packs of leather and rubber coated gloves and good quality rain gear. Lots of Craftsman tools and hand powered drills.
I also bought a neat little manual (push) operated cultivator (lehmans.com) with an extra set of replacement tines. I haven't tried it yet, it looks so nice, I don't want to get it dirty
– We are always looking for sales, to pick up something we don't have duplicates of….
Since I have cattle, we also stock a few extra ropes and some fencing materials, feed buckets and even a medical kit for animal first aid. Plus a stack of 2x4s and 2x6s, fence posts and t-posts.
Anything I use now, I want extras. And, if circumstances deteriorate to the point of bartering, I want to have some things people will need and use…
Wed, Sep 21, 2011 - 06:01pm

#4

Status Member (Offline)

Joined: Sep 20 2011

Posts: 8

count placeholder0

Tools
This is a great topic…I hadn't really thought about building up an arsenal of tools but that does seem like a smart idea. I agree with the post about gardening tools and non-electric handtools being particularly important. Two things I have also considered are sewing machines and canning equipment (though it's probably difficult to find those sewing machines that work with a foot pedal rather than electric). I saw somewhere how you can making a washing machine by using a bicycle (pedaling rotates a canister that you place your clothes inside) – seemed rather clever.
Of course the trick is to find the funds, time, and space for these kinds of things…
Wed, Sep 21, 2011 - 10:20pm

#5

Status Member (Offline)

Joined: Oct 06 2009

Posts: 10

count placeholder0

good comment from SHTF website
Wed, Sep 21, 2011 - 10:20pm

#6

Status Member (Offline)

Joined: Oct 06 2009

Posts: 10

count placeholder0

good comment from SHTF website
Thu, Sep 22, 2011 - 01:06am

#7

Status Bronze Member (Offline)

Joined: Oct 13 2009

Posts: 58

count placeholder0

tools
We have triple and quadruple of all the basic gardening tools. Its amazing what good tools you can find at a yard sale for almost nothing. I do think non-power tools are best but if you have a decent propane generator with propane in the ground you can get many, many years of use and not have to use alot of manpower out of some power tools. This can be a great time and energy saver. well worth the cost of the system.
Here is a very incomplete list of some uncommon things you may want around
sharpening stones
levels
pipe cutter and threader (pipie should be esy to find but you still have to make it fit)
reloading equipment (this will be a great barter item, the neighbor brings you an empty case and you reload it)
welder oxy/act or a diesel weld/gen kit
basic woodworking tools, never know when you will need to repair that window pane or chair
treadle powered sewing machine, we just refurbished my wifes grandmothers from 1898 it works great
chainfalls, come alongs and a pulley system for lifting/dragging heavy items
wire rope or cable with attachments
Most of these item take some training to use properly but that does not mean someone won't try to steal them. The best defense against theft is a being a good member of your communtiy that is always willing to help others.
Then the true "tool" is you.
Rich
Sat, Sep 24, 2011 - 12:09pm

#8

Status Member (Offline)

Joined: Oct 02 2010

Posts: 9

count placeholder0

i have a set of dewalt 18wt
i have a set of dewalt 18wt power tools(drill, saws, etc) and i can recharge them with a solar battery bank that i made….tho there is something similar for sale at beprepared.com
i can run my rototiller 1/2 day on 1/2 gallon of gasoline, which if nothing else demonstrates the amount of energy in a gallon of gas. it would take me several days if not weeks to till that much soil with a shovel. i have both shovel and tiller for now.
along those same lines, while i have a pickup, i only go to the store 2x a month versus my neighbor who drives his prius everyday to the store and he spendsand uses more gas than i do.
go visit any farmer and ask what he/she thinks is necessary to have around….farmers have always known that life is full of surprises..go to farm auctions, and not only can you find lots of goodies, you get a glimpse of one man's efforts to be prepared for anything.
check out a tool rental place, just to see what exists, to see what you might think handy to have
a few 2 x 4 lumber laying around is always good and a large tarp in case 1/2 of your roof is damaged. how many of you have a 20 x 30 ft tarp laying around?
insurance policies may soon be a thing of the past
Tue, Nov 22, 2011 - 08:09am

#9

Status Bronze Member (Offline)

Joined: Oct 31 2017

Posts: 1583

count placeholder0

Open source team creates apocalypse survival kit
http://www.theregister.co.uk/2011/11/17/50_open_source_tools_civilization/

A team of open source enthusiasts is putting together instructions for how to build 50 tools essential to establishing – or reestablishing – a civilization.
The Global Village Construction Set (GVCS) is being developed by the Open Source Ecology (OSE) group, and includes such basic tools as a well drill, steam engine, and brick making machine, along with more complicated devices such as a bulldozer, 3D printer, and 50kW wind turbine. These can be built from scrap or recycled materials at a fraction of the cost of commercial machinery.
"The basic principle is open hardware – building the machines to cover your basic needs," OSE spokesman Nikolay Georgiev told The Register. "Basically, it's about creating a civilization similar to what we have now, but on a smaller scale and all using open hardware."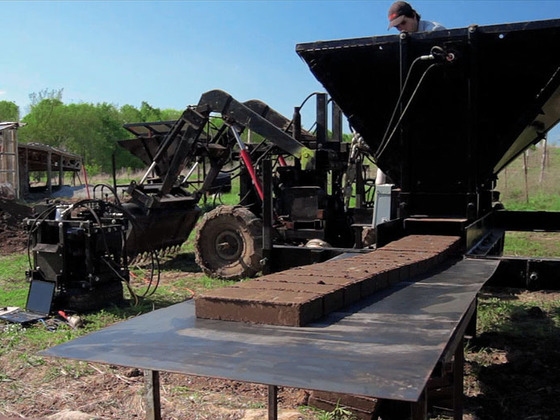 This isn't some kind of idea spawned out of the end-of-civilization-in-2012 angst that is gripping some impressionable minds these days. Rather, it's an attempt to make basic tools available in areas of the developing world that lack basic amenities, or for folks looking for a more sustainable lifestyle – or, for that matter, to simply to stash tool-building knowledge into the libraries of those who worry about what the future may hold.
The OSE was set up in 2003 by Princeton professor of fusion energy Marcin Jakubowski, who decided to go back to the land and start a farm in Missouri after an insight that he had no actual practical skills.
The Missouri move wasn't a success, with fragile farm equipment and little experience, so he designed and built tools himself that were reliable, cheap, and simple designs that could be made by hand. The plan was to build tools designed for long life and maximum efficiency, and that cost the minimum to build and run.
While they won't be winning any beauty contests, Jakubowski's designs were capable of letting him plant 100 trees or make 5,000 bricks in a day – he even built a working tractor in six days at less than half the cost of a commercial vehicle, even when factoring in $15-per-hour labor costs.
"It's about a newly relevant DIY maker culture that can hope to transcend artificial scarcity," he told a recent TED lecture.
Eight basic tools, such as the four-wheel-drive tractor, hydraulic power cube, and brick maker (aka the "Liberator" Compressed Earth Block Press), are finished and the documentation is being finalized, but the team is short around $5m in funding and need more engineers to finish more-complex tools. Some tools, such as the laser cutter and circuit board printer, do seem a little ambitious, but the OSE is concentrating first on getting the basic machinery sorted out.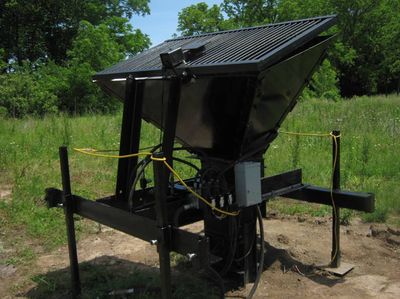 "You have to be able to farm land," Georgiev explained. "Then you start identifying your needs for a similar life to now and thinking how all technology could be developed. There's not just one machine that does all things."
A Kickstarter campaign begun last month has already reached its initial goal, but the campaign is still collecting funds to build a 5,000 square-foot production facility in Missouri, with ten living units for the development team. Documentation for the first eight machines should be online by the end of this year and the team is hoping to crowdsource specialist skills for different devices, with a goal of publishing DIY details for all 50 tools by the end of 2012.
Unfortunately, no machine complex enough to build an actual computer is on the 50-tool list, since the capabilities required are beyond a scheme that's designed to keep smaller units of people alive and in relative comfort.
"It should be possible to apply the principles to computer fabrication, but not for a group on the scale of a village. This is just the first level of the system," said Georgiev.
Viewing 9 posts - 1 through 9 (of 9 total)