What is the ultimate prophylactic cocktail? A thread to collect evidence
Hi all,
I have a question about antihistamines: isn't vitamine C a natural antihistamine? Or do the antihistamines you are talking about have a different MO?
I'm currently preparing for the third wave next winter…
Grts, Dave.
count placeholder0

Mechanism of action; Antihistamines
That is an interesting point DaveDD…  It appears to me that Vitamin C and what we call "antihistamines" are really working via two different mechanisms.  While antihistamines block histamine receptors, Vitamin C appears to act on histamine levels in the blood.  I would therefor not want to assume that Vitamin C can take the place of, say, Claritin, in our prophylaxis regimen.
https://www.ncbi.nlm.nih.gov/pmc/articles/PMC5707683/

Consistent with the animal studies, human intervention studies with oral vitamin C (125 mg/day to 2 g/day) and intravenous vitamin C (7.5 g infusion) have reported decreased histamine levels [61,99,100,101], which was more apparent in patients with allergic compared with infectious diseases [101]. Although vitamin C has been proposed to 'detoxify' histamine [96,97], the precise mechanisms responsible for the in vivo decrease in histamine levels following vitamin C administration are currently unknown. Furthermore, effects of vitamin C supplementation on histamine levels are not observed in all studies [203].
And this…
https://health.howstuffworks.com/diseases-conditions/allergies/allergy-treatments/how-do-antihistamines-work.htm

Antihistamines work by blocking the effects of histamine, the chemical responsible for many of the allergy symptoms you experience. When histamine is released, it binds to special sites called receptors on cells in your nose and throat, causing them to swell and leak fluid. This results in inflammation, nasal congestion, runny nose, sneezing, itching, and other symptoms.

Antihistamines block the effects of histamine by "coating" receptors, which prevents binding. This, in turn, prevents nasal allergy symptoms.
The Origin Story
Mid-Last year DaveF and I both became intrigued with the idea being promoted by a young, brash PhD epidemiologist named Dmitry Kats that Niacin, and in particular the straight (not controlled release or timed release) variety of nicotinic acid that brings on a hot, prickly, itchy flush of the skin, was the sole and singular answer to all phases of Covid-19 treatment.  Kats self produced a study that showed remarkable efficacy in driving viral clearance vs. controls – but it was a study he ran himself, outside of the bounds of any institution.  With Surgisphere in our rear view mirrors… I for one had to be circumspect in what I brought and promoted here, so I for one never sold niacin anywhere near as hard as Dmitry did.
You can still follow Dmitry here.. but be warned he get's kicked off Twitter on a very regular basis;   LOL.. I was going to give you a link but the account I was looking at this morning is gone.  Let's leave that rest for now…..
Still, there was a dot to connect, and that was the counterintuitive fact that several large studies were linking smoking to less chance of getting Covid-19, i.e. that smoking imbued a protective effect.  In fact at least one study of the potential efficacy of nicotine patches against Covid-19 was kicked off.  I found an old, obscure paper published in an analytical chem. journal where lab chemists analyzing the constituents of cigarette smoke found trace amounts of nicotinic acid.  While the amounts were small, the fact remains that this kind of delivery is both the fastest way to get a compound directly into the blood stream, AND we know that interventions (like Povidone/iondine nasal flush) directed at the mucous membranes can be very effective at early stage eradication/prophylaxis).  So, there was at least an argument to be made that this dot connected.
Do No Harm
DaveF did fine work finding out about the various benefits of flush Niacin, >/= 1 gram daily.  He found that if you held off eating fats for a few hours, you get a rush of HGH in the hours afterward.. great for retaining muscle mass.  Niacin has been heavily studied as being beneficial for a healthy lipid/cholesterol profile.  Long terms studies of dosing up to several grams daily shows that it's safe.  Basically, I saw zero downside to taking 1 gram daily, with lots of potential upside, hence I continue using Niacin as a core part of my daily prophylaxis.
The Biochemistry
We know that Niacin is an important dietary factor, and that it plays a role in an alternate, or "salvage" pathway when tryptophan is missing or impaired, in the following biochemical cycle;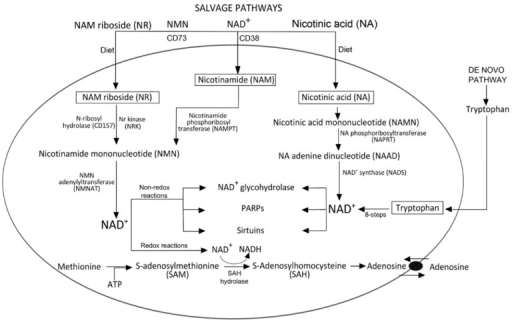 Do we have actual Covid-19 research that points to this cycle being important?  Yes, we do with this paper published in Feb. 2021… although it remains somewhat theoretical;
  https://clinmedjournals.org/articles/jide/journal-of-infectious-diseases-and-epidemiology-jide-7-195.pdf?jid=jide

The COVID-19 Burden or Tryptophan Syndrome: Autoimmunity, Immunoparalysis and Tolerance in a Tumorigenic Environment

on page 8 of 21 we find this;

On the one hand, we have the infection promoting a tendency towards TH1, but inhibited by INF-gamma regulation. The lymphocytes tend towards Treg and this TCD4 + Th2 function establishes a negative relationship in the control of the Th1 pathway, thus NK, Th1, TCD8 + initiate a process of apoptosis and downregulation of its active pathways in inflammation. The large production of ADO1 accentuates this pathway by macrophages and dendritic cells, so the Tryptophan pathway is aimed at inhibition, that is, tolerance. The high consumption of 5-HT by the angiogenic process depletes serotonin, bypassing the tryptophan pathway to produce this essential molecule in angiogenesis and in the development of tumors it is a vasodilator stimulus. Lack of Tryptophan in the tolerogenic Indoleamine 2,3-dioxigenase (ADO)1 pathway polarizes immune system to Treg. The great lack of tryptophan promotes the consumptive syndrome by sarcopenia and the lack of vitamin B3, shifting the metabolism towards anaerobic respiration due to the lack of NAD/NADH+. NAD+ has a positive role in polarizing Treg to Th17, but it is made impossible by the anaerobic pathway. This process together triggers a metabolic explosion with high apoptosis that is being self-fueled by the production of IL-6 via Th2 and by monocytes and macrophages stimulated continuously by new tissue lesions or new bacterial infections, mainly by gram negatives that stimulate IFN-γ. In this hurricane, even more, exacerbated, the constant pro-inflammatory stimulus sustains an established tolerogenic state.
So we can see, both from the logic of the cycle shown above, and the reference here, that supplementing with Nicotinic acid can fill the gap and stave off of the pro-inflammatory cycle that happens in phase II and phase III Covid-19.
For those interested in reading more about Niacin, here is the latest incarnation of the often abrasive, but never boring Dr. Kats;
Mon, Jun 07, 2021 - 03:16am

#45

Status Member (Offline)

Joined: Sep 03 2008

Posts: 2523

count placeholder3

antihistamines and niacin
Apropos of antihistamines dealing with the "day 8 sensitivity reaction" in COVID19 – it turns out, niacin is an antihistamine.
http://getwellstaywellathome.com/blog/2015/06/seasonal-allergies-and-the-niacin-flush/

3. Niacin: What do you run to the pharmacy for when you need allergy relief? Antihistamine. Well, Niacin is not just an antihistamine, it actually metabolizes histamine. It sounds too good to be true, but if you take enough Niacin, it WILL resolve most of your allergy issues, if the allergy is histamine based (meaning this does not cure gluten allergy).
Hoffer also mentioned that niacin was an antihistamine.
Could it be that flush niacin works – but only after day 8, during the "sensitivity reaction" that Dr Chetty was talking about?
https://covexit.com/the-8th-day-therapy-for-covid-19/

"My work showed that we are dealing with a bi-phasic illness: a viral illness during the first 7 days, and on the 8th day, some sort of trigger of hyper-sensitivity, that leads to a release of mediators, histamine being one of them." …

"My protocol quickly evolved to include ecotrin/aspirin and montelukast" …

"With hyper-sensitivity, the most important thing is to start treatment early. The longer you leave it, the cascade of mediators will result in other sequalae and culminate into a cytokine storm."

"But like with other hyper-sensitivity reactions, if caught early, they are easy to cut in."

"So my entire focus became the eighth day. When patients came into my practice, I would Interrogate them about the onset of the symptoms, the exact day they started feeling unwell."

"I would then advise them about what might transpire exactly a week later, which is the eighth day, and what symptoms to start looking for."

"In the second wave, I notice there was a collection of symptoms that seemed to idle the onset of this hypersensitivity reaction, and not necessarily dyspnea, but body aches and pains."

"This seemed to be very typical of an allergic reaction, that you would see with rheumatoid arthritis, with joint pain. There was fatigue, to the point that patients wanted to sleep, or the onset of dyspnea."
Curiously, niacin works for joint pain, and rheumatoid arthritis also.  According to Hoffer & Kaufman.
Would it surprise anyone to hear that high dose, straight nicotinic acid, aka Vitamin B3 Niacin, is better at increasing good HDL cholesterol than prescription statins?  Well it's true – just disregard the mainstream scare tactics that say it could be dangerous;
https://www.mayoclinic.org/diseases-conditions/high-blood-cholesterol/in-depth/niacin/art-20046208
Niacin can raise HDL cholesterol by more than 30 percent. There's currently some debate about the exact role HDL plays in the body and in the development of heart disease. But HDL has generally been thought to pick up excess "bad" cholesterol in your blood and take it to your liver for disposal, which is why HDL is dubbed the "good" cholesterol.
https://www.mayoclinic.org/diseases-conditions/high-blood-cholesterol/in-depth/niacin/art-20046208

Cholesterol levels are measured in milligrams per deciliter (mg/dL) or millimoles per liter (mmol/L):

For men, HDL levels under 40 mg/dL (1.0 mmol/L) increase the risk of heart disease.
For women, HDL levels under 50 mg/dL (1.3 mmol/L) increase the risk of heart disease.
Make note of the HDL level noted above… 1.0 mmol/L is considered too low.  Niacin can help you raise it.  The chart I will post below ranges from 1.0 mmol/L – 2.0 mmol/L.
Now, let's look at some fairly stunning data that was posted in late January of this year.. Literally nobody is talking about this, but they should be.  What's the big deal?  Raising your HDL "good" cholesterol can be as protective (reaching > 50% odds reduction for hospitalization and/or death at the highest levels of sufficiency) as Vitamin D sufficiency.
https://www.ncbi.nlm.nih.gov/pmc/articles/PMC7852244/

After controlling for a series of confounding factors which included health behaviors, inflammatory markers, and socio-economic status, higher levels of HDL-C were related to a lower risk of later hospitalization for COVID-19.
A graphical view of the data paints an amazing picture of a dose vs effect relationship, if we consider HDL as the therapeutic agent;
Yes, that substance that the FDA has been trying to suppress access to.  We must wonder why?
Here's an old saying I just made up;  "If you reduce Covid-19 risk 50% (Vitamin D adequacy) then another 50% (HDL-C adequacy via Niacin) and then another 50% (NAC blocking ACE-II binding) soon you have almost no risk".
  https://chemrxiv.org/articles/preprint/Conformational_Perturbation_of_SARS-CoV-2_Spike_Protein_Using_N-Acetyl_Cysteine_a_Molecular_Scissor_A_Probable_Strategy_to_Combat_COVID-19/12687923

Proteomics data showed that N-acetyl cysteine (NAC), an antioxidant and mucolytic agent been widely in use in clinical medicine, forms covalent conjugates with solvent accessible cysteine residues of spike protein that were disulfide bonded in the native state. In silico analysis indicated that this covalent conjugation perturbed the stereo specific orientations of the interacting key residues of spike protein that resulted in threefold weakening in the binding affinity of spike protein with ACE2 receptor. Antiviral assay using VeroE6 cells showed that NAC caused 54.3% inhibition in SARS-CoV-2 replication. Interestingly, almost all SARS-Cov-2 variants conserved cystine residues in the spike protein. Our observed results open avenues for exploring in vivo pharmaco-preventive and therapeutic potential of NAC for Coronavirus Disease 2019 (COVID-19).
Sounds like a good addition.  Just a question of dosing I think.  The beauty of a cocktail is synergy… we are not depending on any one mode of action, so we should not need to go overboard on any one supplement.
Even with the idea of synergy in mind, I would still suggest that RDA's for things like Vitamin D and B3 are literally useless and possibly malign in their origins.  More on this later in the context of a Vitamin D deep dive.
https://www.ncbi.nlm.nih.gov/pmc/articles/PMC7649937/

NAC Offers the Following Key Features to Combat COVID-19

Anti-Virus Functions of NAC
RNA viruses need active NF-κB pathway support within host cells in order to replicate. For human coronaviruses (HCoV-229E), suppression of NF-κB significantly reduced the replication rate.22 Therefore, drugs that inhibit NF-κB activation could potentially reduce viral replication.

NAC has been demonstrated to inhibit NF-κB, as well as the replication of human influenza viruses (H5N1, Vietnam/VN1203 strain) in human lung epithelial cells in a dose dependent manner (5 to 15 mM) (Figure 2). NAC also reduced the production of pro-inflammatory cytokines (IL-8, CXCL10, CCL5 and IL-6), thus reducing chemotactic migration of monocytes.23 In addition, NAC has also been showed to inhibit replication of other viruses, such as human immunodeficiency virus (HIV)24 and respiratory syncytial virus (RSV).25 This means that, theoretically, NAC has the potential to inhibit SARS-Cov-2 as well because of its ability to negatively regulate NF-κB.
As usual Covid19crusher nails it.  I personally have Silver, Betadine/povidone, and Iota-carrageenan (spray).  See the previous post from Wilco regarding another on the list called Xlear.
The remarkably long list of nasal sprays showing clinical benefit against Covid-19.

The upper airways infection simply is an ideal moment to hit the virus hard. pic.twitter.com/b5KhSN42Ng

— Covid19Crusher (@Covid19Crusher) June 17, 2021