Wall Street Terminators in the Casino
Tue, Jun 01, 2010 - 03:33am

#1

Status Bronze Member (Offline)

Joined: Dec 14 2009

Posts: 34

count placeholder0

Wall Street Terminators in the Casino

Anyone who's ever seen a Terminator movie knows that civilization ended when a computer system called "Skynet" came alive and tried to terminate the human race by starting a nuclear apocalypse. After last week's "flash crash" on Wall Street, they might have wondered if Skynet wasn't working on a financial apocalypse instead.
We still don't know what happened more than a week later, and a new SEC study will probably raise more questions than it answers. Here's what we do know: Wall Street has become such a high-speed, high-tech gambling house that it can be plunged into chaos without anybody having a clue what's happening or the wherewithal to prevent it. "Real time" – where the effects of ultrafast computer events are perceived at human speed – is never less "real" than it is where Wall Street is concerned.
As a reggae rapper named Big Youth once said, "If you ride like lightning you'll crash like thunder."
You probably know the story by now: In a few short minutes the stock market – supposedly protected by both regulations and sophisticated software – lost 9.2% of its value. There was wild trading in Proctor & Gamble, once the target of 'satanic cult' rumors. (Hmm …) Boston Beer Company, which opened at $59.44, dropped to zero. Everything returned to something like "normal" eventually, after the "ghost in the machine" returned to its lair.
According to Fox Business News, the SEC is about to release a report saying that the 17-minute plunge was caused primarily by "human error." But a number of other theories have also made the rounds, and the SEC report is unlikely to end the speculation. In the past week there has been speculation that:
A "fat fingered" employee typed "million" rather than "billion" into a major trade. Something like that will reportedly be the SEC's conclusion. But are these systems really that badly designed?

A hacker invaded the trading systems.

Algorithmic (computer-driven) trading ran amok.

Large banks and traders orchestrated the plunge to terrify lawmakers (who did acquiesce to the banks the next day by killing the Brown/Kaufman "too big to fail" amendment – and consider the chart of high-volume traders that can be found here.)

Nassim Taleb, the "Black Swan" author, did it. (Really!)

This mystery has more suspects than an Agatha Christie novel. And, like an Agatha Christie novel, more than one of the suspects may be guilty. Now some people are pointing fingers at Chicago traders Waddell & Reed, saying that their sale of 75,000 "e-mini futures" contracts could have triggered the plunge. Maybe. But we don't need to name a guilty party to understand the basic facts at work here: First, that computerized trading has turned Wall Street into an uncontrolled computer game, a runaway bullet train with no engineer at the controls. As DK Matai observed, most trades no longer take place in that famous physical edifice on Wall Street. Today 60% of "Wall Street" trades occur in cyberspace, not Manhattan.
And secondly, as Janet Tavakoli put it, deregulating the market lets speculators "bang" or manipulate it, which may have been the point all along. The stock market, once seen as a way to assess the real value of functional businesses and fund them accordingly, has instead become a place where high-speed electronic avatars gamble with real people's dollars.
This is the same fantasy world where four financial giants – Bank of America, Citigroup, Goldman Sachs and JPMorgan Chase – went an entire quarter without losing money in their trading operations for a single day. The chances of that happening by chance in a legitimate system are infinitesimal. But in today's electronic high-speed casino these guys are the "house" – and you know what they say about betting against the house.
John Connor's new assignment: to head up the SEC!
Meanwhile the original Terminator, Arnold Scharzenegger, is proposing a California budget that shows how this virtual reality can affect the lives of real people. California — whose fundraising bond initiative was handled by Goldman Sachs even as Goldman secretly undermined it – is now considering cuts to schools, mental health, aid to the poorest of the state's citizens, state employees' benefits, and home health care for the ailing elderly (which, ironically, will force them into costlier nursing homes). Not under consideration: new taxes on the wealthy, which would affect some of those who profited most from the electronic Wall Street casino.
Why, it's almost as if he's been sent from the future to … never mind. We do know that his would-be successor, Meg Whitman, spent some time in the gleaming futuristics confines of the Goldman Sachs fortress (until she was forced to resign from the Board over ethical issues).
Wall Street's been a high-risk thrill ride for years, enriching for some but empty of deeper meaning and divorced from underlying value. The "flash crash" didn't break the market, but it did reveal fault lines, especially in the highly speculative nature of so much massive trading. As for those digital or algorithmic trades, they're the dark matter of the economy, making up most of the mass of the market but invisible to the human eye. They race through the Wall Street nervous system as fast as lightning, carrying their owners' bets instantaneously throughout the system. But when the market "crashes like thunder," the big banks and the speculators behind them don't have to pick up the pieces.
We do.
V
Tue, Jun 01, 2010 - 04:00am

#2

count placeholder0

Re: Wall Street Terminators in the Casino
Tue, Jun 01, 2010 - 04:08am

#3

count placeholder0

Re: Wall Street Terminators in the Casino
Thanks for starting this thread. It seems people believe you can talk out of both sides of your mouth, supporting and participating in this rigged, corrupt system, while at the same time talking of sustainability and a paradigm shift. Duhhhh… you can't have it both ways while riding this monster down into oblivion. Hypocrisy, really.
Wed, Jun 02, 2010 - 07:56pm

#4

count placeholder0

Re: Wall Street Terminators in the Casino






<!–
479 shares | 163 comments
–>
Oliver Stone: Wall Street today is a financial casino
May 27, 2010 9:23 a.m. EDT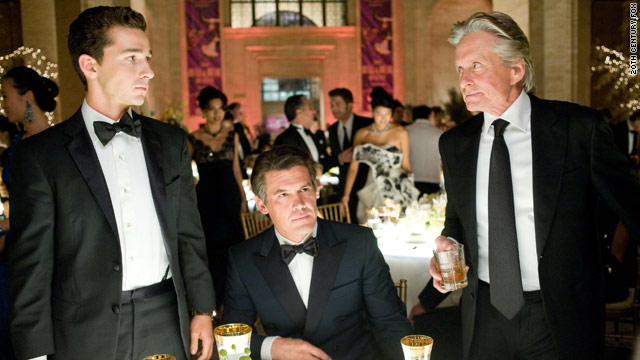 Gekko's back: Shia LaBeouf, Josh Brolin and Michael Douglas in Oliver Stone's "Wall Street: Money Never Sleeps."
STORY HIGHLIGHTS
"Wall Street: Money Never Sleeps" is the follow up Oliver Stone's 1987 hit film "Wall Street"
Stone discovered a "ridiculous" and "insane" system in Wall Street when making the sequel
Michael Douglas reprises his role as corporate raider Gordon Gekko
Shia LaBeouf plays the role of a young, ideal investment banker
(CNN) — Gordon Gekko-inspired suspenders may have faded from Wall Street and lunch isn't for wimps anymore, but if there's one thing that hasn't changed in the last two decades it's this: greed is good.
With his new film director Oliver Stone is back to exposing financial chicanery, this time showcasing how complex and unfettered the system has become since his 1987 hit film "Wall Street."
What did he find when he returned to the scene after more than two decades? After years of bank deregulation, Wall Street "got ridiculous, and I mean it's insane. It became a financial casino," he told CNN.
That outrageous environment serves as the backdrop for "Wall Street 2: Money Never Sleeps," a follow-up film which, amid massive bank bailouts, sweeping financial reform in Washington and investigations into the practices of Wall Street's leading firms, couldn't be more timely.
In the movie, Michael Douglas reprises the role of corporate shark Gordon Gekko. Fresh out of prison, he finds himself in a new financial era dominated by complex products and securities.

Video: 'Wall Street' sequel debuts in Cannes
"Money Never Sleeps," which is slated for release in September, is a "bookend" rather than a sequel, to the 1987 film, Stone says.
Stone, whose father worked on Wall Street as a broker, set out to tell a morality tale about excess in the original film, with Gekko positioned as the bad guy.
But judging by the recent financial crisis, not many Wall Streeters took Stone's message to heart. Instead of being seen as a villain in the 1980s, Gekko became a paragon of success for a generation of traders and business school graduates.
Douglas, who won a Best Actor Oscar for the first "Wall Street," said he's always surprised at the reaction MBA students have to Gekko, the suspender-sporting character out to win at all costs.
"They would come up to me and say, 'Hey Gordon, he's the man,'" he told CNN at Cannes, where the film premiered earlier this month. "And probably a lot of those guys…are heading up investing banking companies now," he said.
[The financial crisis]was an event of monumental importance socially, economically, for the United States.
–Oliver Stone
In the follow up film, Gekko is looking to get back into the Wall Street game and finds a way through his estranged daughter's boyfriend, a young investment banker played by Shia LaBeouf.
Joining the cast, which includes Susan Sarandon and Josh Brolin, was like "stepping into a cage of lions," LaBeouf said. "I felt like an underdog coming onto this set. I'm the 'Transformers,' kid. It's just like, it's daunting."
LaBeouf and Carey Mulligan, who plays Gekko's daughter, play a young couple with ideals. (The couple has also been linked together offscreen.) But their integrity is tested and "everybody has double motives," Stone said.
A director known for offering provocative viewpoints, particularly in political films like "W," "JFK" and "Nixon" — his next film, "South of the Border," is about Venezuelan leader Hugo Chavez — Stone initially wasn't interested in telling another story about Wall Street.
When the producer of the original film and 20th Century Fox made a deal for a follow up film, Stone wasn't on board. "I didn't event want to do a sequel and I turned them down," he said.
What changed? The financial meltdown of 2008, which unleashed the worst crisis since the Great Depression and caused the economy to suffer in Stone's words, a "triple bypass heart attack."
The financial crisis "was an event of monumental importance socially, economically, for the United States," he said. "It wasn't a perfect storm, it was a systematic breakdown that was due because it's the way the system is run."
While the director certainly harbors strong feelings about the financial system, he also had his fun with the film. He appears briefly, as does Charlie Sheen, who played Gekko's protégé Bud Fox in the first film.
"I was having fun, you have to have fun," Stone said. Just like the original "Wall Street," "you have to take this with a grain of salt because it's so depressing otherwise."
Mulligan says the film is first and foremost an entertaining story. "It's really about people enjoying it as a movie," she told CNN. "Because it's not just a lesson in finance, it's love stories and rivalries and a brilliant
Wed, Jun 02, 2010 - 08:14pm

#5

count placeholder0

Re: Wall Street Terminators in the Casino
From the sublime to the ridiculous
V
As expected, the Commodity Futures Trading Commission approved Cantor Exchange's proposal to begin selling futures contracts based on the box office success of feature films. This was not a surprise, since the CFTC gave a unanimous thumbs-up last week to a similar program proposed by the Media Derivatives-backed Trend Exchange.
The Motion Picture Association of America continues to battle against programs it considers a thinly veiled gambling operation, but the MPAA now will set its sights on Capitol Hill. Tomorrow, the Senate Agriculture Committee will review a bill that is part of a package of financial reforms that will be pushed by Democrats. That bill would outlaw the business that the CTFC at least temporarily has approved in principal.
"Our coalition of film industry workers, creators, independent producers and distributors, business organizations and theater owners, remains united in our opposition to a risky online-wagering service that would be detrimental to the motion picture industry and the 2.4 million Americans whose livelihoods are based on this industry," said MPAA spokesman Howard S. Gantman. "We believe that the CFTC had ample discretion under the law to reject this proposal by Cantor Futures Exchange L.P. But this is just one in a series of upcoming regulatory steps, and the Commission made clear today that Cantor needs CFTC approval before attempting to offer a box-office wagering service. In the upcoming days, we will continue to urge the CFTC to finally reject both the Cantor proposal and a separate proposal by Media Derivatives, Inc.
"Separately, members of Congress have also raised serious questions about the financial harm that these proposals could cause," he said. "Senator Blanche Lincoln, chairman of the Senate Agriculture Committee, has introduced legislation that contains a provision banning such box-office wagering services. A markup on this bill is scheduled tomorrow. And on Thursday, the House Agriculture Subcommittee on General Farm Commodities and Risk Management, chaired by Representative Leonard Boswell, will be holding a hearing on the issue."
Hello. I like Terminator movie and I saw all chapters. Financial apocalypse is really here, due to the resent world events. But if you want to improve your material situation, you can use an internet casino. What do you think about RaCasino? Please tell me in which direction (where to start) I need to work to improve my RaCasino game ??? What materials, what topics to study to have a clever game strategy??? Thanks
Tue, Jul 14, 2020 - 12:28pm

#7

Status Bronze Member (Offline)

Joined: Nov 27 2017

Posts: 214

count placeholder0

Wall Street Terminators in the Casino
There are several online casinos, but I think that parimatch is the most reliable. I could readily locate details on how to find a reputable casino, but due to the many counterfeit reviews, it was really tough to learn more in advance about the reward programme. Therefore, I urge that you study and view the information in this website https://pm-casino1.com/promotions-bonuses/
I really encourage that you read it.
Viewing 8 posts - 1 through 8 (of 8 total)