US military warns oil output may dip causing massive shortages by 2015
Sun, Apr 18, 2010 - 12:54pm

#11

count placeholder0

Re: US military warns oil output may dip causing massive …
BearMarketTrader,
You sound as though you need a Big Bear Hug!
There's an awfully big responsibility that our generation has to carry upon its shoulders. Not only to the generation ahead of us that is in the process of passing the batten for us to run with, but to the generational rank and file that is coming up behind us, that in due course will have the batten past onto them.
Separating illusion from reality, were you happier before you knew about Peak Oil?
I don't want to have to witness everything that I've learned is possible, and that the decline of energy on a global scale could well be the cull of billions of lives in my lifetime. That if I bunker down with like-minded people and set my sights upon mine and their survival that it will be inevitable, that on some grand scale, I have the unrewarding option to witness entire countries topple under the weight of energy decline.
I sense that the people that walk about the town that I live in have been heavily protected from searching out the truth; that they are not entirely happy with their illusion but will almost fight you physically to maintain it. For those, such as you and I, I feel almost stultified every day that I walk about the World talking of the things I write about within this forum, and that I get almost no acknowledgement to how frightening the future really is.
Rest assured, the future is going to be engulfed in past histories hidden human responsibility. More and more people every day will start to wake up to that responsibility, as we both have.
It is strange to be so far ahead of the curve of something. The challenge is to keep believing with your own eyes that it really is happening, when so many who think themselves wiser than you, think otherwise. I fully believe that within the next two years you'll have your way. Don't, however, assume you'll be given any praise for telling everyone around you that you told them so.
I simply think of myself as a teacher. I compile facts and detail that I know for now others do not wish to understand. I am a vessel. Every day, I talk to five people about all subjects discussed inside this forum as practice. I practice so as to understand the counter-argument over and over again. I'm starting to see patterns. I'm starting to see a turning. An almost imperceptible, yet definite sign that people are slowly seeing something remarkably unpleasant on the way . I don't know whether it is my knowledge and experience of explaining the facts, or that they're simply starting to search with more of the right questions so as to gain the right answers; time, as they say, will tell.
Do you believe in fate or Karma? I don't. I think of societal push and pull and I think of individuals that live within it questioning their identity. Those are the people that ask the same questions again and again about why they feel so utterly unremarkable. They have their four-square meter, and their cars and jobs and children. They have their education and status as their rule of thumb. They have their parents histories to place them in the world like a map of where they've come from, and an identity of where they're going. Why, I seem to find, do they then feel so hollow, and gain so little pleasure from the massive reward they appear to have been sold? Why are they so numb? To me, the push and pull I refer to is in the hope that they find people like you and I who will answer them. That they pose and set the puzzle pieces in such a fashion for them to finally gain perspective on the full picture …
Time, as I said, will tell …
My Very Best,
Paul
Sun, Apr 18, 2010 - 01:16pm

#12

count placeholder0

Re: US military warns oil output may dip causing massive …
Treebeard,
Welcome to the forum.
I live in Totnes in the UK, where the Transition Town movement first began. I have personally witnessed Rob Hopkins doing what he does best and his presence here is comforting. His efforts with The Transition Handbook is far reaching. With 26 million people involved worldwide so far, I feel that every member of this forum should already have a copy on their shelves at home. Chris Martenson actually met him on the 22nd of February this year whilst travelling and promoting the Crash Course in the UK. The benefit to both Chris and Rob is obvious to me that they work together, as both projects are in link-step.
Remaining positive is a challenge but not impossible, and I agree with you fully that Doing as opposed to Talking about it is the very best option.
You've struck me with the idea of a site map and register here, where people living in the same area of the United States would be better interconnected? Here, I am writing to you from 5000 miles away, and all I can do is make suggestion. However, if I lived a couple of miles away, I'd be setting up a plan with you and sharing the donkey-work with a spade and heirloom seeds!!
Take Care,
Paul
Sun, Apr 18, 2010 - 02:27pm

#13

count placeholder0

Re: US military warns oil output may dip causing massive …
[quote=Damnthematrix]
I sent an enquiry to EIA asking how to find the numbers for "oil supply"
split by categories, as the "other liquids" category is biofuels
and they don't count in the Peak Oil context.
They replied and it is in there – you would NEVER find it, and it has to be tediously extracted line by line and reconstructed into a spreadsheet,
( anyone would think they didn't want people to know this stuff, and the definitions, see below, are even more difficult to extract )
but anyway here is the chart:
As you can see, the crude oil component has been in the 73 ± 2 Mb/d bracket since 2004 and it is the other components that have been increasing. In January 2004 biofuels accounted for only 1.0 Mb/d and in January 2010 that had nearly doubled to 1.9 Mb/d.
Likewise, Natural Gas Plant Liquids (which are mostly Propane and Butane, not oil) have grown by 0.9 Mb/d over the same period.
If it was possible to split out the Lease Condensate (which comes from gas fields, not oil fields) the bare Crude Oil figures would be even smaller.
Lease condensate: A mixture consisting primarily of pentanes and heavier hydrocarbons which is recovered as a liquid from natural gas in lease separation facilities. This category excludes natural gas plant liquids, such as butane and propane, which are recovered at downstream natural gas processing plants or facilities.

Natural gas plant liquids: Those hydrocarbons in natural gas that are separated as liquids at natural gas processing plants, fractionating and cycling plants, and, in some instances, field facilities. Lease condensate is excluded. Products obtained include ethane; liquefied petroleum gases (propane, butanes, propane-butane mixtures, ethane-propane mixtures); isopentane; and other small quantities of finished products, such as motor gasoline, special naphthas, jet fuel, kerosene, and distillate fuel oil.

Other Liquids: Biodiesel, ethanol, liquids produced from coal and oil shale, non-oil inputs to methyl tertiary butyl ether (MTBE), Orimulsion, and other hydrocarbons.

Refinery Processing Gain: The volumetric amount by which total refinery output is greater than input for a given period of time. This difference is due to the processing of crude oil into products which, in total, have a lower specific gravity than the crude oil processed.
It's a conspiracy I tell you ! Despite everyone saying "we must have open and transparent data", the figures published for "Oil Supply" have very little to do with oil supply.
Dave
[/quote]
Mike,
as ever, 100%!!!
Still haven't pm'd you …
…
As ever,
Paul
Sun, Apr 18, 2010 - 07:59pm

#14

count placeholder0

Re: US military warns oil output may dip causing massive …
We live in an age of perception as opposed to reality.
BTM, I understand your angst; playing in the garden sowing veg seeds is also a very real education for my kids. I worry about their future, not the usual education, job stuff etc, they are young but bright and if the opportunities exist, I'm sure they will take them and do what ever it is they want to do, but my fears touch on VF's concerns, its the transition that scares me. We've started this seasons out door education as well by "palying" in the tent and looking at all the wild plants etc that have uses.
It's kind of ironic/perverse in that I have seen people get burned out at work over the last year. I've heard of a couple of suicides as well over the same time period as well. If this is happening now what will it be like when things really start to bite?
Sun, Apr 18, 2010 - 08:06pm

#15

count placeholder0

Re: US military warns oil output may dip causing massive …
[quote=Vanityfox451]Put simply, do you feel that growing up through the 40's and 50's you were happier and more content than of the generation that you see walking about the planet today? Do you feel that your own grandchildren would have more benefited the 'classic' appeal of a more sociable and slower paced upbringing than that of the frenetic one that they've had the job, through success or failure, to grow up in today?
Can you also see the benefit of the World slowing down so that humanity has more time to catch up with reality?[/quote]
Hi Paul,
I'm familiar with the Happiness Index and the experience of Bhutan. Happiness is quite simply a state of the mind. It is possible to increase one's level of happiness as the experiences of Buddist monks demonstrate. However to go to that place it is necessary to be able to quiet the mind, which is something that many people are likely unable to do in the frenetic paced modern world.
Regarding the happiness of different generations I think there is no underlying reason for it to be any different for anyone born within Western society anytime in the 20th century when the basic needs of food, shelter and clothing were met for the lowest class of society. (I admit that the CDOs/subprime mortgages have recently produced much homelessness).
Too many equate happiness with material possessions which has correlation of zero. That's just part of the propaganda we're being constantly fed.
Dr. M. has said he finds his current life more enjoyable, interacting within his community. This should not be surprising. Millions of years of evolution are behind our species as a social animal interacting in tribes of 50-100 related individuals. Modern life is maladaptive to our biology, since it has been unable to evolve at the breakneck speed at which our social organization has changed.
I don't know if our society will be less frenetic in future. Clearly we are very close to a fundamental turning point in history, which is the reason for this site and our interest in making miniscule pushes in a particular direction. There are also good reasons to accept Kurzweil's view of a technological singularity for whatever that might bring.
Just my Sunday thoughts to your questions that I've skated around.
Sun, Apr 18, 2010 - 08:25pm

#16

count placeholder0

Re: US military warns oil output may dip causing massive …
Hello there guys/gals.
My angst regarding peak oil and the future stems from the following: I am a NINJA. No Income. No Job. No Assets!!!!!
Even though my parents are "wealthy" i have no control over how they manage their assets. Dad continues to refuse to raise some "cash". All his wealth is tied to real estate. He owns eveything free and clear except for his primary residence. Property taxes amount to 80k a year. Home mortgage is 10k a month.
Back to my personal situation. Knowing what I know about debt, money, inflation, peak oil, deficits, unfunded liabilties, and yet having NO INCOME causes me a ton of anxiety. I have $5500 in my checking account. My wife works at a direct tv dealer making 1000 every 2 weeks after taxes. Me the law grad and attorney, 0. I live on handouts from mommy and daddy. What if mommy and daddy go broke? Then i go broke. And going broke in 2010-201? is a scary though when taking into account oil production shortfalls.
Sun, Apr 18, 2010 - 09:47pm

#17

count placeholder0

Re: US military warns oil output may dip causing massive …
bmt, you might like to check this out…
http://www.guardian.co.uk/environment/green-living-blog/2009/oct/28/live-without-money
I live without cash – and I manage just fine
Armed with a caravan, solar laptop and toothpaste made from washed-up cuttlefish bones, Mark Boyle gave up using cash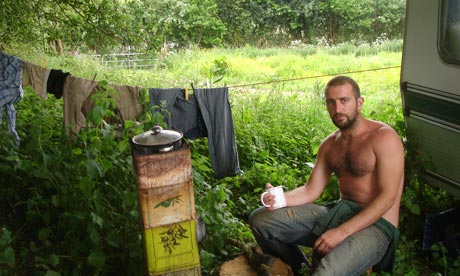 In six years of studying economics, not once did I hear the word "ecology". So if it hadn't have been for the chance purchase of a video called Gandhi in the final term of my degree, I'd probably have ended up earning a fine living in a very respectable job persuading Indian farmers to go GM, or something useful like that. The little chap in the loincloth taught me one huge lesson – to be the change I wanted to see in the world. Trouble was, I had no idea back then what that change was.
After managing a couple of organic food companies made me realise that even "ethical business" would never be quite enough, an afternoon's philosophising with a mate changed everything. We were looking at the world's issues – environmental destruction, sweatshops, factory farms, wars over resources – and wondering which of them we should dedicate our lives to. But I realised that I was looking at the world in the same way a western medical practitioner looks at a patient, seeing symptoms and wondering how to firefight them, without any thought for their root cause. So I decided instead to become a social homeopath, a pro-activist, and to investigate the root cause of these symptoms.
One of the critical causes of those symptoms is the fact we no longer have to see the direct repercussions our purchases have on the people, environment and animals they affect. The degrees of separation between the consumer and the consumed have increased so much that we're completely unaware of the levels of destruction and suffering embodied in the stuff we buy. The tool that has enabled this separation is money.
If we grew our own food, we wouldn't waste a third of it as we do today. If we made our own tables and chairs, we wouldn't throw them out the moment we changed the interior decor. If we had to clean our own drinking water, we probably wouldn't contaminate it.
So to be the change I wanted to see in the world, it unfortunately meant I was going to have to give up cash, which I initially decided to do for a year. I got myself a caravan, parked it up on an organic farm where I was volunteering and kitted it out to be off-grid. Cooking would now be outside – rain or shine – on a rocket stove; mobile and laptop would be run off solar; I'd use wood I either coppiced or scavenged to heat my humble abode, and a compost loo for humanure.
Food was the next essential. There are four legs to the food-for-free table: foraging wild food, growing your own, bartering, and using waste grub, of which there is loads. On my first day, I fed 150 people a three-course meal with waste and foraged food. Most of the year, though, I ate my own crops.
To get around, I had a bike and trailer, and the 34-mile commute to the city doubled up as my gym subscription. For loo roll I'd relieve the local newsagents of its papers (I once wiped my arse with a story about myself); it's not double-quilted, but I quickly got used to it. For toothpaste I used washed-up cuttlefish bone with wild fennel seeds, an oddity for a vegan.
What have I learned? That friendship, not money, is real security. That most western poverty is of the spiritual kind. That independence is really interdependence. And that if you don't own a plasma screen TV, people think you're an extremist.
People often ask me what I miss about my old world of lucre and business. Stress. Traffic jams. Bank statements. Utility bills.
Well, there was the odd pint of organic ale with my mates down the local.
• Mark Boyle is the founder of The Freeconomy Community. In a subsequent blog he responds to the comments below.
Mon, Apr 19, 2010 - 02:56am

#18

count placeholder0

Re: US military warns oil output may dip causing massive …
Paul,
Thanks for the response, I really do appreciate it. I spent the afternoon tilling the second half of the garden, hopefully we will be planting the cold weather crops the end of this week . Nothing like a little physical work to releave stress and frustrations.
There are are couple of TT web sites locally, the web site in Vermont is quite active, at lot of stuff going on. The CT web site is dead, trying to connect and get some acitivity going on down hear, but CT is no where near as progressive or aware as VT is. I think that is the main source of my frustration. As an Architect I have had the oportunity to speak to a number of groups, including the state legislature. There is interest but generally speaking I would say 90% of the people I talk to have no clue of the intensity or time line of the problem that we are facing.
Always trying to walk the fine line between communicating the need to for immediate action without losing credibility by coming off as some kind of lunatic. A bit of a challenge, but the insanity in the news is always a help.
Mon, Apr 19, 2010 - 06:35am

#19

count placeholder0

Re: US military warns oil output may dip causing massive …
Treebeard,
The simplicity of the realisation once you've really got it surprises me, just as though I'm teaching it for the first time; every time. I regularly take people through the Exponential Function at every opportunity. The same +90% don't get the enormity of what I'm telling them. I've even used Shock and Awe Tactics as a visual aid, even using examples that will prove the system is designed to hurt their pocket, but it's as though they're just blind. There again, I always assumed the blind in most cases used the remaining four senses at a higher level of tune and could see such things that we could never begin to know. Maybe that's the problem. Maybe we've found a metaphorical pair of glasses that make reality come into focus?
Spending an afternoon gardening is a wonderful way to maintain and keep those endorphin firing happily. Perfect for relieving stress and frustration, especially with such a high level of people surrounding you who Do Not Get the predicament we're in. That 90% of clueless are quite literally mad, not you …
… !!!
'V' who writes here regularly of late, just created a thread you might find a helpful read …
'Sudden Mass Enlightenment Puzzles Congress and Causes National Security Alert'
… It certainly worked for me …
Right now, I find that: –
Sleeping in my clothes
Remaining unshaven for days
Waking at odd hours
Striking conversation up with captive audiences using unwitting subdefuge
Using metal cutlery to scratch an itch on my unwashed back
Swearing at the computer when it crashes
Chain-smoking hand-rolled brown liqourice paper cigarettes
Drinking untold cups of sweet and brakish English tea …
… has aided what would have ordinarily concluded being sectioned under the mental health act and institutionalized. Though I'm unsure within my state of mind as to whether my focus is directed toward my own madness completely when, as you say …
"The insanity in the news always helps"
Short of fire-bombing local banks and corporations, (Moderator John & Jason I'm kidding!!!) we've simply to sit tight with all of our preparations checked, double checked and triple checked and pray to whatever God wasn't built from money and oil!!!
Best,
Paul
Mon, Apr 19, 2010 - 06:19pm

#20

count placeholder0

Re: US military warns oil output may dip causing massive …
VanityFox,
Always nice to read your posts.
Asphalt is still going down across the planet, and AutoZones are still sprouting up everywhere:
Look for AutoZone to post 2010 revenue growth of 4% to 6%, boosted by both same store sales growth and the addition of about 180 new stores.
Peak Oil??? Nahhh!!!!!!
Interesting interview with Richard Heinberg on the oil problem:
As a rather critical observer of that party: Do you see significant hints that a growing number of participants realize that "The Last Waltz" is near? Or are you afraid that large parts will continue to dance no matter what?

After over a decade spent in trying to alert policy makers and the general public about this issue, I have concluded that only a small minority have any idea what is in store. The "dance" you speak of is indeed coming to an end, but it appears to most that the problem is purely a financial one, and that once the global economic crisis is sorted out, we will all be able to get back to business as usual. I do not believe that is an option. We have reached a fundamental turning point, foreseen in the "Limits to Growth" study of 1972. For a while, world leaders may be able to redistribute wealth in various ways—most likely from the poor to the rich—in order to make it appear that the global economy is continuing to grow. But I suspect that this will work only for a very few years at most. At some point soon, it will become clear that economies are contracting. And then most people will look for someone to blame. No doubt politicians will oblige by trotting out various scapegoats.

What about the hosts of the party, who pay the band – the so-called elites? They're aware of the coming situation for a long time, right? What kind of plans do they have in store for themselves and the rest of us in your opinion? As part of the elites, the Central Intelligence Agency for example, which has always entertained close ties to the financial district in New York City,[1] had the Peak Oil problem on its radar screen at least since the late 1970's.[2] Hence, we can be sure that some influential interests not only knew that this historical watershed event was coming, but also that they had enough time to prepare for it.

Strangely enough, I think most of the "elites" are victims of their own public relations efforts. They have promoted the careers of economists who told them what they wanted to hear—that economic growth is the normal and inevitable state of affairs, and that there are no real limits to growth. Yes, certainly there are analysts in the CIA and the military who understand where this is all heading, but—if the ex-analysts I've talked to are typical of their colleagues—they have learned that reports about resource constraints are not welcome, unless they are framed in terms of the contest for geopolitical leverage.

…

At the end of last year, the World Energy Outlook 2009 received a very cautious reception – for example from your side.[3] Why was that and how was it linked to the ongoing discussion about oil reserves? May I also ask you to explain to our readers why the picture related to the latter seems very blur and since when?

Oil "reserves" consist of estimates of the amount of oil that geologists believe can be economically extracted from oilfields that have been discovered, drilled, and mapped. Unfortunately, reserves reporting is not a transparent affair in many countries that have state-controlled oil industries. There is strong evidence to suggest that OPEC nations have systematically and substantially over-estimated their reserves for over two decades.

In 2009, the International Energy Agency (IEA) took a first cautious step in the direction of realism when it published, in its annual World Energy Outlook, an assessment of rates of production decline from the world's old, giant oilfields, which yield the bulk of the world's crude oil. On average, there is a net production decline of 4.5 percent per year from existing fields, which means that the world has to develop a Saudi Arabia 's worth of new production capacity every five years or so just to maintain existing total production volumes. That is an enormous feat, especially given the fact that oil discovery rates have been falling since the early 1960s. New oilfields are sill being found, of course, but typically they are very expensive to locate and exploit, when compared to the oilfields that were being discovered only a decade or two ago.

This debate, that we've just mentioned, is continuing right now again on a large scale.[4] Maybe there is, if one wants to, an end to it. During an interview with investigative journalist and book author Mike Ruppert, I've asked him a few things about the National Energy Policy Development Group, NEPDG, that was run by then-Vice President Richard Cheney in Spring of 2001. Mr. Ruppert stated:

"Essentially the NEPDG appears to have been set up, almost from the first day of the Bush administration, to find out how much oil was left, who had it, and how it could be obtained (bought or stolen) to support U.S. hegemony, U.S. consumption, and the monetary paradigm. … The fact that the NEPDG records have been kept secret from the American people who paid for it is one of the greatest crimes of all time. Seeing those records now would save a lot of duplicated effort in trying to inventory how much oil there is left. The figures on oil reserves quoted by producing nations and companies are as fraudulent and cooked as the books on mortgages, banking, and even Bernie Madoff. … It was Peak Oil that was driving Dick Cheney's Task Force and nothing else."[5]