Tradegy and Hope
Sun, Jul 05, 2009 - 06:08pm

#1

Status Platinum Member (Offline)

Joined: Nov 07 2008

Posts: 634

count placeholder

Tradegy and Hope
The book that tells all. Carroll Quigley. video from utube.
Council on Foreign relations, the UN, Bilderberg group, Club of Rome, Royal institute of intenational affairs, The Trilateral commission, The round table.
Sun, Jul 05, 2009 - 06:11pm

#2

count placeholder

Re: Tradegy and Hope
Sun, Jul 05, 2009 - 06:48pm

#3

count placeholder

Re: Tradegy and Hope
Ron Paul talks about "Tragedy and Hope
as does Bill Clinton
as well as Carrol Quigley
Mon, Jul 06, 2009 - 02:23am

#4

count placeholder

Re: Tradegy and Hope
investorzzo – thanks for the great video, they do a pretty good job of covering a lot in 6 minutes. I hope others will watch this video as it contains very important information.
The video accurately suggests that the J.P.Morgan group dominated the CFR (at least up until WW2). J.P. Morgan was a Rothschild agent and his bank, like many of the big Wall Street houses, was controlled by their banking empire. They didn't mention the Federal Reserve directly, but it too is controlled by the Rothschild's which also controls the bank of England.
They show a graphic that I think is intended to define the power structure (shown below).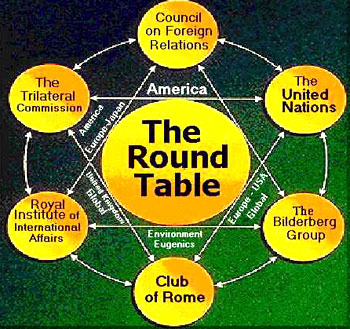 I think that this chart may be a little misleading as it implies that the Bilderberg Group is in the same circle as The Club of Rome (Fabians) and the UN. While they may all be part of the structure, they are really aligned as circles within circles. The Bilderberg Group would more aptly be put in the center with Club of Rome, Royal Institute of International Affairs (Chatam House) and the CFR joined as the next circle.
The Trilaterals might be included in the same circle but they are more of a liaison cartel that includes China's national bank. The Bilderberg Group is not really the center of the power circles. They too are controlled by yet smaller groups.
Larry
Mon, Jul 06, 2009 - 02:35am

#5

count placeholder

Re: Tradegy and Hope
Larry, I think part of the fact the Federal reserve wasn't mentioned is that Carroll's book came out quite sometime ago. There has been a lot of things that have changed since. I hope you look at the link on Goldman Sachs that came out from "Rolling stone magazine" The Great American Bubble Machine. Jon
Viewing 5 posts - 1 through 5 (of 5 total)