Time to batten down the hatches?
Michael Snyder, in his signature way, is advising readers to batten down the hatches regarding your safety based on recent developments. I live in Philadelphia so I battened down my hatches a long time ago. However, just this week a began carrying a second spare Glock magazine on my belt and wearing a Kevlar vest TO CHURCH (mostly because of a "premonition" re: ISIS). Trouble is brewing, but I'm not sure I see it the same way Snyder does.
Nevertheless, now might be a good time to review the content of my three previous contributions on this subject (or read them for the first time if you're new here):
https://www.peakprosperity.com/blog/protecting-yourself-against-crime-and…
https://www.peakprosperity.com/blog/fortifying-yourself-and-your-home-aga…
https://www.peakprosperity.com/wiki/191/personal-safety-home-defense
Snyder does touch on two areas I consider the biggest danger for our safety going forward. I don't consider the routine violence we see in the big cities my main concern, though that's where all the attention goes today. My biggest concerns are: 1) when things get so bad that today's law-abiding working and middle classes start engaging in riots to protest societal decay and in street crime to survive; and 2) when truly frightening groups from outside the US come here and do what they've been doing south of the border and beyond (eg. ISIS and MS-13, just to name two). I don't see my highest concern developing yet (regular, normal people becoming violent and criminal). However, the outsiders are here, growing in numbers, and they're not shy about large numbers of murders in broad daylight if necessary. I believe if MS-13 set their sights on drug territory in Chicago, for instance, they would quickly wipe out the African American gangs currently operating there. MS-13, and others, are way out of the league for American gangs.
Here's Snyder's piece:
http://endoftheamericandream.com/archives/prepare-your-homes-and-neighborhoods-for-the-violence-that-is-going-to-sweep-america
Prepare Your Homes And Neighborhoods For The Violence That Is Going To Sweep America

By Michael Snyder, on May 26th, 2015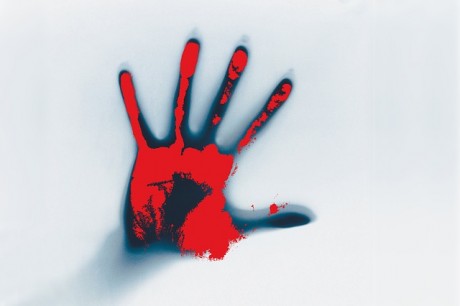 The thin veneer of civilization that we all take for granted on a daily basis is beginning to disappear, and a new era of chaos and anarchy is coming to our cities. I don't know if you have noticed, but violence is increasing on the streets of America. Over Memorial Day weekend, 29 people were shot in Baltimore and 55 people were shot in Chicago. But of course the trend that I am talking about is much broader than that. According to the FBI, the number of police officers "feloniously killed" in the line of duty rose by an astounding 89 percent in 2014. We live at a time when Americans are becoming extremely angry and extremely frustrated, and this is only going to intensify as economic conditions worsen. But already we have seen some of this anger and frustration boil over into violence in Ferguson and in Baltimore. And you know what? The vast majority of Americans expect more of the same in the coming months. According to a Wall Street Journal/NBC News survey that was recently released, 96 percent of all Americans believe that there will be more civil unrest in America this summer. What we have seen up until now is just the warm up act. The main event is still to come.
If things are this bad already, how bad will they be when the next great economic crisis hits this nation and unemployment skyrockets and poverty is everywhere?
That is why I am encouraging people that currently live in the heart of our major cities to consider moving. Unfortunately, most Americans are completely dependent on the jobs that they currently have, so moving is not really a practical option for a lot of people.
For those that cannot move, you are just going to have to get prepared right where you are. That means making your home and your family as unattractive a target to potential criminals as you possibly can. The goal should be to avoid a violent confrontation if at all possible. So you will want multiple layers of security between you and those that would potentially harm you and your family. You want to try to deter the bad guys from ever coming on to your property in the first place, but if they do come, you need to be ready to deal with them.
At the moment, we are still in the midst of relatively stable economic times. But even in these relatively stable times, violence is escalating. Just consider what happened in Baltimore over the recent holiday weekend. A grand total of 29 people were shot…
Police say 29 people were shot, 9 of them killed over this weekend, adding to the record-breaking violence.

The shooting didn't stop on Monday night after a 9-year-old boy and another man were both injured by gun fire in the 2900 block of Arunah Avenue. Police say the child was shot in the leg and another man suffered a graze wound to the head.
Overall, this past month has been the deadliest month for Baltimore in 15 years.
Things are even worse in the city of Chicago. Over this past weekend, 55 peoplegot shot…
Twelve people were killed and at least 43 — including a 4-year-old girl — were wounded in shootings across Chicago this Memorial Day weekend, police said.

The 4-year-old, identified by her family as Jacele Johnson, was shot about 8 p.m. Friday in the West Englewood neighborhood. She and her 17-year-old cousin Romare Wilson were inside an SUV in the 7000 block of South Justine when another vehicle pulled up and someone inside opened fire, according to their family and Chicago Police.
Early in April, I went on the record and specifically named Chicago and Baltimore as two of the cities where we would be seeing civil unrest. Since that time we have seen horrible rioting in Baltimore and the violence in Chicago continues to spiral out of control.
Other experts are issuing similar warnings. For example, consider what an assistant professor at New Jersey City University recently had to say…
Urban unrest expert Dr. Max Herman says that the United States is on the "cusp" of a wave of domestic disorder and that the country will see more race riots.

Herman, Assistant Professor of Sociology at New Jersey City University, told the New Republic's Joel Gillin that the economic downturn, in addition to incidents of police brutality, have provided fertile conditions for civil unrest.

He sees the re-emergence of a 60's-style "protest ideology" amongst black communities which will lead to more disorder.

"It's very clear from studying history that these things tend to run in cycles," said Herman, adding, "I think we are at the cusp of another cycle."
Author Chris Hedges is saying similar things. The following comes from a recent article about him in the National Post…
The United States is primed for a rebellion. So argues Chris Hedges in his new book, Wages of Rebellion, in which the Pulitzer Prize-winning journalist and polemicist examines revolts from 1700s to the ending of apartheid in South Africa, as well as the "sublime madness" that drives the people at the centre of such rebellions.
When asked by the National Post why he wrote his new book, this is what Hedges had to say…
I didn't write it as a warning or a prediction. I wrote it more as an assessment. I covered disintegrating societies like Yugoslavia. I know how they break down; I know what the warning signs are, so it's familiar. I don't think at this point there's much dispute. Even just the financial indicators in terms of wealth disparity and chronic unemployment. The fact that Congress has a nine-per-cent approval rating. Where I'm coming from, the book is an attempt to explain where we are in this particular historical period.
But it isn't just that we are entering a new cycle of unrest. Our "leaders" have made things much worse by the decisions that they have made. For instance, Barack Obama's decision to leave our southern border virtually unguarded has resulted in a massive flood of illegal immigrants coming into this country. As a result, violent gangs that have roots in Central America and South America have mushroomed in size. So now major cities far from the border such as Charlotte, North Carolina are being absolutely terrorized by these gangs…
Recent busts of murderous MS-13 gangsters put the lie to President Obama's sympathetic amnesty narrative of illegal immigrants as "workers who mow our lawns, make our beds (and) clean out bedpans."

Authorities Wednesday rounded up 37 MS-13 gang members in Charlotte, N.C., on racketeering conspiracy charges, along with charges of murder, attempted murder and firearms violations. All of them are illegal aliens from El Salvador, Honduras and Guatemala. Several are round-trippers — illegals who broke in once, committed crimes, got deported and broke back into the U.S. — proving that our border is porous and unsecured.

Charlotte police discovered the rat's nest of foreign gangsters after some of them started shooting up local nightclubs and bars.
In 2015, it isn't just our own citizens that we need to be concerned about. At this point, many of our biggest cities are absolutely packed to the gills with gangs made up primarily of illegal immigrants.
I discussed Chicago earlier. Did you know that it is estimated that approximately 150,000 gang members now live there?
When things start really breaking down in this country, those gangs are going to have a field day.
America is changing, and not for the better. And when violence starts sweeping this nation, don't count on the government to come in and rescue you. After watching what happened in Ferguson and in Baltimore, you should know better than that by now.
It is time for the American people to prepare their own homes and their own neighborhoods for the chaos and the violence that is coming.
For the moment, things are still relatively stable so we have a little bit of time to prepare, but it won't last for long.
Wed, May 27, 2015 - 06:45pm

#2

Status Silver Member (Offline)

Joined: Jun 29 2012

Posts: 524

count placeholder

Chilling Piece Tom
Had no idea how prevalent the gang activity is in the US. Maybe we have "a little time to prepare", and maybe not. Any catalyst could se this thing off in an instant. Might be a market crash; might be a confrontation with China; a move by Russia; a riot in Chicago or Baltimore.
Now that Political decisions have emasculated the Police in Baltimore and crime is going exponential we have another issue to worry over. When your home gets invaded in Baltimore do you call MS-13 or ISIS for protection? Sure don't want to call those evil cops.
[quote=Oliveoilguy]
When your home gets invaded in Baltimore do you call MS-13 or ISIS for protection? Sure don't want to call those evil cops.
[/quote]
Call yourself. And your neighbors. Police are going to be doing the same at their homes (a guess). YLMMV.
See what I mean? If they follow through, we'll have a bloodbath because they'll be trained, determined and pick soft targets to maximize the death toll and the shock value. The only thing we can hope for is based on the fact that they hate other Muslims more than Americans or Russians, and may stay focused on killing them (and never get around to solving the big logistical problems in mounting an attack in the US). This threat is much worse than American gangs killing each other and occasionally hitting innocent bystanders.
http://www.zerohedge.com/news/2015-05-29/us-trained-special-forces-chief-joins-isis-vows-bring-jihad-russia-america
Meet Gulmurod Khalimov, the US-trained and funded former commander of Tajikistan's special forces, who, as Reuters reports, has now gone to Syria to fight with ISIS. He has a message: "Listen, you American pigs, I've been three times to America, and I saw how you train fighters to kill Muslims…God willing, I will come with this weapon to your cities, your homes, and we will kill you."

Colonel Gulmurod Khalimov commanded the Central Asian nation's special-purpose police known as OMON, used against criminals and militants. He disappeared in late April, prompting a search by Tajik police.

He reappeared Wednesday, vowing to bring jihad to Russia and the United States as he brandished a cartridge belt and sniper rifle, in a professionally made, 10-minute video clip posted in social networks.

"The video, allegedly made in Syria, says that Khalimov joined the jihadists in protest against government policies that do not allow namaz (canonical prayer) or the wearing of Islamic dress," the video's Russian source states.

The Washington Post's Ishaan Tharoor compiled some of Khalimov's fun video soundbites:

"Listen, you dogs, the president and ministers," Khalimov says in the video, "if only you knew how many boys, our brothers are here, waiting and yearning to return to reestablish sharia law there."…

"Listen, you American pigs, I've been three times to America, and I saw how you train fighters to kill Muslims," he said. "God willing, I will come with this weapon to your cities, your homes, and we will kill you."
I don't wear Kevlar to church (yet), mostly because it's so hot here, but I do carry a VP9 w/1 mag and an AR in the vehicle at all times. I recently acquired this item and it works swell. Let's hope this is all a deranged fear.
Rector
Fri, Jun 05, 2015 - 02:49pm

#6

Status Silver Member (Offline)

Joined: Sep 12 2008

Posts: 215

count placeholder

Holster
That holster system looks big and clunky for me, I like this for my G30 and spare mag..
http://www.equippingtheworkers.com
great for summer wear, nothing to rot and spartan
I like the way that looks and for $45 it's worth a try. You're right, the other is a bit on the big side. Thanks for the suggestion.
Viewing 7 posts - 1 through 7 (of 7 total)