The Wealth Gap and the Collapse of the U.S.
Tue, Aug 11, 2009 - 12:46am

#1

Status Platinum Member (Offline)

Joined: Aug 25 2008

Posts: 804

count placeholder

The Wealth Gap and the Collapse of the U.S.
The Wealth Gap and the Collapse of the U.S.
By Sober Realist and Pluto August 8, 2009
A report issued last fall by the Paris-based Organization for Economic Co-operation and Development (OECD) revealed that the United States has the third worst level of income inequality and poverty among the group's 30 member states. Only Mexico and Turkey ranked higher in those categories.
The OECD report defined those in poverty as households with an income below half of the median national salary. By this definition, 17 percent of the US population is categorized as poor—higher than all the advanced OECD economies and only marginally behind Mexico and Turkey.
The US also ranked among the worst in OECD countries in regard to the length of time people remain "poverty entrapped." 7% of the US population remain " persistently poor." The US also ranks among the worst countries in "inequality of opportunity."
The current global economic crisis has surely worsened those numbers.
Not since 1929 has the gap between rich and poor been so egregious. Back in 1929, two hundred of the biggest corporations controlled 50% of the nation's corporate wealth. In 1928, the top 1% of the population had incomes 650% greater that the bottom 10% of Americans. During the early part of the 1900's, relaxed regulation allowed corporations and investment houses to expand and consolidate into too-big-to fail megaliths. Sound familiar?
According to the Drum Major Institute's 2006 Injustice Index, the ratio of the average U.S. CEO annual pay to minimum wage worker's is 821:1 whereas twenty years ago the ratio was 40:1. The richest 0.1% are vanishing off the chart because it would take a bar graph that stretched out of the building to represent them on a societal wealth distribution chart. Below is a chart spanning from 1910 to 2005 which represents the wages in the Financial Sector compared to all other sectors.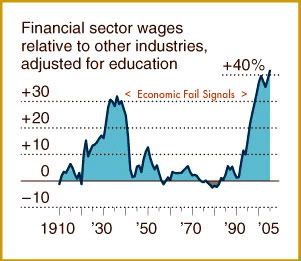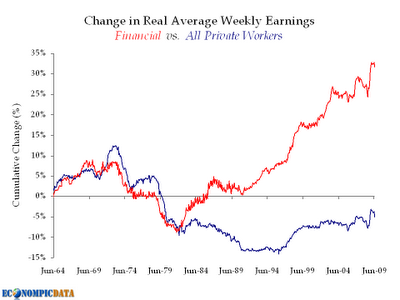 What you are seeing is a Wealth Transfer. The first Wealth Transfer happened from about the late 1800's to 1929 when American workers and consumers were victims of the robber barons –greedy and ruthless businessmen and bankers who amassed incredible wealth by exploiting labor and a lack of government regulation. The first surge on the chart represents a wealth gap where the rich overwhelming took from society and decimated the middle class. The second surge is occurring right now and started around 1980, 30 years in the making and similar to the first Great Wealth Transfer. The second chart shows financial sector profits continuing to rise through June 2009. And this is all happening at a time when hundreds of thousands of Americans are suffering job loss and wage reductions.
Below is a third chart spanning from 1951 to 2005 which shows a correlation between the amount of debt in society and the deregulation of the financial sector. The dip in the middle is when Reagan took office and ushered in a long era of continued corporate tax cutting and "anything goes" corporate capitalism. The black line shows surging profits in the financial sector.
The next chart overlays government policy and banking regulations across the period from 1910 to 2005. There is a long period of stability from 1950 to 1980 where the middle class flourished, corporate tax rates were at their highest, and wages were fairly spread across society.
In 1980 the descent of the middle class started with the beginning of deregulation and the corporatization of our government. Latchkey kids became the norm as both parents needed to hold jobs to make ends meat. Cheap fast-food restaurants became the soup kitchens of America. Fifty years after the first Great Depression, the wealth gap began to grow again and strangulate the middle class
.
Below is a chart which takes a close look at what was happening to tax rates during this period.
Government policy was to cut taxes for the wealthiest individuals, those who made the most money from exploiting the resources and advantages that America gave them. They gave little back in return. They mainly took, and from their ownership positions, they forced middle class wages down even further. In Doug Henwood's "After the New Economy" (2003), he exposes that the richest 10% of Americans possess over all the wealth in America and the bottom 50% has almost none of the wealth, but they do have substantial debt. According to a 2006 study by the Center for American Progress, Americans at that time were spending 126.4% of their pay to cover the cost of living. In that same year, investment bank UBS declared that corporations were enjoying the "golden era of profitability" with corporate profits climbing to the highest amount since the 1960's. Despite double digit increases in productivity levels in the last decade, the American worker's pay has increased less that 2%. Profit from productivity gains went straight into the pockets of the corporate executives. According to Kevin Murphy of the University of Southern California, the average CEO pay rose 369 times that of the average worker in 2005 while it was 191 times in 1993 and 36 times in 1976 (Krugman, 2002). Paul Krugman (2002), an economist at MIT and regular columnist for The New York Times, reports more troubling statistics stating that in a 29 year period between 1970 and 1999, the average annual salary in America rose ten percent (10%) whereas, during the same period, according to Fortune magazine, the average real annual compensation of the top CEOs in America rose more than 1,000 times the pay of ordinary American workers and, according to a 2001 Congressional Budget Office study, between 1979 and 1997, the after-tax incomes of the top 1 percent of American families rose 157 percent (157%). According to Executive Excess 2007, a study released in August by the Institute for Policy Studies and United for a Fair Economy, the 20 highest-paid fund managers made an average of $657.5 million last year–22,255 times the average annual U.S. salary of $29,500.
Big name firms such as Cerberus Capital Management, The Carlysle Group, The Blackstone Group and Kohlberg, Kravis, Roberts (KKR) are taking advantage of a tax loophole today which allows them to declare earnings as capital gains and pay a 15% tax rate instead of the customary 35% rate. The average American is paying a higher percentage tax rate on their income than a hedge fund manager who made a cool billion last year.
A recent study by Standards & Poors shows that for the first time in history, American multinational companies paid more of their income in foreign taxes than in domestic taxes.
Standards & Poors also notes the difficulty in obtaining detailed data due to the usual practice of corporations trying to hide and mask the actual figures on how many jobs are being moved offshore.
The last chart, spanning a century from 1907 to 2007, combines all the information from the charts above and tells the story of the Wealth Gap in America, a terrible economic injustice that happened from 1900 to 1930 – thirty years. The same injustice has clearly repeated itself today. The green graph measures the concentration of wealth in the hands of the few. The pink graph is the tax rate in the highest income bracket.
The US becomes vulnerable to chaos, collapse, and severe contraction when policies are enacted which steer most of a nation's free wealth into the hands of only a few individuals and investment houses, causing an increase in the wealth gap across the population. The wealth gap is widened generally through deregulation and reducing taxes on the profits from the exploitation of massive wealth by corporations. Investments become concentrated and self-speculative, corrupting the markets. One single economic blow can topple the entire wealth-holding investment class. As a result, the nation's economy quickly contracts and is pulled toward collapse. Everything from infrastructure growth to the training and well being of the workers is quickly degraded and the nation's global competitiveness is compromised. Simply raising taxes cannot fix the problem after a nation's economic foundation has been gutted by greed.
Paul Krugman in his 2006 paper "The Great Wealth Transfer" said the following:
"In the end, the effects of our growing economic inequality go far beyond dollars and cents. This, ultimately, is the most pressing question we face as a society today: Will the United States go down the path that Latin America followed — one that leads to ever-growing disparity in political power as well as in income? The United States doesn't have Third World levels of economic inequality — yet. But it is not hard to foresee, in the current state of our political and economic scene, the outline of a transformation into a permanently unequal society — one that locks in and perpetuates the drastic economic polarization that is already dangerously far advanced."

America is very much resembling the Developing World Dictatorships that we criticize and decry in the press. The once large middle class is being replaced by a peasant class. As author
Alvaro Vargas Llosa
said, " …it really doesn't matter whether the rulers call themselves capitalist or socialist, whether they plunder by concessions and taxation through crony firms or straight-out theft from nationalized industries." Our country currently has what Llosa describes as the five principles of oppression:
-corporatism
-states mercantilism
-privilege & favoritism
-wealth transfer
-political law
These principals of oppression conspire against our economic progress. These are the same repressive practices that have suffocated the growth of
underdeveloped countries
beyond anything other than mere survival. History has shown that when societies become noxiously unbalanced and disproportionate, they either become economically inefficient, subject to social unrest, or simultaneously both. The banana republics of South and
Central America
as well as Africa are testimonies to this. A small ruling oligarchy prospers at the expense of the poverty stricken masses. Today we are slipping into an inefficient oligarchy with an increasing risk of civil unrest in the future.
Tue, Aug 11, 2009 - 01:17am

#2

count placeholder

Re: The Wealth Gap and the Collapse of the U.S.
What a great post Xray…Thanks
Now that I skimmed it, I'll go back and read it for real.
Tue, Aug 11, 2009 - 01:24am

#3

count placeholder

Re: The Wealth Gap and the Collapse of the U.S.
I'd like to get Chris Martenson's feedback on this post. Thanks for reading. I think these graphs along with the historical explanations makes it easy to understand how the American middle class has gotten and is getting the shaft.
Tue, Aug 11, 2009 - 02:17am

#4

count placeholder

Re: The Wealth Gap and the Collapse of the U.S.
Great post Mike. The "Financial services" sector adds little or nothing to the real economy – just a giant skimming operation. Too bad they have become so powerful they can act as gatekeeper for presidential candidates and own critical portions of congress so chances for real reform = 0
Tue, Aug 11, 2009 - 03:42am

#5

count placeholder

Re: The Wealth Gap and the Collapse of the U.S.
This is what happens when you take all the well paying jobs in America and export them to other countries. Now we have Walmart and Mcdonalds as our two top employers.
Poverty & Social Inequality
Tue, Aug 11, 2009 - 04:32pm

#6

count placeholder

Re: The Wealth Gap and the Collapse of the U.S.
[quote=investorzzo]
This is what happens when you take all the well paying jobs in America and export them to other countries. Now we have Walmart and Mcdonalds as our two top employers.
Poverty & Social Inequality
http://globalresearch.ca/index.php?context=theme&themeId=36
[/quote]
Hi, Investorzzo;
This: http://globalresearch.ca/index.php?context=va&aid=9191 (from a link on the site that you posted), is an excellent summary of the various tools that are used by TPTB to control food and water, thereby controlling the world's population (both in behavior and number). It is sobering to realize that We the People are next in line to be impoverished. Would that we had objected when we had the power to do so with hope of having an impact . . . .
Tue, Aug 11, 2009 - 05:10pm

#7

count placeholder

Re: The Wealth Gap and the Collapse of the U.S.
I passionately object to most of the points made in this posting.
First – the two periods mentioned above – 1800 – 1929 and the last two decades – these two periods saw the greatest increases in std of living in the world compared to all other times in history. Given this, there is a natural tendency for the masses to become lazy as its way easier to get buy and still have it better than you did in previous years. Therefore, the few – call it 5% who contintue to work hard – become WAY more wealthy relative to the "poor"
For any real comparason of wealthy to poor in a country, we must also look at how poor the poor in that country really are. In the US, for decades, our poorest people are still among the wealthiest people in the world. Further, to argue that the middle class has it rough with 4 TVs, 2 cars, and more sq ft of living space per person at home than anywhere on the planet….further access to clean water and very reliable electricity……all these factors completely kill the rational comparasons.
Further, is it the financial sector killing america or its greedy lazy citizens? I for one argue this country makes it easy to make a to a decent standard of living if you are willing to abide by the law, work hard, and not spend like an idiot. Most people in this country got what they deserved when they bought the 300k house on a 40k per year income with two new leased cars. Sorry, but if you cant take the time to study personal finances for 3 hours you deserve to lose.
I cannot believe how lazy people have become, and at how much they expect. That is the reason for the wealth gap – not that greed is taking over – but that there is a huge drop in people willing to work hard relative to those who want handouts. I know this doesnt apply to 100%, but it does the majority.
Also, during the last two decades and during 1800 – 1939, the world saw the greatest two periods of increased standards of living in human history. Never have we had it so good and so easy as a whole. This increase in std of living tends to make the masses more lazy as you can get by being lazy. This creates great wealth trasfers to those who work hard.
If anyone has a problem with the pay at hedge funds or with CEOs – go BE ONE. Its a free country. If you dont want to work that hard and still have an issue with it, then dont buy that companies products, or dont work there. There is good reason for their pay, and if you ever try to compete with them you may learn why. Its extremely competitve at the top, and to get there requires extremely hard work, study, and yes – connections which take a ton of time to develop as well. Most people dont want it because it sacrifices other values they have like time with family.
If youre middle class, have the usual 2000 sq ft home on 1/3rd acre, clean water, 3 tvs, 2 cpus, plenty of food then stop crying….you have it better than 99% of all people in the history of man.
Tue, Aug 11, 2009 - 06:01pm

#8

count placeholder

Re: The Wealth Gap and the Collapse of the U.S.
rickets –
Amen!
Just another article written to fan the flames of discontent among the unjustifiably self-entitled. CEOs work their butts off – certainly a lot harder than 99% of the "poor" people referred to in the article.
But that's what our society has become – demonize those who work hard to make real changes in their lives and amass wealth (however you want to define it, but for argument's sake let's call it the size of one's bank account v. personal debt relative to how it allows you to live your life). On one hand we have the bad guys who worked hard, live within their means and have "wealth". On the other hand you have those who are lazy and unwilling to work hard to enact meaningful change in their lives. The people who go to sleep at night saying "I wish I was rich, I wish I had more money, I wish, wish, wish." Then when they wake up in the morning, they do the exact same thing they have done every day thus far. AND THEY EXPECT, NO DEMAND, THAT THINGS BE DIFFERENT!!!!
They want their lives to be different yet they don't DO anything different to facilitate changes. That is jacked up.
Of course, our wonderful collection of elected officials realize that there are far more people in group B than in group A, so they play to that base. "We need to share the wealth", "Everyone needs to bear the burden" – what that really means is "If you vote for me, I will push legislation that takes money from those willing to work hard and give it to those who aren't."
Too many in our society today want something for nothing – so of course they elect the goofballs we have in office now.
I sadly laugh at those who buy the bill of goods being sold to them. They are allowing themselves to become victimized by "them". I especially am entertained by the crowd of sheep who look under every rock for the bad guy to blame for the world's ills, those who demonize parties they can't even prove exist as being the ginormous evil Transformer, all seeing-eye-of-Vecna bogey man.
If they want to see who the real person responsible for their state of being and victimization, they need to simply take a look in the mirror.
This nonsense ends when people decide to knock their stones together and make changes in their own lives to facilitate changes in the society they live in. Otherwise they are inmates in a prison of their own manufacture. And deservedly so.
You can't be a victim unless you allow it – if life throws you curveballs, do what it takes to learn how to hit one or at least foul it off so you can prolong your at-bat.
Tue, Aug 11, 2009 - 06:32pm

#9

count placeholder

Re: The Wealth Gap and the Collapse of the U.S.
ugh, the tone of my post will be more sparring and lecturing than I would normally use because I feel it's necessary to respond with an equal level of contempt in order for rickets to feel his own…
rickets, of course you "passionately" object. if your views are based on ideological programming and repeating the platitudes of free market cheerleaders on TV, your emotional passions will be stirred as your views are threatened…the only way to feel secure in your views is to yell louder with "passion." I love it how you say the periods right before the biggest collapses in history were wonderful, you actually use them as illustrations of dramatic economic success, apparently free-market nirvana in your eyes, yet the vicious collapses came and that doesn't cause you to wonder about your views? you just strike it up to laziness? yep…lazy slobs caused the great depression and this collapse which will end up being worse. gotta love the arrogance in free-market ideologues…I detest it because I used to be one…an arrogant punk swimming in my self-righteousness telling myself others aren't as successful because they just weren't trying hard enough.
your definition of standard of living is wrong (somebody has a couple electronic gizmos called TVs and you think they're living the best lives in history…laughable). your definition of wealth is wrong. you don't understand credit inflation vs. real productive growth. you think "working hard" on wall st equals productive contribution to society (I did a short stint there…they are parasites, not producers). you erroneously worship CEOs as the media and your chosen political orientation has programmed you to view them as great capitalist generals (I used to be one of these people you worship…not a CEO, but close to it before I saw the light and stepped away from the sham…I'm telling ya, you're wrong…stop the hero worship).
most importantly, as you lecture people about "it's a free country" you demonstrate that you have not a clue what debt is or how our monetary system works and how Wall St and DC collude to strip the masses. and you demonstrate no awareness of what's really happening in this collapse. perhaps a simple question might help: do you really think people who have trillions stolen from them and handed over to financiers, the biggest robbery in history, are free? I know you'll feel anxiety as your ideology is threatened by that question, but let that be your own internal proof that something is off-base with your views.
Tue, Aug 11, 2009 - 06:41pm

#10

count placeholder

Re: The Wealth Gap and the Collapse of the U.S.
rickets and dogs
I can't believe what elitists you guys are. i don't have time to go into this in any depth right now (I've got too much work to do), but i can't resist at least putting in my $.02 worth. I have a number of good friends who work as hard at sometimes two or three jobs as any CEO, hedge fund manager or pro athlete, not to mention the work on their homes and cars because they can't afford to hire someone else to do it. the simple reason for the huge wealth disparity between the super rich and the rest of us since the Reagan administration is because of deregulation, allowing the hedge fund a–holes to reap huge sums of money on the backs of the rest of us who don't have their connection and/or fiscal acumen. Do not ever delude yourselves into believing that the rich work any harder than the vast majority of people who support their families with less financially remunerative, but necessary to society, work.
Take a break and go read some more Ayn Rand.