The Definitive Global Climate Change (aka Global Warming) Thread — General Discussion and Questions
Sun, Aug 23, 2015 - 06:22am

#2922

Status Platinum Member (Offline)

Joined: May 24 2011

Posts: 874

count placeholder0

Preview of the coming winter…
All,
Since we are in an El Nino that seems to be getting stronger by the day and promises to be with us through the winter I thought it might be useful to see whether or not you might expect it to inconvenience you this coming winter. We are currently coming out of the June-August (bottom panel) and will be transitioning to the December-February (top panel) pattern over the next three months. No El Nino is quite like another so nothing is cast in stone but these are the tendencies for warm events like this. One big wild card this time around is 'the Blob' which is the huge warm water mass of the Pacific coast of North America which is an anomaly that has never been present before. The questions is whether or not this El Nino will create weather patterns capable of overwhelming the current ones that are in place due to the Blob? If so, souther California may finally get the rain they've been craving but if they do it may be too much of a good thing leading to flooding and mudslides. Wild and wooly weather may be the order of the day for the next several months.
Mark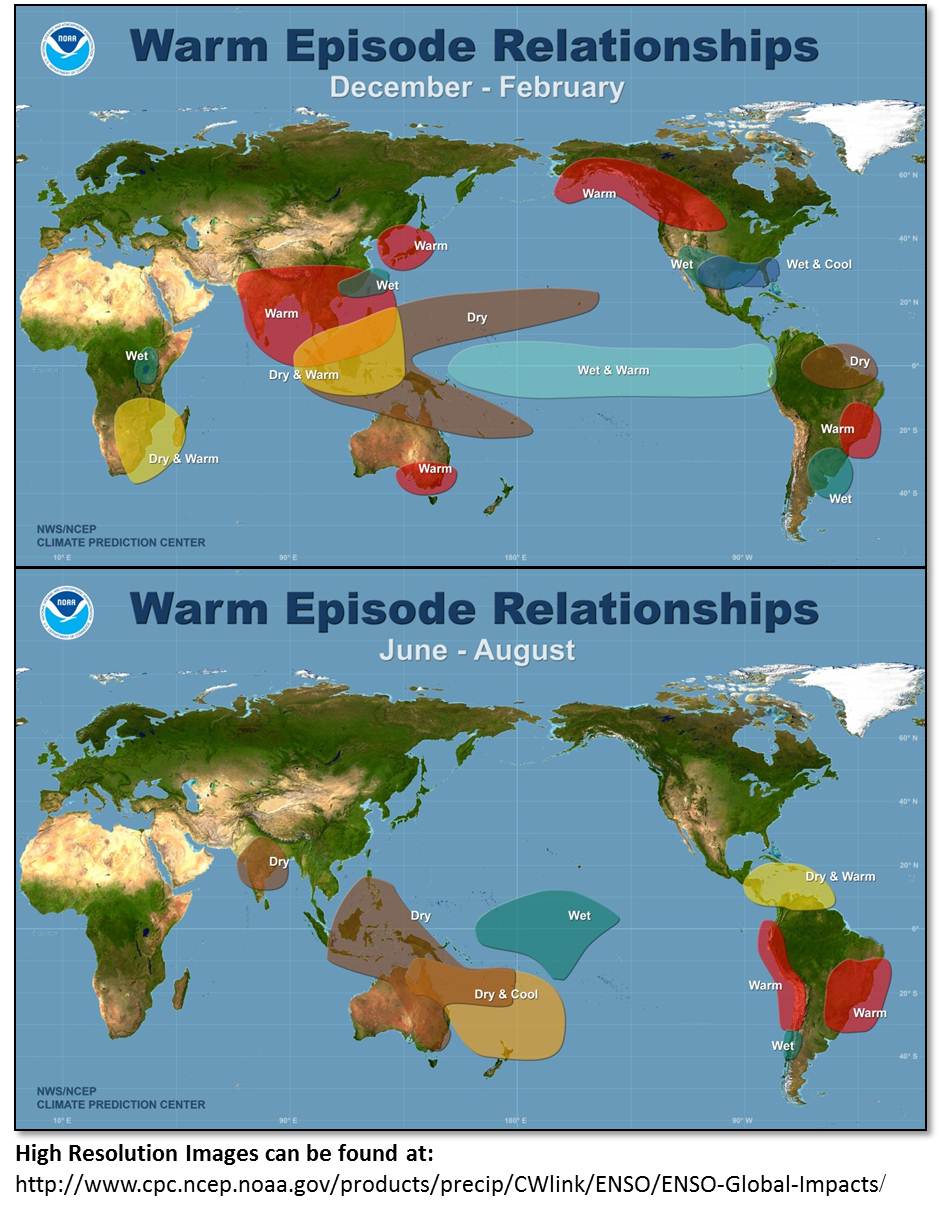 A very hazy day here in Western Washington
Washington State
Alaska
British Columbia
Well, Mark, if that NOAA graphic is meant to indicate that we should have got dry, cool conditions in our Winter, here on the North Island of New Zealand, then it was wrong in most respects. We have had an unusually large number of frosts, though daytime highs have been about normal, as far as I can tell (quite mild). Rainfall has also been above average. So those June-Aug relationships don't always hold, it seems.
We've been told to expect drought this summer but, as we've had drought the previous two summers, that doesn't seem to be particular to El Nino. Maybe it'll be the opposite, this time. Expect the unexpected!
Tony
Sun, Aug 23, 2015 - 10:47am

#2925

count placeholder0

Consequences.
Here is the sea surface temperature anomolies for the North Atlantic, overlays with the Gulf Stream. The average surface temperature is Approx 1.7°C below average for this time of year.
It's this significant? We do not know the temperature of the subsurface. But the Gulf Stream Does seem top peter out when it hits this cold patch. Ì would have thought it would reach as far as Iceland.
3 Trillian joules of heat is a lot of warmth that Europe will see. A cold winter in England won't be Russia's fault. Still, given the sudden demand for heating has one might anticipate a price rise.
http://earth.nullschool.net/#current/ocean/surface/currents/overlay=sea_surface_temp_anomaly/orthographic=320.73,41.91,1187
In any event is this a topic of conversation at coffee break among Climatologists? And what has caused it.?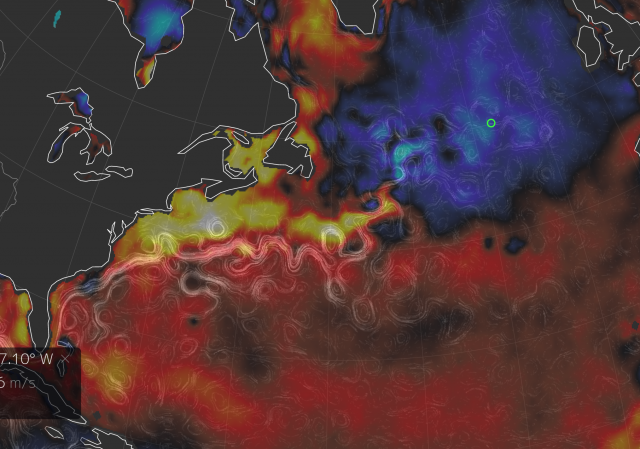 Mon, Aug 24, 2015 - 08:58pm

#2926

Status Platinum Member (Offline)

Joined: May 24 2011

Posts: 874

count placeholder0

The markets aren't the only things falling today…
Small change compared to Antarctic events but large in Greenland terms.
They say the 12.4km sq section is among the largest ever witnessed to come away from the ice stream's calving front.

—–

Esa says that if the glacier lost a total area of 12.5 sq km, and assuming the ice is about 1,400m deep, then the volume calved would equate to about 17.5 cu km, "which could cover the whole of Manhattan Island by a layer of ice about 300m thick".
Tue, Aug 25, 2015 - 08:19am

#2928

count placeholder0

Screenshot from nullschool
Wed, Aug 26, 2015 - 10:50am

#2929

count placeholder0

Hawkey Davis is back on line. Feeling bored?
Just watched this interesting NOVA show that was first aired in May on PBS:
Program Description

A deadly recipe is brewing that threatens the survival of countless creatures throughout Earth's oceans. For years, we've known that the oceans absorb about a quarter of the carbon dioxide in our atmosphere. But with high carbon emissions worldwide, this silent killer is entering our seas at a staggering rate, raising the ocean's acidity. It's eating away at the skeletons and shells of marine creatures that are the foundation of the web of life. NOVA follows the scientists making breakthrough discoveries and seeking solutions. Visit a unique coral garden in Papua New Guinea that offers a glimpse of what the seas could be like a half-century from now. Can our experts crack the code of a rapidly changing ocean before it's too late?
http://www.pbs.org/wgbh/nova/earth/lethal-seas.html