The Definitive Global Climate Change (aka Global Warming) Thread — General Discussion and Questions
Doug, I share your frustration with this site (which is not alone), in appearing to downgrade the importance of climate change (sometimes under the guise of what is right for climate change is right for a whole load of other reasons, so let's concentrate on those other reasons).
I believe that humans are very capable of kidding themselves in many areas (debt, growth, resources) and can trundle along for quite sometime before accepting reality. But the environment can't be kidded about; it is what it is and I think that climate change is still, by far, our biggest problem. Sadly, the change is still occurring slowly enough on human timescales that most can either deny it or ignore it as someone else's problem to fix.
We've known the danger for quite some time. Although there are still many details to fill in, the broad science is fairly well settled (humans emit GHGs and rising GHGs causes warming, GHGs are at unprecendented levels in human civilisation and growing, etc). Deniers still have the edge, because they say the things the public wants to hear and don't mind lying. Meanwhile, the situation deteriorates.
Despite Doug's optimism, I don't think it's possible for humans to do other than what they are doing (collectively). It will certainly take a fairly obvious event to wake people up. Sadly, I think that the deterioration is slow enough that shifting baselines will allow people to avoid seeing what is plain enough even now. What we really need (but can't afford to have) are globallly recognised events happening one on top of the other, probably with the loss of summer Arctic Sea ice. If the ice doesn't disappear (in the Summer) for another 10 years, then so-called climate scientists like Judith Curry will be able to continue to point to "the recovery" every odd year and the masses will listen.
I've noticed an almost constant stream of extreme weather events this year but most don't make the mainstream news. So, frightening though it may be, we probably need a much worse series of weather events, that can't be glossed over.
Humans are a species. Every species has characteristic behaviours. That isn't going to magically change. It will only change with catastrophes hitting regularly, IMO. Hoping for anything else is dreaming.
Tony
Wed, Jul 09, 2014 - 07:07am

#2222

Status Silver Member (Offline)

Joined: Mar 02 2012

Posts: 208

count placeholder

Well Said Tony!
I completely agree with everything you have said here.
Bravo for hitting the nail right on the head.
John
Wed, Jul 09, 2014 - 08:41am

#2223

Status Platinum Member (Offline)

Joined: May 24 2011

Posts: 874

count placeholder

Beware, deceptions can be deceptive
Hello Oliveoilguy,
If you are concerned about deception then I would be wary of what comes out on Anthony Watts site. The article you link is true deception. It is also a retread of a similar one by Willis Eschenbach on Watts' site in 2010 (link). They rip him off and don't even cite him. They are saying that because the amount of ice coming off of Antarctica and Greenland is only a very small percentage of the total amount that it doesn't really matter. Interestingly enough, Eschenbach was saying Greenland was only melting at 0.007%/yr while Beisner and Keister now say it is 0.01%/yr which points to the very issue that they are trying to mislead people away from.
The issue is not the amount of ice that is melting this year it is the fact that the rate at which it is melting is increasing every year. Acceleration means that linear extrapolations are not valid beyond a few years. It also means a lot of water is entering the oceans. Incidentally, a small percentage of an extremely large number is itself a very large number. FYI, 1 gigatonne of ice is a bit more than a cubic kilometer in size.
It is now 2014 so the ice loss is roughly 392 gigatonnes (436 cubic kilometers) this year. If things do not accelerate any further then the loss rate will be up to 2,223 gigatonnes/yr in 2100. This stuff starts to add up. Unfortunately the rate of acceleration will tend to increase the warmer we make the planet, so this is likely a very conservative estimate.
By the way, that article you were looking for can be found here (Woulters et al. 2013). What they are saying is actually anything but alarmist. Their point is that when they compare the satellite-based measurements (GRACE) against their surface mass balance models of the ice on Antarctica and Greenland they conclude that the instrument record is too short to statistically separate long-term accelerations from potential short-term ice sheet variability. They believe that 10 years of data are necessary for Antarctica (they used 9.6 years of data) and 20 years for Greenland. Of course that presumes that their models are accurately showing the actual underlying ice sheet dynamics.
On the other hand, Chen et al. 2013 recently used the GRACE data to re-evaluate sea level rise, together with ARGO data on salinity and temperature in the oceans. They conclude:
On the basis of the GRACE data, we conclude that most of the change in ocean mass is caused by the melting of polar ice sheets and mountain glaciers. This contribution of ice melt is larger than previous estimates, but agrees with reports of accelerated ice melt in recent years.
Hope this helps.
Mark
Wed, Jul 09, 2014 - 10:04am

#2224

count placeholder

Knives in the Back
I am reading Mats Lewens book "The Impossible Invention". (A Good read, by the way. )
On chapter 15 "Half a Megawatt but no answers." He describes a demonstration by Rossi for an anonymous client, a working half Megawatt generator. It can be run with No input, (None as in Zero) once it has been warmed up.
Rossi has other goals than convince everyone of the veracity of his device. If half a Meg is too subtle for you then just move along.
NASA tried the old "buy and bury" routine. They got the finger.
Once this thing takes off it will be The arrow in our quiver with regards to carbon.
Fortunately Rossi is an Italian, the nation that bore Niccolo Machiavelli who wrote in The Prince (1532)
"There is nothing more difficult to take in hand, more perilous to conduct, or more uncertain in its success, than to take the lead in introducing a new order of things. For the reformer has enemies in all those who profit by the old order, and only lukewarm defenders in all those who would profit by the new order"
The Italians are well versed in the art of parrying a knife thrust to the back.
Fri, Jul 11, 2014 - 03:15pm

#2225

count placeholder

Reports from the Rusian Icebreakers.
The Russian Icebreakers say that the climate is changing. But what would they know?
Tue, Jul 15, 2014 - 05:51am

#2226

Status Platinum Member (Offline)

Joined: May 24 2011

Posts: 874

count placeholder

All wet?
All,
I would like to ask a question of you. How many of you have had to deal with some sort of flooding in the last few years? What have your observations been?
The statistics are clear that the number of days with very heavy precipitation (top 1 % of all events) are increasing across the US (link) and this trend is reported around the world (IPCC 2013). The figure below shows the changes between 1958 and 2007.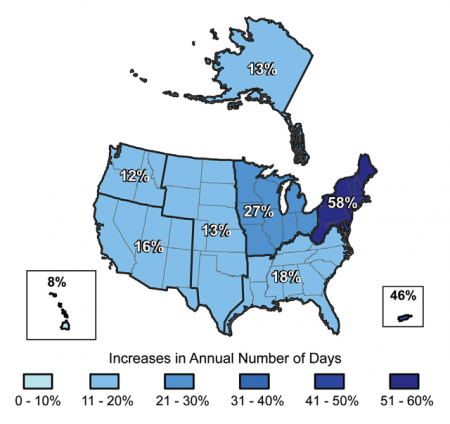 But what I am wondering is if this accurately represents the extent of the changes, especially in the years since 2007? I live in an area with a supposed increase of somewhere between 13-27% of days with such events but my experience has been much more extreme than this. My town has dealt with flooding multiple times in recent years. I dealt with it personally as my own home was flooded. I moved a few years ago but then this year the storage facility where many of our belongings are stored has flooded both in June and now July. This last weekend it was a sudden 3 inch downpour. Last month it was 7-8 inches in a few days. That is 40-50% of the normal annual precipitation for this area in 2 storms. Luckily for us, I placed things on triple stacked pallets so I'm not so heavily impacted this time but it has made me wonder just how unusual our experience has been?
Totally unscientific, but I am just wondering what your collective anecdotal experiences indicate about these changes in different parts of the globe? The analyses I have ongoing are looking at rainfall changes but the data are monthly averages. I am wondering if hourly data is what is really needed at this point to comprehend what a given amount of rainfall really means for a location!
Mark
Tue, Jul 15, 2014 - 07:26am

#2227

count placeholder

My place.
South West Western Australia. We had the wettest start to July ever. A big cold front swept in from the Great Southern and dumped a lot of rain, and then we froze. It got down to 2.1C.
Actually, Mark, my personal experience is of slightly less rainfall in each year (in the last few years) and few really heavy downpours over the last year or two. However, the same isn't true of the rest of the country, with severe falls in several places. Anecdotally, local farmers in one area said about a metre of rain fell in 6 hours (I don't know how they'd measure that), though the official records probably won't show anywhere near that. This concurs with my feeling that the rainfall is becoming highly localised, as we often get quite different rainfall amounts than the semi-official data shown in our local paper. Recently, the far north of New Zealand had extended heavy rainfalls and some of it remains cut off (road-wise) today and hundreds remain without power. But droughts in summer seem to be becoming common – we had a bad one last summer (it's winter now).
But, yes, I see reports all the time of severe flooding around the globe (not so much on mainstream news, though). It's interesting to know that this is not just anecdotal, with an increasing trend shown in the IPCC report you mentioned.
My memory of this area doesn't go back to 1958, just to 1982. That said, this is the wettest year I've seen around here. I write this as yet another passing rain storm is dumping water on the water logged.
Bill McKibben discussed the northeast and its many small watersheds in his book eaarth. He described pretty well what I've seen going on the past several years. In 2009 my small watershed had what was described as a 500 year flood. We got 7" of rain in an hour and a half. The village at the bottom of the watershed was devastated. We have had three smaller floods since then, including in May this year. The state just declared this county and a neighboring one disaster areas for flooding this year. A drive through the countryside will take you around numerous small road washouts that are in various stages of repair.
The quality of the rain has also changed. Those rain storms with the big fat drops coming down in torrents that I always associated with the south and midwest have become routine.
So, yes, it is a lot wetter than I remember in my early years here and the rain is in heavier episodes. I suspect hourly records may be more revealing than longer term records. Oh yeh, we had a ridiculous amount of snow this year.
Doug
Tue, Jul 15, 2014 - 12:23pm

#2230

Status Diamond Member (Offline)

Joined: Dec 13 2009

Posts: 1434

count placeholder

No real changes in the
No real changes in the intensity of rainstorms here in the Columbia, SC area. However, usually this time of year the grass on the side of the road is brown. It's currently tall and green. We've gotten about 20-30% more rain than average this year, according to my spouse who has lived here 38 years.