The Definitive Global Climate Change (aka Global Warming) Thread — General Discussion and Questions
Mon, Mar 12, 2012 - 02:48am

#131

count placeholder

Cooking the books by cooling the past
A few days ago Richard Lindzen was chided at RealClimate for having confused some data sets that led him to make the comment that "We may not be able to predict the future, but in climate 'science' we also can't predict the past". While he may have been wrong about the particular data he chose for illustration at the time, it is nevertheless true that several climate science groups have not been able to resist lowering temperatures in the past in order to show more pronounced or longer trends of warming. GISS is back at it again, as discussed here wattsupwiththat.com/2012/03/11/another-giss-miss-warming-in-the-arctic-the-adjustments-are-key/#more-58888. By scrolling to the top of the page, one can find a graphic that illustrates what has been done at a glance.
It seems to be the unfortunate truth that every recent temperature adjustment is upward, and every trend adjustment is upward at the hands of GISS, CRU, and IPCC. This reached the height of absurdity with Mann's infamous and discredited "hockey stick" graph. There is a reason why the public view of climate science is as depicted below. When prominent climate scientists such as Stephen Scheider and Peter Gleick think it acceptable to lie or produce fake documents, it is not a stretch for normal folks to think that they might fake their data and conclusions.
Stan
Mon, Mar 12, 2012 - 04:44am

#132

Status Platinum Member (Offline)

Joined: May 24 2011

Posts: 828

count placeholder

I thought you were a fan of Feynman?
We've learned from experience that the truth will come out. Other experimenters will repeat your experiment and find out whether you were wrong or right. Nature's phenomena will agree or they'll disagree with your theory. And, although you may gain some temporary fame and excitement, you will not gain a good reputation as a scientist if you haven't tried to be very careful in this kind of work.  (Feynman at Caltech 1974)
Stan,
Richard Lindzen was peddling scientific interpretation tailored for industry since back when I was at MIT in the early 1990s. Before he had this gig he also took money to deny cigarrettes cause cancer. Read Merchants of Doubt if you want to see how the skeptic machine is run and funded. I'm beginning to believe that you know the system very well already though. Why don't you hold your demagogues to the same standards that you expect of Hansen? How about Anthony Watts? He fully endorsed and claimed he'd abide by the results from the Berkeley Earth Surface Temperature (BEST) research, right up to the point when they concluded that:
"We are seeing substantial global warming"
"None of the effects raised by the [skeptics] is going to have anything more than a marginal effect on the amount of global warming."
How is that for An Inconvenient Truth?
Mon, Mar 12, 2012 - 05:23am

#133

Status Platinum Member (Offline)

Joined: May 24 2011

Posts: 828

count placeholder

Skeptical about claims by global warming skeptics?
Ignore the formatting garbage above. I pasted   in from Word….
The science of global climate change should not become entangled with people's political agendas. It is every person's right to be skeptical about matters that may require changes in how we go about our daily lives, however, it is also our responsibility to make sure that we are adequately informed about such issues before jumping to conclusions. Would you take advice from a random person on the subway about how to invest your life's savings or would you ask for expert advice from someone with relevant professional credentials? The relevancy is important, if your child was injured and needed brain surgery, would you ask a plastic surgeon to do it?
Global climate change (aka global warming) is not some fad cooked up by scientists to get grant funds. In 1896, the Swedish scientist Svante Arrhenius estimated that burning fossil fuels would eventually double atmospheric carbon dioxide levels and warm the planet by 5 to 6 °C! Scientists are extremely skeptical by nature and hundreds, if not thousands, have spent the last hundred years trying to prove Arrhenius wrong, without success. While there is still healthy debate about how much warming will occur, the only thing more climate scientists agree about is the existence of gravity. Current estimates are for warming by 2-4.5°C (IPCC 2007).
As a society, we need good information if we are going to make good decisions. With regard to global climate change, a quick look at the internet shows that a lot of opinion is circulating as fact. It is no wonder that there is a lot of confusion about this issue.
There is a difference between legitimate skepticism and misrepresenting information to support a preconceived conclusion. It doesn't matter if you call it global climate change or global warming; this is a very serious issue and deserves honest, open-minded debate. Whether you ardently believe or disbelieve at this point, ask yourself what, if anything, would convince you to change your mind? If your answer is "nothing", then you are not rational about this subject. Answering my own question, I would have to say that if another plausible explanation for the observed planetary energy imbalance could be shown to better fit the existing data from many sources around the world then I would reconsider the importance of anthropogenic greenhouse warming. So-called 'skeptic' arguments rarely try to explain what we see, they simply attempt to sow confusion and doubt about what the science is telling us.
There is a play book whereby the 'so-called' skeptics mislead, misrepresent and denigrate those who are conducting the science. Misquoting is an old art. Statements attributed to Professor Phil Jones from 2010, as previously raised, are often misquotes taken out of context. You don't have to take my word for it, decide for yourself what he really said by reading the transcripts of the actual BBC interview (link). He said that since 1995 the climate was warming at 0.12°C per decade, but that the trend was just shy of statistical significance at the 95% level. Put another way, if you were grading his conclusion about warming over the last 15 years, he would receive an A instead of an A+ because he didn't quite achieve 95%. Science holds very high standards that he just missed. This is not the same as failing.
Scientists use a peer-review system wherein two or more independent scientists check the author's work before publication to help prevent erroneous or fabricated research from being published unless it is corrected first. Conversely, anyone can post anything on the internet without any verification of truthfulness or accuracy. Which is more believable?
There are lots of apparently reasonable sounding skeptical arguments being circulated these days, and it is sometimes difficult to know what to believe. Most of the so-called skeptic's arguments (It's the sun, It's water vapor, It's urban heating effects, etc.) have been debated and debunked in the scientific literature long ago.(link)
It's quite reasonable to be skeptical of science, but be at least as skeptical of those peddling seemingly obvious explanations of global warming that the science community presumably has overlooked for the last century or those trying to imply that a hundred years of research by 100s of scientists is not worth paying attention to. Scientists provide the best possible information about what they have learned. Society decides what to do with that knowledge, however, there are vested interests that do not want society to have that knowledge. Let's hope we can grow to make good decisions about this and a great many things in the coming years.
Mark
I've lived in western NY for 30 years and have looked out over Lake Erie most of those days.  Winters here are somewhat notorious for snow spawned by lake effect.  The one that sticks in most people's minds is the infamous blizzard of '77.  It was truly one for the record books.
But, now we are seeing warmer winters and snow that still falls in large quantities, but melts pretty quickly.  There has been a spate of articles lately discussing the declining ice cover on the Great Lakes:
http://www.chicagotribune.com/news/local/breaking/chi-great-lakes-ice-weather-climate-change,0,2259584.story
As an eye witness, I can say this winter has seen the least ice cover in my 30 years here.  There have been other winters when L. Erie did not completely freeze over and/or did not come close to freezing over.  But, this is the first year I have seen no ice, not even in what they call the inner harbor at Buffalo.  Another surprise to me has come in the last two winters.  I had an unvarying rule for western NY weather.  That was that March always sucked.  I was never 'disappointed' until last year when March was beautiful.  Well, guess what, March is beautiful again this year.  The month has been overall quite mild and we're having an entire week and maybe longer with temperatures in the 60s and no snow on the ground.  And this follows a winter when I got more outside work done than in any previous winter.
I know, I know, we can't attribute individual weather events or even seasons to climate change, but patterns matter.  Based on the change of patterns I've witnessed here and the confirmation of those patterns by people who have lived here far longer than I, winters are warming overall.  We are also getting more violent and frequent weather events like the gully washers that Bill McKibben discussed in his last book, eaarth, and that I personally experienced in our own small watershed two years ago.  Seven inches of rain fell on us in 1 1/2 hours.  My house is right at the top of that watershed and we still had a foot of water in the basement.  The town 4 miles downstream was devastated.
I think we have reached a point when, as I read somewhere, the relevant question is not whether a weather event is caused by climate change, but, to what extent climate change influences weather events.
Doug
Stan,
Why do you persist with the lie that Mann's hockey stick graph has been discredited? It has been replicated more than once in separate studies and confirmed by national science bodies. This is akin the the idea that Limits To Growth had been discredited. It is immoral to continue to peddle false notions in the hope that they will gain wider acceptance, especially when the subject matter is so crucial to all our lives.
Tony
Tue, Mar 13, 2012 - 07:05am

#136

count placeholder

Who is lying?
sofistek wrote:
Stan,
Why do you persist with the lie that Mann's hockey stick graph has been discredited? It has been replicated more than once in separate studies and confirmed by national science bodies. This is akin the the idea that Limits To Growth had been discredited. It is immoral to continue to peddle false notions in the hope that they will gain wider acceptance, especially when the subject matter is so crucial to all our lives.
Tony
Tony,
Take a look at the graphs shown below. The first, excepting the colors, is the infamous hockey stick graph by Mann, Bradley and Hughes avalable in http://www.meteo.psu.edu/~mann/shared/articles/MBH1999.pdf.  It purports to show that the earth mean temperature hardly varied for 900 years and then went berserk. Not only is this wrong, the data set used for the graph actually showed declining temperatures from 1960 onward, but was replaced with temperatures from other sources to provide the blade of the hockey stick. This shameful exercise was exposed clearly by Prof. Richard Muller, principal investigator of the recent Berkeley( BEST) temperature record as can be seen here http://www.youtube.com/watch. What was done by Mann et al, is completely and utterly contrary and alien to the spirit of science.
The tip of the blade is not actually in question, as shown by Muller's own work, and I have no quarrel with the actual data. But I do have a quarrel with the long straight handle of the hockey stick. The next two graphs show a very different story. The first is temperature data from a central Greenland ice core after only converting O18 data to a temperature scale. The second is a similar plot of temperatures in the Sargasso sea as determined from isotope ratios in marine organism shells. I might add that these are a hell of a lot better temperature proxies than tree rings. These two graphs are only for illustrating the fact that there really was a Medieval Warm Period (MWP) that was probably warmer than the present. Craid Idso has compiled the results of many similar peer reviewed studies that can be seen here http://www.co2science.org/data/mwp/quantitative.php. As a matter of fact, the IPCC acknowledged the existence of the MWP in its earliest reports, as shown on the last graph.
In case you didn't take the trouble to read the "climategate" emails, you might not be aware that some well known climate scientists spent some time discussing the need to make the medieval warm period go away. It is, after all, hard to make a case for alarm over warming if it has been warmer due to normal climate variability within the past millennium. Recent work has shown that historical temperatures in Greenland have exceeded those in the present by more than two standard deviations at least six times within the past 4000 years. Replacing hundreds of other studies that were the basis for the IPCC 90 graph with the hockey stick was one of the most blatant lies ever perpetrated in the name of science.
I will leave it to our readers to determine who has the moral high ground here.
Stan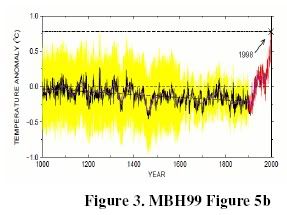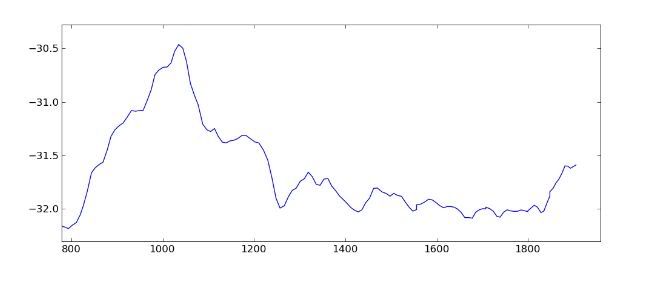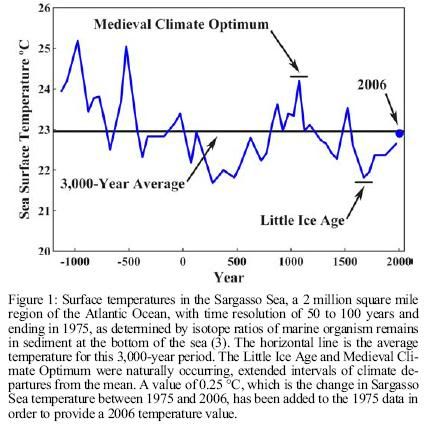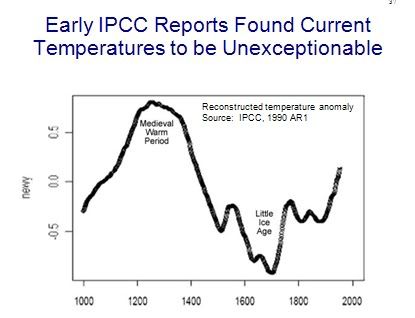 Tue, Mar 13, 2012 - 10:39am

#137

Status Gold Member (Offline)

Joined: Sep 08 2008

Posts: 358

count placeholder

Chris Martenson's only comment
Quote Chri Martenson
"I don't normally wade into these waters mainly because the entire topic of global warming, for many, comes down to a matter of belief and is therefore subject to a rapid escalation of emotions.
I will say that as a former computer modeler I am quite leery of big models because I know the limitations.  Among them are sensitive dependence on initial conditions (the so-called butterfly effect especially prominent in chaotic systems), the length of time being modeled (longer = less accurate), and getting your variables both completely defined and their feedback loops properly adjusted.
The more non-linear the system, and the less 'testable' it is, the trickier it is to model.  For example, modeling the path of a drop of dye in a glass of water is still pretty much a parlor trick with models making beautiful approximations but not so much actually predicting an actual event (i.e. revealing all the actual swirls prior to a drop being placed in a glass of water).  And here we are talking about a very limited system with a relatively few variables; temperature, density of both fluids, shape of the vessel, size of the drop, height of its drop, etc and one that is easily subject to repeated experimentation and repetition to the investigators' delight and refinement.
Now let's fast forward to a system (climate) with hundreds if not thousands of variables, some of which may not yet even be characterized (or discovered), many of them not directly testable, with unknown feedback parameters requiring vast ranges to be applied (think back to the butterfly effect here) all being cast forward many years, if not decades.  Suffice it to say that some caution is warranted. "
Well watching this recent lively discussion has strengthened my opinion that he is right ………
Cheers Hamish
Quote:
Suffice it to say that some caution is warranted. "
Of course some caution is warranted, as it is in all science.  It strikes me, though, that Chris's own belief system is at work here.  Why would his opinion be any more relevant than anyone else's on an area of science, with which he is largely unfamiliar?  He seems to be stuck on his opinion of models and probably has not reviewed the observed and proxy evidence to any great degree.  But, there is one non-deniable bit of data out there.  We are at 393 ppm CO2 in the atmosphere, an unprecedented concentration in at least the last 800k years, and it is accelerating.  For those who claim that it's no big deal or that we can easily adapt, the observational data seems to be contradicting that complacency.  And, the burden of proof is on them to demonstrate why we should not worry.
http://www.sciencedaily.com/releases/2011/10/111025163128.htm
Quote:
The model showed that melting between June and August was well above the average for 1979 to 2010. In fact, melting in 2011 was the third most extensive since 1979, lagging behind only 2010 and 2007. The "mass balance," or amount of snow gained minus the snow and ice that melted away, ended up tying last year's record values.
http://abcnews.go.com/International/changing-climate-chinese-scientists-warn-significant-glacier-melt/story?id=14828658#.T19QXhGPWmA
Quote:
According to the paper published this week in the British scientific journal Environmental Research Letters, climate change has had devastating affects on glaciers in the mountains of southwestern China. The region includes the Himalayas and other ranges that are part of the Tibetan highlands.
The research team led by Zongxing Li has observed "significant" annual and seasonal warming trends, along with the "drastic retreat" and "large mass loss" of glaciers, which has led to an increase in the size of glacial lakes in the area, the paper said.
Where is the science supporting the notion that we can go on injecting ghg's into the atmosphere with impunity?  As I noted earlier, we are in uncharted territory and the denialists just keep saying, in effect, move along folks, nothing to see here.  Where is the evidence for complacency?
Tue, Mar 13, 2012 - 09:50pm

#139

count placeholder

Feynman got it right!
Mark Cochrane wrote:
We've learned from experience that the truth will come out. Other experimenters will repeat your experiment and find out whether you were wrong or right. Nature's phenomena will agree or they'll disagree with your theory. And, although you may gain some temporary fame and excitement, you will not gain a good reputation as a scientist if you haven't tried to be very careful in this kind of work.  (Feynman at Caltech 1974)
Hi Mark,
In case you missed the newpaper interview piece that I posted the other day, let me remind you that in 1986, Hansen said that we would have 0.5F warming by 1990, 2 F to 4F (1.1 – 2.2 C) between 1990 and 2000 and worse after that. In view of what actually happened, I would say that that got him some temporary fame and excitement, just as Feynman said it might. But here is what really happened.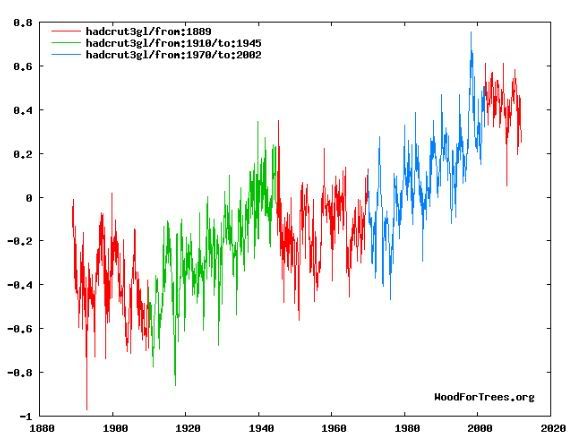 Now let me remind you of our wager. You are betting that the trend from 1970-2002 will resume shortly. If it did and it continued for 100 years, the global mean temperature would go up about 1.8C, but I am betting that it will be cooler in the next decade. Our readers ought to think about this a bit and see which side of the bet they would rather have.
About Lindzen, it is true that he cuts tobacco more slack than I would but I think that you will be hard pressed to show that he ever took money from a tobacco company. As I recall, both he and Fred Singer were critical of the study linking second hand smoke to cancer and if you look carefully at what was done, I think that you would agree that that study did not support the conclusion.
I am growing rather tired of your repeated assertions that we are seeing substantial global warming as though that proves something. Of course we have been seeing warming! But that in itself proves nothing about either causes or future prospects. To be equally irritating, let me repeat my assertions. (i)  There are important cyclical trends in the temperature records that are not captured by the climate models (see the chart above). (ii) The only real issue is the size and the sign of the feedbacks that will accompany further increases of CO2. (iii) We have already had half of a doubling of CO2 in the industrial era and got 0.7C warming for it with all known feedbacks already operative. It seems to me that nature is already disagreeing with the catastrophe theory. What makes you think otherwise?
Stan
Wed, Mar 14, 2012 - 01:46am

#140

Status Diamond Member (Offline)

Joined: Aug 09 2008

Posts: 1132

count placeholder

Looks just like the escalator to me Stan….