The Definitive Conspiracy Theorist, New World Order, Mad Max, Alex Jones Fan Club Thread
Mon, Apr 13, 2009 - 12:33am

#101

count placeholder

Re: The Definitive Conspiracy Theorist, New World Order, …
[quote=SPM]"…Since I am myself an engineer, and personally watching the fall of the towers on TV around 10am that morning. Nothing that I saw shows evidence of a bomb. It is simple physics the way the building fell,,."[/quote]
What changed my opinion of the 'official' government collapse theory was not Alex Jones, Loose Change, Michael Moore or anyone else's conspiracy theories. It was close observations of the collapse of all three WTC buildings.
I'm not certain what kind of engineer you are but the 'simple physics' as you put it, was not that 'simple'.
There are many questions, yes 'physics' questions, that the N.I.S.T. report failed to address.
There has been no credible explanation of the mysterious 'disappearence' of the center core columns, the lack of concrete rubble at ground zero, the rate of collapse (at almost free-fall speed), the squibs (high velocity ejections of concrete dust) from many areas other than the actual areas of floor failure (some occuring at many floors below the points of failure).
http://www.youtube.com/watch?v=5EbsGZcl2jk
Also was the ejection of fine concrete dust (plumes) over a very wide area.
Entire sections of concrete don't simply turn to dust due to gravitational collapse. There was very little concrete rubble that ever reached the ground. Most of the hundreds of thousands of tons of concrete that these 1/4 mile high towers were constructed of was blown for miles around NYC.
Large steel column sections weighing many tons were also ejected several hundred feet from the towers. Some piercing adjacent buildings.
A gravitational collapse looks like this.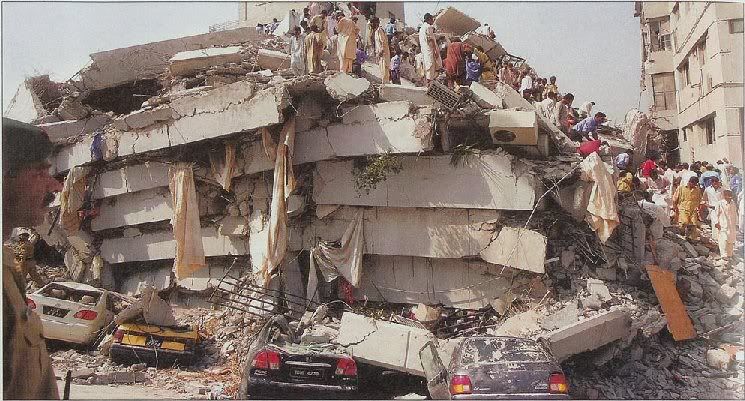 Below is the upper 20 floors (approx) of one of the WTC towers leaning and falling away.
One would expect at least that should have resulted in some large sections of concrete rubble at the base of the towers.
Did it?….
Apparently not. This large section also was pulverised into fine dust BEFORE it reached the ground.
Added to this are dozens of testimonials by those who were there reporting several large explosions in the basements and lobby of the towers. 
There is a tendency is the U.S. to be labelled unpatriotic for questioning the official government version of the WTC attacks.
I would think with respect to those who lost their lives it should be regarded unpatriotic not to.
If you haven't been to http://www.ae911truth.org/twintowers.php I suggest you take a look.
The site is created by engineers and architects who have looked at the physical evidence which (from an engineering and  physics perspective) discredits the official story.
Once you are finished there I would like to hear your explanation (from an engineering perspective) of how gravity, and gravity alone, resulted in the collapses.
Mon, Apr 13, 2009 - 12:55am

#102

count placeholder

Re: The Definitive Conspiracy Theorist, New World Order, …
Sam,
Do you believe that major media sources have ever silenced?  If yes, then is it far fetched that what we consider "mainstream" media sources could be silenced on this topic?
Mark
Mon, Apr 13, 2009 - 01:17am

#103

count placeholder

Re: The Definitive Conspiracy Theorist, New World Order, …
Anyone care to comment on the NAFTA superhighway?  Here in Texas we have been fighting our segment – called the Tran Texas Corridor.  Governor Perry wanted us to believe that it was not to be part of the superhighway, in fact that he knew of no such thing as the NAFTA superhighway.  Enough people knew he was lying, AND TURNED OUT TO FIGHT IT that it has been shelved for now.
Mon, Apr 13, 2009 - 03:22am

#104

count placeholder

Re: The Definitive Conspiracy Theorist, New World Order, …
mark
there is no nafta superhighway there is no nafta, there is no NWO  there are no rothschilds. the rockefellers love us and want nothing but the best for all of us that is why they continue the tradition of ol jd and give dimes to folks. the media is not controlled by just a few corporations. obama is the best president ever and he will fix everything. there is nothing to worry about. you still have a job, you still have a house and you live in the richest country in the world. so what's the problem?
the only problem is this thread is for people to share info on the NWO but the people who make fun of the CT's continue to hijack it.
now take the blue pill and you will feel much better.
Mon, Apr 13, 2009 - 12:39pm

#105

count placeholder

Re: The Definitive Conspiracy Theorist, New World Order, …
You realize you are a lot of work,
right Sam?
I will go in depth on this and post as
time permits:
Perhaps the first clue that forces
other than those elected by the populace were influencing the U.S.
federal government comes in a letter written in November 21, 1933 by
President Franklin Roosevelt to Col. Edward Mandell House, President
Woodrow Wilson's close advisor:
(1)"The real truth of the
matter is, as you and I know, that a financial element in the larger
centers has owned the Government ever since the days of Andrew
Jackson… "
Hmmm…..A POTUS is telling a
friend that some people other than the U.S. citizenry owns the
government and that this is a financial element? Who are these
people?
It
would not be until 1966 when these groups that we know today as the
Bilderbergs, the Tri-Lateral Commission and the Council on Foreign
Relations would be initially pontificated on in public by Professor
Carroll Quigley, one of Bill Clinton's mentors in his book Tragedy
and Hope
(1966). He called them the "round table groups" And was, in
fact, one of them:
(2)"There does exist and has
existed for a generation, an international … network which
operates, to some extent, in the way the radical right believes the
Communists act. In fact, this network, which we may identify as the
Round Table Groups, has no aversion to cooperating with the
Communists, or any other groups and frequently does so. I know of the
operations of this network because I have studied it for twenty years
and was permitted for two years, in the early 1960s, to examine its
papers and secret records. I have no aversion to it or to most of its
aims and have, for much of my life, been close to it and to many of
its instruments. I have objected, both in the past and recently, to a
few of its policies… but in general my chief difference of opinion
is that it wishes to remain unknown, and I believe its role in
history is significant enough to be known."
In
that same book, Quigley traces back these groups to 1891
founded by Cecil Rhodes (of Rhodes Scholarship fame) and Alfred
Milner. The society consisted of an inner circle , The Society of the
Elect and an outer circle The Association of Helpers
The society as a whole does not have a fixed name.
http://en.wikipedia.org/wiki/Carroll_Quigley
It
seems that these groups slowly morphed into what we have today. And
as far back as 1979, Senator Barry Goldwater warned us of one of
these groups as an insider that should know:
(3)"The
Trilateral Commission is international and is intended to be the
vehicle for multinational consolidation of the commercial and banking
interests by seizing control of the political government of the
United States. The Trilateral Commission represents a skillful,
coordinated effort to seize control and consolidate the four centers
of power – political, monetary, intellectual and ecclesiastical."

"As
of 25 December 1976, therefore, there were nineteen
Trilaterals,
including Carter
and Mondale,
holding tremendous political power. These presidential appointees
represented almost one-third of the Trilateral Commission members
from the United States. The odds of that happening "by chance"
are beyond calculation!"
http://www.augustreview.com/issues/globalization/the_trilateral_commission:_usurping_sovereignty_2007080373/
As
to you guys questioning my quotes on Bush and Kissinger we can go to
you tube and watch them discuss it:
http://tr.youtube.com/watch?v=7a9Syi12RJo
http://tr.youtube.com/watch?v=aROay5kufxc
(1)Letter toCol. Edward Mandell
House (21 November 1933); as quoted in F.D.R.:
His Personal Letters, 1928-1945,
(New York: Duell, Sloan and Pearce, 1950), pg. 373

(2)Carroll
Quigley (1966). Tragedy
and Hope: A History of the World in Our Time.
New York: Macmillan. pp. 949-950.
(3)Goldwater,
Barry, With No Apologies, (Morrow, 1979), p. 280



Mon, Apr 13, 2009 - 01:30pm

#107

count placeholder

Re: The Definitive Conspiracy Theorist, New World Order, …
[quote=Dogs_In_A_Pile]
I see that you made a distinction between New World Order and new world order.  Where does/did the phrase take on such ominous overtones?
[/quote]
Actually that distinction was a typo.
[quote=Dogs_In_A_Pile]
Would you entertain the remotest possibility that there is no dark conspiracy and that all that was meant by that phrase (lower case) was a new, unprecedented level of global cooperation?  It would be relatively easy for nation states to maintain their sovereignty and national identities.  I'm speaking in glittering generality here – Chapter 20 of the Crash Course is all about community – what would be so wrong with that at an international level?
Such a world community would be tremendously leveraged to deal with global crisis be it a pandemic, ELE, tsunami, hurricane, earthquake, Yellowstone caldera, etc.  I share Sam's opinion that that is what nwo means.  Nothing more, nothing less.
[/quote]
**********
I have entertained that thought often. Utopia, wouldn't that me nice?
Marxism sounds utopian, doesn't it? From those who have to those who have not. What a nice community, people take care of each other, share and share alike.
The only problem is that man's nature for power and corruption is not expressed in the Marxist equation. It doesn't work. People who have, tend to have more and vise versa.
Unfortunately, sovereignty and national identities and a global government which recognizes no borders are the antithesis of one another. Who was it that said borders should only be a concept, GB? Don't remember.
And you really trust these people to implement a NWO in the manner that you state above. To me that is simply naivette. Power corrupts. One need look no further than our current leaders to see that. Could you imagine that power rush if these guys were running the entire world?
[quote=Dogs_In_A_Pile]
IMO – it's the wild bunch, the fringe thinkers that have breathed dark life into the NWO connotation.  You can populate that list with any number of people – Michael Savage, Limbaugh, Alex Jones, Ickes et al.  How is what they have done any different than what they accuse MSM from doing?  Then you get a Celente – head and shoulders above that rabble – who poses the problem for me because he makes sense.  The fact that these other guys continue unchecked makes you wonder what master they serve – if the NWO were as demonic as they would have you believe I find it hard that there isn't an unfortunate car accident for one of them.  Of course they all have that base covered with the "If I die it means I got too close and "they" took me out".  That approaches borderline ridiculous and then takes a running jump over the line.
[/quote]
********** 
Quite the little conspiricy theory you have going there, Dogs….
But seriously. Many of us had this figured out long before the guys you mention above came onto the scene. 
Demonic? I don't believe they are demonic, they are just idealists who see things in black or white and miss the gray area. They think big government is the answer to everything. Yup, I loved the way GB handled Katrina, social security and the economic crisis.
They view the collective as more important than the individual and when these types come into power, out goes individual freedoms and needs and in comes the needs of the collective. They want to spread the wealth around which really translates into the fact that they want to merge wealth and poverty to create a new synthesis. I've been broke, I didn't like it…
Mon, Apr 13, 2009 - 01:37pm

#106

count placeholder

Re: The Definitive Conspiracy Theorist, New World Order, …
[quote=SamLinder]
So "They want us…" – I always love it when the generic "They" is used. It can encompass so much and mean so little.
[/quote]
They, meaning the globalists, of course, the Bushes, Obama, Kissinger…i.e. our world leaders.
[quote=SamLinder]
There you go with "They" again. Also, the internet is loaded with blogs from every corner of the political spectrum and every corner of the earth. If all these tea parties are currently being held, why don't you provide links to them?  Surely the NWO hasn't been able to muffle the entire internet has it?
[/quote]
No, they haven't managed to muffle the Internet. Here is your link:
http://www.worldnetdaily.com/index.php?fa=PAGE.view&pageId=93779
My town has had a tea party, yours has not? There were over 5000 people at the one in Orlando, you might want to research that.
[quote=SamLinder]
It is hardly an environment for a world dictatorship.
[/quote]
Look at the Kissinger video I posted above. He disagrees with you and thinks it is the perfect environment. As Rahm Emmanual has stated,  never let a good crisis go to waste.
http://liberalfascism.nationalreview.com/post/?q=ZTQ1NjA2MzRjYTRkYTI1YmVlYTIyMWJiY2QwY2EyOWI=
[quote=SamLinder]
Do you seriously expect me to believe that literally thousands and thousands of people all over the world are "in" on this conspiracy and it's happily moving forward without anyone in the way? We can't even get a consensus of the G20 and you expect me to accept that suddenly all the NWO folks are going to be singing Kumbya and instituting a world government without a fuss?
[/quote]
**********
Oh yeah. They are implementing it without a fuss due to the fact that, just like you, most people are ignorant on the subject. No insult intended, we are all ignorant in some subjects.
Mon, Apr 13, 2009 - 03:28pm

#108

count placeholder

Re: The Definitive Conspiracy Theorist, New World Order, …
jerry –
Let's run this out a bit.
If things continue unchecked, with the nefarious forces at play that you are leaning towards, what is the ultimate end state in the NWO as you see it?
I think you have an idea of where I think nwo is going – an world with unprecedented level of global cooperation – without the bad guys.  Not Utopia, but closer to it than the Ayn Rand "Anthem" world.
And let me qualify that opinion – I honestly believe that the differences and inherent intolerance in fundamentalist religions are a far more powerful dividing force than any spooky dark NWO movement.  That is what will prevent either the NWO or nwo scenario from fully playing out.
Mon, Apr 13, 2009 - 04:09pm

#109

count placeholder

Re: The Definitive Conspiracy Theorist, New World Order, …
 Here's my two cents worth:
Ted Gunderson
This man retired from the FBI in 1977 as Special Agent in Charge of all but two counties in California at the end of a 27 year career.  After retiring he started his own private investigation firm working on some very high profile cases.  He came to the conclusion that there is a high level conspiracy in our government that is involved in satanic cults.  What he talks about dovetails nicely with other CT research, it's like another piece of the puzzle.  It would be easy to dismiss him as a nut except for the fact that he was such a high ranking law official.  There might be something to his thousands of hours of work and hundreds of file boxes full of interview transcripts, pictures, and notes on his lengthy investigations.  One of the quotes of his that has stuck with me is,"I used to think there was a loose knit satanic cult in the high levels of government.  In the last few years I've become convinced that it is a tight knit group".  There are several good videos of his lectures on Youtube and Google Video.  Here is one of his many lectures, lengthy but informative:
http://video.google.com/videoplay?docid=-3345008237622976440&ei=vmDjSZOJBaDaqAOsqbH2BA&q=ted+gunderson&hl=en
If this is too long for your attention span or you simply don't want to listen to something this lengthy, there are lots of other materials available on his work.  I want to add that Mr. Gunderson had some legal problems later in his private investigation career.  I do not believe this in any way undermines his earlier works. 
Watch and decide for yourself.
Mon, Apr 13, 2009 - 05:37pm

#110

count placeholder

Re: The Definitive Conspiracy Theorist, New World Order, …