Suburban Foraging
Sun, Jul 08, 2012 - 09:14pm

#1

count placeholder

Suburban Foraging
I'm starting a new topic on suburban foraging. So much food is going to waste around us! If you have a neighbor who has an apple tree, pear tree, fig or peach tree that just drops all its fruit an no one uses it, why not claim it and store it?
A local church lets us can all their pears from a 30-ft tree, and a neighbor just called us over to pick 10 pounds of free honey figs. My girlfriend Sarah in the midwest is a pediatritian, but she cans all the neighbor's fruit that they don't want and gives them some of the jam that results.
When I lived in NY the Asian population would pick all the mulberries wherever they lived. There is no shame in using this resource, and you might even get some pits of seeds to grow something proven to thrive in your area.
Does anyone else have experience in this area of resource conservation?
I love these people!
Guerilla Grafters
"The Guerrilla Grafters graft fruit bearing branches onto non-fruit bearing, ornamental fruit trees. Over time, delicious, nutritious fruit is made available to urban residents through these grafts."
http://guerrillagrafters.org/
Here's a YouTube video of them in action:
I think the idea is to proactively make foraging opportunities, too.
Poet
This last winter my wife and I decided to forage suburban persimmons rather than buy them for close to $3/LB in the store.  Seeing 10-15 trees loaded with superior fruit within 1/4 mile convinced us we could do it!  We asked about 5 neighbors (we had never met) if we could have some.  One gave us about 6 and one said we could have all we wanted!  We took over 100, trimmed the tree some, cleaned up, and brought them some persimmon bars a few weeks later.  We made some new friends. 
Our closest neighbors share extra vegetables and fruit but this was the 1st time we sought something out from people we didn't know. Some people were a bit leery but we explained we were neighbors and that seemed to help… I think its important to ask the property owner, but this can be a bonus.
Jake in Palo Alto, CA.
Tue, Jul 10, 2012 - 12:34pm

#4

Status Member (Offline)

Joined: Jul 10 2012

Posts: 1

count placeholder

suburbs are great for foraging
I forage weeds from my backyard because we dont live that close to a grocery store and sometimes hard to rush out and drive to get fresh greens…chef made recipes for me in our book Foraged Flavor 
Mon, Jul 16, 2012 - 03:01pm

#5

count placeholder

Poke
Here in SC and many other parts of the country you can pick "poke weed." Poke" looks like this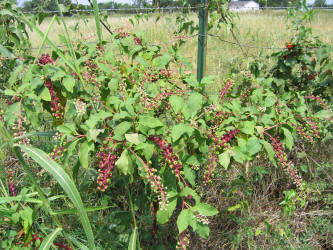 and is a good cooked green.
The cooked geeens are called Salet. Young shoots are boiled twice discarding the first water to rid the leaves of poison. Season with salt and bacon drippings. (The root, older leaves and possibly the berries can be toxic so uae younger leaves and follow the instrctions.)
Mon, Jul 16, 2012 - 03:10pm

#6

count placeholder

fennel
When I was out in San Diego you could just walk outside and pick fennel. Fennel looks like this
The leaves and seeds are flavorful and have a mild anise flavor. The bulb (an inflated leaf base, really) is cooked as a vegetable. I used it it soups and stews.
Near me there is an orchard that went up for sale and was bought by the municipality. They run a farm stand there that closes around Halloween. Last year I was up there in early December and found tons of beautiful apples, many still on the trees, undamaged by frost. Probably not organic, but I don't worry too much about that anymore! Anyway, I filled the containers I happened to have in the car, took them home, and dried them. I'm still eating them. Next fall I'm planning to make several trips. As far as I can tell, I am the only person doing this (I went back in late December, after a big frost, and all the fruit was on the ground, useless for eating at that point, but probably would have been great pig food if anyone cared to pick it up.) I can't believe how much waste there is out there. The nice thing about this orchard is that one does not have to trespass to get unwanted fruit, as it's owned by the citizenry.  I'm sure one could approach privately owned orchards for permission to pick up late fall windfalls, since it would be an advantage to the owners to get the stuff out of there before winter.  Yesterday I put a post on craigslist stating that I'm looking for people with pear and peach trees who need help cleaning up the harvest (most people who own fruit trees don't use the fruit, and many regard it as a nuisance!). No responses yet, but I am ever hopeful.
Tue, Jul 17, 2012 - 02:14am

#8

count placeholder

wow, catherder – what a sweet deal!
Yes, the amount of waste out there is astounding. Personally, I get sick at heart seeing things like that go to waste so good for you. And the fact that it's a muicipal orchard means you do not have to get permission. 
Drying is good, but don't forget water-bath canning. We cook the pears, halve and core them, and can the good-looking halves in water. We run the damaged pears through a grinder and make pear sauce to can. You could make applesauce. It's just cooked fruit and water, and maybe a little cinnamon.
Tue, Jul 17, 2012 - 09:27am

#9

Status Gold Member (Offline)

Joined: Sep 08 2008

Posts: 355

count placeholder

Fennel as food…
Hi Safewrite
We have a vacent section in Christchurch (NZ ) and we have been cutting down the fennel that grows on it profusley as a weed!!!!
How do you use it  in cooking?
Not sure if we will get another "crop" as our section has been recently red zoned ( in local speek ) due to the earthquake swarms hitting of late…..
Cheers Hamish
Tue, Jul 17, 2012 - 11:38am

#10

Status Member (Offline)

Joined: Jun 21 2012

Posts: 2

count placeholder

fennel
I'm growning some fennel here in NC. It's a first for me, so I'm trying to figure out just how to use it.  The plant is growng just fine.  Looking forward to cooking the base as a vegitable, just not sure what it might tast like!