Report from Peak Oil and the Future of Energy – The 2nd International Congress in Barbastro Spain
Hi all,
On Thursday and Friday, 9-10 October, the UNED (National University of Distance Education) in Barbastro, Spain is hosting the Second International Congress:  Beyond Peak Oil – The Future of Energy.
There are some pretty big names here in what seems to still be our somewhat small world of peak oil and limits to growth, such as Gail Tverberg, Ugo Bardi, Kjell Aleklett, and many more.
I am here at the conference and wanted to share some interesting points made by the various speakers.  If/when links to the full video or powerpoint of the presentations become available, I will try to share those in this thread as well.  
Cheers,
Hugh
Antonio Turiel – Energy and Crisis
In addition his expertise in statistical and non-linear physics, Antonio Turiel, of the Institute of Marine Sciences in Barcelona, has one of the most well-known peak oil blogs in the Spanish: The Oil Crash
As one of the leaders of the peak oil movement in Spain, Turiel started by looking at what had changed since the First International Congress on peak oil, which was held here in Barbastro in 2011. Note: Don't be fooled by the header at that link. The links on that page are to presentations from the first conference.
Here are a few images and notes from Turiel's presentation, Energy and Crisis:
The supply of unconventional oil and gas is hiding the declining production of conventional oil.
In November 2012, the IEA recognized that conventional crude production was falling.
Net energy is already in decline
Mention of the financial disconnect in the oil industry:
–Steven Kopits study: the rapid de-investment of the oil major
-US Dept. of Energy says that US oil market is in a bubble
-The cash flow earned in operations is far below capital expenditures (110 billion dollar gap, industry wide)
Quotes from CEO's saying that they regret having invested in fracking (back translated from Spanish…)
Rex Tillerson CEO of ExxonMobil 19 August, 2012 NYT: "In the fracking business, we've all lost our shirts."
Peter Vorser CEO Shell 6 October 2013 Financial Times: "What I most regret are the fracking investments."
Turiel also discussed several other energy types, including coal, natural gas, nuclear, and renewables. He likes the site Shalebubble.org. He also referenced a lot of important studies. One of these was Tim Morgan's Perfect Storm – Energy finance and the end of growth.
There is a supply gap between consumption and production of Uranium, as the world is currently consuming much more than we are mining.
Also, a telling cartoon about French intervention in Mali ———–>
Renewable energy systems
Two key problems in Spain with renewable energy that produce electricity
1. Electricity is only 20% of energy consumption in Spain
2. The Spanish electricity market is saturated – 108 Gw of capacity installed, 45 Gw maximum consumption, 32 Gw is average consumption, and this number is falling. In Spain there are a lot of powerful voices against renewables as there is an excess of electricity supply during the peak
In Germany, PV investment has fallen in spite of the Energiewende (Germany's Energy Transition) Germany is burning more and more lignite coal, higher volume burned for less energy.
And the other crises: political demonstrations, independence movements (Scotland, Catalonia), climate change, with very big potential consequences such as destabilization of the jet stream, drought in the
Western US, etc…
And it seems that Turiel sees things in a similar way to Tom. Tom, this image is for you:
Mikael Höök – Depletion of Conventional Hydrocarbons: Recent Perspectives on Oil, Gas, and Coal
Now that peak oil guru Kjell Aleklett has become a professor emeritus, Mikael Höök, an associate professor of Applied Physics, has taken over leadership of the Global Energy Systems program at Uppsala University in Sweden. He is also a professor at the China University of Petroleum.
Aleklett, Höök and others in the GES group have been leaders in the field of energy data, often challenging official estimates of future production and remaining reserves published by the IEA and governmental bodies. Today, Höök showed how the IEA has repeatedly had to revise downwards its projections of oil production. For example, in its 2002 World Energy Outlook, the IEA projected world oil supply to reach 120 million barrels per day by 2030. The IEA's 2013 WEO projected 99 Mb/d by 2030.
Höök's presentation helped clarify the confusion regarding the definitions of conventional and unconventional oil. For example, Venezuela's extra-heavy oil jumping was counted as unconventional oil by the IEA before 2006, then as conventional oil between 2006 and 2009, then as unconventional oil again from 2010 forward. The fact that these terms are not used in a standardized way in energy statistics makes it harder for us to understand where we stand in terms of oil depletion.
This slide on the right shows the classification of conventional and unconventional oil. Conventional oil is often considered all oil that is less dense than water. The IEA includes crude oil, natural gas liquids, and condensate liquids as conventional oil.
In spite of having made downward revisions in its forecasts for future oil production, the IEA has made some important progress in terms of petroleum statistics. In 2008, for example, the IEA started using oil field analysis in their World Energy Outlook, instead of just a top-down analysis, which led to a greater harmonization of their results with other researchers (such as those at Uppsala's GES).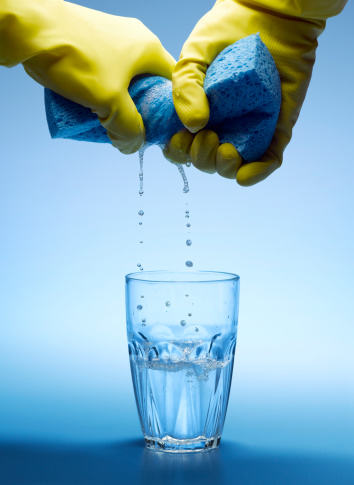 Petroleum in pore space: oil resides in microscopic void spaces between the rock grains; similar to a sponge soaked in water. This has consequences for oil production, because it's much harder to squeeze out the last drops of water than the first and middle drops.
Three stages of oil recovery:
1. Primary recovery: Oil flows to the production wells by its own force. Imagine opening a bottle of champagne.
2. Secondary recovery: Fluids such as water are injected to maintain reservoir pressure and flow rates
3. Tertiary (enhanced) recovery: Injection of surfectants, polymers, enzymes, or other things to change the miscible properties of oil
Decline curve analysis – examples from Jay field of Florida and Norway's Stratfjord and Jotun
The key point – squeezing out the last drops are much more challenging than the first ones. It requires more physical and practical work.
Decline rates of 1100 oilfields: 8-10% and 16%
Smaller fields tend to have a faster decline rate
How fast does existing production decline? Various estimates:
CERA – 4.5%
ExxonMobile 4-6%
8% – Schlumberger & T. Boone Pickens
5.8 – 6.7% IEA
5.5-6.5% – Aleklett, Höök & Hirsch
We would need to find a new Oseberg each year to make up for the decline. (Oseberg, in the North Sea, is one of the world's largest oil fields, and produced almost 3.8 million barrels per day at its peak.
Future production needs – We need to find five new Saudi Arabias to make it possible to keep up with projected oil consumption through 2030.
While there may still be some supergiant fields in the Arctic or Antarctica, finding oil fields is sort of like playing hide-and-seek with a menagerie of animals. The giant oil fields are like elephants and they tend to be found first. Later, we may find some deer or leopards, but we will probably won't find many elephants late in the game.
The correlation between the world and OPEC conventional oil is 0.97, indicating strong relation between OPEC conventional oil production and world oil production.
"Leave oil before it leaves us." Dr. Fatih Birol – Chief Economist – IEA 2008-05-05
Has the rise of LTO (light tight oil) resolved the debate about peak oil? –NOTE that the IEA affirmed Hubbert depletion dynamics
The UKERC report – Global Oil Depletion "The peak of conventional oil production before 2030 appears likely." (Aside: In the Q&A, Höök did not dispute that there was a type of conventional peak in 2005-2006, but he also said that because the definitions of conventional and unconventional oil are so unclear, it's confusing to clearly define a conventional oil peak.)
Natural Gas
The energy content of natural gas liquids is only ~75% of oil
Should we count NGL's according to their energy content or their volume? This is still an issue to be resolved, as the IEA and other energy reporting bodies are counting a barrel of NGLs in the same way as a barrel of conventional oil in categories like the US EIA's "total oil production." But, NGLs cannot produce one drop of diesel fuel, for example. (Later in the conference, Kjell Aleklett reminds us that Europe is currently in a diesel fuel shortage and is importing diesel from China.)
Many countries are built into gas dependence due to pipelines and LNG infrastructure that time-consuming to alter.
Conventional gas exports to Europe are dominated by Russia, Norway, Algeria, and Qatar.
Russia: Is there enough time to develop new production before decline in existing production kicks in?
18 peer reviewed gas projections
Coal
Backbone of metal and electricity
-Eye on China – the key driver of world coal production (produces almost 50% of coal) When China peaks, the world is likely to peak
Chinese coal output is 4 times larger than the US (#2) and 6 times larger than India (#3)
Chinese coal reserves and ultimate recoverable resources are poorly understood (Höök is currently teaching at China Petroleum University as well as his home institution – Uppsala)
Dangers of Hubbert linearization – big differences in outcome based on just one extra year of production being added to the base data
Summary
Optimist: the glass is half full
Pessimist: it's the wrong half of the glass
Some of Höök's answers to questions:
Peak in conventional oil if defined in one way, but the lack of clarity with the definition – both sides are playing the same game with the different set of rules; it's about total liquids.
Net energy: net energy calculations are very tricky; It's about how one defines the system – lack of standardization in net energy calculations
If a lot of oil is discovered in polar regions, most of it will likely be on Russian soil, due to Russia's geographic expanse above the Arctic Circle.
Note: Höök had a lot of great slides of data, so when his presentation becomes available, I'll try to link it in the thread.
Fri, Oct 10, 2014 - 08:50pm

#5

Status Platinum Member (Offline)

Joined: Jun 07 2007

Posts: 5120

count placeholder

Re; Thanks Hugh
[quote=SailAway]
This is great!
Fred
[/quote]
Agreed!
I am also interested in the audience. How many are in attendance? Do you get the sense that these are all old hands or are there a lot of newly curious people there? Any corporations or governments represented?
What's the vibe like? Is there an excitement to be working on an important subject or do these researchers and writers feel a bit lonely right now?
Fri, Oct 10, 2014 - 11:20pm

#6

Status Member (Offline)

Joined: Oct 27 2010

Posts: 9

count placeholder

big thanks for sharing with us Hugh
I feel like I'm back at the Oil Drum!
Hugh wrote:
Mention of the financial disconnect in the oil industry:

–Steven Kopits study: the rapid de-investment of the oil major

-US Dept. of Energy says that US oil market is in a bubble

-The cash flow earned in operations is far below capital expenditures (110 billion dollar gap, industry wide)

Quotes from CEO's saying that they regret having invested in fracking (back translated from Spanish…)

Rex Tillerson CEO of ExxonMobil 19 August, 2012 NYT: "In the fracking business, we've all lost our shirts."

Peter Vorser CEO Shell 6 October 2013 Financial Times: "What I most regret are the fracking investments."
I'm wondering if the shale miracle is even going to last until the end of the decade..
It's also going mainstream on CNBC, "Why are shale plays getting hit so hard?":
https://finance.yahoo.com/news/heres-why-shale-oil-stocks-200009552.html
Sat, Oct 11, 2014 - 03:06am

#8

Status Platinum Member (Offline)

Joined: Feb 03 2010

Posts: 1814

count placeholder

Searching in the Lamplight.
Why the obsession with carbon, for pities sake? We all know burning it is not a good idea. So even if we find more of it, just leave it alone! Stop picking at it like yesterdays scab.
Go nuclear. Here is one nuclear Idea. (The Sun being a nuclear source, we think)
Do I think that these toys will save the world? No, of cause not- and neither will carbon. Carbon will destroy the world's economy, not save it.
What we need is some other source of energy that we can use to convert into food energy, while we figure out what to do with the excess population.
And this I can guarantee. You wont find it by looking fondly at the past or maudlin over oil. The other day I posted a third successful independent confirmation of Rossi's device. Will that save the world? Define "save the world".
There are no promises but it will take at least 20 years to roll out anyway, and time is a wasting. Ignoring the issue does not improve our situation.
Is Rossi the only game in town? Not by a long shot. We have to look at All of them. And should we embrace them all? Not at all, we ignore those that do not yield empirical results and we encourage more blue sky experiments.
True science is conducted right at the edge of the chasm of ignorance. If there is salvation, that is where we will find it. We wont find it by staying in the safety of what is already know, like the proverbial drunk looking for his keys in the lamplight.
[quote=cmartenson]
I am also interested in the audience. How many are in attendance? Do you get the sense that these are all old hands or are there a lot of newly curious people there? Any corporations or governments represented?
What's the vibe like? Is there an excitement to be working on an important subject or do these researchers and writers feel a bit lonely right now?
[/quote]
While I didn't count everyone present, I would guess that there were about 100 people in attendance. The whole thing took place in what we would call a medium-sized university lecture hall in the US. One of the speakers said that she thought that the organizers weren't going for a big conference, and I think she's right about that.
But another reason, I think, that the conference was modest in size is because limits to growth isn't very mainstream. An obvious statement, perhaps, but considering the importance that declining net fossil fuel energy has on the economy and civilization, it provides further evidence for a problem that we are all aware of here: this is an incredibly difficult problem for people to appreciate.
So, while I can't speak for the researchers and writers, it did seem that the peak oil and limits to growth crowd is a bit lonely. I will ask the organizer if there are any delegates representing corporations or governments.
One group, aside from the peak oilers, that was there were members of the anti-fracking movement in Spain. Apparently some energy companies are trying to start fracking in Spain and people from these groups are opposing it. There were some presentations on the potential – or lack thereof – for fracking in Spain later in the conference.
I will try to post a couple more presentation summaries from my hotel room this evening.
Cheers,
Hugh
Geoscientist J. David Hughes is a fellow at the Post Carbon Institute and the author of many important analyses of energy, including Drill, Baby, Drill. Hughes is also one of the contributors of Shalebubble.org. Hughes presented to the Second International Congress via Skype, presumably from his home in B.C. and many of the slides that Hughes shared with us can also be found another of his presentations, The Energy Sustainability Dilemma.
I don't recall if Hughes mentioned the Red Queen syndrome in this talk, but the overall sense that I got was that shale gas and tight oil is a game of running just to stay in place. Hughes was quoted making this reference in a Bloomberg BusinessWeek article last year.
Hughes had a lot of data-rich slides, so most of this post will be images as opposed to notes. Hopefully, the full presentation will be accessible online sometime soon.
J. David Hughes – Unconventional fuels and the shale revolution: myths and realities
The energy sustainability dilemma
World primary energy consumption – we're on an upward exponential growth of energy consumption. Since 1850, consumption per capita has increased by 9x most of that is consumption and most of it is non-renewable:
Population, Per capita consumption, total consumption 1850-2011, as a percentage of 2011 levels:
Half of the fossil fuels have been consumed since 1986:
We will need 70% more energy than the human race burned between 1850 and 2011 in order to reach our 2030 goal (or 2050)?
Inequity in energy consumption world wide:
Net energy available:
Unconventional fuels – the shale revolution and conventional wisdom
The shale revolution:
Conventional wisdom:
-the "shale revolution"
-shale gas production will continue to grow (until 2040, at least)
-Shale gas can replace substantial amounts of oil for transport and electricity generation
-we'll be able to export crude oil
-we'll be bigger than Saudi Arabia in terms of oil production
I'm skipping Hughes' tour through other unconventional sources such as methane hydrates and coal to liquids, as he just had a bit of info on each of these and he focused on shale gas and tight oil.
Shale gas
PCI & Hughes will try to publish 2 reports on tight oil and shale oil & gas by end of Oct.
The shale revolution started in Texas in the Barnett Shale in E. Texas
Shale gas now accounts for over 42% of US gas production
US shale gas production estimates by play. The Marcellus is the largest by far:
The Marcellus and the Barnett produce half of US shale gas – GOOD shale plays are not ubiquitous
Shale play life cycle; Plays like the Haynesville peak in less than 5 years
Barnett gas production – peaked in 2011 (total production goes back to around 2000):
Barnett gas production by well type – horizontal wells dominate; vertical/directional wells are a tiny part of the whole
Barnett average gas well decline curve
Achilles heel of shale plays are decline rates – 3 year decline = 76%
Barnett field decline –"well declines are typically hyperbolic":
You have to keep drilling to keep production up
Barnett well productivity – average production rate over first six months
Barnett forecasts with under different assumptions:
Tarrant county well footprint – covers a lot of the ground with well pads….a lot of development per unit of gas/oil extracted
Barnett gas production forecasts – the faster the increase in the rate of drilling the faster the eventual decline
Haynesville gas production – extreme example of a well in decline: Production is down 46% from its January 2012 peak. [Note: In the afternoon, Kjell Aleklett mentioned that Haynesville was reducing production because of price, not technical reasons. If this is true, it seems consistent with Tverberg's position that many gas and oil projects will be shut down for economic reasons before being shut down due to technical limits on recovery.]
Overall field decline for the top five shale gas plays based in production. Average 3 year decline is 84% for these 5. [Note: These are decline curves for individual wells, not whole shale plays.]
US shale gas production by play – 2000-2014
Drilling rate gas production through 2040
Tight oil
Citigroup 2012 – projection of US shale oil 2010-2022
Wood Mackenzie 2014 projection of US Shale Oil – 2010 to 2030
US crude oil production projection – peak of crude oil will be 2019; EIA forecast still sees US importing oil for...a while more (sorry, missed the date given)
Eagle Ford in Texas is now bigger than the Bakken in terms of tight oil production:
Bakken average oil well decline curve. 3 year decline = 85%
Well quality in Bakken is basically flat. This is a function of geology, as we are move to lower quality deposits,
Bakken oil production: Hughes makes some forecasts: The faster in the rate of drilling increase the greater the rate of eventual decline – peak estimated at 2015 or 2016
Eagle Ford has now exceeded the Bakken
Production from Eagle Ford is 1.3 mbpd of oil currently, plus a massive amount of gas (check number later)
Eagle Ford liquids production forecast (similar to Bakken and Marcellus )
Forecast for Eagle Ford – peak around 2017
They'll drill over 40,000 wells in Eagle Ford when they're finished.
Bakken and Eagle Ford "most likely" projections versus EIA AEO 2014 Tight oil production forecast
Shale reality check: Shale drillers feast on junk debt to stay on treadmill
Free cash flow and CAPEX for shale drillers 2010-2013
Implications for long term energy sustainability
Shale takeaways
Note #1: High field decline rates mandate sustained high levels of drilling to maintain production!
Summary and implications
Questions:
Q: Most of the important shale companies have negative cash flow. When do you think the popping of this shale bubble may happen, and how will the financial factors impact future production?
A: All industry projections are based on the assumption that the capital to drill the wells will be available. Can't time the bursting of a bubble, but this does not seem financially sustainable.
Q: What are the legal requirements for abandoned wells?
A: There are very strict rules regarding how to keep abandoned wells isolated from the water table, but the problem is time – how long can well casings hold up?
Q: What do you know about earthquakes around fracked wells?
A: A lot of the earthquakes are associated with water injections – frack water. The number of small earthquakes has exponentially increased in seismically active areas such as Oklahoma and Arkansas.
Q: Do you have any data for Spain?
A: Study done by ARI, for EIA on net. One of the problems with Europe is that there are so few wells drilled that there is not enough data in Europe
Q: What is the EROI for shale gas?
A: We don't know…some people think it's quite high. But Hughes makes no comment on that.