Rainwater collection project
Fri, Nov 27, 2015 - 08:18am

#11

Status Member (Offline)

Joined: Nov 04 2015

Posts: 1

count placeholder

happy
really nice
[url=http://www.shiningprom.com/plus-size-wedding-dresses]Plus Size Wedding Dresses[/url]
(Greetings from 60 mi south of C'ville!)
At my last house, I stacked two IBC totes to double my rainwater storage capacity and increase the water pressure from the tank. The water was only used in my garden, and not for drinking, so no first flush.
I'm not using the system now, but wanted to post the connection pictures to show how easy it is to do. The totes are made to stack together and are very sturdy if level. I connected them with a flexible tubing and put a standard hose connection on at the bottom to run to the garden. The key to using the bottom tank is to drill a hole in the tank's cap and then run a tube from the hole to the top of the upper tank. This will allow air to move in and out of the tank when it fills and drains (since water enters and exits at the bottom of that tank and would lock the air in or out). I used a small (1/4" ?) tube like an ice maker supply line. Just run it from the bottom cap and secure it to the top of the cage of the upper tank. Make sure the connection doesn't leak or you'll lose all of the water in the top tank. Sorry no picture of that.
With the two stacked together, it fit under my gutter with enough room to divert the down spout into the top of the upper tank. I also used some gutter guard screen to keep the leaves out.
Here are a few pictures. (They are upside down and not being used right now).
Fri, Dec 18, 2015 - 04:42pm

#13

Status Platinum Member (Offline)

Joined: Apr 13 2011

Posts: 2368

count placeholder1+

Double stacking & connecting IBC totes
Thanks, Anastacio, for your pictures.
1. Raising IBC totes by double stacking them
Great idea. Getting the storage tank (IBC Tote) high enough that gravity will move water down to the garden is an important engineering issue.
Even if the function of the bottom tote was ONLY TO LIFT the top one, it would still be cheaper than building a platform with pressure treated lumber or cinder block. And, the bottom tank serves as a back up.
2. Thanks for a close-up look at your connections.
I notice on ebay that 6" top caps for IBC totes with pipe and hose fittings are available. (another)
I just stumbled on this on page 69 of a 1912 publication "Handy Farm Devices and how to make them" on Archive.org. Might be helpful to someone.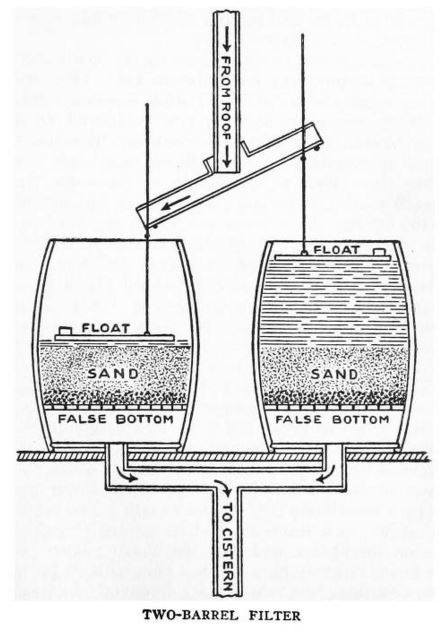 Thu, Nov 28, 2019 - 06:36am

#16

Status Member (Offline)

Joined: Dec 29 2017

Posts: 2

count placeholder1+

Toxins in the water
I have experience building whole house systems for domestic use in South Texas. Just a word of caution. I would recommend not planning on using the water for domestic consumption if your roofing material is typical asphalt shingles. Those shingles are made with petroleum products and can off gas chemicals into the water that filers and UV lights can't remove. On our new home installations we always recommended steel roofs, last longer and hold up to hail better. Other solid or inert roofing materials could work. Maybe that's over thinking it but I feel better knowing I'm not exposed to the potential.
Good luck with your systems
We've been collecting and using rainwater for all our domestic consumption for about 20 years now.  It's very common in rural New Zealand for roof water to supply all domestic consumption including drinking.  We have two 5000 gallon tanks that collect rainwater from the downspouts on our house and garage.  The tanks have floating water pickups in them to take water from the top of the water column rather than the base of the tank. From the tank there are large 20 micron and 2 micron filters in series after the pressure pump.  From the filters the water passes through a UV filter before going to the house.  Our fridge/ice maker has an additional small bacterial filter inline.  We should have a first flush diverter installed to dump the first 5 gallons of water which is typically the most polluted but somehow that didn't get installed in our system.
Some sources of harvesting ideas are here….
https://www.smarterhomes.org.nz/smart-guides/water-and-waste/collecting-and-using-rainwater/
https://www.marley.co.nz/rainwater/rain-harvesting/
Note at the Marley website page there is a downloadable rain harvesting brochure with lots of good information.
As for roof materials, best practice in NZ is to collect water from painted metal roofs (corrugated or standing seam are typical here).  We've been collecting from an asphalt roof and I did have concerns about chemical leaching.  I had the roof/tank water tested about 10 years ago and for the chemicals they test for (arsenic, lead and other heavy metals), the values were very low – zero.  This was after ten years of using the roof though so you would expect if leaching was happening it would have decreased with age.  Ironically, in some areas of New Zealand, over use of fertilizer has lead to aquifer pollution and the town supplies of drinking water have higher contamination levels than you typically find from roof water collection.
I'm a huge fan of roof water collection and though we're lucky to have a well on the property we only use it to top up the tanks over the dry mid-summer months for either the house or stock troughs.