Questioning Election Integrity
Sun, Aug 26, 2018 - 11:41pm

#1

Status Platinum Member (Offline)

Joined: Jun 07 2007

Posts: 5302

count placeholder1+

Questioning Election Integrity
The Video Update for the week of 8-24-18 concerned election integrity, or the lack thereof in the US.
Here it is:
In it I present the following graphs:
#1

#2
#3
#4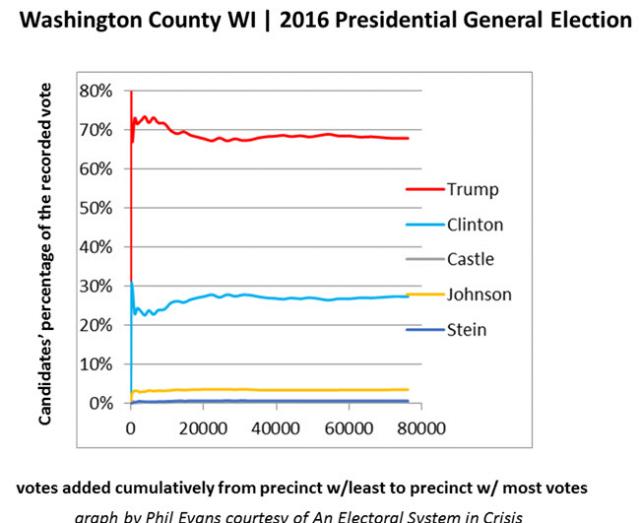 #5
Taken together these charts, to me, provide convincing evidence of systemic vote irregularities that cannot be explained as somehow normal statistical anomolies.
They speak to a profound lack of election integrity.
I do believe that the US elections have been compromised. We all know this, and yet the internal response has been to project that failure onto a convenient external boogeyman: Russia.
The only problem is, that's a nuclear-armed boogeyman who understands there's a lot of corruption in the US voting system all on its own — as well as anybody with a high-school level appreciation of statistics.
That neither major party says boo about any of this, nor the MSM, tells us everything we need to know. It's the agreed upon system of divvying up power in the US.
Both parties are corrupt and complicit. It helps to explain the 11% approval ratings of Congress and its 98% re-election rates.
This conclusion comports with exit polls suddenly having become unreliable over the past few years — to the point that the MSM, rather than accepting the Occam's razor explanation, has gone the route of attempting to explain why exit polls are no longer reliable.
That's the discussion we should be having, of course. So let's have it.
Mon, Aug 27, 2018 - 01:34am

#2

Status Bronze Member (Offline)

Joined: Sep 22 2010

Posts: 469

count placeholder

a book on the subject
I know that would be like-button fraud, but heck…
I've run across this info before, but there is so much fraud going on these days, it's hard to remember it all.
It almost look s like those who control the machines wanted HRC on the ballot, but not in the White House.
Not sure what to make of that?
…what are the odds the elections can be uncorrupted by voting?
Mon, Aug 27, 2018 - 02:26pm

#6

Status Member (Offline)

Joined: Aug 22 2018

Posts: 6

count placeholder

"Appears well researched"
A well researched book about non-existent voter fraud huh?
For a truly well researched book about real election fraud I would highly recommend:
https://www.amazon.com/CODE-RED-Computerized-Election-American/dp/150031…
I find it interesting that most of the time the first comment on PP posts is one trying to 'debunk' the subject of the post.  Haven't figured out if that's because of cognitive dissonance, bots, or corporate shills. 
Mon, Aug 27, 2018 - 02:38pm

#7

Status Platinum Member (Offline)

Joined: Jun 07 2007

Posts: 5302

count placeholder

Cross post – Election Fraud in 2012
I'm copying this over from the DD thread, where the conversation has inadvertently happened:
Stan Robertson wrote:
The first of Chris' examples is clear evidence of fraudulent manipulation of machine vote counts, but some of the cumulative vote total graphs may be less damning. I live in a county that has a central city surrounded by an approximately equal population of sprawliing suburbs. Breakdowns of the votes in many years shows distinctly different preferences for the voters in the urban and suburban groups. It  can be pretty extreme for some years and some issues. But it is also the case that the suburban vote is generally slower to be reported, so the cumulative vote total lines can be substantially sloped as the numbers of voters with a particular preference tend to pile up later.
When I was watching the California vote totals for the Clinton-Sanders race, it was reported that Sanders had a slight lead that would require Clinton to get about 90% of about 10,000 votes remaining to be counted. Amazingly, she made it. Guess what I might have concluded.
Interesting anecdotes, Stan, but I think there's data out there that could support or refute your hypotheses.  Yes, voting patterns are different in rural vs urban, and demographics need to be taken into account.  
No, the presence of massive vote drift alone does not prove anything but it does raise a big, stinky flag that *should* be investigated.  Neither party and the relevant judiciaries have shown any interest in that inquiry whatsoever and have repeatedly blocked recounts and other attempts at proving or refuting the matter.
But the presence of vote drift has been investigated repeatedly and the data continues ot back up the idea that we have to reject the null hypothesis ("there is no vote fraud happening") and seek another explanation.
Here's an article that did exactly that on the data surrounding the 2012 presidential election:
Let's look at the results from the 2012 Presidential Election in Ohio, following the same methods used by the other analysts. The data is easily available and links are provided at the end of this post. The methodology is explained a little more in depth in the links in the first paragraph.

After ordering the precincts by size with the largest precincts first, the cumulative vote percentage for President Obama is analyzed.

First, consider the counties that use either the Hart eScan operating system or ES&S iVotronic. This data includes 10 counties and almost 1.5 million votes.

The graph below shows the President's cumulative vote percentage when precincts are ordered as above, with the x-axis being the total number of votes cast. There are fluctuations initially until there is enough data to establish a trend so the first third of the votes are not included on the graph.

There appears to be no bias based on precinct size. President Obama received about 54% of the vote when only large precincts were counted, and still received about 54% of the vote once the small precincts were included.

Now consider the counties that use Premier Accuvote-TSX or ES&S DS200. This data includes 46 counties and over 3 million votes. The only significant difference between these counties and the earlier counties is the type of voting equipment.

There are demographic differences, but these differences would most likely shift all results one way or the other and shouldn't affect perceived biases based on precinct size. If large and small precincts vote similarly in the other counties, then the expectation would be that they vote similarly in these counties.

The graph below is the same idea as the graph above, but with the data coming from only these new counties with potentially hackable systems.

Why are these counties different?

The shape of this graph is clearly different. President Obama wins about 48% of the vote when only the million votes from the largest precincts are counted. However, when results from the small precincts are added in his vote total steadily increases to almost 53%.

The undeniable conclusion is that small precincts in some counties are significantly biased towards Democrats while this bias is not present at all in other counties. And the determination of which counties are biased depends on the type of voting equipment used.

Do counties with this bias present choose to use a particular type of voting machine? Or is there some other variable that causes the bias and the voting machine choices? Or is it just a coincidence? Or do the voting machines create the bias? The data over millions of votes and thousands of precincts is more than enough to confidently say that the answer to one of these questions is yes.

(Source)
There.  The potential biases of differing county/precinct sizes have been controlled for and the only places where the obvious and significant "drift" occurs are in the places with certain types of easily hackable voting machines. 
Otherwise, the data in the two graphs above comes from the same state, in the same race, with similar sample sizes with the only difference being the type of voting machines used. 
This is why I prefer data to anecdotes.  It provides a useful basis for discussion.
For myself I see enough to say that the null hypothesis needs to be rejected and we need (and deserve!) to have a thorough investigation.
Alternatively, I know that humans have been fudging elections since elections first started and that untraceable, easily hackable machines are just too tempting to resist and so my null hypothesis is that electrion fraud is happening and somebody is going to have to disprove that to me before I change my mind.
Mon, Aug 27, 2018 - 03:28pm

#8

Status Platinum Member (Offline)

Joined: Apr 13 2011

Posts: 2409

count placeholder

Kind and Loving AI-Driven Search and Destroy Robots
Mon, Aug 27, 2018 - 04:34pm

#9

Status Gold Member (Offline)

Joined: Oct 07 2008

Posts: 517

count placeholder

Better info
Chris,
Thanks for retrieving my comments and adding new information to be considered. It makes your case much clearer and stronger.
I happen to live in a state that has used paper ballots and scanners for decades. There have been several narrow vote margins recounted over the years. Some of them have reproduced the initial counts to the last digit. For me, that has provided some confidence in the results. To the best of my knowledge none of the vote counting machines are connected to the internet. I strongly recommend the use of this sytem everywhere.
If hacking were to occur it would most likely take place when precinct totals were reported to the election headquarters. Only human integrity can protect against mischief in this part of the process.
Stan
The obscession w Russian meddling is maddening.  Bill Nelson has claimed Russians can hack Florida's election.  What would be the motive for doing so?  Why would Russia want to anger a country w a military budget 10x bigger,  a country already itching to go to war w them?  How could the rewards of meddling possibly outweight the risks?
Far greater threats to our elections and democracy–worthy of more concern than Russiagate– are: 
1) Citizens United   2)  Billionaires contributing billions to political campaigns  3)  The influence of foreign owned Fox news   4)  Privately owned electronic voting machines that lack paper trails   5)  DNC bias towards Clinton over Sanders and establishment candidates over progressives   6)  Electoral college  
Our priorities are really screwed up, in no small part due to msm being co-opted by a few oligarchs and corporations.