#PuertoRico
Sun, Sep 24, 2017 - 10:46pm

#1

count placeholder

#PuertoRico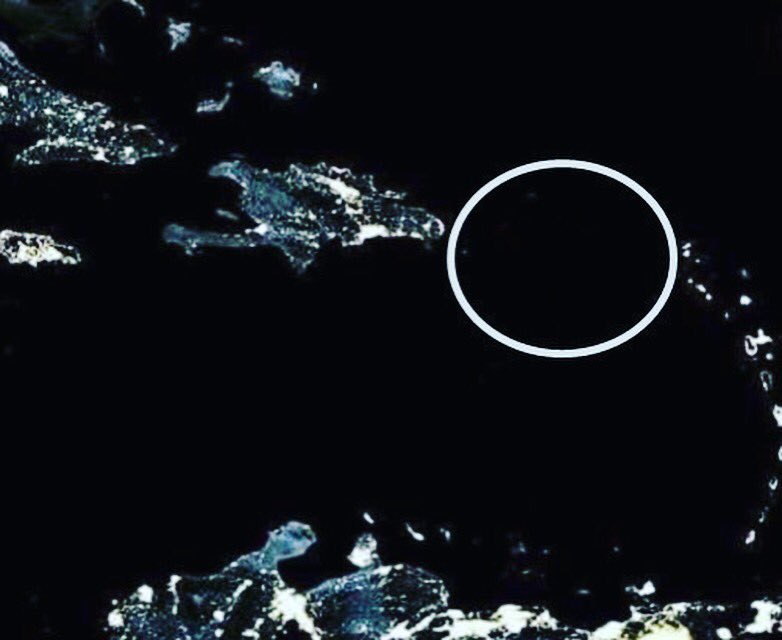 That circle contains the US territory of Puerto Rico, at night. No lights. 3.4 million people without power who will not have power for 3-6 months.  A large dam about to collapse where they are trying to evacuate 70K people in the flood path, with no phones, cell phones and many of the roads blocked. All agriculture is destroyed, and will take perhaps a year to come back. People are without basics like medicine and food. 
Since they have 2 ports and the airport is again usable FEMA/the Army Corps of Engineers, relief agencies, etc are there but they cannot do as much as they'd like. They've brought water and some food and FEMA dropped off satellite phones for each towns' mayor on Friday. Triage has not even started yet on much of the island. 
This is a thread to follow the devastation and recovery in Puerto Rico after cat 5 Hurricane Maria scoured much of civilization off the island. 
Mon, Sep 25, 2017 - 05:48am

#2

count placeholder

eyewitness report
Not surprisingly, the few eyewitness reports getting out are on social media. Here's one.
Mon, Sep 25, 2017 - 02:35pm

#3

count placeholder

from Buzzfeed news today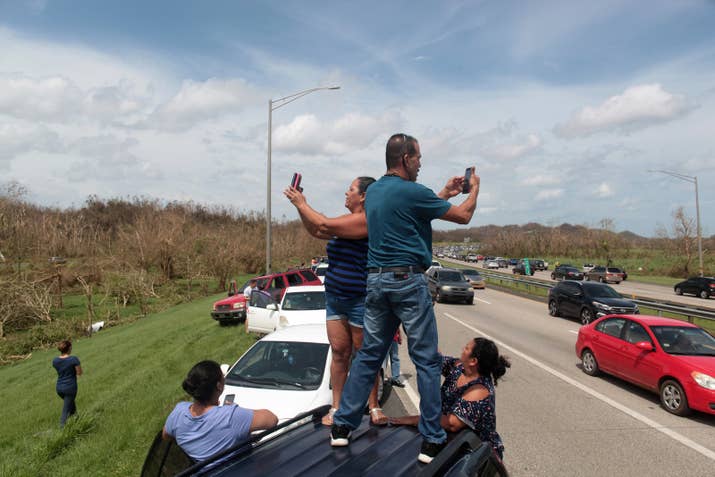 As Hurricane Maria left the island shellshocked, without power, and with 95% of the island's cellular sites out of service, Puerto Ricans have tried to steel themselves against the reality that food, water, gasoline and fuel for generators will be hard to come by. But it is the inability to reach family members on the island and the mainland that has left them in despair.

"This is Katrina," said Andres Lopez, a Democratic donor and lawyer, noting that the aftermath will be as devastating in terms of force and damage for the 3.5 million U.S. citizens on the island, as it was after the hurricane that roiled New Orleans in 2005. Lopez said that while he lives in San Juan's Miramar neighborhood, an area that hasn't completely lost cell service, the same can not be said for so many residents.

"Nobody could find their relatives — but more than food and water, what people craved the most was for that little rectangle to work," he said.
and
Mercader said that after the hurricane, the governor began coordinating with FEMA to assess the damage, which they describe as "total devastation," and created a plan to reestablish communications in the coming days, with improvements already being felt on Saturday, according to those on the island.

"You have to take into consideration that 85% of power lines are down," Mercader said, of the electrical grid, which will take months to restore. "This is a massive crisis that Puerto Rico is going through."
https://www.buzzfeed.com/adolfoflores/with-cell-service-down-puerto-ricans-work-to-connect-each?utm_term=.py0AnWdDw#.jnvmprwWD has the rest of the article.
Mon, Sep 25, 2017 - 03:39pm

#4

Status Platinum Member (Offline)

Joined: Jun 07 2007

Posts: 4653

count placeholder

Yes, It's Very Bad in Peurto Rico
Even more astonishing than the destruction in PR is the fact that on Twitter the most pressing issue of the day is NFL players taking a knee.
You cannot make up anything this ridiculous. 3.5 million US citizens in dire circumstances and the most important thing to the majority seems to be whether or not US citizens have a right to express themselves with many deciding that they do not.
A few articles:
A storm has never destroyed a grid like Maria did
Facing Months in the Dark, Ordinary Life in Puerto Rico Is 'Beyond Reach'
Hurricane Maria wiped away around 80% of Puerto Rico's agricultural industry
Make no mistake…the US government is busy failing the citizens of Puerto Rico right now.
It's very bad.
Mon, Sep 25, 2017 - 04:59pm

#5

count placeholder

Puerto Rico's Guajataca Dam
Sept. 25 (UPI) — Warnings that Puerto Rico's Guajataca Dam could fail were extended into Monday afternoon, as few people evacuated the area.
Rains from Hurricane Maria have put the dam in danger of collapsing.
Warnings from the National Weather Service for the dam have been extended through 2 p.m. EST on Monday. If the dam gives way, it could bring for life-threatening flash-flooding downstream of the Rio Guajataca. Riverbanks and surrounding areas could become unstable and unsafe.
The NWS cautioned residents surrounding the dam to "stay away or be swept away," and to "stay away from evacuated areas until told by emergency officials it is safe to return."
Nearly 70,000 people could be in danger if the dam failed, however, only 200 had actually evacuated according to authorities.
Also about PR
https://www.washingtonpost.com/national/hot-isolated-and-running-out-of-supplies-parts-of-puerto-rico-near-desperation
http://www.huffingtonpost.com/entry/puerto-rica-hurricane-irma-maria_us
This is a good report on the PR dam, from Juan Browne who reported on the Oroville CA dam:
Hopefully the link is accurate. It was from his fb page.
Mon, Sep 25, 2017 - 10:31pm

#7

count placeholder

Photos: an Island-Wide Tornado
Five days after Hurricane Maria made landfall in Puerto Rico, its devastating impact is becoming clearer. Most of the U.S. territory currently has no electricity or running water, fewer than 250 of the island's 1,600 cellphone towers are operational, and damaged ports, roads, and airports are slowing the arrival and transport of aid. Communication has been severely limited and some remote towns are only now being contacted. Jenniffer Gonzalez, the Resident Commissioner of Puerto Rico, told the Associated Press that Hurricane Maria has set the island back decades.
Mon, Sep 25, 2017 - 11:09pm

#8

count placeholder

Progress om restoring the PR grid
Tue, Sep 26, 2017 - 11:18am

#9

Status Platinum Member (Offline)

Joined: Jun 07 2007

Posts: 4653

count placeholder

I'd be faring poorly…
I don't sleep well at all in the heat. A fan is a necessity for me. As we learned from the webinar with Wolf and Kresser, sleep is the cornerstone of all health.
I cannot imagine what it's going to be like for the people of Puerto Rico who may be without power for 6 months or more…on top of the obvious sanitation issues that will be additional stressors on their health.
This is a full-blown crisis.
'This Is Chaos': Sweltering Puerto Rico on Day 6 Without Power

Sept 25, 2017

A nursing home in San Juan made desperate pleas for diesel as its power generator ran low. An elderly man was carried out on a stretcher after going a week without dialysis.

Children wearing nothing but diapers camped out on balconies to stay cool. Hurricane Maria, which smashed into the island six days ago and devastated its power grid, couldn't have come at a worse time.

This is Puerto Rico's hottest season of the year — and virtually no one has air conditioning. Crews have descended upon the island to begin the arduous task of resurrecting what was already an aging and long-neglected electricity system. But that'll take weeks, if not months — meaning more sleepless nights for those like Juan Bautista Gonzalez.

"It's brutal," said Gonzalez, a 36-year-old carpenter who was sitting on a stoop in Old San Juan, rubbing his forehead in frustration. "No one can sleep. I spend all night tossing and turning. This is chaos."

The destruction that Maria exacted upon Puerto Rico's fragile grid when it slammed ashore as a Category 4 storm is unprecedented — not just for the island but for all of the U.S. More than half of the territory's towers may be down, at least 90 percent of its distribution lines damaged or destroyed and almost all overhead transmission lines affected, according to the American Public Power Association and Energy Department. All told, Maria could result in $40 billion to $85 billion in insured losses across the Caribbean.

In the 32 years that National Guard brigadier general Wendul G. Hagler II has served, he said, "It's about as large a scale damage as I have ever seen." Just before Maria hit, Hagler visited the U.S. Virgin Islands, where the majority of homes and businesses also remain without power and face a slow recovery.

For an indication of how long it'll take for Puerto Rico to rebuild the system, Governor Ricardo Rossello points to Hurricane Hugo, a powerful storm that ravaged the region in 1989. Some had electricity within two months of Hugo. Others spent six months waiting. "It's a gradual thing," Rossello told reporters on Sunday. "You have to be careful not to alarm people."
As with Katrina and New Orleans, the prediction here is easy to make for PR's future. They will never quite make it back to where they were before the destruction.
Welcome to catabolic collapse.
Recovering takes energy. This is everyone's future, so pay attention. There are lessons to be learned here.
In the meantime, my deepest sympathies for those tossing and turning all night as they sweat. I'd consider coating myself in Vaseline and sleeping in the ocean, I'd be so desperate after just 2 or 3 days.
Wed, Sep 27, 2017 - 12:24pm

#10

Status Gold Member (Offline)

Joined: Jun 25 2014

Posts: 860

count placeholder

Don't we have a PP member who was focused on PR?
It seems to me that back a year ago, there was a PP member who was trying to start up an intentional community in PR. Where is he?
For the disaster, my thought is: get the people out. Let them disperse. If the mismanagement of the government has been bad enough, it really isn't their fault. But once the people are out, then drain the dam. Then they're not going to be able to rebuild it until all that debt is dealt with, possibly.
I can't understand the idea of "let the leaders out to bigger and better things; lock the people in; and then proclaim humanitarian disaster till others cough up the dough."