Population growth is S-shaped, not exponential
Tue, Oct 14, 2008 - 06:40am

#1

Status Member (Offline)

Joined: Oct 14 2008

Posts: 1

count placeholder0

Population growth is S-shaped, not exponential
The population growth curve is S-shaped rather than a simple exponential. I remember reading an article out of Scientific American back in the 1970's, and finding that even then India (the poster-child for population growth) was fairly clearly following the same curve as Europe and the United States, more-or-less exactly in sync with their improved economic development. A bit of web searching finds similar information today. We still have a lot of growth ahead, but growth will slow, and this gives us a better chance to adapt.
The Wikipedia page on population growth makes a good starting point.
http://en.wikipedia.org/wiki/Population_growth
Note that India and China not on the "hot" end of population growth.
You might want to check your link and look at the graphs you are refering to — they are on a logarithmic scale. The black and white graph on the same page in your link is a linear scale(classic exponential chart). Population growth is exponetial and will appear flat on a log scale (perfect exponetial function will be a straight line on a log scale). The S shape is due to the variation of the function in that it is changing over time, but an S shape with curvature upward on a log scale would imply that the growth rate is increasing, but it is still exponential.
Population growth is exponential up to the point where the population comes up against physical barriers for deer & bacteria, or psychological/physical/unknown reasons for humans.  An S shape is more accurate description of population over a large time frame.  Similarly, money supply will be S shaped which is why we are experiencing deflation and will soon have hyperinflation as interventionist try to unfairly inflate out of this natural downturn…making the future crash even worse.  An S is nothing more than a sine wave or the path of a circle mapped over time.  Very zen of us to mention how things always come full circle when in the context of time it is an S. 
When plotted on a log graph, population growth in a closed system (i.e. bacteria in a sealed flask) follows what is called the "standard growth curve."  Bacteria are the best illustration of simple population growth because their reproduction is limited only by the available nutrients.  Each bacterial cell divides in two, and will continue to do so until it runs out of food.  If you place a single bacterial cell into a flask filled with nutrient broth, population growth will proceed through these stages:
(1) Lag phase:  Period of time when the organism is adjusting to its new environment, finding food sources, synthesizing the necessary enzymes, etc.  You could readily think of analogies which would apply to other animals, including human.  During this time it does not reproduce rapidly.
 (2)  Log (or exponential growth) phase:  During this time the population increases exponentially (i.e. 2, 4, 8, 16, 32) which appears as a straight line on a logarithmic scale.
 (3) Stationary phase:  As the cells begin to run out of food, and waste products accumulate, the rate of growth slows until the number of new cells being born equalls the number which are dying. 
 (4) Death phase:  As food is exhausted, the number of cells dying exceeds the number being born, and the population declines.  In this phase, the population decreases logarithmically (an exponential curve in reverse) since any given cell will have the same (x) chance of dying at any given moment, therefore the absolute number of cells dying will be greater at the beginning of the death phase.
After almost all of the cells in the flask are dead, very small numbers of cells can continue survive for months or even years, surviving on small amount of nutrients and the remains of dead cells.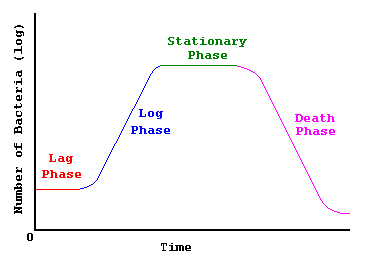 The above example of bacteria in a test tube applies generally to any organism which is reproducing in a closed system.  But when the organism is living in the wild, where resources are renewable at a fixed rate, once the population reaches the "stationary phase" of growth, a steady sine wave pattern forms, as the population repeatedly increases and then dies off again as it presses against the capacity of its environment to provide food and resources:
Humans and other higher animals complicate the situation because their behavior changes in response to worsening conditions.  The fertility of the females will increase as food conditions worsen, resulting in more children per breeding female.  For many hundreds of years, long before effective birth control was introduced, it was observed that among populations of humans living near the point of famine, families tended to have many more children than would be seen in populations that were well-fed.  This is necessary from an individual reproductive standpoint since each offspring stands a greater chance of dying before reaching sexual maturity.  The natural reproduction cycle of a human population is approximately 16-17 years (20-30 years in developed countries), as opposed to mice, for example, which have a reproductive cycle of less than 8 weeks.  As a result, human population trends are much longer, and so a human population could have overshot the carrying capacity of its environment, and thus be in serious trouble, yet this will not become apparent for some time. 
 From the perspective of the individual human, a population which is approaching stationary phase would appear as periodic famines, interspersed with relatively good times, further accentuated by the fact that available resources fluctuate from year to year.  The individual human would not be able to percieve the levelling of the population curve, which would appear to them simply as an increasing number of seasonal famines.
If a human population were placed in an environment where resources were not renewable at a fixed rate, but instead were renewable at a steadily decreasing rate (analogous to petroleum becoming less available than in the past), then things would be distinctly unpleasant.  What happens in a situation such as this is known as a population "crash."
The number of living organisms decreases extremely rapidly in a mass die-off, quickly reaching the carrying capacity of the environment, and even decreasing delow it somewhat.  From this point, the regular oscillations of a population at stationary phase will resume.  (From the human perspective, a cycle of periodic famine years, such as humans experienced through most of their history).
Thanks jrf29 for an excellent sensible summary of population.
Here is a bit of http://www.mnforsustain.org/oil_eating_fossi l_fuels_pfeiffer_d.htm#Population%20&%20Sustainability
This leaves the third choice, which itself presents an unspeakable picture of
suffering and death. Should we fail to acknowledge this coming crisis and
determine to deal with it, we will be faced with a die-off from which
civilization may very possibly never revive. We will very likely lose more than
the numbers necessary for sustainability. Under a die-off scenario, conditions
will deteriorate so badly that the surviving human population would be a
negligible fraction of the present population. And those survivors would suffer
from the trauma of living through the death of their civilization, their
neighbors, their friends and their families. Those survivors will have seen
their world crushed into nothing.
Guess which we chose?
was writen October 2003.
Fri, May 22, 2009 - 01:26am

#6

count placeholder0

Re: Population growth is S-shaped, not exponential
[quote=pbannister]
The population growth curve is S-shaped rather than a simple exponential. …
[/quote]
Correct. Anything growing exponentially runs up against the limits and follows this S shaped curve known as a Gompertz Curve. See http://en.wikipedia.org/wiki/Gompertz_curve
Fri, May 22, 2009 - 01:45am

#7

count placeholder0

Re: Population growth is S-shaped, not exponential
Anyone who has grown bacteria or anything else in a flask knows population growth is S-shaped and not exponential. The point, however, is that the flat-part of the S-curve is caused by limited resources which become exhausted by the exponential growth that precedes the flat part of the S. We humans are living on the exponential part of the "S" curve. The point of being aware of that is to also realize that the flat part comes after intermission, so we better do something about it.
We have three choices:
1) Cut growth and maintain a stable population sustained by renewable net energy.
2) Cut energy consumption to support a higher population (and after a few cycles, go back to choice #1)
3) Suffer mass starvation/extinction. This naturally leads back to choice 1, but it is not as enjoyable as the other 2 choices.
Fri, May 22, 2009 - 01:49am

#8

count placeholder0

Re: Population growth is S-shaped, not exponential
PS: We are not bacteria. We are living in a flask, but we are fortunately still not bacteria. So far, we are acting like them though. We can wake up while we are in the exponential part of the curve, or we can wait until it is thrown in our face at the top of the S curve.
Fri, May 22, 2009 - 03:18am

#9

count placeholder0

Re: Population growth is S-shaped, not exponential
[quote=Patrick Brown] Anyone who has grown bacteria or anything else in a flask knows population growth is S-shaped and not exponential. [/quote]
Careful. The standard growth curve includes an exponential phase (or log phase, as it is known in bacteriology at least) which flattens out into a 'stationary phase' according to the Gompertz function (see RayTome's post). The complete standard growth curve is more "n" shaped because it also inccludes a death phase, which is only relavent in closed systems such as test tubes.
It is true that we are highly intelligent organisms, and not bacteria, but it is also highly ironic that for all of our intelligence we are not capable of controlling our growth on a global scale any more than rabbits, mice, or bacteria. Part of this is because the actions desired in this case for collective benefit are often directly contrary to self-interest. Take a population near the point of starvation. From the perspective of the individual, it is in their self-interest to bear as many children as possible, even if everybody would be better off if there were fewer children. And even if most people in a population altruistically bore fewer children, while some people bore many children, those who bore many children would be the most successful, culturally and genetically. Furthermore, even if a significant portion of a population "woke up" as you say, the reproductive capacity of humans is such that even a small minority of the population which (for religious or other reasons) continued to reproduce at higher rates, could rapidly consume the resource void left by those who reproduced more slowly. The power of exponential growth at work.
Unless something draconian were done, such as putting birth control into the water supply or some such thing, it is unavoidable: human population, as much as the population of any other species, will grow to reach its carrying capacity.
Fri, May 22, 2009 - 03:40am

#10

count placeholder0

Re: Population growth is S-shaped, not exponential
jrf129: Can't argue with any of that. And yes, the S does turn into an "n" in a completely closed system. Our system is not completely closed. There are some (but very few) renewable sources of energy. Whether they are enough to support the present population is doubtful, and how much they could exactly support is not a guess in my pay-grade. My point, however, is that there is no point in pointing out that population growth is not exponential but S shaped. Either way, acting like bacteria will lead to only one predictable result, which as you have pointed out, is an "n" shaped result.