PM End of Week Market Commentary – 9/19/2014
Wed, Sep 24, 2014 - 12:03am

#11

Status Member (Offline)

Joined: Apr 13 2011

Posts: 2026

count placeholder0

In defense of Dave's gold view
Not being a trader, and being of limited financial background, it is hard to weigh in when experts disagree.
Buuuuut…. Dave said:
Now then, will this 40 year experiment of an unbacked currency complete with debt bubble work out satisfactorily? I say no, it won't. It will eventually blow up. At that point, having wealth stored in gold will be quite a useful thing – among the many sorts of "real assets" one can possibly own. But until that final denouement, I believe our central planners will be focused on credit, debt, and currency rates because those are the powerful levers they have used to control the economy for the past 40 years.
These levers have worked for them for decades, so they're going to keep pulling on them until catastrophe strikes. And gold will remain an afterthought right up until then.
So that is where gold stands in my estimation, too.
With one addition clarification: that one of the CB levers that is working quite well is that of keeping gold as an afterthought — which is Jim's point.
Wed, Sep 24, 2014 - 02:37am

#12

count placeholder0

Does China really have that 10 year Silver loan
to the USA? Evidence, please. That is, according to Harvey.
Then why do Russia's central bankers feel so differently?
What makes Russian central bankers different than US? They both have fiat currency systems to protect.. but obviously, Russia, and the central bankers of many other countries, don't treat Gold as, "an afterthought". Instead, they spend Billions of dollars worth of their nations money on Gold, year after year after year, especially since the financial crisis of 2008.
YOUR central bankers, and your Treasury (ESF) want you to think Gold is an afterthought. That is the psy-op.. right there. That is the mind game. The price of Gold is firmly in their sights, and firmly in their grasp until such time as the US-based paper futures market no longer holds sway. Dave can crow all he wants about the price being set by legitimate, or purely "financial" market participants looking to profit short term… I don't buy it, and I will point out the fallacy of this view as much as I have energy to do so.
Wed, Sep 24, 2014 - 05:05am

#14

count placeholder0

what does the fed think anyway?
Ken, JimH-
Yes, definitely my belief system is that our friendly central bankers don't focus their energies on gold. It is driven by my observations, and my assessment that Occam's Razor is probably the best tool to use in most cases for understanding policy. Not always – but most of the time.
My belief is the Fed focuses the vast bulk of staff time and management thinking on analysis surrounding interest rates, credit creation, and currency manipulation, since that is what they really believe to be the most effective strategy to manage the economy. If they think about "gold suppression", its probably only when gold goes nuts like it did in 2011.
The issue here is not whether owning gold is a good idea for you and me. I believe that it is. (Doesn't matter how many times I say this, Jim seems never to quite pay attention). The issue is, whether the FED focuses its policy efforts and energy on gold price suppression. I do not believe they do. I believe they regard goldbugs as a bunch of crackpots, and then they devote their staff time and thinking to interest rates, jawboning markets around, credit creation, debt monetization, equity market-pumping, and the like. If there was energy put into manipulating markets in secret, I think it is far more likely to be focused on US equities than on gold.
From reading and listening to Harvey, it seems that he would have you believe that the vast majority of time the Fed management spends is on strategizing on how to hose the goldbugs, listening to reports of successful (or failed) daily gold and silver manipulation, with cheers erupting at every drop in the price of gold. In Harvey's world, gold is the top agenda item at every Fed meeting. "What is going on with gold" is always the first thing every Fed president thinks about when they wake up, and the last thing they think about before they go to sleep.
I just don't buy it. That's my belief system, but – I just don't buy it. We're not on a gold standard, so they focus on the levers that have worked for 40 years post gold standard.
I do believe that the Fed views gold as a "backup plan" in case the whole fiat thing goes sideways. But its only a backup plan for them. I suspect the fiat thing will go sideways at some point. Someone will go one step too far (Japan, perhaps?) and it will all end badly. But I'm not the Fed.
As a matter of curiousity, I did a quick bit of math on what Russia (the poster child for gold accumulation) has been accumulating. The chart below has the foreign currency reserves as well as the number of gold ounces (multiplied by the gold price). So you tell me. Where has Russia put the bulk of their efforts in reserve accumulation? "FC" = "Foreign Currency"
Since 2005, Russia has bought 300 billion in paper, and only 40 billion in gold. OMG Russia is a closet bunch of paperbugs!!
FWIW, Russia has accumulated more gold (as a percentage of total reserves) than paper over time. They started with 4% in 2008 and are now up to about 10%. But its worth noting that – in the poster child for gold accumulation – gold remains a small percentage of Russia's reserves. They are now up to 1100 tons of gold; about 1/3 of Germany.
To me, it looks like Russia is constructing a hedge. I agree with their policy. They're a resource producer/exporter, and having the option of going to a gold-backed currency makes good sense for them. But its just a hedge.
Ultimately, I am not suggesting we follow what the Fed is doing. But assuming that everyone out there is out to get us just seems silly and overdone. Why not just quietly accumulate more real stuff on price drops, and wait for the fiat thing to end badly, which based on current policies it most likely will. Why overcomplicate it all with secret agendas and plots that just serve to distract?
Wed, Sep 24, 2014 - 10:34am

#15

count placeholder0

Contributions of Rickards/Middelkoop
Well guys, this is getting more and more interesting! (and maybe personal).
I'd like to summarize where I PRESENTLY stand re this issue of belief systems.
1. #5 Harvey video shakes some of us up.
2. #6 Ken asks questions
3. #7 Dave responds, insightful, but missing something?
4. #8 Ken asks about Dave's beliefs: Is it JUST a) credit creation, debt, and currency exchange rates? Or, maybe there should be an added feature: hypothesis of gold/silver suppression?
5. #9 Jim jumps in, again, thankfully: GOLD IS THE MOST IMPORTANT OF ALL EXCHANGE RATES!! (See Nixon speech about taking us off the gold standard–is this an example of currency exchange rates??)
6. #10 SandPuppy: gold as an afterthought.
Dave again: The Fed focuses on the levers that have worked for 40 years post gold standard, keep gold as an AFTERTHOUGHT.
7. #12 Jim, once more: HOW about Russia (and China and other central planners) buying up gold?? JUST a "mind game?"
8. #13 Dave here: Russia and China buying gold as a hedge (against the devaluing of their treasury and more holdings). BUT the last paragraph is really something: "Why complicate it with secret agendas and plots that just serve to DISTRACT."
7. ENTER: Rickards and Middelkoop. Rickards: Currency Wars; and, The Death of Money. Willem Middelkoop: The Big Reset: War on Gold and The Financial Endgame.
From my reading of at least these three, another important hypothesis (not a secret agenda nor a plot) seems reasonable in light of all the above. It's called the IMF and SDRs (not very secret!!) hypothesis. See Epilogue of Willem (pages 194-196). Basically, "we have entered an era of virtual global state capitalism."
And: "Since the fall of Lehman, central bankers are desperately trying to avoid a collapse of the financial system. Governments and central bankers know the whole economic system will fall apart once they stop printing money. This leads to the only logical conclusion that we are stuck with infinite QE, etc.
… this crisis has the capacity to end in an all-encompassing distrust of paper assets.
"Central bankers are therefore very much aware that is is essential to come up with a reset plan before this occurs. . . . they will do everything possible to modify the financial system in order to avoid another 2008-style collapse…when they introduce their reset plans." The "IMF and SDRs could give enough extra time to work on a broader solution for the worldwide mountain of debt. without the system collapsing completely." (It's in their interest for it NOT to collapse totally)
See Chapter 6–The Big Reset, really excellent, Dave.
Seems to me Dave focuses on the SHORT term view and some of us on the LONG term perspective.
Both are needed, without calling each other names and implying hidden intentions.
At least I hope you all can read the three books, in depth, mentioned above, and THEN respond to my feeble attempt to make sense of all this. Good luck, Ken
Like most of you I still agonize about how much of my portfolio should be in gold/silver. Sprott says 70%, is this true? But yuan, in case? Sure, land, real estate, maybe art, and SOME metals (Rickards), and some agricultural companies (without ever saying which ones!)
Part of me wants to take back some monies in TIAA-CREF and buy gold but then maybe cash is KING. Finding balance in all this is problematic.
Wed, Sep 24, 2014 - 11:43am

#16

count placeholder0

nice summary
Ken-
Nice summary. I'd add that I also believe we should individually follow China and Russia and construct for ourselves a hedge as well. I believe they are doing the smart thing. But – like China and Russia – we should not put all our money in gold, or really, in any one place. Diversify!
But between where we are now, and The Great Reset (in whatever form that will take) probably lies deflation. And the buck is the likely winner during that period of time.
And the buck isn't winning because of manipulation; that is all about the deflationary forces in play right now, and the large amount of dollar debt out there. And that deflationary downdraft will drag gold right down with every other asset class. And again, that's not manipulation. Imagining manipulators around every corner might cause you to miss the very real deflationary dragon breathing fire in your face.
People say "gold is money" and that's true – to a point. But unfortunately its not the money in which your debts and expenses are denominated, so if you end up having all your liquid net worth in gold, and yet you have dollar debts and regular dollar expenses, it is like having all your cash in Pounds. You are at the mercy of the pound-dollar exchange rate, and if the rate goes against you for any length of time, you are not a happy camper. Cash buffer large enough to survive the deflationary period is very important.
So my advice is avoid the quasi-religious gold fortune-tellers who invoke manipulators to explain every gold price drop, and use gold the way Russia and China do – as a sensible hedge against a system reset. Russia and China also have paper too, so don't be afraid to have some of that as well. And gear yourself up emotionally and realize the forces of deflation easily could hammer your gold position between now and the monetary "system reset" which is likely to happen, but it may not happen next month, or even next year.
I am diversified. So when my gold position drops, I know my dollar position is actually improving, so it is less stressful to me. Likewise, I have some of my money in a foreign currency, and some in USD. I have enough to pay my expenses for a year, which gives me peace of mind. If I had every penny I owned in gold, I'd be much more nervous. For me, this is about sizing my position so I can sleep at night.
This is not just about getting to the end point, it is also about enjoying the journey. We shouldn't just be hanging around waiting for the Earth Shattering Kaboom. Let's have fun along the way too.
If we all come out of this with half of our skin intact, we'll be doing better than 90% of the rest of the people out there.
Or in war-gaming terms, the victory conditions in this particular scenario don't require perfection in execution!
Wed, Sep 24, 2014 - 12:39pm

#17

count placeholder0

Dave–YOU DID IT AGAIN
Thanks for your thorough response–very,very helpful!! I need to meditate on this some more.
And maybe this will also help. Is the IMF plan B?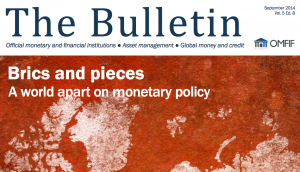 The London based financial think thank OMFIF carried out an 11-day tour of Asia on 14-25 July encompassing six financial centres. The tour benefited from 48 top-level conversations among them heads of central banks and sovereign funds, other senior government and central bank officials, leading investors, pension funds, economists and academics. OMFIF concludes that the renminbi is part of a multiple reserve currency system already. One Chinese official said that the renminbi could succeed internationally only if it was a 'quality currency', which could point towards some form a gold backing in the future . According to OMFIF's monthly newsletter the number of countries holding renminbi in their official reserves has risen to around 40. And most important from our point of view, the US and the IMF appear to be moving towards acceptance that the renminbi could form part of a 'redrawn version of the IMF's Special Drawing Rights', which could replace the dollar as the world reserve currency one day.
OMFIF has published ten points on the global economy to sum up the main issues and conclusions discussed during the tour;
1- Policy divisions between western and Asian economies seem to be growing. Increased Asian confidence and resilience are accompanied by belief that the west (and especially Europe) has lost its way. One Asian sovereign fund leader contrasted Asia's emphasis on long term returns with the short-termism and greed of western investors. 'The result of the global financial crisis was that the man in the street was devastated while bankers enjoyed their bonuses.' He highlighted the difference between western rigour on Asia over the 1997-98 financial crisis and European compromises made toward indebted countries in the EMU crisis.
2- The decoupling danger appears most acute for Europe, since the US and Asian economies were seen as more closely aligned. There was talk that the Asian economy, in terms of trade flows, was more integrated than that of the euro area – despite the lack of a common currency. One leading Asian central banker was gloomy about the European outlook, where he said 'years of restructuring' were needed, even though economic output (in contrast to Asia and the US) had not yet returned to pre-crisis levels. The most likely scenario for currencies was a firmer tone for US and Asian currencies (with the exception of the yen) and a weaker euro.
3- Belief is growing that prolonged international monetary stimulus seems to be running into diminishing returns and could become self-defeating. There was worry about the long-term impact of very low interest rates on pension funds and insurance companies. Monetary policy could become tighter in Asia to ward off overheating, but countries could not allow exchange rates to take the full strain, so management of capital flows were necessary. Although Asian foreign reserves can be regarded as excessive, this is no longer a major concern for most central banks, which appear wary about losing reserves as a result of foreign exchange or political upsets.
4- The Chinese economy is slowing, but the authorities seem to be in overall macroeconomic control. Growth is likely to be around 7.5% again this year. Main areas of concern are the property market and shadow banking. There were some worries that the authorities are not proceeding fast enough with interest rate liberalisation to accompany capital account liberalisation. The two reforms need to move in tandem so that allowing more capital to leave the country can be accomplished without suffering setbacks. China will be cautious on the latter while refining procedures on the former.
5- Japan seems to have turned a corner with more vigorous implementation of Prime Minister Shinzo Abe's economic reform measures this summer. Japan seems likely to tolerate a further weakening of the yen as US monetary policy gradually tightens over the next 12 months and the Bank of Japan maintains large-scale purchases of domestic government bonds well into 2015. Although core inflation fell to just 1.3% in June, officials say the rate should be rising towards the 2% target level from the fourth quarter onwards. Officials are relatively confident that Japan is not moving towards permanent current account deficits.
6- There is considerable suspicion about the IMF and an excessively Washington-focused view of 6 the world. Quota reforms and governance changes at Bretton Woods institutions remain stymied by congressional refusal to ratify them. The result is frustration in leading Asian countries and a number of moves – whether through the Chiang Mai reserves-pooling initiative or the latest plan for a Brics bank – for emerging markets to lower their IMF dependence. The result may be deadlock, as the emerging economies themselves lack a consensus to move forward meaningfully on genuine alternative structures.
7- Internationalisation of the renminbi is proceeding on many fronts. The Chinese authorities now accept that the renminbi is, de facto, part of a multiple reserve currency system in which the dollar continues to play the leading role. One Chinese official said that the renminbi could succeed internationally only if it was a 'quality currency'. The number of countries holding renminbi in their official reserves has risen to around 40. The US and the IMF appear to be moving towards acceptance that the renminbi could form part of a redrawn version of the IMF's Special Drawing Rights.
8- Internationalisation of the yen seems to be taking on a new form. Tokyo Ministry of Finance 8 officials are stepping up efforts to market Japanese government bonds to central banks and other foreign public sector investors, but purchases of JGBs will take off only after a rise in longer term interest rates from present levels below 1%. A return to more normal JGB interest rates of above 3% – which will prove loss-making for present holders such as the Bank of Japan – is not likely for at least two years. Part of the BoJ/MoF strategy of encouraging Japanese private sector portfolio shifts away from JGBs into equity-type assets is that the BoJ can bear such losses far more easily.
9- Asset managers across the region – both public and private sector – are becoming increasingly internationalised, with some of the older-established funds serving as benchmarks for newer, less mature funds. Large state pension funds in Japan and China are being reformed to bring their asset allocation practices more in line with international standards, with Canadian pension funds – where the proportion of foreign equity ownership is much higher than in Asia – seen as a particular benchmark. Diversification into Asian currencies is an established trend, part of moving away from the dollar as the region's main transaction currency.
10- Despite general Asian self-confidence, there were warnings that the region could over-stretch itself. Among the challenges are: crossing the threshold to developed country status; improving institutional governance; coping with ageing populations and rising inequality; and promoting financial development. Lack of financial markets may hinder more general economic and trade integration. Cross-border flows were said to be much greater than before the 1997-98 Asia financial crisis – emphasising the need for macroprudential controls now sanctioned by the IMF.
Some folks viewing this thread may have noticed that Dave's data on Russian reserves looks different, with respect to Gold, vs. mine. Did you realize why? It's because Dave's chart shows Russian Gold in dollars, and mine shows Gold in ounces. Dave's chart is showing the Gold holdings of Russia in terms of the dollar exchange rate…. kind of ironic since one of Dave's points as I understand it is that the FED doesn't care about this exchange rate.
Simply stated, by denying that FED/Treasury led market manipulation exists, a person lacks the ability to understand how close we might be to the singularity of a paper vs physical disconnect, or even the awareness that this is coming.
http://www.paulcraigroberts.org/2014/09/22/rigged-gold-price-distorts-perception-economic-reality-paul-craig-roberts-dave-kranzler/

…The fact that the price of gold is determined in a futures market in which paper claims to gold are traded merely to speculate on price means that the Fed and its bank agents can suppress the price of gold even though demand for physical gold is rising. If there were strict requirements that gold shorts could not be naked and had to be backed by the seller's possession of physical gold represented by the futures contract, the Federal Reserve and its agents would be unable to control the price of gold, and the gold price would be much higher than it is now.
So, are there signs of tightness in the physical market? You bet. Let's take Silver phys… I studiously watch the Texas Precious Metals website because they have a policy of only shipping that which they have in stock, hence you can readily see what is in stock and what is not. For months and months now, they have not been out of stock for any major items. That trend has shifted with this latest deep Gold and Silver smash… here is what I am seeing in Silver;
Thur 9/18 11 bulk forms of Silver coin in stock, none out
Fri 9/19 Austrian Phil monster boxes out of stock, 10/11 in stock now
Mon 9/22 No change, 10/11 in stock
Tue 9/23 No change, 10/11 in stock
Wes 9/24 All Texas rounds out of stock, $500 bags 90% dimes/qtrs out of stock, 7/11 in stock.
But remember, the price is telling us some kind of market truth… nobody wants Silver.. the streets are literally paved in the stuff!
Thu, Sep 25, 2014 - 05:59am

#19

count placeholder0

exchange rates, failures to deliver, coin shops
JimH-
My sense is, the Fed doesn't seek to actively manage the silver/dollar exchange rate. They do seek to actively manage interest rates, credit creation, market expectations, and the overall level of the equity market. Just listen to them, and you'll know what they are after. Right now, they're super worried that the US market isn't pricing in a rate increase, so speaker after speaker from the Fed goes out there and points this out. They are terrified that the US equity market is too optimistic, and when the Fed actually raises rates, it will go into shock, tip over and sink, much to the chagrin of the Fed who seems quite proud of where the equity market is today. Its pathetic, in a supposedly "free market" society to have the central bank worried about such things.
As for me – I definitely care about the silver/dollar exchange rate, because I have expenses in dollars. If all my expenses were in silver, I wouldn't care in the slightest. This is one thing about the goldbug article of faith "silver is money" that I just don't like. Its not grounded in today's reality, because it doesn't recognize that as long as you have debts and expenses in USD, you are tied to this exchange rate. If your expenses are in USD, then every month you need to acquire USD (either through work paid in USD, savings of USD, or sale of assets and conversion into USD) in order to live.
Gold and silver are great hedges against the system reset we all believe is coming (and if you don't have a hedge in place, prices today are a reasonable buy point, I believe) but they are not money. Money is whatever you need to have every month to pay your mortgage, your rent, your food, etc. To pretend that the USD isn't money is just silly. I'm sure I'll get called a paperbug for stating this obvious fact, but as long as we all have monthly expenses quoted in dollars, we'll all need dollars, every month. Even Jim. He'll need dollars too. Sheesh.
Regarding Jim's impending Commercial Signal Failure in silver – from what I can tell, every single time the price drops, people go to their local coin shops to buy more silver. (Buying when the price drops is a reasonable reflex, I do it too.) Silver coin buyers did this during the 2013 crash as well. In fact, here at PP we had a whole discussion about this – how some people felt that the coin shops running out of silver coins presaged a failure to deliver in the larger silver market.
The problem with using coins as your metric for the failure to deliver is, the inventory of silver coins isn't that large. A burst of buying causes it to run out quickly. The bulk of silver supply is in 1000 oz bars. So, to detect an imminent Commercial Signal Failure in silver, I'd look at the supply of 1000 oz bars. First stop would be Sprott and PSLV's premium, second stop would be if the larger coin shops had COMEX bars in stock, third I'd check the larger dealers. Then I'd watch to see if, over time, the scarcity was remedied by mine supply, or if it persisted.
Right now, a west coast shop has COMEX bars for 57 cents over COMEX. http://www.golddealer.com/product/1000-oz-comex-silver-bar/. So my sense is, no impending failure to deliver.
Dave,
You are right and you are wrong about money.
You are trapped in the same trap as the vast majority of Americans, in thinking that a historical situation will carry on forever, the so called normalcy bias.
I know that eloquent spokesmen like Mike Maloney have made the statements that "only gold is money", and I admit I cringe at that statement sometimes, but I equally cringe at your statements that a fiat currency that is being debased at exponential rates is perfectly good "money".
The money v. not money debate is the same off point discussion that inflation v. deflation is.
Rather than get into a semantics discussion, why not open clear eyes, and see what is and what is not.
Let's look at a few basic facts. First, the historical and universal qualities of money:
1 Widely marketable (acceptable and recognizable for exchange)
2 Transports easily
3 Rare
4 Assayable
5 Durable and easy to store
6 Easily divisible
7 Fungible (all units are similar)
Gold and silver have functioned as money, over millenia, because they have all of the above qualities.
Almost nothing else (physical) comes close.
Fiat paper money (and credit money, which we will come to in a minute) are relatively recent inventions.
Fiat paper money and credit money, like most liberal, progressive ideas, are ideas that are fine in theory, and simply work out poorly in practice.
Kind of like the communist ideas of "if we just take excess profit (whatever that is) from people who are high producers and redistribute to low producers, everyone will be happy".
Or "if we just negotiate with terrorists, they will understand that we don't hate them and they will get along with us and not cut off our heads".
Good ideas for grade school (and some prominent universities and political parties), bad ideas for the adult world.
In my experience, communism breeds narcistic brutal dictators and impoverished nations, and terrorists want to cut off my head no matter what I say to them.
So, unlike Mike Maloney, I agree with you, conceptually, in a theoretical world, that paper fiat credit-units could function as money, but you and I and Jim H. don't live in a theoretical world.
We live in a real world.
I would concede that fiat money, specifically the USD, has basically functioned as money, because it has had, at least on the surface, the appearance of, and to some extent, the reality of, all the above qualities number 1 through 7. At least during most King Dollar/ petro dollar times, which include the last 60 years.
Gold and silver, sitting (forced these days) quietly in the background, also have maintained all the above qualities number 1 to 7, as they have for all of human history.
The key misconceptions that you, and the majority of Americans hold, is that fiat dollars and gold are equal in their stability and intrinsic qualities, and that they are born and die equally.
This is simply wrong.
Gold and silver are born out of hard human and machine labor, requiring vast amounts of intelligence, exploration, permitting, building, digging, purification, heating and melting, molding, and finally minting, not to mention transporting at several points in time, from the original loads of rock from earth works to moving ingots across the globe to investors and minting companies, and finally to you and me.
This hard work, which is increasingly getting harder due to the peak resource paradigm of lower quality ore, which we all know about. And at the same time, the energy required to extract and purify gold and silver is getting more expensive, driving up the costs and thus lowering the supply at any given price. This trend could be reversed in theory, if there were a surprise energy renaissance, but none of us see that on the near horizon.
The ability of gold and silver to maintain the 7 qualities of money is dependent only on physics.
I don't see the laws of physics changing any time soon, so I have confidence that tomorrow gold and silver will still have all the qualities of money.
What you (and admittedly the majority of dollar users) don't understand that fiat paper money's ability to maintain the 7 qualities of money is dependent not on physics, but on human competency and moral behavior.
I have conceded that theoretically, fiat paper money could, and historically has, functioned similarly to gold and silver as money. The two key words are "theoretically" and "historically".
Fiat currency is only valuable, and 'rare', if the caretakers of the fiat paper money are exceedingly careful to ensure that the amount of money in circulation "matches" or is representative of the the total true wealth in existence.
Unfortunately for you, me, Jim H, and all users of fiat currency is that our caretakers, specifically the United States government and the Federal Reserve, are horribly corrupt and at the same time, completely incompetent.
USD are created at the present time, not to be an accurate representation of wealth in order to facilitate the economic exchange of goods and services.
USD are created at present for two main reasons – to keep failing banking institutions solvent, and to allow the U.S. government to continue to spend more money that it takes in in taxes.
We can argue about the morality and wisdom of the current situation, but these are the simple facts.
The creation of new credit-money in 2014 and the expansion of the credit markets has nothing to do with representing a certain amount of wealth creation, as happens in a normal and correctly functioning monetary system, and everything to do with debt expansion.
The most charitable explanation I can give is that our current money creation system is based in debt and future promises to pay, and we have financial caretakers that assume our future ability to create wealth will eventually match, i.e. "catch up" the present rate of credit money creation in the form of government direct debt and financial obligations.
This assumption is laughable.
Since we have a GDP of about 15 trillion, with on-book government (federal, state and local) of close to 50 trillion, and future retirement and healthcare obligations of 120 trillion, in the face of a system that is becoming more indebted by the day. I'll leave it up to you whether you think the financial masters are correct. I do not think so.
You also ignore the fact that most of modern economy functions on USD that are actually credit money, the so called lines of credit.
Again, if you do not believe this, please go back and study the sources and events surrounding the 2008 financial collapse.
The 2008 collapse was not a crisis of "where did all those printed up dollars go that I stuffed under my mattress, I need to spend them to remain solvent". This was a crisis in 'I will not create more digital credit-dollars for you because I do not trust in your future ability to pay" crisis.
While not paper currency and coinage, these lines of credit "spend like money". They function identical to fiat currency that is earned by hard labor and put into a bank account.
If you don't think so, go out and see if you can buy watermelons with your credit card.
I think if you try, you will find the answer is yes.
The same watermelons can be purchased with a withdrawal of dollars from your savings account.
So I hope you understand that your credit-money spends exactly the same as your earned money.
One small problem. Credit money can go away with an immediate 'poof' if the creator or financer of the line of credit decides to withdraw it. This is true for Visa, your local bank line of credit for local businesses, the big commercial bank members who hold lines of credit including manufacturing and financial corporations, or the Federal Reserve and its funny money balance sheet that expands by buying U.S. Treasurys and MSBs.
It is interesting. I have held gold and silver in my hands, have moved it from one container to another, but I have never seen it go "poof". Maybe you have.
Other dollars that go poof: the value of your house and property in USD, your future earning potential when you lose your job, the value of non-essential items such as jet skis and pleasure boats.
Call me old fashioned, but I like to buy and save things that don't go "poof". As a person with a fiduciary responsibility for my family, things that go "poof" make me nervous.
In addition to the going "poof" phenomenon, the simple fact is that a reckless and irresponsible government and reckless and irresponsible Federal Reserve can destroy at least two of the above qualities of money for USD- rare commodity and wide exchangeability.
If the government continues to spend more than it takes in by grotesque levels, and the Federal Reserve continues to enable the reprehensible behavior of monetizing US debt and supporting banks and financial systems by printing USD and creating vast amounts of unbacked derivatives and paper commodities through naked shorting, the USD will die a hyperinflationary death.
This is mathematically certain.
In contrast to the theoretical world you and the Federal Reserve live in, in the actual world, fiat currency has universally been debased due to the irresponsible behavior of those in charge of the paper (or minted) currency.
This has been true of the Romans, the Germans, the Chinese, or the U.S. government.
I appreciate you don't respect my psychoanalytical approach to looking at things monetary and governmental, but in my psychoanalytical construct, based on my experience and study of history, I find nothing to suggest that the current human beings in charge of the monetary system have somehow evolved into superhumans that don't have all the flaws of every human culture previously.
Perhaps you see some remarkable qualities that I am missing. Oh yes, I forgot, we now have really fast computers, and the internet, and the smartest, most "progressive" president in history who clearly does not have all those old pesky shortcomings that those ancient peoples had of dishonesty, greed, narcissism, or power-seeking, so all is well.
And just a quick walk down the comment section of any well read blog or website tells you that, should the remarkable superhumans in charge somehow fall short, thanks to the miracles of public schools and great universities and the modern welfare state, the general population has reached a new enlightened state of education, careful thought and critical thinking, tempered with charitable concern for the feelings of their neighbors on the blog or down the street.
These inconvenient facts destroy your theoretical world that we can be blissfully happy with our fiat currency. Apparently your logic is that because I can go down to the 7 Eleven and buy a gallon of milk today with my five dollars today, or pay my rent with a neat little check made out in dollars today, or that greedy and corrupt financial leaders suppress the gold and silver price by naked shorting and manipulative algorithms, that fiat USD are perfectly good money.
You may be right now, but I don't only live for the now.
Until they find a way to print unlimited oceans of gold and silver, or find a way to make gold and silver go poof, I will be happy to collect those 'worthless' items that I can't pay my rent with, or buy bread with, or buy that internet trinket from China with.