PM End of Week Market Commentary – 2/12/2016
Sat, Feb 13, 2016 - 12:23pm

#1

count placeholder

PM End of Week Market Commentary – 2/12/2016
On Friday, gold fell -8.50 to 1238.50 on heavy volume, and silver dropped just -0.01 to 15.79 on heavy volume also.  After rising $50 yesterday, a modest retracement for PM was not surprising, especially given strength in equities, oil, and a nice rally in the buck.
On the week, gold rose +64.40 [+5.49%], silver climbed +0.76 [+5.06%], GDX shot up +10.50%, and GDXJ rose +14.27%.  Platinum was up +4.85% and palladium rose +3.76%, while copper fell -2.68.  It was another fantastic week for gold and the miners; gold's rally above 1200 was just spectacular, as was the participation by the mining shares.  Weakness in copper and relative weakness in silver is reminding us this move isn't about inflation, its about safety.
Last week gold was approaching the previous high of 1191; it took gold one day to break through that, another couple days to retrace, and then on Thursday gold blew through 1200 in a massive $50 move that saw gold hit a high of 1263.  But it was the break above 1191 that was most significant to me; by violating the pattern of "lower highs and lower lows" on the weekly chart, gold conclusively ended its four year long downtrend this week.
However, to establish an uptrend, gold now must establish a pattern of higher lows and higher highs.  This means gold needs to correct for a time, and then buyers need to appear to push prices above that previous high.  We need to go through one cycle of this before we know if gold's long term trend has really changed.  After the excitement of the past few weeks it certainly feels like the trend has changed, but gold has to emerge bullish after going through a down cycle be certain.
Last week I suggested it was a high risk time to buy gold.  I could tell you its even higher risk today, but I don't think you'd believe me.  And in truth, watching gold perform on Friday, it felt like there was a pretty strong bid under gold going into the weekend.  SPX was up, dollar was up, oil was up – and gold didn't sell off, at least not much.  If gold was going to be sold, it was on Friday.  That – largely – didn't happen.  It suggests that we may have some more upside to come before this cycle is complete.
This week saw silver break through its 200 MA, and head toward its previous high of 16.37.  On the weekly chart, we see that silver has managed to break its weekly downtrend line, which is a first step towards ending the longer term downtrend.  However, a close above 16.37 is what is required to break the pattern of lower highs and lower lows that has been in place for the past four years, and silver has yet to do this.  If gold keeps climbing, silver will probably do so as well, however silver continues to underperform gold.
Miners
After last week's great showing in the miners, I expected a correction.  We got one – it lasted all of two days, and then the miners continued higher, closing quite strongly on Friday, popping up a couple of percentage points right at the close.  Traders wanted to own miners over the weekend.  That's a good sign.
At this point, it looks like traders are looking to buy the miners on most every dip.  That's quite bullish.  At some point we'll have a more serious correction, but as of right now, the dips are being viciously bought (just look at what happened on Wednesday) and that's quite bullish.

The USD
The buck continued falling this week, losing -1.07 to 95.98, dropping back below the 200 MA.  This week's dollar move is mostly about the Dollar/Yen, which fell -3.19%.  This week the Japanese appeared to continue to sell US assets, although the week ended on a positive note with dollar/yen printing a swing low.  This caused the the buck to print a swing low also.  The rise in the buck on Friday didn't seem to hurt gold all that much, and it didn't affect the miners at all.  Perhaps they don't believe in this swing low so much.
The money fleeing the US didn't end up in the Japanese stock market, which lost -11.10% on the week – a massive loss.  Market looks to be saying "Abenomics has failed" – negative rates were an abject failure.  If this trend continues, I suspect Mr Kuroda's time at the central bank will be at an end.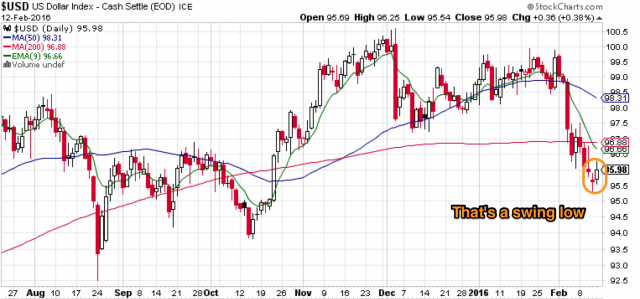 US Equities/SPX
US equities fell this week, dropping -15.27 [-0.81%] to 1864.70.  SPX made a new lower low on Thursday by a few points, touching 1810 briefly before rebounding.  On Friday, SPX staged a substantial rally, moving up +35 points and printing another swing low.  Lots of things cooperated to make this happen; oil rallied, the buck rallied, dollar/yen rallied, junk debt rallied, treasury bonds look to have topped out, and the much-beaten financials (XLF) managed to climb +4.22%.  Bank-in-the-crosshairs DB managed to climb +2.90% on the week; BAC wasn't able to put in a positive week, but it did rally 7% on Friday.  It too printed a swing low.
This could just be short covering before the weekend, its hard to say, but a large number of different items made the same move on the same day.  We might – might – have a temporary low here for equities.
Gold in Other Currencies
Gold's move this week was not a currency effect; gold rallied massively in all currencies.  Gold has ended its downtrend in every currency except JPY, where gold had the weakest performance – and only because of the strength of the Yen.
Rates & Commodities
Bonds (TLT) rose +2.16% this week, which sounds great until you look at the chart; on the weekly, TLT printed an inverted hammer candle (indicating a possible top), as well as a convincing swing high on the daily chart.  TLT remains above its 9 EMA, but the selling on Friday was heavy: TLT dropped a big -1.66%.  The reversal on Friday for TLT suggests a return to risk on.
JNK fell -0.30%, making a new low this week.  This sounds bad – again – until you look at the chart, where on the weekly it printed a bullish-looking hammer candle, and on the daily it printed a swing low, rising a big +1.62% on Friday alone.  Friday's move more than hints at a return to risk on.
The CRB (commodity index) fell -0.97% on the week, but it too had a happy Friday, rising +3.45%, a huge move.  It too printed a swing low Friday.  Of course it has done this many times and nothing has come of it, but one of these days it will turn into something – probably long after we've all grown tired of reading about the interminable commodity downtrend and everyone has stopped paying attention.
WTIC continued dropping this week, falling -1.98 [-6.39%] to 29.02.  Oil dropped as low as 26.05 on Thursday which is a new multi-decade low, but it managed to bounce back – and along with many other things, oil rallied strongly on Friday, notching a gain of +1.72 and printing a swing low.  WTIC remains below its 9 EMA, so oil still has some work to do to turn even mildly bullish in the short term. 
Stockman had an article where he pointed out (acknowledging the insight came from someone else) that the global proven oil reserves of 1.7 trillion barrels x the $70 price/bbl decline = asset value loss of $119 trillion dollars.  Point of reference: that's 200x the value of google.  Or Apple.  http://davidstockmanscontracorner.com/119-trillion-up-in-smoke-the-busted-value-of-the-worlds-proved-oil-reserves/
Give me a lever long enough and a fulcrum on which to place it, and I shall move the world.
The price of oil is that lever, the size of the reserves is the fulcrum, and the world is truly being moved.  Its almost a shame that I buried this bit so far down in the report.  It should probably lead, except this is the PM commentary, so…what are you gonna do?  Is it any wonder that energy debt is deep into junk, that banks are in trouble, and that gold is screaming higher?  The move in oil has placed the financial system itself at risk by destroying both the collateral (and the cash flow) on which a huge amount of debt is based.
Physical Supply Indicators
* Shanghai was closed this week for Chinese New Year.  Year of the Fire Monkey.  Doesn't that just sound like trouble?  We're only six weeks in and see what fun we've had!
* The GLD ETF tonnage on hand rose +12.49 tons, with 710.95 tons remaining.
* Gold remains in backwardation, with the spread in the first two contracts at -0.10.
* ETF Premium/Discount to NAV; gold closing of 1238.50 and silver 15.75.
 PHYS 10.21 -0.15% to NAV [up]
 PSLV 6.17 +1.98% to NAV [up]
 CEF 12.12 -6.87% to NAV [up]
* Bullion Vault gold (https://www.bullionvault.com/gold_market.do#!/orderboard) shows no particular premiums for gold or silver.
* HAA big bar premiums are higher for gold [2.32% for 100 oz bars in NYC], higher for silver [3.62% for 1000 oz bars in NYC].  Silver Eagle premiums fell [18.05% in NYC].
Futures Positioning
COT report covers trading up through February 9th.
During the coverage period, the gold commercials added +32.5k shorts and also added +4.9k longs.  THis was a big addition of short interest, but not as large as I had imagined.  Commercials still have another 70k shorts to add before they are "fully loaded" up short.  No doubt they added a large number on Thursday, but I do not think it amounts to 70k.
Managed money also did not cover as many shorts as I had expected in gold; they only bailed out of a measly 11k shorts, which still leaves 20-40k shorts remaining.  This provides us an explanation for why gold shot higher on Thursday – there were still a huge number of managed money shorts that had stubbornly refused to bail out.  Or, perhaps, a number of them mistakenly loaded up short after the move to 1200. I, er, might have done that myself, only to hastily bail out when I saw how strongly the dip in the miners was bought on Wednesday.  You have to be nimble – and flexible – if you are to survive.
In silver, commercials sold -3.5k longs, and added a big +12.7k shorts, moving silver commercial short totals within 5k of the start of the danger zone.   Managed money covered -6.8k shorts and added +7.9k longs which puts them most of the way there.  It appears that the football is just about to be snatched away from Managed Money in silver.  The top of the cycle beckons.
Moving Average Trends [9 EMA, 50 MA, 200 MA]
Happy days are here again!  Gold is now positive over the last 52 weeks, and everything except platinum is above the 200 MA.  Juniors lead seniors, miners lead metal – silver is the only fly in the ointment.
| | | | | | | | | | |
| --- | --- | --- | --- | --- | --- | --- | --- | --- | --- |
| Name | Chart | Chg (W) | 52w ch | EMA9 | MA50 | MA200 | 50/200 | Last Crossing | last |
| Junior Miners | GDXJ | 14.27% | -6.42% | rising | rising | falling | rising | ma200 on 2016-02-05 | 2016-02-12 |
| Senior Miners | GDX | 10.50% | -10.92% | rising | rising | falling | rising | ma200 on 2016-02-04 | 2016-02-12 |
| Silver Miners | SIL | 9.66% | -26.27% | rising | rising | falling | rising | ma200 on 2016-02-12 | 2016-02-12 |
| Gold | COMEX.Gold | 7.02% | 1.56% | rising | rising | rising | rising | ma200 on 2016-02-03 | 2016-02-12 |
| Silver | COMEX.Silver | 6.85% | -5.98% | rising | rising | falling | rising | ma200 on 2016-02-08 | 2016-02-12 |
| Platinum | COMEX.Platinum | 6.08% | -20.22% | rising | rising | falling | rising | ema9 on 2016-02-03 | 2016-02-12 |
Gold Manipulation Report
There was no meaningful "after-hours" spikes to report.
Summary
Risk assets took another leg down this week, but a note of possible reversal was heard on Friday.  Oil is the master resource, and proven oil reserves are the collateral that underpins literally trillions in debt and infrastructure.  Right now the price of oil seems to be driving prices in almost everything.  It might (MIGHT) have made a low at 26.05 on Thursday, with the confirmation seen on Friday.  At some point, Saudi Arabia will be motivated to restrict production.  The 1 million bpd surplus is tiny compared to global oil production – and indeed its only 10% of Saudi production.  Now with shale production on the decline, it only requires an act of policy by the Saudis to fix this problem.
The gold/silver ratio rose somewhat, up +0.32 to 78.44, briefly touching 80 on Thursday, which still screams "flight to safety."  GDX:$GOLD climbed too, looking "early bullish" on the weekly timeframe.   GDXJ:GDX rose, but still looks bearish.
It occurs to me that if I'm a gold mining company, I'm probably going to start hedging future production at these price levels, especially after the "come to Jesus" moment with gold at 1045 not long ago.  Perhaps not all of it, but certainly some of it.  Lets see…2500 tons global annual production @ 32151 troy oz/ton divided by 100 ounces per GC contract = 803,775 GC short contracts to completely hedge one year of global gold production.  Hmm.  And we're talking about the commercials going short just 40,000 contracts to print a top for this cycle in gold?
I overestimated the amount of managed money short covering last week for gold; this week, gold's COT report still looks like there is room for more upside – at least one more week anyway.  We also see that most of the gains in gold came from managed money going long rather than exiting short.  That's bullish overall.  Silver isn't so bullish; silver's gains were about 50% short covering 50% new longs.  My guess is, silver is now at or near the end of the line in terms of the managed money COT setup.
Gold and silver big-bar physical shortage indicators show a mixed bag again; in the west, ETF premiums were higher – PSLV is now sporting a 2% premium – GLD tonnage rose, and gold remained backwardation at COMEX.  Big bar premiums for gold at HAA nudged up a bit.  Shanghai was closed: happy Year of the Fire Monkey!
My own personal "physical experience" showed no shortage of gold, but relatively large crowds at the local gold shop.  People were waiting in line 20-30 minutes to make their trades.  Spreads also had come down – now about $2.50/oz, but then again I live in a place where gold is as common as dirt ("oh you trade gold?  my grandmother does that too") and just about as exciting.  I saw one older Chinese gentleman remove a small bar from his pocket, and walk off with a packet of cash.  He had to have been 80.  I wondered how many times he had traded this single bar back and forth.  Another pair of young people (maybe 20?) came with a manila envelope stuffed full of cash, and swapped it for about 750 grams.  As I watched, I wondered who was "right" about the trade – the young people, or grandpa?
In the next few weeks, based both on the market price action and the COT report, I think we have room yet to run with gold and perhaps the miners too.  So far it doesn't look like the market believes in the oil reversal; gold retained a good bid going into the weekend, as did the miners.  From what the market is telling me at the moment, gold retains momentum right now, even in its horribly overbought condition.  I'm now thinking that is probably because of the impact of this 119 trillion dollar lever working on a big chunk of western debt.
Its about Oil
After sorting through all of this, I ask myself, is that 119 trillion dollar loss in value on the 1.7 trillion barrel oil reserves a real loss?  Did an "oil asteriod" land on the earth blessing us with another 100 years of oil resource?  No.  This loss is only real as long as price stays at $30.  It is an artifact of oil price manipulation – used to serve notice to both shale drillers and their lenders that there is "non-economic risk" in playing this game.  Saudis could remove 1 mbpd from production quite rapidly, and a big chunk of that 119 trillion dollars returns.  The unintended consequence of this oil price game is that a big chunk of debt that was collateralized by oil reserves is now at risk of defaulting, which will as a side effect take down key banks in the west.  If DB goes down, it will rock Germany's world – and probably, all of ours as well.
If I were a leader in the west, and I were concerned about my banks, and I saw the linkage between bank stock prices, oil, and junk debt, I might just use my leverage to hammer those Saudis back into line.  Seriously.  This whole 15% equity market correction, the associated credit issues, the follow-on damage to the banking industry, and finally the recent, massive gold safe haven rally can be traced to the destruction of oil collateral by the oil price war.  It just took 20 months for the linkages to become apparent.
Perhaps a quid pro quo could be reached.  Shale driller debt could be called in, and some of them put out of business.  Future lending would be curtailed by the regulators – because of excessive risk, you understand.  In exchange, the oil price war could be ended.  Perhaps the poster child, Chesapeake, would have to go out of business first.  Rapidly.  (Sorry about that, CHK – we have to shoot an Admiral from time to time to encourage the others to stay in line – and perhaps one of our friends could pick up the assets in bankruptcy).  And both DB and BAC would be saved, more or less, to lend again another day.  Frau Merkel would owe us one.  As would the heads of DB and BAC.
Anyhow, I think gold is a bit of a macro-economic "tail" here, with the 119 trillion dollar change in oil reserve asset valuation being the dog.  Dog wags tail, not the other way around.  Banking system won't fail if the deep state can solve the problem.  Regulators will be instructed to keep on pretending until the oil solution is worked out at a higher level.  Just my opinion, but from where I sit, it does hang together.
Ultimately, its about debt, banking, and collateral.  If the collateral comes back, the debt instantly has value once again, and then so does the equity.  This doesn't fix everything that's wrong with the west (TCMDO = 62.5 trillion!) but it does take off the table the immediate failure of the banking system which is what the market seems most concerned about today.
Will the "deep state" allow oil prices – controlled almost entirely by the Saudis – to cause a near-term castrophic failure of the banking system of the west through destruction of collateral?  Sure it was all fun and games while the fight was contained to the oil patch, but once you threaten the banking system of the west…
http://www.cnbc.com/2016/02/11/jamie-dimon-buys-more-than-25m-in-jpmorgan-stock-source.html
Now let's all enjoy the upcoming Year of the Fire Monkey!
Note: If you're reading this and are not yet a member of Peak Prosperity's Gold & Silver Group, please consider joining it now. It's where our active community of precious metals enthusiasts have focused discussions on the developments most likely to impact gold & silver. Simply go here and click the "Join Today" button.
Sat, Feb 13, 2016 - 03:55pm

#2

count placeholder

Typo
"After sorting through all of this, I ask myself, is that 119 trillion dollar loss in value on the 1.7 trillion dollar oil reserves a real loss? "
Correct "1.7. trillion dollar" to "1.7 trillion barrels".
Sat, Feb 13, 2016 - 04:04pm

#3

count placeholder

Derivatives?
So of the $117T, that is now a paper loss, that was used as collateral for loans how much of this was turned into derivatives and how much more leverage? Just maybe TPTB cannot "solve" this wild mal-investment without causing hyperinflation globally.
Sat, Feb 13, 2016 - 08:47pm

#4

count placeholder

hyperinflation??
Eh, I have no idea what derivatives you are talking about.
These are bank loans and/or corporate bonds. Borrowers can't pay the debt back, losses get inflicted, that's deflationary.
Its not just shale. Drilling companies have debt, oil services companies have debt, E&P companies have debt, and its all ultimately not serviceable with oil at $30. There is a huge infrastructure in place to keep the oil flowing, and its all enabled by debt.
Take Seadrill, for instance, one of the larger drilling companies. From what I understand, they are 'talking with creditors.' Reflate oil, and SDRL stops having problems, no defaults take place, and a big deflationary impact is avoided.
But maybe the goal is to pick up oil assets on the cheap. Maybe there's a bigger game afoot. Perhaps "someone" is standing by to pick these companies up out of bankruptcy?
I think that game is relatively contained, unless the western banking system ends up collapsing as a side effect because some weak bank gets pushed over the edge through losses. Then it suddenly gets a lot less contained.
Sat, Feb 13, 2016 - 09:56pm

#5

Status Bronze Member (Offline)

Joined: Apr 29 2014

Posts: 40

count placeholder

Armstrong on Weekly Close
I've been trying to interpret what Armstrong is saying, and sometimes it's hard to separate it from his rants. If I'm reading him properly, it sounds like his computer stated if we close this week above $1,237 that further upside is possible and to keep our eyes on the $1,309 price target. However, his computer is suggesting that February is just a panic cycle and that the real explosion in gold is more likely to start happening in 2017, which is when he expects confidence in government to break down in earnest. In order for a true directional change to happen now we would need to close the month >= $1,362. So, if I'm piecing this together properly, his computer is suggesting we'll top out sometime within the February timeframe and experience a drop back down until the real show starts in 2017. Dave, would you agree I'm interpreting him correctly?
As an aside – none of this really changes what I'm doing, which is to stay focused on big-picture fundamentals and build my personal gold stockpile / crisis resiliency – but I do find the ride interesting and understanding all these different "models" slowly adds to my overall understanding of all this.
Post from 12 February – further temporary upside possible:
This is just a simple, classic, Channel Move where you fill the gap between two channels. We have two Minor Weekly Bullish Reversals at 1237 and 1239. These will come into play today. If we can elect them today then some further upside becomes possible. Below we have the key Weekly Bullish at 1209. What you have accomplished is getting people offside. They will return to assuming it is a bull market but will fail to comprehend that they need everything to align before the real reversal unfolds. The risk of prolonging this trend into 2017 is very high.

(Source)
Posts from 11 February – target during temporary rise?:
Keep in mind this current trend can continue into Monday. So watch the 1309 level for gold;

(Source)
And another from 11 February – the bigger picture:
The markets are talking to us, yelling if you will, that a correction is in the wind on a global basis. The culmination of the trend will NOT be 2017, but pushed off into 2020 with 2017 looking like the start of the trend where confidence collapses in government.

…

February was the Panic Cycle. It appears to be on target. The Monthly Bullish stands up at 1362. That is what we need to elect to suggest that a change in trend is possible. Otherwise, be cautious. We are looking at all markets pushing to their extremes. This is the prelude to the chaos coming in 2017.

(Source)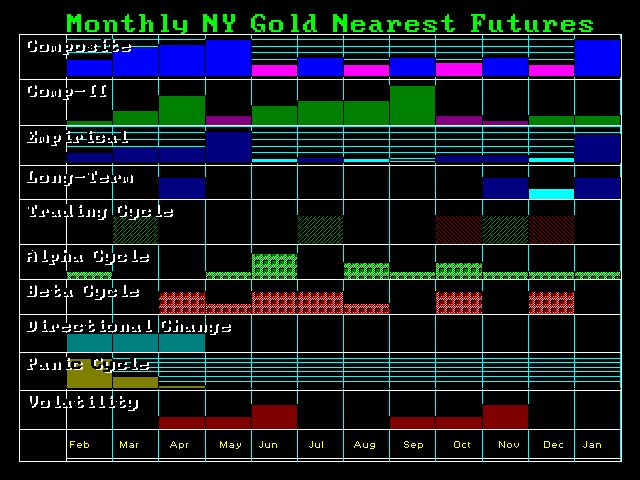 Sat, Feb 13, 2016 - 10:13pm

#6

Status Silver Member (Offline)

Joined: Jan 25 2014

Posts: 369

count placeholder

All smiles
[quote=davefairtex]
I think that game is relatively contained, unless the western banking system ends up collapsing as a side effect because some weak bank gets pushed over the edge through losses. Then it suddenly gets a lot less contained.
[/quote]
I love the understatement. It's almost like you've got the thousand yard (financial) stare 🙂
Personally, I think that the recent credit crunch will be nothing compared to the coming energy crunch. Credit is man-made so it can be extended. Energy, well, it isn't, so it won't be.
How the central banks deal with that shall provide some mild amusement.
In the meantime, to slay the great deflation beast… another QE to help get oil prices up again? Or central banks directly buy up unrepayable oil debt (or similar junk rated energy bonds) like they did mortgage back securities?
All the best,
Luke
Sat, Feb 13, 2016 - 10:28pm

#8

count placeholder

davefairtex wrote:Eh, I have
[quote=davefairtex]
Eh, I have no idea what derivatives you are talking about.
[/quote]
So shale debt has not been included in ABS/CDO bonds and bets?
Sat, Feb 13, 2016 - 10:29pm

#7

count placeholder

davefairtex wrote:Eh, I have
Sun, Feb 14, 2016 - 08:52am

#9

count placeholder

armstrong and gold
Clan-
His computer is suggesting we'll top out sometime within the February timeframe and experience a drop back down until the real show starts in 2017. Dave, would you agree I'm interpreting him correctly?
That's my understanding too. He feels the real move in gold will come when confidence fails, and that the move here in Feb is just the prelude.
However, Armstrong (like most traders) gives himself an out. That is, there is a price point where the market tells him that his prediction is wrong. If we close above the critical "monthly bullish" points, then – as he puts it – more upside is possible.
Its interesting. Jim Rogers (in a recent interview) says he owns gold, and he also believes there will be a better time to buy some more than today. FWIW.
Sun, Feb 14, 2016 - 11:18am

#10

count placeholder

the last war
Kugs-
I think you're fighting the last war. From what I read, Wall Street is a bit less willing to structure bets against debt products that it sells to its customers this time around.
Bets against individual company failures (like DB) are definitely still out there. But I don't see how that causes hyperinflation. Sometimes I get the sense that goldbugs imagine "hyperinflation" to be the answer to every single negative economic outcome imaginable.
"I'm feeling a bit ill." "Oh, you must be coming down with a bad case of hyperinflation."