PM End of Week Commentary – 12/06/2013
Sat, Dec 07, 2013 - 06:37am

#1

Status Member (Offline)

Joined: Sep 03 2008

Posts: 2725

count placeholder0

PM End of Week Commentary – 12/06/2013
Gold finished Friday up +5.70 to 1230.00 on heavy volume, silver was up +0.13 to 19.52 on moderately heavy volume. The gold/silver ratio dropped -0.13 to 63.01. GDX was down -0.05% on light volume, while GDXJ was down -0.95% on heavy volume, making a new year low. Intraday gold set a new low of 1210, but rebounded rapidly back above its point of departure, which is a bullish sign.
On the week, gold was down -21.40 [-1.71%], silver down -0.48 [-2.40%], GDX down -7.27% and GDXJ down -11.11%. While the metals were down on the week with gold making a new cycle low of 1210, the miners were absolutely clobbered, and the volume was heavy, with miners making new multi-year lows in the process. Once again, miners are underperforming the metal. The break below the June 2013 lows in the miners unleashed a flood of selling that has many miners selling at levels not seen since the lows of 2008, when gold was last trading at $700/oz. Most of the week's price drop happened on Monday. Some of the miners are yielding 9% – its unlikely they can keep paying this dividend with gold at these levels, but that just gives you a sense as to how far down these stocks have fallen.
The dollar moved down on the week -0.48% to 80.27. The buck broke below 80.50 support on Thursday, but the move down is happening without any real enthusiasm. At this rate, a re-test of USD 79 might be a month or so in the future. While dollar weakness should be supportive of higher gold prices, such modest moves don't seem to be affecting gold at this time.
Physical Supply Indicators
* Shanghai gold premiums have risen; at 1530 CST Friday Shanghai physical gold closed at a premium of +3.60 to COMEX, up +3.69 over last week. Based on this data, I conclude that the Chinese seem mildly enthusiastic about the low prices, but no more than that.
* The GLD ETF lost -7.50 tons of gold this week and is down to 836 tons. In January, GLD had 1350 tons, which is a drop of 514 tons. Its interesting to me that GLD continues losing gold even though premiums in Shanghai are not very high. My guess: the gold is going elsewhere – perhaps India? Note: to those who consider that gold is fleeing GLD simply because of dropping prices, I point you at SLV, whose price drop is even more dramatic, but has not suffered any substantial drawdown of silver from the ETF.
* Registered gold at COMEX rose +2.81 tons – up to 21.19 tons. From what Harvey Organ has observed, the vast majority of Dec COMEX gold contracts were delivered to JP Morgan's house account. This means: JPM was long gold, stood for delivery, and received gold bars which they put into their vault at COMEX. One might speculate why this is, but to me the implication is straightforward: if registered gold at COMEX is increasing, there will be no COMEX default.
* ETF Premium/Discount to NAV; gold closing (15:59 close price) of 1228.10 and silver 19.47:
CEF 13.34 -6.03% to NAV [down]
PHYS 10.16 [bad data] to NAV [unknown]
PSLV 7.65 +0.62% to NAV [down]
GTU 42.44 -6.83% to NAV [down]
Discounts on the ETFs have increased (premiums have dropped) about 1% over the past week, and almost 2% for PSLV. Something shook loose the PM ETF investors – perhaps it was that sell-off on Monday.
To my mind, without India, physical demand would seem to be neutral given the data we have. India however has really stepped up efforts to suppress gold inflows; its more important than drug smuggling? Seems curious to me. Call physical demand positive this week.
Futures Positioning
The COT report – actually there were two updates this week – shows that for both gold and silver, the Producer category of COMEX trader is now at the most bullish they have ever been in the history of the timeseries, going back to 2006. Producers have never been net long gold, even at the depths of the 2008 crash, but they are now. These Producers have a decent history of picking the bottoms in gold. It doesn't mean gold will jump higher starting next Monday, but it is very bullish long term. Data is valid as of Tuesday – which incorporates data from the big drop on Monday. You can see the spike higher in contracts coinciding with the drop in the gold price over the past few weeks. On the other side of things, Managed Money has the lowest net-long reading they've ever been over the history of the series. That's mostly because of a massive record-high short position – equal to what they had back at the June 2013 lows.
Moving Average Trends [20 EMA, 50 MA, 200 MA]
Gold: short term DOWN, medium term DOWN, long term DOWN
Silver: short term DOWN, medium term DOWN, long term DOWN
There is no change from last week. Gold and silver trends are down in all three timeframes, with the price of both gold and silver both below all three of their moving averages. This is bearish.
More Technical Indicators: RSI, MACD
RSI and MACD are two indicators I watch – most of the time they don't signal anything particularly actionable, but I believe they are both signaling something right now that is not showing up in my other indicators so I figured I'd mention them.
RSI is a calculation of how far prices have moved in a given direction over a period of time. When RSI values are high, prices are said to be "overbought" and when RSI is low prices are "oversold."
Like prices, the RSI can display interesting patterns of its own. There is a special pattern the RSI displays occasionally that helps to identify a possible trend change in the making. When RSI starts to rise (it starts to show prices are progressively "less oversold") at the same time the actual price is still falling, that pattern is called a "bullish RSI divergence." That's what is happening now: gold's price is dropping, but gold's RSI-7 is actually rising. This not a guarantee of a bottom, but its an indication that the velocity of the drop in price is slowing down – presumably leading to the possibility of a near-term rebound.
MACD is a group of different-length moving averages, with the MA crossings being potentially meaningful. In this case, when the (fast) black MACD line crosses the (slow) red MACD line to the upside, that signals a possible trend change. The more emphatic the crossing, the higher the likelihood of a valid trend change. MACD has been decent (if a bit late) in signaling trend changes for gold. For me, late isn't so useful, which is why I haven't mentioned it until now, but right now gold's MACD is quite close to a crossover, before the price of gold itself has started to rebound.
So in the gold chart below, we have a bullish RSI divergence, and at the same time, we are quite close to a MACD crossover. At the same time, we're not far from gold's price crossing the 8 EMA. All that stuff added together says – it wouldn't take much to get gold into rally mode. Perhaps a $10 move, give or take.
Silver's MACD and RSI look quite similar to gold.
Summary
This week gold made a mockery of my comment about "stabilizing gold prices" from last week – gold was driven down to a new low of 1210 on some pretty heavy volume, and silver dipped momentarily below 19.
Looking at the various ratios and averages, gold and silver both remain in a moving-average downtrend in all three timeframes. GDXJ:GDX is dropping (bearish), GDX:$GOLD has stabilized (at least after Monday), GDXJ:GDX is still dropping (bearish), while gold/silver ratio rose (bearish). Trends and ratios are almost all bearish.
JPM receiving the majority of COMEX gold deliveries would seem to rule out any chance of a COMEX default.
The mining shares were clocked this week, making new multi-year lows on big volume. We have to go back to 2008 to find prices this low. Any buying of miners from last week was thrown right out the window driven most likely by a combination of tax loss selling and yet another leg down in gold prices. What's our mantra? Cheap gets cheaper…then it gets really cheap, and then the price drops some more.
At the same time, some other indicators point to a slowing of the downside momentum in gold – the MACD and the RSI.
We likely have only a week or two left of tax loss selling season. After that, we will probably get a lift from The January Effect – which happens last week of December. (Kind of like Black Friday is now being front-run by retailers starting it on Thanksgiving Thursday, such joy).
Physical buying seems modestly supportive for gold prices.
The COT report shows the Producer traders to be the most bullish about the price of gold ever. Ever!! And these are the traders that have successfully picked the low in the past.
And I have one additional observation I think is important. Twice this week, while looking at the intraday price movement, I saw some big high volume spikes down being bought – and bought hard. This is new behavior. It sometimes doesn't show up in the daily charts, but its there intraday if you know what to look for. The last time this behavior occurred was back mid-October, before gold ran up $100. I put a lot of stock in this intraday indicator, as much as I put in the other TA I do, and it doesn't happen all that often. And its happening now.
So while most of the TA is pretty bearish and the trend is overwhelmingly down, there are starting to be a collection of contrary hints – both in momentum, and in the intraday price/volume action, enough for me to suggest longer term buyers might consider picking up some physical gold at or around these levels. If you are more willing to take risk, buying now might get you a better price – while someone more risk averse who wants to avoid the chance of yet another collection of down-legs in the price of gold should wait until the 8 EMA crossing.
As for when – my gut says we don't have too much longer to wait, assuming no massive market-moving news hits the wire. Its odd, gold has no economic catalyst, and yet I see things that are lining up that is bullish. Perhaps the price will bounce, and then the catalyst will appear. Sometimes things work this way; the public is often the last to know.
Or maybe the goldbugs are right, the impending catalyst is really that "they" are down to scraping the last few bits of 1960s-era gold pried loose from the dusty corners of the western vaults to be melted down, recast to 1-kilo bars, and sent off to China, and we are not far away from the decades-in-the-making Great Gold Squeeze. Call me crazy but I'd guess that bottom-scraping news wouldn't be kept from the bullion bank participants in the LBMA, and they'd want to get net long gold which…they seem to be doing as per the COT report…hmmmm…
Note: If you're reading this and are not yet a member of Peak Prosperity's Gold & Silver Group, please consider joining it now. It's where our active community of precious metals enthusiasts have focused discussions on the developments most likely to impact gold & silver. Simply go here and click the "Join Today" button.
Sun, Dec 08, 2013 - 02:17pm

#2

Status Silver Member (Offline)

Joined: Sep 22 2010

Posts: 615

count placeholder0

Thanks again, Dave, great research and very helpful
Your research and suggestions are very much appreciated. Along with what's below, truly helps me see the BIGGER picture regarding gold, regarding when to buy and WHY.
———- Forwarded message ———-

From: SRSrocco Report <[email protected]>

Date: Sun, Dec 8, 2013 at 12:07 AM

Subject: SRSrocco Report

To: [email protected]




---
GOLD PRODUCTION WARS: The East Slays the West
Posted: 07 Dec 2013 09:28 AM PST
Not only is there a battle going on between the East and West when it comes to increasing physical gold reserves, there's also a gold production war taking place amongst these same nations.
Something quite extraordinary took place in 1997 which very few investors are aware. This was the year that the West peaked in overall gold production. Even though the world will hit a new record of global mine supply in 2013, the combined total of the top Western gold producing countries are still way off their highs set in 1997.
It took a great deal of effort and several decades, but the Eastern gold producers have beaten their Western competitors by a wide margin. If we look at the top 3 Western gold producing countries since 1988, we can see an important trend:
Australia, the top Western gold producer peaked in 1997 at 314 mt (metric tons) and declined until it hit a low of 215 mt in 2008. In the past five years, Australian gold production has steadily increased and is estimated to reach 265 mt in 2013.
The United States has a similar historic production trend with Australia.
Gold production in the U.S. increased substantially from 201 mt in 1988 to 366 mt in 1998 — the year it peaked. Just like Australia, domestic gold production in the United States continued to decline after its peak and hit a bottom of 223 mt in 2009. Its production has risen slightly over the past few years and is forecasted to be 234 mt in 2013.
Canada comes in at number three of the top Western gold producers. Even though Canada had a higher peak of 177 mt in 1991, its second peak of 169 mt in 1997 is more relevant when we factor the overall peak in the top Western countries.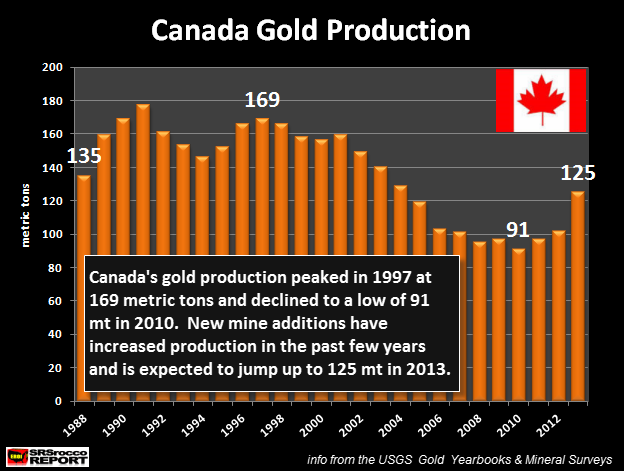 After Canada's recent peak in 1997, its domestic gold production declined significantly to only 91 mt in 2010. Actually all three Western countries had the same pattern — increase-peak-decline-increase. Canada has actually increased its production the most of the three from its low in 2010. Canada is up 37% since 2010, Australia is up 23% since 2009, and the U.S. has increased 5% since 2009 (Note: these percentage gains are based on the estimated production in 2013).
Now that we have seen the top Western gold mining countries, let's look at the top 2 Eastern gold producers.
Mon, Dec 09, 2013 - 05:26am

#3

Status Member (Offline)

Joined: Sep 03 2008

Posts: 2725

count placeholder0

JGB 10Y Yields rising
Looks like the JGB yields are starting to rise again. Perhaps this article had something to do with it. This is the GPIF (owner of 10% of all the JGBs in existence) saying its not going to buy JGBs anymore – if you read between the lines, that is. "We feel we have too many JGBs, and so we're not going to sell, but …"
http://www.cnbc.com/id/101245325
TOKYO, Dec 4 (Reuters) – The head of Japan's Government Pension Investment Fund, the world's largest, said on Wednesday that the $1.2 trillion fund holds too much in domestic bonds but can lower the weighting by letting bonds mature, without selling from its holdings.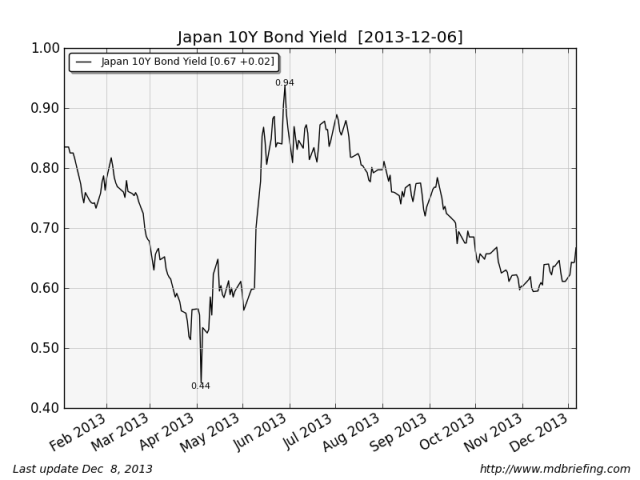 Viewing 3 posts - 1 through 3 (of 3 total)