PM Daily Market Commentary – 9/7/2016
Thu, Sep 08, 2016 - 12:30am

#1

count placeholder

PM Daily Market Commentary – 9/7/2016
Gold fell -5.10 to 1345.70 on light volume, while silver dropped -0.27 to 19.80 on moderate light volume.  A surprisingly bullish JOLTS report (Job Openings & Labor Turnover) triggered a modest sell-off in gold, with silver following afterwards.
While gold did fall, and the dollar rose modestly, the JOLTS report looked to me more of an excuse for the commercials to try to push prices lower rather than any sort of real underlying rate-rise concern by the longs.  There were some heavy volume bars in the 6 point decline immediately following the release, but not as a result of any serious support levels being broken – this makes me think it was an attempt to move prices lower rather than a spontaneous decision to bail out by the longs.  In addition, the Fedwatch chart showed only a very small increase in the assessment of a rate rise, which ended up melting away by end of day.  Lastly, the buck did move, but not very much.
On the chart we see a small retracement after a large 3-day gain, on light volume.  That is not bearish.  The candle print today was a "bearish harami", which the candle code says isn't particularly bearish: 14-19% of marking a top.
Gold open interest at COMEX rose by a big +28,277 contracts.
Silver retreated a bit more than gold today, but the charts look fairly similar.  Both have relatively light volume, and both items remain above the 50 MA.   Big rallies followed by small, low volume retracements are usually nothing to worry about.
Miners sold off sharply after the 10:00 JOLTS report came out, but rebounded fairly strongly after lunch, mostly eliminating the price drop.  GDX fell -0.56% on moderately heavy volume, and GDXJ dropped -1.26% on heavy volume.  The candle print was a low-rated bearish harami: 8-14% chance of marking the top. Traders bought the dip in the miners, which certainly looks like a bullish outcome to me.  This would have been a (bullish) takuri line candle had the context been different, and the bounce off the 9 EMA looks good also.  Notice how both gold and silver closed relatively near their lows, but the miners did a whole lot better.
Platinum dropped -0.80%, palladium fell -1.76%, and copper was flat, printing a mildly bearish-looking shooting star candle, 15-21% chance of marking a high.
USD staged a relatively feeble rally today, rising +0.12 to 94.89 – printing a bullish harami that has a 21-23% chance of printing a low here.  After yesterday's big drop, today's rebound wasn't much – and it certainly isn't confirming any large increase in a rate rise expectation.  I think the buck's near-term fate will probably be decided by the ECB tomorrow morning rather than anything that happened today.
Crude staged a big rally, up +1.26 [+2.81%] to 46.14, with at least half of the gains coming after market close, after the API inventory report showed an almost unbelievable (bullish) -12.1 million barrel inventory draw at 16:30.   The petroleum status report is out tomorrow at 11:00 Eastern.  If it confirms the API report, I'm pretty sure oil will be off and running.  Traders seem to put more stock in the EIA than they do in the API.  Even if the draw is only half as big, it is still quite a bullish outcome for oil.
SPX fell -0.32 to 2186.16, overcoming a 9 point drop in the morning with an afternoon rally.  The "high wave" candle provides no help as to direction.  Energy (XLE:+0.57%) did best, but really not much happened.  VIX fell -0.22 to 11.94.
TLT gapped up at the open, but then spent the whole day selling off, losing -0.07% and printing a mild "bearish belt hold" (15-24% chance of the top).  TLT remains at the upper end of its six-week trading range.
JNK fell -0.19%, printing a very mild bearish engulfing (13-19% chance of the top).  Its an odd outcome, given the rise in oil, but with JNK within pennies of its all time high and since JNK remains above the 9 EMA, I don't think its anything to worry about just yet.
CRB rallied +0.89%; 4 of 5 commodity elements rallied, with only PM dropping on the day.  CRB managed to close above its 9 EMA.  CRB is slowly trying to emerge from its medium-term downtrend.
Gold remains in its short term uptrend, with the miners looking strongest – buy the dip is alive and well in the mining space.  A relatively low-volume sell off in gold & silver is not particularly bearish after the big rally we have just experienced.  The market pegs the chances of a rate increase at the September Fed meeting at a feeble 15%.
ECB meets tomorrow and announces the latest plan to transfer more wealth to their selected winners at 07:45, with Chairman Draghi telling everyone why its a great idea at 08:30.   Gold positive?  If they do nothing, that would probably be gold-negative.  They are widely expected to extend their QE program for another six months, and because they are running out of banks to give money to, they are also expected to widen the criteria of stuff they will allow themselves to buy.
Word of the Day: Mission Creep.  We'll get to see just how much more creep we get at 08:30.
Note: If you're reading this and are not yet a member of Peak Prosperity's Gold & Silver Group, please consider joining it now. It's where our active community of precious metals enthusiasts have focused discussions on the developments most likely to impact gold & silver. Simply go here and click the "Join Today" button.
Thu, Sep 08, 2016 - 10:12am

#2

count placeholder

stock market signaling
Chris has said for a while now that the Fed targets the stock market because it signals to everyone that "all is well in the economy."
How effective would this strategy be if the majority of Americans (the ones that don't have any equities) figured out that a high stock market coupled with explicit central bank policies that target the market is, instead, just a marker for how much money (wages & interest) they've lost over the years?
Rather than it being a marker of economic health, high stock prices are just a marker for theft?
Its a pretty simple story to tell, actually. It fits in with today's rising populism. It has a basis in truth. And if it ever really gathers strength – oh boy. Talk about a reversal of psychology. With each rally, people just get angrier.
SImple messages like this could be conveyed by populist candidates. "Stock market rally = you get poorer."
And when central bankers run out and start buying equities…that's just piling on, basically handing a bunch more money to the rich people by making the shares they already own more expensive, with everyone else picking up the tab.
Pretty explosive stuff.
Thu, Sep 08, 2016 - 05:00pm

#3

count placeholder

PSR: massive oil inventory draw
News today: EIA reports a massive oil inventory draw, -14.5 million barrels. Gasoline draw was a large -4.2 million barrels. I've never seen a draw this large in crude before.
Supposedly, this was driven by the hurricane that shut down a fair amount of production in the GOM.
Still, it seems to have led to a fair amount of short covering in the beaten-down oil services equities.
NE: +11.44%, TDW: +8.92%, RIG: +4.93%, BRS: +8.05%.
Not sure the move will last, but…I suppose we can always hope for another hurricane…
Thu, Sep 08, 2016 - 08:16pm

#4

Status Platinum Member (Offline)

Joined: May 24 2011

Posts: 1189

count placeholder

The lack of critical thinking in markets… Inventory draw?
Dave,
I think that you are spot on with how the markets react to the EIA/API numbers. I think people would be appalled by how simplistically the algorithms are designed. Speed has become the all important factor. Reality has no place and understanding of context is not even considered. The numbers went down! (or up) means very little if you do not keep the big picture in mind (algorithms don't apparently). What we really need to know is how much of this blip was caused by a reduction in production due to the storm in order to get at real demand…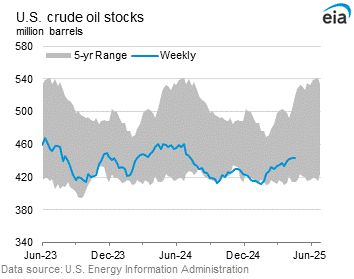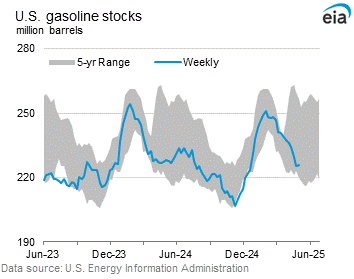 Gee, all it took was a hurricane to create that little blip down in the blue line for crude and gasoline stocks (distillates and propane still went up). Does it have anything to do with how the underlying economy is functioning? Give how wildly high the oil/gas stocks are now, and the unlikelihood that this week's surprising drawdown will be repeated next week, you have to wonder if there is any critical thought involved in the pricing system at this point.
Fri, Sep 09, 2016 - 05:05am

#5

count placeholder

second biggest draw ever
Mark-
I think part of the issue is, its the second biggest draw ever in history – and we've had a fair number of hurricanes hit during that "history" so, I'm guessing (hoping? I'm long oil services) that someone smarter than me did the math after an hour or so and came up with an interesting (bullish) answer. Close in oil was pretty strong.
Oilprice.com has a pretty good article on some of the whys and wherefores.
Actually, the site is pretty good overall. But it is all about oil, so it does have its biases.
http://oilprice.com/Energy/Energy-General/Whats-Behind-The-Epic-Draw-In-US-Crude-Stocks.html
I do think you're right about the API and EIA numbers being drivers for the trading bots however. The immediate aftermath of the release is always very volatile. One hopes that the better-informed traders end up pushing price in the "direction that makes sense" after the fuss dies down.
Same thing happens after most of the big releases these days. You can tell the difference between a pre-programmed response, and one where the humans are actually in charge. I actually had an interview several years ago with a company that supplied special-purpose hardware for parsing reports, and then executing trades as fast as possible. If memory serves, their product was actually a card that you install into an (ethernet) switch, presumably as close to the exchange server as physically possible.
Fri, Sep 09, 2016 - 05:43am

#6

Status Platinum Member (Offline)

Joined: May 24 2011

Posts: 1189

count placeholder

Look at what happened after the biggest draw
Dave,
Perhaps things will work out but I'd keep the proverbial weather eye on the prices, as I know you always do.
The sudden oil draw this week is even more of an outlier than that one in 1999. I don't know what caused the 1999 spike but take a look at the draws that came after it. First the feast, then the famine.
From that article you link:
The draw was driven by tropical activity in the Gulf of Mexico, and specifically Hermine. Imports into the US Gulf dropped by a whopping 760,000 barrels per day on the prior week, while imports to PADDs 1, 3 and 5 dropped by a whoppingly whopping 1.87mn bpd.
They don't give the number of days, but suffice it to say that a big chunk of that draw spike is nothing more than a temporary lack of imported oil lowering the inputs and making the outputs look unusually large in consequence. That oil didn't disappear, it is on ships that are offloading now and so the next week is going to have two weeks worth of imports to offset any gross weekly oil draw. If stocks don't show a substantial net build I will be surprised.
Is there any reason to suspect that there really was any significant increase in real demand for oil/gas last week? It was shortened by Labor Day too so unless everyone broke out their camper vans and drag raced them for the three day weekend I have a hard time seeing this as anything other than a mirage.
That said, prices have less and less to do with reality these days so none of this may matter. If too many people think like I do and try to short the oil price then you can rest assured that prices will rise fueled by the next unsourced-headline-driven- algo-mediated-great-short-squeeze…
I hope that your trades go well!
Cheers,
Mark
Viewing 6 posts - 1 through 6 (of 6 total)