PM Daily Market Commentary – 9/17/2018
Wed, Sep 19, 2018 - 06:29am

#1

Status Member (Offline)

Joined: Sep 03 2008

Posts: 2046

count placeholder

PM Daily Market Commentary – 9/17/2018
Gold fell -2.94 [-0.24%] to 1205.35 on moderate volume, while silver edged down -0.04 [-0.25%] to 14.18 on moderately heavy volume. The buck fell -0.27%, but the drop in the dollar didn't seem to help the metals at all.
Not all that much happened with gold today. The short black candle was unrated, while forecaster moved up +0.12 to -0.06. Gold is still trying to put in a low. The drop today took gold out of its weekly buy signal; gold is in a downtrend in all 3 timeframes.
COMEX GC open interest fell -889 contracts.
Rate rise chances (September 2018) rose to 97%. FOMC meeting starts next week.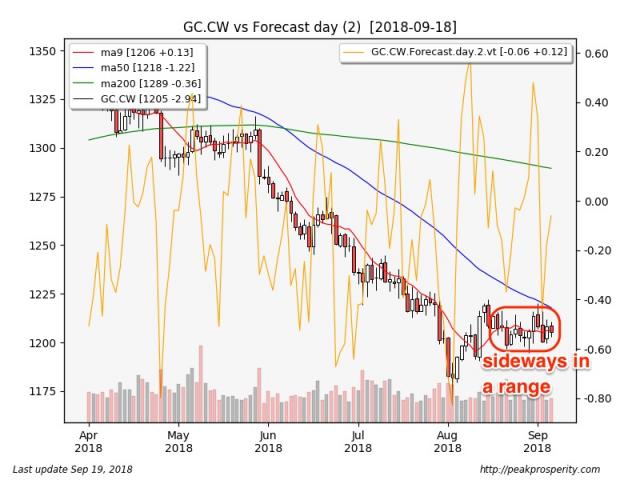 Silver basically chopped sideways today, ending slightly lower. The short black NR7 was unrated, while the silver forecaster jumped +0.22 to +0.17, which is a buy signal for silver. Really though, silver has just been moving sideways for the past two weeks. Silver remains in a downtrend in both the weekly and monthly timeframes.
COMEX SI open interest rose +2,267 contracts.
The gold/silver ratio fell -0.03 to 84.88. The current level for the ratio suggests PM could be at or near a long term low. I'm going to keep saying this until the market reacts accordingly.
Miners were mixed, with GDX up +0.60% on moderately heavy volume, while GDXJ fell -0.22% on moderate volume. XAU rallied +0.69%, the spinning top candle a bullish continuation, while forecaster fell -0.11 to +0.36, which is still a reasonably strong uptrend. XAU remains in an uptrend in both the daily and weekly timeframe. Miners continue looking positive.
The GDX:$GOLD ratio rose +0.85%, and the GDXJ:GDX ratio fell -0.81%. That's neutral.
Platinum rose +1.66%, palladium shot up +2.72%, and copper screamed up +3.24%. What's the story with copper? Best explanation I heard was, the market expected 25% tariffs to get dropped on China, and so the 10% number was a big relief. It is a bit surprising that silver didn't benefit. Surprising, annoying if you are long.
The buck fell -0.25 [-0.27%] to 94.23. All of the losses came on the gap down following Trump's tariff announcement. The high wave had a 43% chance of being a bullish reversal, and forecaster rose +0.22 to -0.12. That's still a downtrend. The buck remains in a downtrend in both daily and weekly timeframes, and it is right on the edge of a monthly sell signal too.
Crude rose +0.89 [+1.30%] to 69.37. Forecaster jumped +0.22 to +0.19, which is a buy signal for crude. Crude is now in an uptrend in all 3 timeframes. The API report looked slightly bearish (crude: +1.3m, gasoline: -1.5m, distillates: +1.5m) which took crude down 40 cents immediately upon release, but then prices mostly bounced back by the close. I think the news that Saudi Arabia would be happy with oil at $80 has been a strong force underneath price right now – that and the sanctions on Iran.
SPX rose +15.51 [+0.54%] to 2904.31. The rally started in the futures markets overnight, and continued once the US session started, with prices ending roughly near the highs. Forecaster moved up +0.24 to +0.35, moving SPX more strongly into an uptrend. Yesterday's swing high was erased by today's move. Once again SPX looks poised to re-test the all time high. SPX is in an uptrend in all 3 timeframes. Sector map shows cyclicals (XLY:+1.27%) and industrials (XLI:+0.91%) in the lead, with staples bringing up the rear (XLP:-0.42%). That's a generally bullish sector map.
VIX fell -1.01 to 11.78.
TLT plunged -1.05%, a big move that took TLT to a 4-month low. TY looked bad too, dropping -0.41%, closing at the dead lows of the day. TY remains in a downtrend in all 3 timeframes. The 10-year yield rose +4.1 bp to 3.05%. I don't think there is much of a demand for bonds when the equity market is testing new highs.
JNK was unchanged on the day, a bit surprising given all the excitement in the other risk markets.
CRB rose +0.48%, with 3 of 5 sectors rising, led by agriculture (+1.66%). CRB remains below all 3 moving averages,
Gold and silver disappointed today – given the strong move in the other metals, gold and silver should have followed along. There wasn't a huge increase in open interest – I don't think we can blame open interest for capping price. I have to fall back on the old standby: nobody cares. This means I really don't know, of course.
At least the miners are doing all right, for a change!
Note: If you're reading this and are not yet a member of Peak Prosperity's Gold & Silver Group, please consider joining it now. It's where our active community of precious metals enthusiasts have focused discussions on the developments most likely to impact gold & silver. Simply go here and click the "Join Today" button.
Viewing 1 post (of 1 total)