PM Daily Market Commentary – 8/5/2015
Thu, Aug 06, 2015 - 04:31am

#1

count placeholder

PM Daily Market Commentary – 8/5/2015
Gold fell -2.90 to 1084.10 on moderate volume, while silver rose +0.01 to 14.56 on moderate volume. A modest rally in PM was cut short by a positive Non-MFG ISM report today at 10:00 EDT, which showed a surprisingly strong growth in services – highest reading in 10 years which caused the buck to jump, and PM to tumble.
Even so, gold managed to remain above the 1080 support level, which is a small blessing. There has been no change in momentum or direction – the overall trend remains down. I suppose its good news that the strong Non-MFG ISM report didn't cause gold to plunge through support. Avoiding catastrophe is about where we are right now in gold.
Silver did slightly better than gold. Slightly. No material change from yesterday.
Miners had a bad day, with GDX falling -1.50% on moderate volume, making a new cycle low. The low in the HUI, a close relative to GDX, dates back to 2002. Miners really suck right now. GDXJ fell a big -2.43%, the juniors finally starting to underperform the seniors. There aren't a lot of good signs in PM right now.
The USD tried to rally in Asia, failed, then rallied off the ISM report at 10:00, and then failed again, closing up just +0.01 to 98.04. I interpret this as a sign that the dollar rally may be getting a bit tired. A strong ISM report especially in combination with other positive economic news suggests that a Fed rate rise in September is getting ever more likely, and based on recent history one would expect this to push the dollar sharply higher. The fact that it didn't may indicate this is as high as we go on "Fed rate raise news", which would be good for PM.
SPX rallied strongly in the futures markets in Asia, London, and kept climbing after the NY open, only to hit its peak right around the time of the Petroleum Status report. The report looked bullish for oil, but the oil market sold off instead. Apparently, that report wasn't bullish enough. Perhaps nothing would be at this point. By end of dail, SPX closed up only +6.52 to 2099.84, after being up more than 20 points. VIX fell -0.49 to 12.51.
Bond ETF TLT fell -0.75% today, dropping for the second day in a row. It remains above its 9 EMA and thus still in a decently strong uptrend, but that won't last if it falls tomorrow.
The CRB (commodity index) fell -0.54% erasing most of yesterday's gains. Commodities continue to look weak.
WTIC (oil) fell -0.87 to 45.10, erasing yesterday's gains and then some, putting in a new low. Oil rallied through 10:30 until the Petroleum Status report came out, after which it was sold hard, briefly touching 44.83, which is a new low for this cycle. There is no relief from the selling in the oil patch. Not yet anyway.
Same story different day: weak commodity prices led by oil help drag down PM. There is some modest hope that the buck might have topped out, given the failed rally on the strong ISM report. If so, that would be welcome news for PM. Now we just have to get some good news for commodities.
The level of bearishness in the commodity complex is unbelieveably high right now. When popular wisdom starts to believe in something like this, it starts to feel like a low can't be far away. Once "everyone knows" that commodities are trash (gee, might the news be "encouraged" by the big banks, in order to wrong-foot retail traders?) my sense is that the bottom is probably not far away. And if not THE bottom, then certainly A bottom.
Note: If you're reading this and are not yet a member of Peak Prosperity's Gold & Silver Group, please consider joining it now. It's where our active community of precious metals enthusiasts have focused discussions on the developments most likely to impact gold & silver. Simply go here and click the "Join Today" button.
Thu, Aug 06, 2015 - 12:23pm

#2

Status Silver Member (Offline)

Joined: Sep 22 2010

Posts: 616

count placeholder

Another Opinion
Chris Puplava: Worries Over Major Top, Bear Market Still Too Early – Here's Why


FS STAFF08/05/2015

WITH CHRIS PUPLAVA



Print

More Sharing Services



Is the stock market setting up for a crash? Some market pundits see

areas of concern for equities, ranging from the length of this bull

market (at over six years), to falling commodity prices, to technical

issues with the number of companies taking part in the market's

advance. These worries are leading many to call for a significant

market top in the coming months.



However, according to Chris Puplava, Chief Investment Officer at PFS

Group, it's still not time to hit the sell button yet.



Here are some of the reasons he gave why in a recent interview with

Financial Sense Newshour:



Limited Recession Risk: A slowdown in the US economy and the

increasing risk of recession are very important to monitor when it

comes to forecasting major market turning points. Though stocks can

clearly become unhinged from economic fundamentals, when the world's

largest economy is stable and not showing signs of a severe

contraction, conditions are generally supportive for an improving

stock market.



When asked about the likelihood of recession, Chris pointed to his

often-cited recession probability model (see below – recessions in

red), which incorporates a large array of leading economic data and

has been very helpful at identifying prior market tops. Currently, it

is reading close to a 12% probability of recession in the next 3-6

months. Once it gets over 20%, the economy and stock market are more

likely to experience a large decline.





Source: Bloomberg



Low Risk of Financial Crisis: Major market peaks and corrections are

often associated with increasing signs of stress in the financial

system. Though a currency crisis or banking collapse can often take

investors by surprise, it is possible to monitor the overall health of

the financial system and track whether changes are improving or

getting worse. Chris cites one indicator in particular, the Bloomberg

US Financial Conditions Index (FCI), which will drop into negative

territory prior to major peaks and bear markets as financial

conditions begin to deteriorate. As seen below, the FCI went into

negative territory as the bull market peaked in 2000 and 2007 and

remained there until after the bear market had runs its course.





Source: Bloomberg



Oil Spikes: While many pundits are pointing to declining commodity

prices as a sign of dangerous deflation, Chris reminds people that it

is oil spiking higher—and not crashing lower—that creates greater

problems for the US economy and equity market. 100% increases in the

price of oil—so called "oil shocks"—like in 1990, 1999, and 2008, put

a massive amount of strain on businesses and consumers. Today is just

the opposite. What's more is the fact that oil prices normally

collapse at the end—and not the beginning—of a recession.





Source: Bloomberg



Given the above, Chris says he doesn't see "a bear market caused by

recession…financial crisis…or oil shock. Those conditions which pretty

much explain every bear market in the past are not present in the

current case."



Moving on to technical factors, in a recent interview with Richard

Dickson of Lowry Research—one of the oldest technical advisory firms

on Wall Street—Richard forecasted a possible market peak in 4 to 6

months based on the number of stocks that have already broken down

into their own bear markets.



But Chris believes that there is more to this story than meets the eye:



"When technicians look at the deterioration of market breadth—whether

it is the advance-decline line or 52-week new lows—what you have to do

is qualify those numbers based on which sectors are in trouble and

which ones are not."



When Chris looks at the stocks currently making new lows, it is not

the ones that are normally associated with an elevated risk of market

turmoil:



"98% of the stocks this week that hit new lows were concentrated in

three sectors: energy, materials, and industrials. Energy alone

explained 60% of the number of stocks making new lows."



Conversely, sectors like financials and technology are among those

making 52 week highs, which reinforces the idea that the American

consumer and economy is much stronger than many people think. Given

this context, Chris is not concerned that we are heading to a bull

market top, and at this point he does not share the same concerns that

Lowry's does, when you look more closely at the makeup of the data.



After the interview, Chris noted that if Dickson's forecast for a bull

market peak later this year or early next turns out correct, then we

should expect to see a widespread deterioration in economic data

moving forward, which will also lead to a spike in the probability of

recession, a breakdown in the Financial Conditions Index as well as

other financial stress measures, and, at the very least, a reversal in

leading sectors of the market. Right now, none of those things are

present and the weight of the evidence is still in favor of equities,

he said.



Eventually that will change, but it doesn't appear that time is now or

in the near future.
Thu, Aug 06, 2015 - 12:35pm

#3

Status Silver Member (Offline)

Joined: Sep 22 2010

Posts: 616

count placeholder

Good TIP?
Sorry for the way these posts come out so long. How do I shorten them, as I copy them as condensed but then they get longer when posting.
Gold Traders: Get Ready for a Short-Term Rally
By Jeff Clark
Thursday, August 6, 2015
When it comes to trading gold, it pays to watch what commercial traders are doing.

Commercial traders are the so-called "smart money." They're merchants, miners, explorers, or bankers in the gold business. They use futures contracts to hedge their exposure to gold and protect themselves from adverse downside moves.

And right now, the "smart money" says we should expect at least a short-term rally in gold…

Each week, the Commitment of Traders (COT) report shows the positions (long or short) of the largest commercial gold traders.

The short position in gold is almost always a positive number – meaning that commercial traders are usually short the metal. That makes sense since most commercial short positions are hedges against a future decline in price.

For example, if a major gold producer wants to lock in a guaranteed price on its gold production, it will short gold in the futures market – thereby hedging its bet.

When gold is trading at a relatively high level and commercial traders expect it to be lower in the near future, the COT short index often hits near 300,000 contracts.

However, when gold is trading low and commercial traders expect the price to increase, the COT short interest often drops to less than 100,000 contracts.

Last Friday's COT report (which goes through July 28) showed that commercial gold traders were short just 14,000 contracts. This is an extreme low level. And based on history, it's a short-term bullish development.

Take a look…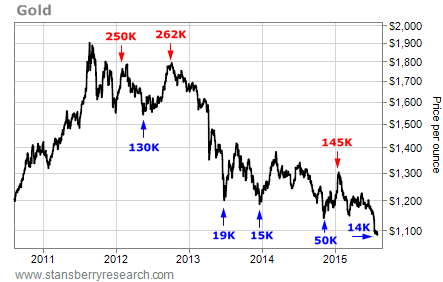 As you can see, the previous extreme low levels of short interest over the past two years marked at least short-term bottoms in the price of gold.
In mid-2013, the commercial trader short interest dropped to just 19,000 contracts. Gold rallied 17% over the next six weeks.
Gold enjoyed a similar rally in early 2014, following a COT short interest of 15,000 contracts.
As of July 28, commercial trader short interest in gold is just 14,000 contracts. That's the lowest level in a decade. And it indicates gold is setting up for at least a short-term rally.
Best regards and good trading,
Jeff Clark
Thu, Aug 06, 2015 - 12:35pm

#4

Status Gold Member (Offline)

Joined: Jan 01 2010

Posts: 821

count placeholder

ISM Services Survey…Rolling Eyes
How can this survey of industry heads (some 400 only) go over 60 while retail sales numbers are tanking? Did IBM and HP get a phone call from the President to be more optimistic on services export???
http://jessescrossroadscafe.blogspot.com/2015/08/jp-morgan-saves-day-with-big-gold-fill.html
JP Morgan Saves the Day With a 275,000 Ounce Gold Fill On the Comex

Since there were only 362,000 ounces offered, I was wondering how they would manage this. Claims to deliverable ounces were still running over 120:1.

And just for grins, where were the biggest requests for gold coming from? None other than the house accounts of Goldman and HSBC. What's up with that?

Have no fear, JP Morgan stepped up and moved 276,000 ounces into the 'deliverable' category as show in the second chart.

And they filled 275,000 ounces of that futures delivery request out of their 'house account' as shown in the first.

Just in the nick of time!

The dirty little secret is that this market is a tiny tail wagging an elephant of global physical demand. And the tail waggers seem to be slowly, but surely, losing their grip.
Thu, Aug 06, 2015 - 04:19pm

#6

count placeholder

COT commercials, COMEX
Ken, Tom-
The COT commercial short position is the single most positive thing I can see about PM these days. I'm totally in agreement with how important the indicator is, and yet the rally just hasn't happened yet. It probably should have happened weeks ago, at least according to the COT. Likely, part of the reason is the rallying dollar, and another part is about the plummeting commodity complex led by oil.
Tom's article about COMEX deliveries is interesting. You can take it two ways:
http://www.24hgold.com/english/interactive_chart.aspx?title=COMEX+WAREHOUSES+REGISTERED+GOLD&etfcode=COMEX+WAREHOUSES+REGISTERED&etfcodecom=gold
1) COMEX only has 350k (or now, 640k) ounces registered for delivery. COMEX almost ran out of gold during this delivery month! OMG!
2) JPM switching 350k oz from the eligible category (which contains a total of 6M oz) into the registered category can happen as many times as it needs to, in order to keep COMEX in operation. If we assume the bankers love their COMEX money machine, and they don't want to see it die, then it would make sense for them to save it as many times as required. Only when they run out of "eligible" gold will things start to get dicey.
And even then, they can probably dig up some gold in the seat cushions over at GLD, at least for a while.
Its a good idea to keep an eye on that eligible gold. If that starts to run out, then perhaps things get interesting.
Thu, Aug 06, 2015 - 04:23pm

#7

count placeholder

swing low: GDX
GDX looks to be putting in a swing low today. If we can close at these levels, of course. GDX also looks set to close above the 9 EMA. Both are quite positive signs for the miners.
If we close at these levels.
Must we have a PM commentator who literally makes fun of those of us who are alarmed at the situation we are seeing now? Dave said,
1) COMEX only has 350k (or now, 640k) ounces registered for delivery. COMEX almost ran out of gold during this delivery month! OMG!
Yes folks.. that is sarcasm. Read the following, then see if you feel worried. Do you have all the Gold and Silver you feel you need? Do you have it in the places you want it? Are you adequately diversified? Based on what I am seeing, there is good reason to feel like hurrying to get your final preparations in order. I know I am;
Massive Shortages In Gold And Silver Developing – GLD Looting Continues

Renowned gold expert James Turk says prolonged gold backwardation like we are seeing now, where the spot price is higher than the future price, has never happened before. Turk contends, "No, never, and I am a student of monetary history as well, and I have never seen it happen like this in monetary history. – James Turk on Greg Hunter's USAWatchdog….

http://www.goldcore.com/us/gold-blog/gold-bullion-demand-in-chindia-heading-over-2000-tons-again/

Shanghai Gold Exchange deliveries at 73.289 tonnes last week
3rd largest week of gold withdrawals ever on SGE
Both China and India heading for over 1,000 metric tonnes in 2015 … again
India imports 96.1 tonnes in May alone
'Chindia' imports 296.55 tonnes in May – 14% greater than global production
South Korean gold demand surges in wake of Chinese crash
Asian and global gold demand robust contrary to anti-gold narrative
Thu, Aug 06, 2015 - 07:25pm

#9

Status Gold Member (Offline)

Joined: Aug 25 2009

Posts: 860

count placeholder

because as a paying member, i like both sides of the coin
the inside and the outside.
Thu, Aug 06, 2015 - 08:27pm

#10

Status Platinum Member (Offline)

Joined: Jun 07 2007

Posts: 4516

count placeholder

Not sure about that backwardation…
I will become quite interested when gold is in serious backwardation because it will mean serious near-term shortages have developed.
But as I look at the futures chain I see:
Aug $1088.50
SEP $1088.10
OCT $1088.20
DEC $1088.30
Feb16 $1090.10
So essentially the backwardation is 20 cents from here to Dec. Meh. That's not speaking to much of a near-term shortage. I'll be impressed and very interested when it gets to be $10 or $20 or $50 under three months out.
Perhaps I'm not reading the tea leaves right, but this just looks like a flat term structure, not a a telling backwardation.
However, the massive SGE withdrawals certainly have my attention.