PM Daily Market Commentary – 8/29/2018
Thu, Aug 30, 2018 - 03:12am

#1

Status Member (Offline)

Joined: Sep 03 2008

Posts: 2051

count placeholder

PM Daily Market Commentary – 8/29/2018
Gold rose +5.13 [+0.42%] to 1213.76 on moderate volume while silver moved up +0.03 [+0.20%] to 14.80 on very heavy volume. The buck fell -0.13%, which accounted for some but not all of the move in the metals today.
Gold rallied slowly and steadily for most of the day, closing relatively near its high. Trading range was narrow; the white marubozu/NR7 candle was not rated, but the forecaster plunged -0.20 to -0.14, which is a sell signal for gold. A big drop yesterday + a small rally today = a sign that momentum is reversing, perhaps. Gold remains above its 9 MA; now in a daily and monthly downtrend, but an uptrend on the weekly timeframe.
COMEX GC open interest fell -4,972 contracts. Not sure what that's about.
Rate rise chances (September 2018) remains at 96%.
Silver mostly just chopped sideways, the short white/spinning top candle being mildly bullish (33% bullish reversal); the forecaster didn't agree, dropping -0.42 to -0.37, issuing a sell signal for silver. I'm not sure what it saw, but it really isn't happy any longer. Silver is now in a downtrend in all 3 timeframes.
COMEX SI open interest fell -11,744 contracts. Silver had a contract roll yesterday; I suspect the sharp drop in OI involved the contract roll in some way.
The gold/silver ratio rose +0.18 to 82.01. That's somewhat bearish.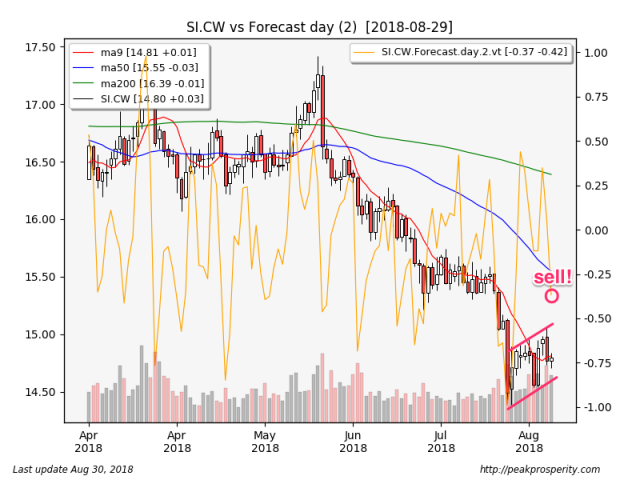 Miners were mixed, with GDX up +0.37% on moderately light volume, while GDXJ was unchanged on moderately light volume also. XAU rose +0.22%; its doji candle was unrated, and XAU forecaster plunged -0.42 to +0.03, which is right on the edge of a sell signal. A big drop, and no rally is not such good news, I suspect. XAU remains above its 9 MA, but it is in a downtrend in the weekly and monthly timeframes.
The GDX:$GOLD ratio fell -0.05%, while the GDXJ:GDX ratio dropped -0.37%. That's bearish.
Platinum rose +0.97%, palladium shot up +2.85%, while copper fell -0.59%. Copper's drop resulted in a forecaster sell signal, as did platinum's rally. Palladium remains in an uptrend – a really strong uptrend. Copper and platinum look a bit confused right now as to direction – but palladium appears to be on its way back up again.
The buck fell -0.12 [-0.13%] to 94.19. The buck tried to rally, but failed. The spinning top candle was a bearish continuation, and forecaster dipped -0.07 to -0.46. The buck remains in a downtrend on the daily and weekly timeframes, but is still clinging to an uptrend on the monthly. This month's candle is looking more and more like a gravestone doji, which is generally bearish.
TRY fell again today, down -3.08%, along with the Argentine Peso (-8.04%) and the Brazilian Real (-1.40%). After two weeks of respite, TRY is moving steadily back into trouble once more.
Armstrong suggests that Turkey will default on its external debt to the West:
The rumors running around the trading desks is that he will pull the plug and turn his back on the West. By doing so, he can then justify defaulting on the debt of the "corrupt" West who wants to subjugate Turkey will be the justification spin of things. It looks like this will remain volatile into October.

https://www.armstrongeconomics.com/uncategorized/the-rumors-are-that-turkey-will-default/
The secular military will not be pleased – but Erdogan's post-coup purges may have disarmed that particular bomb.  Whatever will he do with all that NATO military gear he purchased?  I'm guessing that Russia and China would be simply delighted to get their hands on the state-of-the-art US military hardware.  But once he pulls the trigger on this, he really can only do it once.  Nobody will trust him ever again.
Crude rose +1.12 [+1.64%] to 69.36. Crude started rallying in London, and moved higher for most of the day, getting a boost from the bullish EIA report (crude: -2.6m, gasoline: -1.6m, distillates: -0.8m) at 10:30 am. Crude closed quite near the highs for the day, and on the chart you can see it is starting to break out above the previous high set back in early July. Daily forecaster actually dropped, but crude remains in an uptrend in all 3 timeframes. Resistance from round number 70 is next.
SPX climbed +16.52 [+0.57%] to 2914.04, which is another new all time high. Long white candle was a bullish continuation, forecaster rose +0.19 to +0.76, which is a very strong uptrend. SPX is in an uptrend in all 3 timeframes. Sector map shows cyclicals (XLY:+1.12%) and tech (XLK:+0.91%) in the lead, with financials doing worst (XLF:-0.03%). Apart from the banks doing poorly, it is a relatively bullish sector map. And of course the new all time high is bullish too.  New highs tend to lead to new highs.  Not sure why that is, but that's what my models tell me.
VIX -0.25 to 12.25.
TLT rose +0.13%, making a new low but managing to bounce back. It was a reasonable performance on a day when SPX made a new all time high. TY dropped -0.04%, making a new low, but TY found support on its 50 MA. TY is in a downtrend in both the daily and weekly timeframes. The 10-year yield was unchanged at 2.88%.
JNK fell -0.06%, moving slightly lower just off its highs. It remains in an uptrend.
CRB rose +0.65%, regaining all of what it lost yesterday. 3 of 5 sectors rose, led by energy (+1.30%). CRB remains in a medium-term downtrend; it needs a break above the previous high at 196 to break the pattern.
Saw an interview on CNBC with Sec Treas Mnuchin who avoided saying he wanted a weaker dollar – "nice try guys" – and hinted that China was talking about being more flexible, that Canada was quite close to signing up for the new NAFTA (oops we can't call it NAFTA) – maybe Thursday or Friday – and that the US wasn't trying to hurt China's economy with tariffs, only protect itself from China's bad behavior.
https://www.cnbc.com/video/2018/08/28/mnuchin-trade-taxes-china-trump.html
Could we get a deal with Canada by end of week?  Quite possibly.  UK is a bit of mystery because of BRExit but they won't be "in the back of the queue" – the UK being a good friend, a staunch US ally, someone we like, should conclude a deal rapidly, etc.  All in all he sounded fairly positive about the progress we have been making on trade.
Is it possible that the Trump administration isn't simply crammed full of bumbling idiots?  It is possible.
The jury is still out on where PM goes next.  Crude seems much clearer – crude prices are going higher.  I can't tell you why they are going higher, just that's what all my models are saying.
And equities of course are continuing to break out.  Can't tell you why about equities either.  Because, capital flows, I suppose.
Note: If you're reading this and are not yet a member of Peak Prosperity's Gold & Silver Group, please consider joining it now. It's where our active community of precious metals enthusiasts have focused discussions on the developments most likely to impact gold & silver. Simply go here and click the "Join Today" button.
Viewing 1 post (of 1 total)