PM Daily Market Commentary – 8/2/2018
Thu, Aug 02, 2018 - 11:28pm

#1

Status Member (Offline)

Joined: Sep 03 2008

Posts: 2040

count placeholder

PM Daily Market Commentary – 8/2/2018
Gold fell -8.60 [-0.70%] to 1215.90 on moderately heavy volume, while silver dropped -0.07 [-0.45%] to 15.37 on moderately heavy volume also. The buck rallied sharply [+0.58%] while the other metals mostly dropped, although not all that badly. Mostly, the days moves in the metals were tied to the falling Euro [-0.67%].
Gold tracked the Euro fairly closely, rallying slightly in Asia, and then selling off for the rest of the day, making a new low to 1215.30 right at end of day, which was also a new multi-year closing low. The closing black marubozu candle was a bearish continuation, and gold forecaster plunged -0.28 to -0.52, which is a pretty strong downtrend. The rallying dollar/falling Euro looks as though it will pull gold right through the previous low of 1214.29 set a few weeks ago.
COMEX GC open interest rose 7,023 contracts.
Rate rise chances (September 2018) rose to 94%.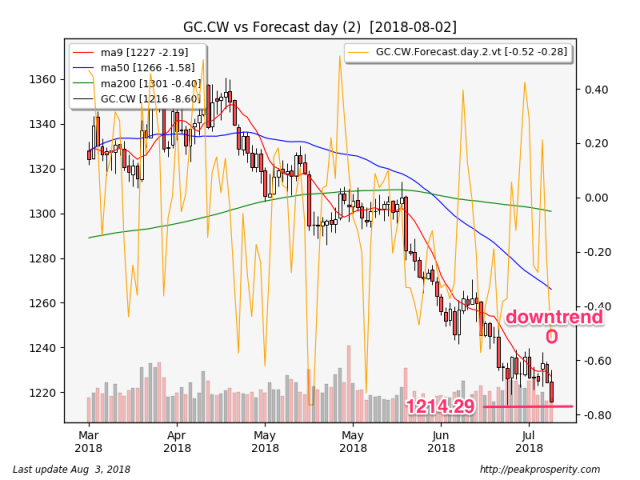 Silver was a bit better behaved than gold, chopping sideways for most of the day, only selling off in the afternoon in the US. The long black candle was a bearish continuation, and silver forecaster dropped -0.21 to -0.63, which is a fairly strong downtrend.
COMEX SI open interest rose 2,771 contracts today.
The gold/silver ratio fell -0.20 to 79.11. That's somewhat bullish.
Miners fell, with GDX off -0.81% on moderate volume, while GDXJ dropped -0.98% on moderately heavy volume. Both miner ETFs made new lows, printing long black/bearish continuations. XAU did slightly better, down -0.63%, but its doji candle was also a bearish continuation. XAU forecaster ticked higher, up +0.05 to -0.17. That's still a downtrend, but not a particularly bad one.
The GDXJ:GDX ratio fell -0.18%, and the GDX:$GOLD ratio dropped -0.10%. That's slightly bearish.

Platinum actually rallied, up +0.73%, while palladium fell -0.46%, and copper dropped -0.73%. Given the large currency move, the other metals actually did fairly well. It appears as though any further tariff-related declines will have to wait for more news – it doesn't look as though the selling will turn into a general collapse of the metals.
The buck rose +0.55 [+0.58%] to 94.80, charging higher largely because of a falling Euro [-0.67%], which started dropping in Asia and didn't stop until the close in New York.  The confirmed NR7 candle print was bullish (49% that its a low) and the buck is closing on 95 resistance, which has proven very difficult for the buck to get through over the last few months.  A breakout above 95 would probably lead to a general sell-off in the metals: gold into the 1100s, and silver into the 14s.  Monthly and weekly forecasters are both in uptrends – although they are weak ones.  That suggests we are going to break 95, more likely than not.
Crude jumped +1.08 [+1.59%] to 68.92. Initially, crude sold off following the somewhat bearish EIA report on Wednesday, but then news reports surfaced about Iran staging "military exercises" – right where 1/3 of the world's oil passes – and that pulled oil $2 off the lows in a fairly short amount of time. Candle print was a bullish engulfing (44% bullish reversal), and forecaster jumped +0.67 to +0.23, which is a buy signal for crude. Just like that we're back in an uptrend. If a real shooting war breaks out, its probably a $30 move. Or more. $100 oil. So the $2 move today was just the barest hint of a down payment on the real war premium, should one develop. Being short oil here – probably a bad idea, from a risk/reward standpoint. That's likely what caused the sharp rally – shorts fleeing "just in case".
SPX rallied +13.86 [+0.49%] to 2827.22. SPX sold off in the futures markets overnight, but then rallied after the open, printing a bullish engulfing candle (33% bullish), but forecaster just ticked up +0.01 to -0.04, which is still a slight downtrend. Sector map shows tech led (XLK:+1.26%), while materials did worst (XLB:-0.66%) along with energy (XLE:-0.55%). All your favorite tech stocks did well, with TSLA getting special mention: up +16% on very heavy volume. TSLA posted a massive loss, but Elon Musk promised profits (as well as being cash-flow positive) in Q3, and reiterated there was no need to raise more money.  The future's so bright, I gotta wear shades.
VIX fell -0.96 to 12.19.
TLT ticked up +0.14%, a modest rebound following yesterday's big plunge. No change in trend for TLT. TY rallied also, up +0.14%, printing a bullish harami (38% bullish reversal); forecaster was unchanged at -0.04. 10-year yield fell -1.7 bp to 2.99%. I'm not sure the bond plunge is over.
JNK moved up +0.03%, a slight bounce up after yesterdays big drop. JNK remains in an uptrend.
CRB rose +0.53%; only 2 of 5 sectors moved higher, led by energy (+1.65%).
Well, its more bad news for gold today.  If its not one thing, its another.  Tariffs, a rising dollar, a rising equity market, a 4.1% GDP print, rising wages, stable inflation…and no Eurozone collapse.  The ECB is monetizing sovereign debt, keeping deposit rates negative, so is Japan.  The lid seems firmly on.  So nobody cares – about gold, that is.  COT report may look great, but the downtrend remains in place.  The prospect of 25% tariffs on Chinese products may result in new lows for the metals – certainly that's more likely if the buck breaks above 95.
Note: If you're reading this and are not yet a member of Peak Prosperity's Gold & Silver Group, please consider joining it now. It's where our active community of precious metals enthusiasts have focused discussions on the developments most likely to impact gold & silver. Simply go here and click the "Join Today" button.
Viewing 1 post (of 1 total)