PM Daily Market Commentary – 8/15/2018
Fri, Aug 17, 2018 - 12:19am

#1

Status Member (Offline)

Joined: Sep 03 2008

Posts: 2088

count placeholder

PM Daily Market Commentary – 8/15/2018
Gold fell -0.80 [-0.07%] to 1181.81 on very heavy volume, while silver rose +0.21 [+1.49%] to 14.64 on extremely heavy volume. The buck moved down just -0.05%; it was not a factor once again in todays moves.
So the question we all want to know is, does this mark the low for gold? I'd like to say yes, but I really need to go through everything that happened first. Writing and reviewing all of it helps me to come to a conclusion, so just bear with me while I go through the process.  Or – you could just scroll right to the end and avoid all the detail.
Gold continued falling in Asia, making a new low to 1167.10, but then rebounded sharply, moving back almost $20 before fading into the close. Candle print: a high wave, a 46% bullish reversal. That's the highest rating a high wave candle can have, and with the extremely heavy volume, it suggests a big struggle as to direction.  When things are this far oversold, all that is usually quite bullish. Gold forecaster moved lower, down -0.16 to -0.59. Gold remains in a downtrend in all 3 timeframes. Candle code thinks its possible we have a low today; a swing high would be more definite.
COMEX GC open interest rose 411 contracts. Still no short-covering.
Rate rise chances (September 2018) fell to 94%.
Silver dipped lower in Asia to a new low of 14.31, but then took off, following platinum and palladium higher, finally topping out at 11 am in the US, up from trough to peak a massive 50 cents. Silver then faded into the close. Candle print was a bullish harami which was a 34% bullish reversal. Forecaster jumped +0.24 to -0.36. Both of those are positive signs, but aren't quite enough to say that the low is in for silver, which remains in a downtrend in all 3 timeframes.
COMEX SI open interest fell -873 contracts. That's at least a little bit of short-covering, but not very much.
The gold/silver ratio fell -1.26 to 80.72. That's bullish.
Miners gapped up at the open, rallied for about 10 minutes, and then sold off for the rest of the day. GDX plunged -2.37% on very heavy volume, while GDXJ dropped -2.97% on extremely heavy volume. XAU dropped -2.71%, making a new low; forecaster fell -0.09 to -1.11, which is an extremely strong downtrend. Miners closed at the lows today, which is also a bad sign.  The miners remain in free fall; there is not even a hint of a low here.  I could talk about the daily RSI of 4…but that just tells you that the snapback will be very sharp, whenever it happens.  Until then, miners are a falling knife.
The GDXJ:GDX ratio fell -0.62%, while the GDX:$GOLD ratio plunged -2.30%. That's very bearish.
Platinum ralied +1.51%, palladium jumped +4.48%, while copper rose +0.87%. Candle prints were relatively bullish: platinum's bullish harami (42% bullish reversal) and palladium's long white candle (54% bullish reversal) both looked strong. Forecasters all remain in downtrends. Copper looks the weakest of the 3 metals; having said that, there was massive short covering in copper today: -14k contracts or about 5% of the open interest went away. Palladium and platinum also saw a reduction in open interest – around 2-4%.
Crude rose +0.46 [+0.72%] to 64.69. Like the metals, crude made a new low early in Asia to 64.43, then bounced back – although not as strongly as the metals. The short white candle was neutral, and crude forecaster remains in a strong downtrend, although crude did seem to find support on its 200 MA. Crude remains in a downtrend in all 3 timeframes. It is somewhat positive that crude avoided selling off further after Wednesday's bearish EIA report.
SPX rose +22.32 [+0.79%] to 2840.69. Candle print: swing low, which had a 51% of being a bullish reversal. Forecaster jumped +0.38 to -0.05, which is almost a buy signal. Sector map shows consumer staples (XLP:+1.43%) and financials (XLF:+1.3%) in the lead, with tech bringing up the rear (XLK:+0.44%). It was a bullish sector map, for the most part.
VIX fell -1.19 to 13.45.
TLT fell -0.01%, basically going nowhere today; actually TLT sold off fairly hard, but came back by end of day. TY moved down -0.04%, also a small move. TY remains in an uptrend in all 3 timeframes. The 10-year yield rose +1.9 bp to 2.87%.
JNK rose +0.17%; it remains in a downtrend.
CRB rose +0.76%, making back some of yesterday's big plunge. All 5 sectors rose, led by industrial metals (+2.43%).
So where does that all leave us?
Well the mining shares are a clear vote against. Heavy selling pressure remains; the plunge today on very heavy volume is a very bearish sign. Traders are still looking to exit their positions, with only retail picking up some miners at the open. There are probably new lows ahead of us for the miners. That could be a fundamental thing about the miners themselves, however; perhaps traders are figuring out they'll be struggling to stay in business with prices this low.
Gold's candle print looks strong, as does silver's candle print. Let's say they are voting it a 40% chance the low is in. We could see a swing low tomorrow.
Palladium is voting reversal, as is platinum, although to a lesser extent. Copper still looks a bit weak; maybe there are still more lows ahead for copper.
The buck might be slowing down a bit – that would definitely be helpful – daily forecaster is hinting at a slowing of the momentum. No reversal yet, however.
We are seeing strong short covering in platinum, palladium, and especially copper. Perhaps that's where I see the most positive news.
So what's the answer? I'm going to rate it more likely than not this is the low, on the strength of the other metals – especially palladium and platinum.  We really need a swing low to cement it into place.  And hopefully the mining shares will be dragged along behind.
Event-wise, we need there to be some hope of a settlement in the tariff situation, as well as a respite from the plunge in the Euro – which is all about Turkey right now.  I think the $15 billion dollar band-aid from Qatar has patched the problem for a short time.  Turkey will still explode, since confidence in the currency has already snapped, but it won't be today.
I'll leave you with a view from the other side of the "tariff" hill.  I saw this illustration in the SCMP and thought it was just perfect for how China officially views itself in this situation.  The opinion piece suggested the fix on the US side was a change in tax policy: tax the US domestic winners of trade and hand money to the domestic losers.  In other words: US workers – we'll give you a UBI to replace the jobs we've shipped to China. (Notice: that's what the left-wing/tech winners in the US are also supporting.)  That'll fix the problem – except of course for the debilitating psychological effect of all those unemployed Americans that don't have anything productive to do anymore, nor a sense of agency, resulting in a complete reliance on government.  https://www.scmp.com/comment/insight-opinion/united-states/article/2160041/behind-us-china-trade-war-lies-competition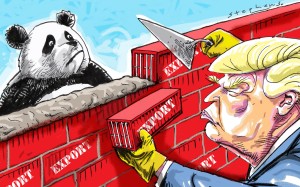 And if I were composing the cartoon, instead of a poor sad Panda I'd insert Winnie the Pooh as the China figure – an even more sympathetic figure to western audiences.  Which would promptly get me fired, of course.  https://www.theguardian.com/world/2018/aug/07/china-bans-winnie-the-pooh-film-to-stop-comparisons-to-president-xi
Note: If you're reading this and are not yet a member of Peak Prosperity's Gold & Silver Group, please consider joining it now. It's where our active community of precious metals enthusiasts have focused discussions on the developments most likely to impact gold & silver. Simply go here and click the "Join Today" button.
Viewing 1 post (of 1 total)