PM Daily Market Commentary – 7/30/2018
Tue, Jul 31, 2018 - 02:53am

#1

Status Member (Offline)

Joined: Sep 03 2008

Posts: 2296

count placeholder0

PM Daily Market Commentary – 7/30/2018
Gold rose +8.00 [+0.65%] to 1230.20 on moderate volume, while silver dropped -0.01 [-0.06%] to 15.51 on very light volume. Gold's rise today was an effect of the contract roll; front-month contract moves from GCQ8 to GCZ8, and contango is about $9, which means that gold went nowhere. This on a day when the buck plunged -0.38%, well, that tells you gold is having trouble staying afloat.
Intraday, gold mostly chopped sideways, going nowhere. All the gains came on the contango from the contract roll. Candle print was a doji, but the $8 gap-up gain from the contract roll made my code enthusiastic enough to generate a forecaster buy signal. Which I don't believe, because the forecaster doesn't know about contract rolls.
What is contango?  Well today, gold for delivery in August (GCQ8) is trading at 1217.70 right now, while gold for delivery in December (GCZ8) is trading at 1227.40.  Kahn explains it here: https://www.khanacademy.org/economics-finance-domain/core-finance/derivative-securities/forward-futures-contracts/v/contango
The charting problem crops up when you use futures prices for gold as "the price", which I do, instead of the spot price, which I don't have the same quality of data for.  The issue is, which contract do you pick as "the price" for gold?  One common way is to pick the one with the highest daily trading volume.  But futures expire eventually, and so while yesterday the "highest volume contract" was GCQ8, today it might be GCZ8, when GCQ8 nears delivery.  And on the day of the switchover, the difference between the about-to-be-delivered contract and the next one in the list can be fairly high – in this case, its $9 and change.  So that causes fake jumps in price on the day of rollover.
I should really change my code to use calendar-weighted prices, like I do for crude, since this contango issue is continuing to show up.
COMEX GC open interest fell -12,855 contracts. That's a large drop; might it be related to the near-term expiration of Aug 2018 gold? I'm not sure.
Rate rise chances (September 2018) dropped to 89%.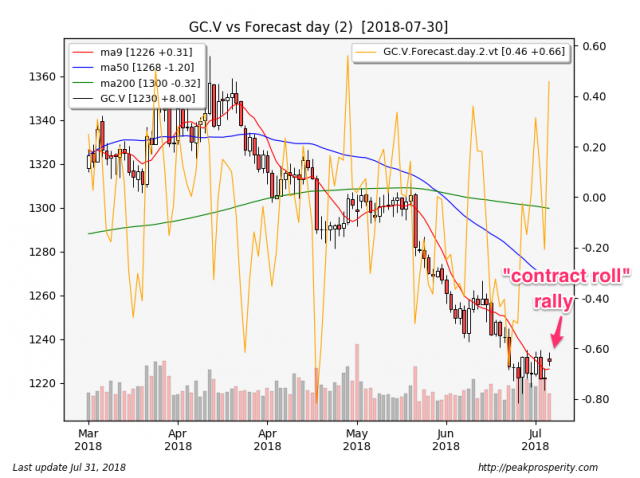 Silver also just chopped sideways, going nowhere. The short white spinning top was neutral, but forecaster jumped +0.27 to +0.25, which is a buy signal for silver. I trust this one more, since it wasn't based on a contract roll. Silver is now in an uptrend on the daily and weekly timeframes. I know silver doesn't look great on the chart, but forecaster is trying to predict where it thinks things will be in the next few days.  Right now it looks like it likes this sideways movement.  Silver remains above its 9 MA.
COMEX SI open interest rose by 2,580 contracts today. The shorts continue to build.
The gold/silver ratio rose +0.57 to 79.34. That would normally be bearish, but it was due to the contract roll – so its neutral instead.
Miners fell, with GDX down -0.23% on light volume, while GDXJ dropped -0.69% on light volume also. XAU made a new low, but fell only -0.14%, and XAU forecaster jumped +0.29 to -0.10. That's not quite a buy signal, but it does suggest a slowing downtrend. XAU remains in a downtrend in all 3 timeframes.
The GDXJ:GDX ratio fell -0.46%, while the GDX:$GOLD ratio fell -0.88%. That's half because of the contract roll, but the other half is somewhat bearish.
Platinum fell -0.24%, palladium rose +0.43%, while copper dropped -0.07%. The other metals are a mixed bag right now – they are all above their lows, with palladium looking strongest. Copper's takuri line candle print today had a 46% chance of marking the low, which is a positive sign.
The buck fell -0.36 [-0.38%] to 93.95. Candle print was various sorts of bearish – confirmed bearish NR7 was my favorite (43% bearish reversal). While the buck didn't make any new lows, it did flip back into a downtrend. It also dropped back below its 50 MA, which is a bearish sign.  We still don't have a clear indication of direction from the weekly forecaster, and the monthly remains in a (weakening) uptrend.
Crude rose +1.05 [+1.52%] to 70.09, making a new high and closing above round number 70. Crude forecaster which has been flip-flopping between buy and sell for a few weeks now, is back in an uptrend today. CL weekly will also move into an uptrend if it closes the week here.  You can see on the chart how the forecaster has been pretty indecisive about direction in crude in recent weeks.
SPX fell -16.22 [-0.58%] to 2802.60. The market sold off from the open, rallied a bit after mid-day, and then sold off again into the close. The long black candle was a bearish continuation, and the forecaster dropped -0.18 to -0.18, which is a sell signal for SPX. The weekly is also showing a sell signal, assuming prices close here at end of week.  FB continued plunging after the big bad day last week, making a new low. TWTR also fell hard, down 8% today after dropping 20% last Friday. Sector map had tech leading the market downhill (XLK:-1.56%), while energy did best (XLE:+0.82%). Tech usually leads, and right now, it is leading lower. That's quite bearish.
VIX rose 1.23 to 14.26
TLT fell -0.34%, making a new low – this on a day when equities sold off. That's some really poor performance by TLT. TY also dropped, off -0.11%. making a new low. The 10-year yield rose +1.5 bp to 2.98%.  I hear that traders are piling heavily into the short-bond trade.
JNK rose +0.08%, making a new high. While its uptrend is slowing a bit, it is still looking positive; how much of this junk debt is shale-related? The rally in crude probably helped JNK.
CRB rose +0.82%, %, with 2 of 5 sectors moving higher, led by agriculture (+1.46%).
Well today the buck sold off fairly briskly, but you would never know that by looking at PM prices.  That's not a great sign for the metals.  Just imagine what happens when the dollar actually rallies.
In spite of the happy story from my forecasters, I'm a bit leery of trusting them too much because of the gold contract roll.  I really need to fix that.  It will just be a bit time-consuming, since I need to retrain everything to do it.  That, and change all the instrument names.  No fun at all.
On balance, the COT report remains bullish in silver, and very bullish in gold.  We're waiting for a trigger of some sort to get people interested again, at which point the commercials should fire up the cycle and make those managed money shorts run away.  But meanwhile, the fact that gold/Euros made a new low…its not a great sign for the near term.
Note: If you're reading this and are not yet a member of Peak Prosperity's Gold & Silver Group, please consider joining it now. It's where our active community of precious metals enthusiasts have focused discussions on the developments most likely to impact gold & silver. Simply go here and click the "Join Today" button.
Viewing 1 post (of 1 total)