PM Daily Market Commentary – 7/15/2019
Tue, Jul 16, 2019 - 03:58am

#1

Status Member (Offline)

Joined: Sep 03 2008

Posts: 2136

count placeholder

PM Daily Market Commentary – 7/15/2019
Gold fell -1.33 [-0.09%] to 1425.22 on moderately heavy volume, while silver jumped +0.15 [+0.98%] on moderate volume. (Say what?)  Crude fell [-1.72%], SPX was virtually unchanged, the buck inched higher [+0.10%], and the other metals all did quite well.  Let me go recheck that silver price move.  Yes, it rallied.  And it wasn't some sort of a futures-market contract roll either.  Amazing.
Gold moved sideways within a relatively small range. The spinning top candle was bearish (41%), but forecaster moved higher putting gold back into a slight uptrend. Gold is now in an uptrend in all 3 timeframes, but that daily uptrend is really very slight.
COMEX GC open interest rose +6,843 contracts.
Futures are projecting a 100% chance of one rate cut in July and a 21% chance of two rate cuts, a 100% chance of at least one rate-cut by December, an 87% chance of at least 2 rate cuts, and a 50% chance of at least 3 rate cuts. That's a relatively small decrease from yesterday.
Silver rallied in Asia and London, retraced before the US open, and then continued its rally into the close. The long white candle was bearish (51%), but forecaster moved into a moderate uptrend. Silver weekly also moved into an uptrend as well. What got into silver today? I have no idea. A close above 15.50 would be a bullish signpost suggesting silver could be ready to break out. Silver is now in an uptrend in all 3 timeframe.
COMEX SI open interest rose +1,787 contracts.
The gold/silver ratio fell -1.05 to 92.37. That's quite bullish.
The miners chopped sideways today; GDX fell -0.11% on moderately light volume, and GDXJ climbed +0.67% on moderate volume. XAU inched up +0.08%, the northern doji was bearish (57%) and forecaster moved lower but remains in an uptrend. XAU remains in an uptrend in all 3 timeframes.
The GDX:gold ratio fell -0.02%, but the GDXJ:GDX ratio moved up +0.79%. That's bullish.
Platinum rose +1.46%, palladium climbed +1.45%, and copper moved up +0.74%. I'm guessing that the strong move in the other metals helped silver to rally too, although the rhythm of the moves in the other metals didn't exactly match silver's move higher.
The buck rose +0.10 [+0.10%] to 96.38. The bullish harami was a bearish continuation, and while forecaster inched higher, it remains in a downtrend. The buck remains in a downtrend in both daily and monthly timeframes, although the monthly trend is almost flat at this point.
Large currency moves included: AUD [+0.36%].
Crude fell -1.04 [-1.72%] to 59.40. Crude tried to rally just before the US market opened, but the rally failed. The candle print was mixed – but it was also a 3-candle swing high, which is generally bearish, and forecaster was not happy at all, dropping hard into a slight downtrend. Crude remains in an uptrend in the weekly and monthly timeframes.
The problem for oil today have been a report by IEA that said global oil supply exceeded demand by 0.9 mbpd in the first six months of 2019, which was a big miss of IEA's previous prediction which was an 0.5 mbpd deficit. IEA projects an oversupply through Q1 2020. https://oilprice.com/Energy/Energy-General/IEA-Huge-Oil-Glut-Coming-In-2020.html
SPX inched up +0.53 [+0.02%] to 3014.30. This was another very minor all time high again today for SPX. The short black candle was a bullish continuation, and forecaster inched higher, remaining in a mild uptrend. SPX remains in an uptrend in all 3 timeframes.
Sector map had utilities (XLU:+0.40%) and tech (XLK:+0.33%) leading, with energy (XLE:-0.90%) and financials (XLF:-0.56%) doing worst. That's a neutral sector map.
VIX rose +0.29 to 12.68.
TLT jumped +0.58%, printing a bullish-looking swing low (47%), and forecaster jumped higher but not quite enough for an uptrend. TY climbed +0.18%, the closing white marubozu was a bearish continuation, and forecaster moved higher but not quite enough for an uptrend. TY remains in an uptrend in the weekly and monthly timeframes. The 10-year yield fell -1.4 bp to 2.09%. Is the one-week correction in bonds done? Longer term trends still point higher for bonds.
JNK rose +0.14%, and JNK forecaster moved into a mild uptrend. JNK is now back above its 9 MA also. BAA.AAA differential fell -1 bp to 1.03%. It remains in a mild uptrend – but is not showing much sign of credit stress right now.
CRB fell -0.69%, printing a swing high for the commodity index. 2 of 5 sectors moved lower, led by agriculture (-2.00%).
So…what's the deal with the surprise silver rally? I wish I knew. The out-performance in silver was quite striking, resulting in a drop of a full point in the gold/silver ratio. All the forecasters point higher now for silver, and the new closing high was a breakout of sorts at least from a closing perspective anyway.  While one day doesn't a trend make, a close above 15.50 would be a more substantial breakout for silver; it is the next waypoint for silver, which has not closed above that level since March 2019 – and then only briefly.
The other important thing today was crude's possible reversal, driven perhaps by that IEA forecast of an oversupply through 2020. Shale continues to be a terrible investment, but an excellent source of production in an already-oversupplied market. For example, veteran company OXY (Occidental Petroleum) was hit hard recently after its successful bid to take over shale producer APC (Anadarko Petroleum); the market seemed to be saying, "oh goodie, OXY is now going to lose a bunch of money."  And some new pipelines in the Permian completing later this year suggest that even more production from shale will be hitting the market in late 2019.  More supply from shale seems inevitable – why so much money is chasing such unprofitable ventures, and why it has done so for so long…it is a constant source of amazement for me.  $187 billion in capital has been destroyed.  Perhaps "profitability is just around the corner."  Or maybe not, if we get one of those worldwide slowdowns.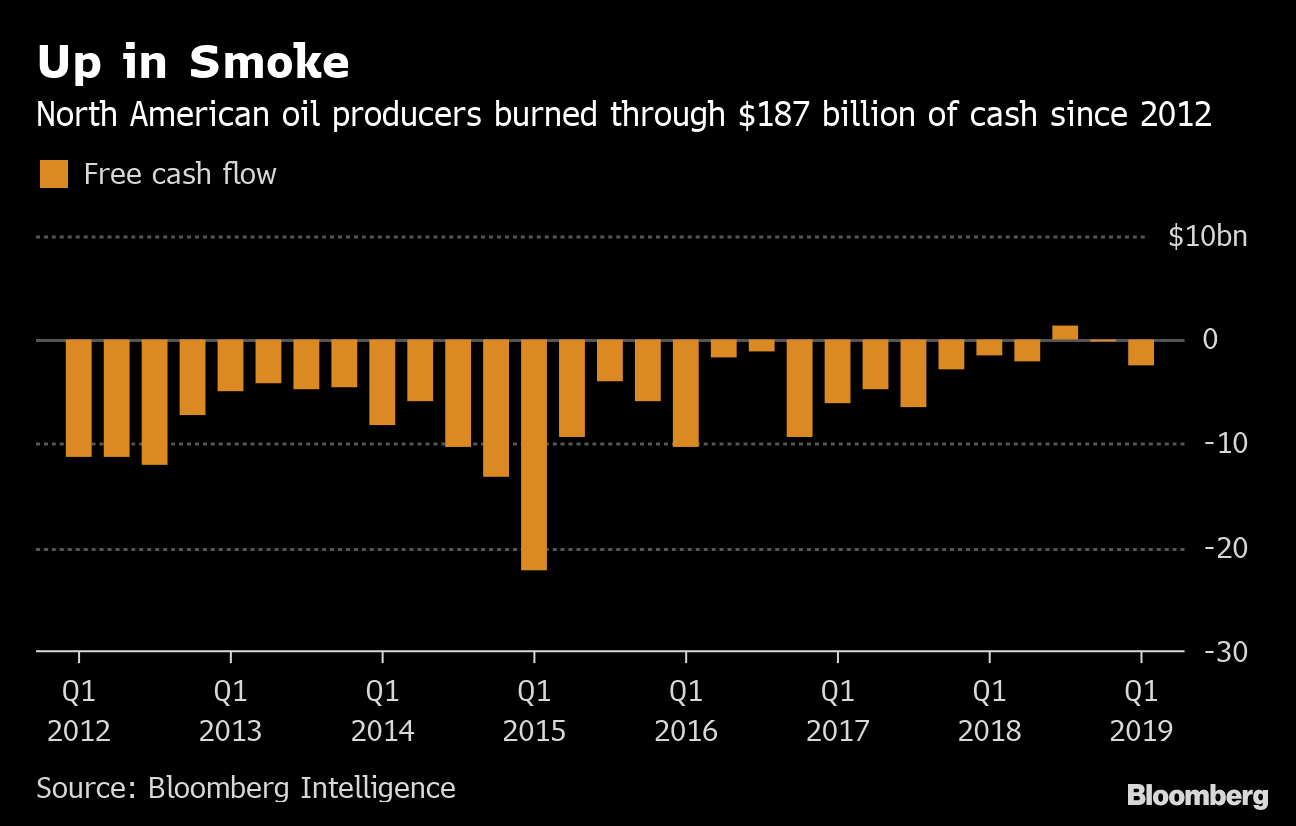 https://oilprice.com/Energy/Energy-General/Shale-Investors-Fear-Bloodbath-As-Earnings-Season-Kicks-Off.html
Note: If you're reading this and are not yet a member of Peak Prosperity's Gold & Silver Group, please consider joining it now. It's where our active community of precious metals enthusiasts have focused discussions on the developments most likely to impact gold & silver. Simply go here and click the "Join Today" button.
Dave, I know you follow Martin Armstrong's views quite a bit. What did you make of the interview with Chris? Listening to him, I find it hard to think he's very credible. I find he's hard to follow and seems to jump around topics and not answer questions directly. Does that not undermine your confidence in his opinions? I suppose at least he seems to have his own unique view of things. Interested to hear your thoughts.
Tue, Jul 16, 2019 - 05:06pm

#3

Status Platinum Member (Offline)

Joined: Apr 13 2011

Posts: 2410

count placeholder

I would love to hear a summary, too
i wasn't able to understand a number of points, also.
I did understand that $$ are fleeing Europe and the US stock market is the only place for big money to flow to., hence the Dow will rise.
Much of my the rest wasn't clear.
Wed, Jul 17, 2019 - 06:37am

#4

Status Member (Offline)

Joined: Sep 03 2008

Posts: 2136

count placeholder1+

armstrong's clarity
Honestly, I agree with you guys.  He was jumpy this interview.  He did not seem to be at his best.  And he'd kind of wander off.  And he just repeated stories I already know.  I can't tell you why or what's up.
I like him because I've used some of his technical concepts in my own code, and it seems to work.  (I just wish I had more details).  That, and the concept of adjusting asset returns for currencies for foreigners, capital flows in and out, a very extensive understanding of history (and some very long-lived time series), and the fact that everything interacts with everything else, and that most people tend to focus domestically only (I'm guilty of that too, but at least I know it).
But this interview was not his best.  I can't tell you why.  Maybe it was his 20th interview of the day.  He has been making the rounds to promote his conference.
My two cents.
Viewing 4 posts - 1 through 4 (of 4 total)