PM Daily Market Commentary – 4/9/2018
Tue, Apr 10, 2018 - 12:10am

#1

Status Member (Offline)

Joined: Sep 03 2008

Posts: 2051

count placeholder

PM Daily Market Commentary – 4/9/2018
Gold rallied +2.30 [+0.17%] to 1339.60 on moderate volume, while silver climbed +0.12 [+0.70%] to 16.48 on heavy volume. A falling dollar helped move the metals higher – gold was the weakest in the group. Equities were rallying strongly (SPX:+50) until the news broke that the FBI had raided the offices of Trump's personal attorney, which eliminated most of the gains for the day.
Gold moved lower in Asia and London, bottoming out at 6:30 am along with the Euro, slowly recovering its losses and a little bit more during the New York session. Candle print was a swing low (43% bullish reversal); forecaster climbed +0.09 to +0.08, which is a (weak) buy signal for gold.
COMEX GC open interest fell -394 contracts.
Rate rise chances (June 2018) rose to 84%.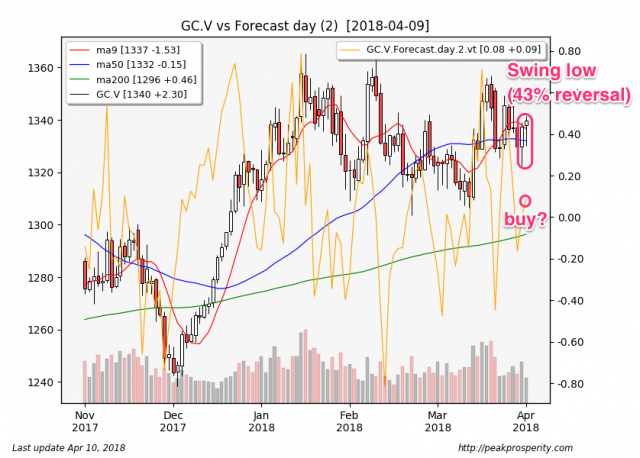 Silver's track mostly followed gold, except silver's rally was stronger. While the spinning top candle print was neutral, the forecaster moved up +0.24 to -0.01, which is right on the edge of a buy signal.  Silver's descending triangle still looks bearish; if silver can break above the downtrend line, that would be a bullish sign.
COMEX SI open interest fell by -7,629 contracts today; that's 1186 tons of paper silver, gone.
The gold/silver ratio fell -0.43 to 81.29. That's bullish.
Miners fell, with GDX down -0.41% on light volume, while GDXJ fell -0.19% on light volume also. The spinning top candles were more bullish than bearish, while the XAU forecaster edged up +0.02 to +0.19, which remains an uptrend.
Today, the GDXJ:GDX ratio fell, as did the GDX:$GOLD ratio. That's bearish.

Platinum rallied +1.69%, palladium shot up +3.0%, while copper moved up +1.23%. These were big moves from the other metals. Palladium and platinum both printed strong swing lows (platinum: 60%, palladium: 56%) while copper printed a bullish continuation. Gold and silver were the weakest performers today.
The buck fell -0.26 [-0.29%] to 89.48. That was a weak swing high (39% bearish reversal), and it pulled the forecaster down -0.23 to -0.28. Does this mean the buck won't be breaking out? Maybe not just yet.
Crude rallied +1.35 [+2.18%] to 63.28, recovering much of yesterday's plunge. The bullish harami pattern was mildly bullish (32% reversal) and the forecaster moved up +0.22 to -0.23. We are still in a downtrend for crude, although things improved substantially today.
SPX tried to rally and largely failed, closing up +8.69 [+0.33%] to 2613.16. Forecaster jumped +0.38 to -0.20; that's still a downtrend. Sector map shows that sickcare led (XLV:+0.99%) while industrials did worst (XLI:-0.30%). If not for the failed rally, I'd say the sector map looked cautiously bullish.  As mentioned, most of today's rally evaporated once news broke that the offices of Trump's personal attorney was raided by the FBI.
VIX rose +0.28 to 21.77.
TLT moved up +0.17%; after gapping down at the open, bonds rallied all day long. TY didn't do nearly as well, falling -0.07%. While TY forecast rose +0.17 to -0.02, that's still a slight downtrend. Weekly and monthly TY forecasters remain in uptrends.
JNK rose +0.36%; that was a new high for JNK, which has moved more strongly into an uptrend.
CRB jumped +1.41%, a big move, with all 5 sectors moving higher, led by industrial metals (+2.05%). CRB is now back above its 50 MA.
To me, the interesting moves were in the other metals.  The strong rallies in platinum and palladium may mark bullish reversals, along with the ongoing recovery in copper.  This suggests risk on, as does the move higher in JNK, as does the crude oil rally.
Gold in Euros remains in a downtrend in all 3 timeframes right now. My sense is, the european buyers really need to return before gold can break out to higher levels.
Note: If you're reading this and are not yet a member of Peak Prosperity's Gold & Silver Group, please consider joining it now. It's where our active community of precious metals enthusiasts have focused discussions on the developments most likely to impact gold & silver. Simply go here and click the "Join Today" button.
Viewing 1 post (of 1 total)