PM Daily Market Commentary – 4/30/2018
Mon, Apr 30, 2018 - 10:43pm

#1

Status Member (Offline)

Joined: Sep 03 2008

Posts: 2521

count placeholder0

PM Daily Market Commentary – 4/30/2018
Gold fell -8.00 [-0.60%] to 1316.10 on moderately heavy volume, while silver dropped -0.20 [-1.18%] to 16.36 on moderately light volume. The buck rallied yet again, up +0.30%. However, currency moves didn't directly move prices of the metals around; gold, silver, and platinum appeared to sell off all on their own.
Gold's decline started early in Asia, fell for much of the day, bottoming out just before 10 am at 1310.70, which was a new low. The spike higher at 10 am managed to pull price back up $6. The long black candle was a bearish continuation; forecaster dipped -0.10 to -0.42. Gold remains in a downtrend. It's hard to know if this is something more serious, or just the usual move lower ahead of the FOMC meeting which ends this Wednesday.
COMEX GC open interest rose 10,465 contracts. That's a fairly large increase.
Rate rise chances (June 2018) rose to 93%.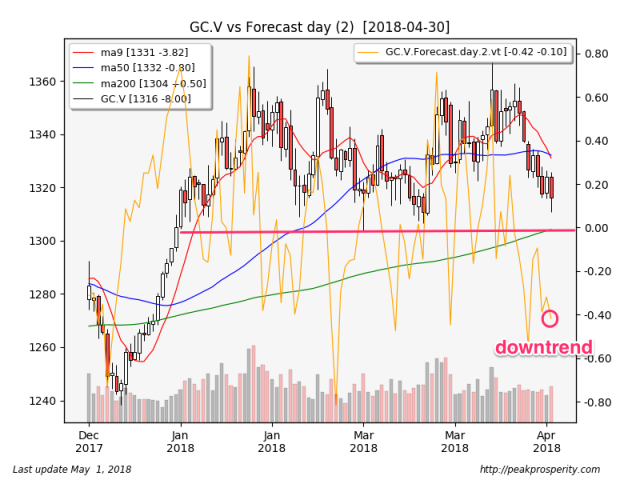 Silver dropped faster than gold, making a new low to 16.22 just before 10 am. Silver then spiked higher strongly at 10 am, recovering maybe 14 cents by the close. Silver's candle print was several different bearish-looking patterns – my favorite was the confirmed bearish NR7. Forecaster dipped just -0.03 to -0.22. Silver is back below all 3 moving averages.
COMEX SI open interest rose by 3,674 contracts today.
The gold/silver ratio rose +0.46 to 80.47. That's bearish.
Miners fell relatively hard today, with GDX off -1.57% on heavy volume, while GDXJ dropped -1.98% on heavy volume also. Both miners gapped down at the open, tried rallying, but the rallies failed, ending up closing near the lows of the day. XAU forecaster fell -0.12 to -0.31, ending the day right at the 50 MA. Candle prints were all bearish-looking; confirmed bearish NR7 was the worst of the bunch. Miners didn't put in a low today.
The GDXJ:GDX ratio fell, as did the GDX:$GOLD ratio. That's bearish.

Platinum fell -1.28%, palladium dropped -0.37%, while copper was unchanged. Platinum made a new low, as did palladium. All 3 other metals remain in downtrends.
The dollar rose +0.27 [+0.30%] to 91.45. The buck has risen 8 out of the last 10 days – the move higher has been quite strong.
The latest news out of Europe is from Italy; Here are the headlines I saw, roughly in calendar order:
So will there be a new election? Or will M5S and Lega Nord form a government? Italian bonds dropped 10 bp today on the news. "If you didn't like Trump, you're really not gonna like Salvini and De Maio."
Crude rose +0.60 [+0.88%] to 68.57. Crude sold off until about 9:20 am, at which point it rallied relatively hard, up through 69 and change, but it could not hang on to the gains. Print was a confirmed bullish NR7, which was actually mildly bullish. Forecaster jumped +0.23 to +0.27, which puts crude into a slightly more enthusiastic uptrend. The Iran deal leads the headlines; will Trump pull out or not? The uncertainty is most likely keeping a bid under crude right now.
SPX fell –21.96 [-0.82%] to 2648.05. Things were mostly moving sideways until just after 11 am, when SPX just started selling off; it wasn't a huge down day, but there was a burst of selling right at the close, and that's never a good sign. It was another "confirmed bearish NR7" candle (42% bearish reversal), and SPX forecaster plunged -0.53 to -0.55. Sickcare led lower (XLV:-1.53%) along with industrials (-1.33%), while energy did "best" (XLE -0.01%). This was a relatively bearish sector map.
VIX rose +0.52 to 15.93.
TLT moved up +0.18%, a relatively poor performance given the drop in equities. TY inched up +0.01%, basically unchanged. However, TY forecaster moved up +0.14 to +0.13, which is a buy signal for TY. I'm not sure I'm convinced, but there it is. The 10-year ended the day at 2.94%.
JNK was unchanged; still, JNK forecaster issued a buy signal, up +0.47 to +0.23. That's a very large move for the forecaster on a day when JNK didn't move at all.
CRB rose +0.29%, and 3 of 5 sectors rose, led by energy (+0.72%). CRB continues to edge higher, quite near its recent highs.
Gold and silver are well into downtrends at this point; both metals are nearing their recent lows. A break below the recent lows is dangerous from a chart perspective, as it signals that there weren't enough dip buyers to keep price from dropping. RSI-7 for both gold and silver is 32. That's starting to enter oversold territory, but is not quite there just yet.
Is this just the pre-FOMC gold sell-off, or is it something more? Certainly the rising buck isn't helping at all, but gold in Euros (weekly) appears to be starting to head lower also.  Likewise, all the other metals are heading lower too.
Apart from the potential for excitement in Italy, we also have the FOMC announcement on Wednesday, as well as nonfarm payrolls on Friday.
Note: If you're reading this and are not yet a member of Peak Prosperity's Gold & Silver Group, please consider joining it now. It's where our active community of precious metals enthusiasts have focused discussions on the developments most likely to impact gold & silver. Simply go here and click the "Join Today" button.
Viewing 1 post (of 1 total)