PM Daily Market Commentary – 4/1/2019
Tue, Apr 02, 2019 - 04:27am

#1

Status Member (Offline)

Joined: Sep 03 2008

Posts: 2033

count placeholder

PM Daily Market Commentary – 4/1/2019
Gold fell -4.42 [-0.34%] to 1292.77 on moderately heavy volume, while silver moved down -0.03 [-0.17%] to 15.07 on moderately heavy volume also. The buck was little-changed [-0.06%], SPX rallied sharply [+1.16%] right along with crude [+2.57%], while bonds dropped hard [10Y +8.3 bp; TLT -1.64%].
We saw some more recession clues today: first up was the Retail Sales report, which was revised significantly higher for January, but then it dropped in February. What would ordinarily be a fairly uglyRetail Sales report looks quite a bit better because of those large, positive January revisions. Gold rallied on the release.
Then came the ISM Mfg index at 10:00 am, which showed a strong reading (55.3) indicating reasonably solid growth, with new orders (57.4) and employment (57.5) both looking strong. Exports were bad (51.7) but still not contractionary. Both gold and bonds plunged after the report came out. This was probably the proximate cause of bonds and gold dropping today.
Gold rallied following retail sales, and then plunged on the ISM report release; "maybe recession – wait, not-recession" – dropping into the close. Gold's long black candle was a bearish continuation, and forecaster jumped higher but remained in a downtrend. Today's move was enough to cause the monthly to issue a sell signal, although we still have another 20 trading days before the month ends. Gold is now in a downtrend in all 3 timeframes. Gold managed to avoid making a new low today.
COMEX GC open interest fell -1,347 contracts today.
Futures are showing a 7% chance of a rate cut in May, a 64% chance of one rate-cut by December and a 22% chance of 2 rate cuts. The slow recovery continues.
Silver's pattern looked similar to gold, but it peaked out a bit earlier and fell a bit less by end of day. Silver's high wave candle was neutral, but forecaster jumped higher, suggesting that silver's downtrend has slowed substantially. Silver's monthly forecaster issued a buy signal – assuming we close here by end of month, which is a long way away. Silver is in a downtrend in both daily and weekly timeframes. Looking at the chart, its hard to know if silver is having one of those dead cat bounces, or if it is actually reversing.
COMEX SI open interest rose +3,845 contracts. Shorts continue to pile into silver.
The gold/silver ratio fell -0.18 to 85.50. That's mildly bullish.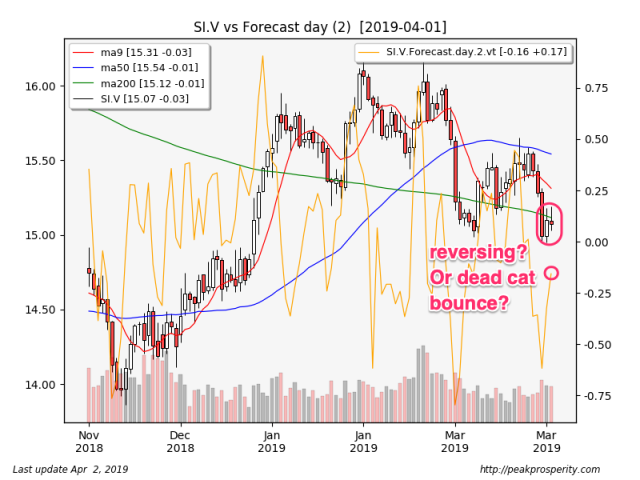 Miners fell for most of the day, moving up slightly in the last 30 minutes of trading. GDX dropped -2.05% on moderately heavy volume, while GDXJ fell -2.74% on very heavy volume. XAU dropped -1.66%, breaking briefly below the multi-month uptrend line, and closing below the 50 MA. The long black candle was a bearish continuation, and forecaster plunged deeper into a strong downtrend. Today's move also caused the weekly forecaster to issue a sell signal. This puts XAU in a downtrend in both daily and weekly timeframes – it continues to cling to an uptrend on the monthly.
The GDX:gold ratio fell -1.72%, and the GDXJ:GDX ratio dropped -0.70%. That's bearish.
Platinum rose +0.16%, palladium jumped +2.70%, while copper dropped -0.07%. Palladium is trying to reverse – daily forecaster issued a buy signal – but its hard to know if the move will continue.
The buck fell -0.06 [-0.06%] to 96.69. The Euro tried rallying today but failed – this caused the buck to plunge and then rebound. The doji/NR7 candle was unrated, and forecaster moved lower, but remains in a strong uptrend. The buck remains in an uptrend in all 3 timeframes.
Strong currency moves included: JPY [-0.42%].
The UK Parliament today voted to reject all 4 alternatives to Unconditional Surrender today. As the BRExit secretary said today:
This is the second time the House has considered a wide variety of options for a way forward, it has once again failed to find clear majority for any of the options. And yet, the result of the House's decision on Friday not to endorse the withdrawal agreement means that the default legal position is that the UK will leave the EU in just 11 days' time.
The currency market doesn't agree with the secretary, with GBP/USD around $1.30. Currency market is still predicting soft BRExit.
Crude jumped +1.55 [+2.57%] to 61.88, rallying strongly all day low, closing at the highs. The white marubozu was possibly bearish (41% reversal), but forecaster jumped higher into an uptrend. The move took crude back above its 200 MA for the first time in six months. Crude is in an uptrend in all 3 timeframes.
Helping crude to rally was a report issued by EIA that showed shale production declining in January – by some 90kbpd. In addition, there are two more shale issues: according to Nick Cunningham, shareholders are now demanding profits and not just growth, which is forcing spending cutbacks across the board. Also, Saudi Arabia cut production below its requirement, and Venezuela's production losses continue; they dropped 150 kbpd just last month alone Overall, OPEC produced 280 kbpd less this month than last.
https://oilprice.com/Energy/Crude-Oil/Oil-Prices-Spike-On-Shale-Slowdown.html
SPX rallied +32.79 [+1.16%] to 2867.19. Much of that gain happened in the futures markets overnight, but prices rallied steadily throughout the day. The opening white marubozu was a bullish continuation, and forecaster moved higher into a strong uptrend. SPX is in an uptrend in all 3 timeframes.
Sector map shows financials (XLF:+2.45%) and industrials (XLI:+2.07%) doing best, while utilities (XLU:-0.69%) and staples (XLP:-0.34%) doing worst. This was a bullish sector map.
VIX fell -0.31 to 13.40.
TLT plunged -1.64%; that's a swing high, and forecaster plunged hard, resulting in a sell signal for TLT. TY also fell hard, losing -0.56%, following through on last Friday's sell signal. The move took TY through its 9 MA. TY is now in a strong downtrend on the daily, but remains in an uptrend in the weekly and monthly timeframes. The 10-year treasury yield fell -8.3 bp to 2.50%. The big bond move came following the bullish-looking ISM report at 10 am.
JNK fell -0.39%, resulting in a swing high candle print (48% reversal) and a move down by the forecaster into a moderate downtrend. I'm not sure what this drop was about – and cousin HYB rallied. So I'm not sure what's up with JNK.
CRB rose +0.93% moving up towards a breakout; 3 of 5 sectors rose, led by energy (+1.78%) which did break out to new highs.
Today's moves appeared to be driven by a few factors: rising oil prices due to reduced OPEC production as well as a shale decline, a surprisingly strong ISM report at 10 am, and also a Chinese manufacturing report that was the highest in 8 months – barely positive, but nevertheless out of contraction territory.  It wasn't only the US market that hit new highs – the SSEC did as well.
The EU on the other hand looks really weak.  EU manufacturing has dropped into contraction.  Is that just about BRexit uncertainty?  My sense is yes, probably.  But its hard to know for sure.
Right now we are seeing a mixed message.  US production looks reasonably strong.  China is recovering.  EU looks bad.  But the US equity and bond market appeared to focus on both the US and China, ignoring what was happening in the EU.  Perhaps the uncertainty of BRexit has already been discounted.
Note: If you're reading this and are not yet a member of Peak Prosperity's Gold & Silver Group, please consider joining it now. It's where our active community of precious metals enthusiasts have focused discussions on the developments most likely to impact gold & silver. Simply go here and click the "Join Today" button.
Viewing 1 post (of 1 total)