PM Daily Market Commentary – 12/5/2018
Wed, Dec 05, 2018 - 03:15am

#1

Status Member (Offline)

Joined: Sep 03 2008

Posts: 2077

count placeholder

PM Daily Market Commentary – 12/5/2018
Gold climbed +8.00 [+0.65%] to 1244.56 on moderately heavy volume, while silver rose +0.15 [+1.04%] to 14.61 on moderately heavy volume also. The buck fell -0.07%, SPX was pounded losing -3.24%, JNK dropped -0.52%, while TLT shot up +1.67%. It was an exciting day, but only if you were short risk assets.
The 3-5 and then 2-5 yield curve inversion (5 year yields dropped below 2 year yields) was the big news of the day; that reflects big money moving from short dated treasuries (1m-3y) into the longer-dated bonds, which is a recession trade – locking in the current rate for the next 5-10 years in order to tide the owner through the tough times that are likely ahead. I said in the monthly report I was concerned about the 2-10 inverting "within a month or two", but at this rate, the inversion could happen next week.
Gold rallied strongly in Asia along with the rising Euro, but then ran into a bit of selling pressure during US trading hours as the Euro dropped back to even.  Still, gold held most of its gains, while the Euro did not. Gold's long white candle is a bullish continuation, and forecaster jumped +0.43 to +0.38, which is a buy signal for gold. Gold is now in an uptrend in both the daily and weekly timeframes. Gold/Euros is in an uptrend in all 3 timeframes.  Gold is moving steadily higher.
COMEX GC open interest rose +5,312 contracts.
Rate rise chances (December 2018) fell to 78%.
Silver rallied strongly until about an hour after the US open; by that time, copper, the Euro, and equities were all moving down fairly hard.  This took about 15 cents off silver's high, but it still managed to keep half of its gains through the close.  Silver broke out to a new high, and even with the US-hours drawdown silver ended the day comfortably above the 50 MA, which is a positive sign. Silver's long white candle was mildly bearish (35% reversal), but forecaster jumped +0.66 to +0.39, which is a buy signal for silver. Silver is now in a uptrend in both the daily and weekly timeframes, and the current weekly candle pattern in progress (a confirmed bullish doji) is looking very bullish also.
COMEX SI open interest fell -721 contracts.
The gold/silver ratio fell -0.33 to 85.19. That's bullish. The gold/silver ratio remains at multi-decade highs – that usually happens around a low for PM.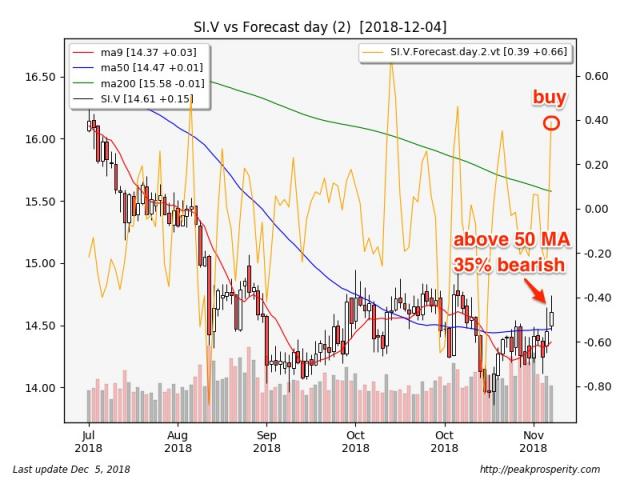 Miners gapped up at the open, and then slowly meandered lower during the trading day.   GDX ended up +0.82% on moderately heavy volume, while GDXJ climbed +0.33% on light volume. XAU moved up +0.49%, but the shooting star candle print was mildly bearish (36% reversal). Forecaster rose +0.07 to +0.34. XAU weekly is on the edge of a buy signal; XAU is in an uptrend on the daily and monthly timeframes.
The GDX:$GOLD ratio rose +0.17%, and the GDXJ:GDX ratio fell -0.49%. That's slightly bearish; we don't like to see those juniors underperforming the seniors. Still, it was a minor miracle (a "miner" miracle?) that the mining shares didn't get sucked down by the massive downdraft in equities today. I'm calling it a positive day for that reason.
Platinum fell -0.43%, palladium rose +1.81%, while copper fell -1.08%. Palladium made a new all time closing high today, copper dropped deeper into downtrend, while platinum is struggling to reverse down near its recent lows.
The buck fell -0.07 [-0.07%] to 96.43. It had a very large trading range today (due to the strong rally in the Euro during Asia hours), but that rally was completely unwound during the US session, leaving the buck largely unchanged. The doji candle was a bearish continuation, while forecaster plunged -0.21 to -0.57, moving the buck deeper into downtrend. The buck remains in a downtrend in all 3 timeframes.  This says to me that the the bearish sentiment is all about the US – Asia remains relatively positive.
CNY continued to rally, losing -0.05 vs the buck [-0.68%], dropping to 6.84, well down from the recent highs at 6.95. Euro fell -0.13. CNY traders still view the situation positively.
Crude fell -0.45 [-0.84%] to 52.83. Crude rallied strongly in the first half of the day, making a new high to 54.79, but then lost it all and some more besides by end of day. The shooting star candle was bearish (42% reversal), and forecaster dropped -0.11 to -0.00, which was a very tentative sell signal for crude. The vast majority of the excitement happened during the day, but the bearish-looking API report didn't help (crude: +5.6m, gasoline: +3.6m, distillates: +4.3m), which dropped crude by about 50 cents. While crude remains above its 9 MA, crude is now in a downtrend in all 3 timeframes. The OPEC meeting is coming up tomorrow; here's Nick Cunningham's take:
https://oilprice.com/Energy/Crude-Oil/The-Most-Likely-Outcome-Of-The-OPEC-Meeting.html

Saudi Arabia's inclination is to cut aggressively, but it also does not want to anger U.S. President Donald Trump, who has bailed the Saudis out on the Khashoggi affair. Al-Falih was notably more circumspect regarding a production cut on Tuesday than he was only a few weeks ago, when he announced that Saudi Arabia would unilaterally lower exports beginning in December. Between then and now the U.S. Senate passed a bill ending American support for the Saudi war in Yemen, significantly upping the pressure on Saudi Arabia not to cut by too much.
My math says the Khashoggi murder is costing Saudi Arabia perhaps $5 billion dollars per month in lost oil revenues.  MBS is turning out to be an expensive guy to have around. If that situation persists for very long, one wonders if that will provide a motivation for the locals to alter the situation on their own.  It will be fascinating to see how this particular needle gets threaded.  And for how long.
SPX plunged -90.31 [-3.24%] to 2700.06. The massive move took place almost entirely during the trading day, with SPX closing quite near the lows. Candle prints (swing high, strong line, conf bear doji) were all quite bearish (59% reversal), while forecaster plunged -1.23 to -0.38, which is a strong sell signal for SPX. Today's move also unwound the weekly buy signal, putting SPX into a downtrend in both the daily and weekly timeframes.  SPX managed to plow through all 3 moving averages in just one day's drop.  That's pretty unpleasant.
Sector map had  financials (XLF:-4.35%), industrials (XLI:-4.25%) and tech (-3.79%) leading lower, while utilities did best (XLU:+0.07%). This was a very bearish sector map.
VIX screamed higher, up +4.30 to 20.74.
TLT jumped higher, up a big +1.67%, making a new high. TY did well also, up +0.28%, also making a new high. TY remains in an uptrend in all 3 timeframes. The 10-year yield plunged -6.8 bp to 2.92%, and -31 bp since the November high of 3.23%.   Anyone remember how worried we all were about bonds breaking above 3%?  That was so 2 months ago.  Bonds are no longer responding weakly to equity market downdrafts.  Now the plunges result in serious money moving into bonds.
JNK fell -0.52%, dropping along with equities – although in truth, the plunge in JNK wasn't all that severe given the near-disaster in the equity market. I'm not sure what the JNK forecaster saw yesterday, but it sure nailed the reversal in JNK.
CRB rose +0.34%, with 4 of 5 sectors moving higher, led by energy (+0.88%). Commodities are not signaling recession.
The tell for today's big equity sell-off was yesterday's surprising strength in the 10 year, the surprising weakness for junky debt, and the lack of follow-through from the gap-up open in equities. These moves didn't play along very well with the "tariff settlement script" that I imagined would result from the G-20 meeting. That sort of thing is the clue that the market sometimes gives off when its about to do something interesting.
Gold and silver still look pretty good; we aren't seeing any large shorting effort, and that is likely allowing the metals to continue moving higher. The miners are a bit weak, but that's not surprising given the huge downdraft in equities today. The senior miners are part of indexes that plunged, and that pulls the overall group lower.
If good news comes out of the settlement talks, then we could still see a reversal, but that yield curve inversion is telling a story that is more about economics than it is about tariffs. Maybe there's some economic information that came out about…ahhh, perhaps it is this: we have payrolls coming up on Friday, and just maybe the news has leaked (to our friendly well-connected banksters) about what the number will be, and the number is not a good one. Just speculation, of course – we'll know on Friday.  But being a member of the great unwashed, we are always the last ones to know.  We have to read the tea leaves for clues.
What do we see?  A housing-market that is clearly tipping over. A crude oil smash. The Fed stopping the rate-rise campaign early. And now – perhaps – a bad payrolls report.
If the last part is true, that would explain today's move.  Or it could be just a growing realization that the bearish signs are all starting to add up.
Note: If you're reading this and are not yet a member of Peak Prosperity's Gold & Silver Group, please consider joining it now. It's where our active community of precious metals enthusiasts have focused discussions on the developments most likely to impact gold & silver. Simply go here and click the "Join Today" button.
Viewing 1 post (of 1 total)