PM Daily Market Commentary – 12/28/2018
Sun, Dec 30, 2018 - 07:06pm

#1

Status Member (Offline)

Joined: Sep 03 2008

Posts: 2040

count placeholder

PM Daily Market Commentary – 12/28/2018
Gold rose +5.21 [+0.41%] to 1286.35 on moderate volume, and silver jumped +0.15 [+1.05%] to 15.45 on moderate volume also. The buck moved down -0.04%, crude fell -0.57%, SPX was little changed [-0.12%], while TLT jumped +0.84%.
I'm going to just talk about Friday's moves today – I'll construct a more comprehensive end-of-month report after Monday's close, to try and see what sort of clues we can find for where things are going in 2019.
Gold made a new high on Friday to 1287.65, keeping most of those gains through to the close. The candle print was a long white/bullish continuation, but forecaster dropped down close to reversal territory. Gold weekly and monthly remain looking strong; gold remains in an uptrend in all 3 timeframes.
COMEX GC open interest rose +4,236 contracts.
Near-term rate rise chances were at 5% (March 2019), with the longer term at 15% (Dec 2019).
Silver outperformed gold again, closing at the highs for the day. The white marubozu candle was a bullish continuation, and forecaster remains in a strong uptrend. Silver managed to close above the 200 MA – but only by a few pennies. Silver remains in an uptrend in all 3 timeframes.  Silver is looking quite strong after the break above 15.  The OI data is suggesting to us that managed money has stopped shorting silver.  For now, it looks like 13.85 was the low.
COMEX SI open interest rose +865 contracts.
The gold/silver ratio fell -0.47 to 83.15. That's bullish. The gold/silver ratio continues to plunge following silver's breakout above 15.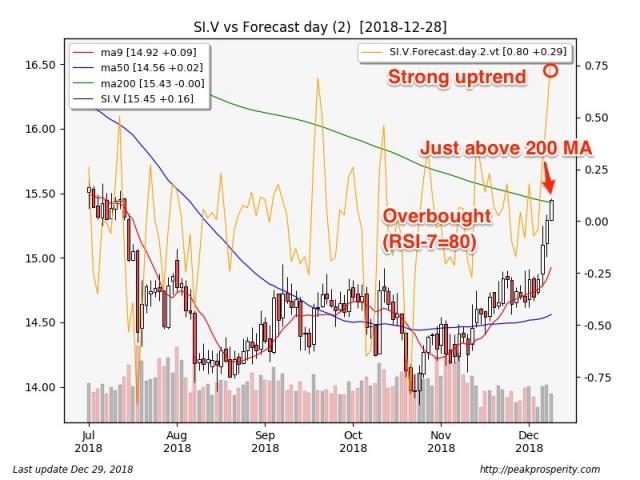 Miners did poorly today, with GDX down -1.76% on heavy volume, while GDXJ dropped -1.01% on light volume. XAU fell -1.55%; while the long black candle was neutral, forecaster plunged -0.38 to -0.17, which is a sell signal for XAU. XAU remains above the 9 and 50 MA lines, and is in an uptrend in the weekly and monthly timeframes. The miners are looking a bit weak going into end of year; that's not ideal for a PM rally going forward. 
The GDX:$GOLD ratio plunged -2.16%, while the GDXJ:GDX ratio rose +0.77%. That's bearish.
Platinum fell -0.69%, palladium dropped -0.94%, while copper rose +0.22%. Palladium remains very near its all time highs, while both copper and platinum are unsure about direction but do not look particularly strong at the moment.
The buck fell -0.04 [-0.04%] to 95.88. The buck actually sold off earlier in the day, but managed to bounce back; the short black candle was mildly bullish (30% reversal), but the daily forecaster remained virtually unchanged – in a slight downtrend. Buck remains in a downtrend in the daily and monthly timeframes.
Crude drifted lower, losing -0.26 [-0.57%] to 45.38. The short black/spinning top was unrated, and forecaster drifted lower but remains in an uptrend. Crude remains in a downtrend in the weekly and monthly timeframes.  While crude did bounce off the 42 level a few days back, its unclear where crude goes next.
SPX rose +3.09 [+0.12%] to 2485.74. SPX rallied in the futures markets overnight and tried to rally further, but then sold off. The spinning top was bearish (39% reversal); after two days of moving higher, SPX may be showing signs of a reversal. Armstrong calls this pattern a "reaction rally", which happen during downtrends, and typically last from 1-3 days. Forecaster doesn't know about reaction rallies; it issued a buy signal. Still, SPX remains in a downtrend in the weekly and monthly timeframes. I'd say the reaction rally pattern looks likely.
Sector map showed REITs (XLRE:+0.36%) and utilities (XLU:+0.25%) leading, while energy (XLE:-0.77%) and materials (-0.54%) did worst. That's a fairly bearish sector map.
VIX fell -1.62 to 28.34. That's an improvement.
TLT jumped +0.84%, recovering most of Thursday's loss. While TLT remains in a downtrend, it could be ready to reverse higher. TY's chart looks much stronger; it rose +0.32%, making a new high; the long white candle is a bullish continuation, and TY forecaster remains in an uptrend in all 3 timeframes. The 10-year yield fell -0.7 bp to 2.74%.  The 10-year continues to look quite strong.
JNK rose +0.15%; it made a new high, forecaster issued a buy signal, just like SPX. To me, it sure looks like one of those reaction rallies. I'm not convinced of the JNK trend change just yet.
CRB rose +0.28%, with 4 of 5 sectors rising, led by agriculture (+0.51%). Both industrial metals and energy look pretty terrible right now.
Miners aren't doing so well, silver looks fantastic, while gold looks pretty strong.  If anyone had any doubts about gold getting a bid when things start to look iffy, those doubts should be dispelled by now.  But those miners – I'm not sure why they look weak.
Only one trading day left before end of year.  After Monday's close, we'll get to see what those monthly charts really look like.
Note: If you're reading this and are not yet a member of Peak Prosperity's Gold & Silver Group, please consider joining it now. It's where our active community of precious metals enthusiasts have focused discussions on the developments most likely to impact gold & silver. Simply go here and click the "Join Today" button.
Viewing 1 post (of 1 total)