PM Daily Market Commentary – 12/18/2017
Tue, Dec 19, 2017 - 03:48am

#1

Status Member (Offline)

Joined: Sep 03 2008

Posts: 2337

count placeholder0

PM Daily Market Commentary – 12/18/2017
Gold rose +7.20 [+0.57%] to 1265.30 on moderate volume, while silver rose +0.08 [+0.50%] to 16.18 on light volume. The buck fell -0.27%, and that definitely helped the metals to move higher today.
Republicans now have enough votes to pass the tax reform legislation, with Senator Collins indicating she will vote yes. The buck saw a lot of movement today, but ultimately did not benefit from the imminent passage of the bill. It appears right now that tax reform is seen to be dollar-negative.
Timeline: debate in the House tomorrow, in the Senate on Wednesday, with passage expected end of day Wednesday. Law is due to take effect January 1st.
Martin Armstrong believes that US equities (and the US dollar) will eventually be the biggest beneficiary of the law. Of course he's been predicting Dow 40,000 for a long time now due to his public-to-private long cycle wave, as well as the impending implosion of the Eurozone, but he sees this tax legislation as right in line with that movement.
Gold gold moved steadily higher today, topping out a little past 11 am in New York, making new high today to 1267.  It managed to keep most of that into the close. Candle print was a long white/bullish continuation. However, the forecaster was not happy; it dropped -0.12 to -0.07, which is a sell signal for gold. It saw something it didn't like in today's price action.
COMEX GC open interest fell -508 contracts today.
Rate rise chances (March 2018) remains at 56%.
Silver moved higher also, but it didn't look nearly as strong as gold – and percentagewise, its rally was weaker, which is unusual in a PM uptrend. It too printed a long white/bullish continuation, but the forecaster dropped –0.04 to +0.11. That's still an uptrend, but not a very strong one.
COMEX SI open interest fell -491 contracts today.
The gold/silver ratio rose +0.06 to 78.18. That's slightly bearish.
The miners moved higher, but not all that enthusiastically; GDX rose +0.77% on moderately heavy volume, while GDXJ rallied +1.65% on moderately heavy volume also. While the miner candle prints were bullish continuations, both forecasters were not happy: GDX -0.57 to -0.38 (sell), and GDXJ -0.10 to -0.05 (sell). HUI confirms: it also issued a sell signal, dropping -0.37 to -0.07. Something has both GC and all the miner forecasters upset – it could be the underperforming silver/gold ratio, anemic miners vs gold, the rallying equity market, or plunging long rates. It will be interesting to see how this plays out tomorrow.
Today, the GDXJ:GDX ratio rose, as did the GDX:$GOLD ratio. That's bullish.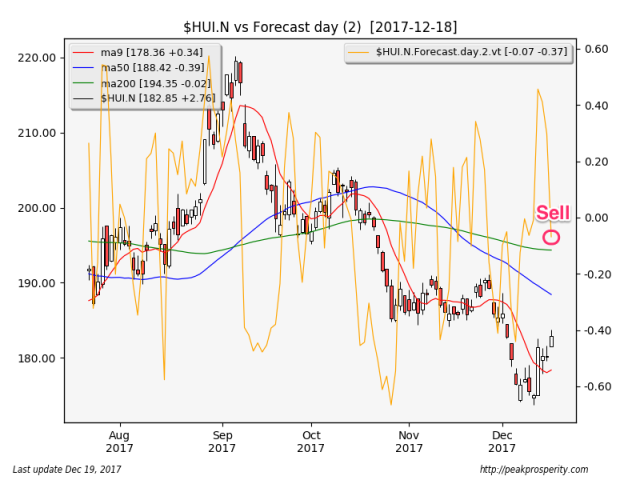 Platinum rallied +2.03%, palladium fell -0.33%, and copper climbed +0.18%. That's 9 straight days up for copper; that massive drop 3 weeks ago was definitely a headfake. Copper is back in an uptrend, and last week's COT report supports a move higher. Platinum's move higher was largest in months, and the volume today was immense. Platinum OI dropped by -2,569 – a big drop. Managed money is very heavily short platinum – not quite an all time high, but close.  That large short position is just begging to be unwound by the commercials.  Perhaps the start of that process was today.
The buck fell -0.25 [-0.27%] to 93.23, a fairly volatile day ending with the buck down maybe 50 cents at one point, but then recovering about half its losses by the close. Candle print was a spinning top, which the code felt was a bullish reversal (57%). The forecaster disagreed, dropping -0.63 to -0.56. Its hard to know which one will be right, which pretty much parallels the opinions of the weekly (down) and the monthly (up) forecasters.
Crude bounced around today too, first rallying, then selling off, then coming back to close -0.04 to 57.34. Print was a doji- neutral. Forecaster issued a buy signal, up +0.43 to +0.24. It saw something it liked today. Looking under the covers, forecaster liked rising silver, copper, and rising 10 year yields. My mechanism for looking inside the model is imperfect, but it does provide a basic sense.  Over the past few months there is no short term trend in crude – you can see the red 9 MA move mostly sideways.  My model doesn't handle that very well.
SPX jumped 14.35 [+0.54%] to 2690.16, making yet another new all time high today. Materials did best (XLB:+1.47%) while utilities were hammered again (XLU:-1.11%). There has been some pretty serious distribution in utility stocks over the past month or so. That's usually the sign of big guys bailing out.  Financials (XLF:+0.90%) also did well. Continued tax cut progress definitely seems to be equity-market positive. Still, the spinning top candle print had a 45% chance of being a bearish reversal. We've had a number of these, however, and they haven't come true yet. I think the candle code gets nervous when the weekly RSI is in the mid-80s, as it is now.
VIX rise +0.11 to 9.53.
TLT plunged -0.91%, dropping back into a downtrend once more. TLT has been very choppy lately, and its difficult to tease out the "real" trend on the daily chart. Looking at TY (-0.19%), its trend remains down, both daily and weekly timeframes.
JNK rose +0.11%, moving higher along with equities. JNK is still not setting the world afire, however; while equities continue to make new highs, JNK is definitely languishing by comparison.
CRB rose +0.48%, with 4 of 5 sectors rising, with PM (+0.66%) the strongest gainer.
The dollar weakness didn't help gold all that much, and the poor performance of GDX is a bit of a warning sign, as is the under-performance of silver. While the silver COT report tells us that a low should be here now, the rest of the group isn't looking all that strong. Most likely, that's because all the money is flowing into the equity market. At least, that's how it looks to me.
It will be interesting to see if the forecasters for gold and the miners is mistaken, or if it is really predicting weakness ahead.  I've trained it to look forward 1-2 days.  Well, we will see how it goes.
Note: If you're reading this and are not yet a member of Peak Prosperity's Gold & Silver Group, please consider joining it now. It's where our active community of precious metals enthusiasts have focused discussions on the developments most likely to impact gold & silver. Simply go here and click the "Join Today" button.
Viewing 1 post (of 1 total)