PM Daily Market Commentary – 12/17/2018
Tue, Dec 18, 2018 - 05:17am

#1

Status Member (Offline)

Joined: Sep 03 2008

Posts: 2088

count placeholder

PM Daily Market Commentary – 12/17/2018
Gold rose +7.89 [+0.63%] to 1251.70 on moderately light volume, while silver rose +0.10 [+0.68%] to 14.74 on light volume. The buck fell -0.39%, SPX lost -2.08%, making a new low, and crude dropped -3.82%, also making a new low. TLT rose +0.58%. It was a god day for the metals and bonds, and a bad day for everything else.
I'm not really sure if there was specific news that moved the markets. I did see utility stocks get absolutely hammered; it looks as though interest-rate sensitive issues did really poorly. Maybe the market is figuring out that the Fed won't continue increasing rates.
Gold moved sharply higher today, roughly alongside the rising Euro, although the magnitude of gold's move was substantially larger.  Gold's candle print was bullish (56% reversal), while forecaster moved up +0.11 to -0.10. That's still not back to an uptrend, but the move did take gold back above its 9 MA. Gold remains in an uptrend in both the weekly and monthly timeframes.  Gold continues to look fairly strong.
COMEX GC open interest jumped +11,266 contracts. That's a large increase.
Rate rise chances (December 2018) plunged to 70%.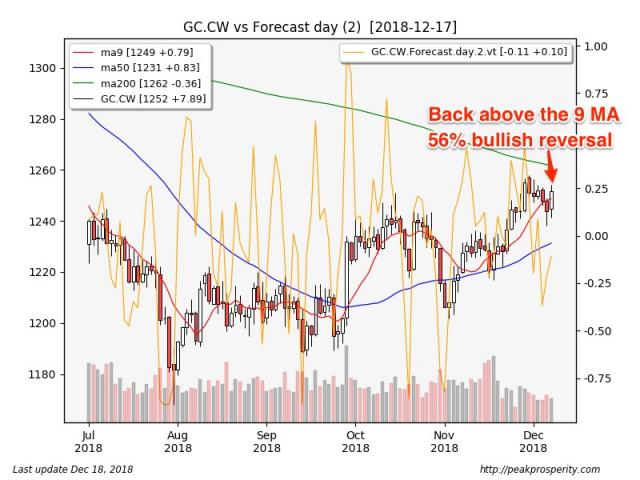 Silver's rally looked a bit more feeble than gold.  The bullish harami was actually a bearish continuation, while silver forecaster fell -0.08 to -0.18. Silver did manage to close back above its 9 MA, which is a positive sign. Silver remains in a downtrend in both the daily and monthly timeframes.  Silver's chart doesn't look nearly as good as gold; while gold made back all of last Friday's losses and then some, silver was not able to do so.
COMEX SI open interest fell -274 contracts.
The gold/silver ratio fell -0.04 to 84.86. That's neutral. The gold/silver ratio remains near multi-decade highs – that usually happens around a low for PM.

Miners shot higher, with GDX up +2.44% on very heavy volume, while GDXJ jumped +3.53% on very heavy volume also. XAU rose +2.37%, making a new high on the day. XAU forecaster rose +0.35 to +0.62. XAU remains in an uptrend in all 3 timeframes. XAU continues to look quite strong; it seems that money is rotating out of the "normal equities" and into the mining sector.  That XAU monthly forecaster has been consistently bullish for the past few months.  It has been correct.
The GDX:$GOLD ratio rose +1.79%, and the GDXJ:GDX ratio climbed +1.07%. That's bullish.
Platinum rose +0.88%, palladium shot up +1.59%, while copper dropped -0.09%. The other metals did fairly well; the jump in palladium and platinum looks fairly positive.
The buck fell -0.38 [-0.39%] to 96.52. The swing high candle print was bearish [48% reversal], while forecaster dropped -0.45 to -0.03, which is a tentative sell signal for the buck. The buck closed right at its 9 MA. The drop was enough to issue a prospective sell signal in the weekly timeframe too, assuming we close here at end of week. This dropped the buck into in a downtrend in all 3 timeframes.
Major moves today were in Euro [+0.38%], GBP [+0.25%], and JPY [+0.51%].
Crude fell -1.97 [-3.82%] to 49.65, closing below the 50 level for the first time since late 2017. It sure looks as thought the recent rally was just a dead cat bounce. The closing black marubozu was a bearish continuation, and forecaster dropped -0.26 to -0.52. Downtrend is getting worse. Oddly, the weekly forecaster issued a buy signal – assuming we close here at end of week. Crude is in a downtrend in the daily & monthly timeframes. API report out tomorrow after market close.  There is no good news on the chart for crude.  OPEC's production cut didn't seem to have moved the needle much, if at all.

SPX fell -54.01 [-2.08%] to 2545.94. SPX was down even further, but managed to pop back up 20 points in the last 5 minutes of trading. SPX made a new closing low, below the previous low set back in early 2018. The long black candle was a bearish continuation; forecaster dropped –0.18 to -0.77. That's a strong downtrend. No good news at all for SPX. SPX remains in a downtrend in all 3 timeframes.
Sector map has REITs (-3.74%) and Utilities (XLU:-3.22%) doing worst, while financials (XLF:-0.99%) and industrials (XLI:-1.64%) did best. Today saw a a massive drop in the utility sector; I'm not exactly sure what it means, but the sector map looks bullish.  Really.  Financials were (relatively) happy and utilities got destroyed.  That's actually bullish, since utilities are customarily a safe haven asset.
VIX fell -0.81 to 20.65.
TLT rose +0.58%, making a new high; forecaster issued a buy signal. TY confirmed, rising +0.21%, with its forecaster also issuing a buy signal. TY is back in an uptrend in all 3 timeframes. The 10-year yield fell -3.4 bp to 2.86%. Bonds continue to act as a safe haven, although a bit less enthusiastically: SPX made new lows, while TY has not yet made a new high.
JNK plunged -0.67%, making a new low. Forecaster also issued a sell signal. JNK's new low isn't as dramatic as the new low in SPX – it broke down only by a few pennies. That said: there are some other junky debt indicators that are suggesting problems in the credit market.  I'll see if I can go dredge those up for tomorrow.
CRB plunged -1.33%, making a new low; 3 of 5 sectors fell, led by energy (-2.23%). Commodities are down 13% from the highs set back in May. Ouch.
It was a mostly safe-haven day, with money rotating from equities and junky debt into PM and treasury bonds.  Still, bonds aren't rallying as rapidly as equities are dropping.  That, and the plunge in utilities looks a bit odd as well, so its hard to know what it all means.  That said, current SPX trend is clearly down, and so you have to respect that trend, and there is no reversal in sight.  Today's new low for SPX was quite bearish – it marks a lower low, which is a strong and reliable sign of a downtrend.
We have FOMC on Wednesday. I'm watching the dot plots.  Will the Fed raise?  Trump is tweeting, suggesting they not do so.  If they decided to keep rates steady, that would be a huge market surprise.  I don't think that's likely, but they might well say "further rates are on hold, depending on what sort of data we see coming."  In fact, I think that's what they will likely do.  That should be bullish.
Still, that drop to 70% in rate-increase expectations (an 8% plunge in one day) is a big move, and it didn't seem to move the needle on SPX.  Could it be: a drop in rate-increase expectations is actually bearish – because of confidence?
Crude really isn't helping either.  The close below 50 was – probably – a strong influence in pushing equities to their new lows.  Falling crude prices are a negative economic signal.
Note: If you're reading this and are not yet a member of Peak Prosperity's Gold & Silver Group, please consider joining it now. It's where our active community of precious metals enthusiasts have focused discussions on the developments most likely to impact gold & silver. Simply go here and click the "Join Today" button.
Viewing 1 post (of 1 total)