PM Daily Market Commentary – 10/31/2018
Thu, Nov 01, 2018 - 08:02am

#1

Status Member (Offline)

Joined: Sep 03 2008

Posts: 2025

count placeholder

PM Daily Market Commentary – 10/31/2018
Gold fell -8.76 [-0.71%] to 1220.47 on moderately heavy volume, while silver fell -0.23 [-1.55%] on moderately heavy volume also. The buck moved up just +0.10%; it was not responsible for the dive in the metals today; in fact, gold and silver fell more than the rest of the complex.
[I can't load the rest of my charts for some reason…I'll try later]
Gold moved lower starting at about 5 am, and made the day low at about 2 pm.  Gold's opening black marubozu was a potential bullish reversal (38%), but forecaster plunged -0.51 to -0.86, which is a strong downtrend. Weekly forecaster issued a sell signal today, assuming we close here at end of week. This means gold is now in a downtrend in all 3 timeframes. However, gold/Euros remains in an uptrend in both the weekly and monthly timeframes. Except for today, gold's recent plunge remains mostly a currency effect.
COMEX GC open interest rose +17,665 contracts. Certainly this massive increase helped push prices lower, and it may have had something to do with the end of the month – perhaps there were derivative contracts the banksters were short that "needed" to expire out of the money. If the bid for gold comes back tomorrow, perhaps this is the explanation.
Rate rise chances (December 2018) fell to 69%.
Silver started dropping in Asia, and didn't stop until the close in New York. It really didn't look very good at all. Silver's black marubozu candle was a bearish continuation; forecaster moved up +0.14 to -0.42. I'm not sure what positive thing the forecaster saw today. Silver looks to be on course to re-test 14. Silver is in a downtrend in all 3 timeframes.
COMEX SI open interest rose +2,903 contracts.
The gold/silver ratio rose +0.75 to 85.23. That's bearish; the current level for the ratio suggests PM could be at or near a long term low. We are still waiting for this to happen.
Miners moved lower, with GDX down -1.15%, while GDXJ falling -2.32%. Seniors did substantially better than the juniors; candle print for GDX was a short white/spinning top – almost a hammer – while GDXJ saw a long black. All of the losses to GDX came at the open, but traders bought the dip in the afternoon. XAU fell -1.77%; its short black candle was a bearish continuation, and forecaster dipped -0.11to -0.45. XAU didn't look nearly as good as GDX. XAU remains in a downtrend in all 3 timeframes.
The GDX:$GOLD ratio fell -0.44%, while the GDXJ:GDX ratio fell -1.19%. That's bearish.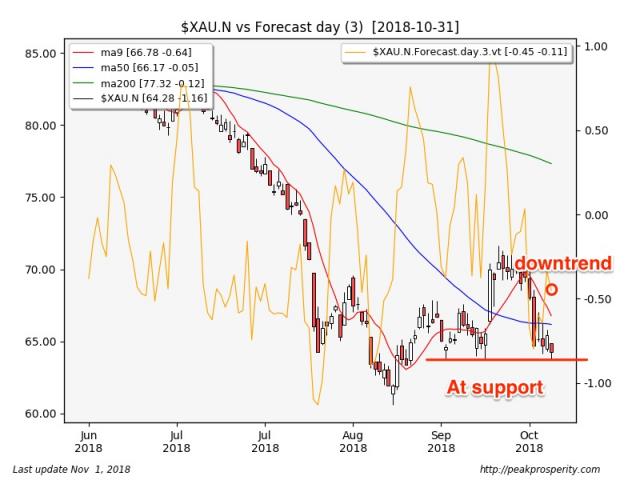 Platinum rose +0.70%, palladium rose +0.27%, while copper dropped -0.66%. Except for copper, which appears to be heading inexorably for a re-test of its lows, the other metals did all right. Gold and silver were the poor performers today.
The buck climbed +0.10 [+0.10%] to 96.64, which is a new high for the buck. The short white/spinning top was a bullish continuation, and forecaster edged down -0.04 to +0.49; the buck remains in a reasonably strong uptrend, in all 3 timeframes. CNY edged up to 6.98 today; round number 7 is just a few points away.
Crude plunged -1.49 [-2.24%] to 64.98, breaking down to a new low, disappointing those of us hoping for a reversal. The EIA report wasn't as bad as the API report (crude: +3.2m, gasoline: -3.2m, distillates: -4.1m) and crude initially rallied, but then the selling took over around noon and prices plunged to new lows. The closing black marubozu was a bearish continuation, and crude forecaster fell -0.23 to -0.45. No reversal in sight. Crude remains in a downtrend in all 3 timeframes.
SPX moved up +29.11 [+1.09%] to 2711.74. Most of the gains came in the futures markets overnight; SPX attempted to rally during the day but failed; the selling started right around 3pm, in that decisive last hour. Candle print was a short white/spinning top, which was a bullish continuation, and forecaster jumped +0.49 to +0.34, which is a buy signal for SPX. SPX remains in a downtrend in both the weekly and monthly timeframes.
Sector map shows tech leading (XLK:+2.38%), while REITs (XLRE:-1.35%) and utilities (-1.18%) did worst. In spite of the selling at end of day, this was a bullish sector map.
VIX fell -2.12 to 21.23.
TLT dropped -0.51%, following through off yesterday's sell signal. TY dropped also, moving down -0.12%, causing TY to issue its own sell signal. TY is now in a downtrend in both daily and monthly timeframes. The 10-year yield rose +4.9 bp to 3.16%.
JNK rose +0.14%, a pretty feeble move given the much stronger move in SPX. JNK printed a shooting star candle, which had a 43% chance of being a bearish reversal. Forecaster disagreed, jumping +0.40 to +0.22, which is a buy signal for JNK. I'm not sure which one to believe.
CRB fell -0.41%, with 4 of 5 sectors moving lower, led by energy (-0.95%). Both industrial metals and energy are really starting to look bearish. This suggests economic problems ahead.
Well silver looked pretty unhappy today, while gold – 17k new contracts makes for a lot of selling pressure. I'm not sure gold is really all that bad.  Crude on the other hand looks pretty unhappy.  SPX – its hard to know where it goes next.  Maybe we just chop sideways with some high volatility for a while.  Elections are coming up next week.  It will be interesting to see how the results affect prices, if at all.
The consistent decline in commodity prices has my attention right now.  It may be an early signal of economic contraction ahead.  My recession predictor uses a rough aggregate of commodity prices – PPIACO – which is really producer input prices.  When that drops, that tends to indicate a recession might be on the way.  PPIACO is down slightly over the past few months, but it is nothing serious just yet.
Nonfarm Payrolls is coming tomorrow.
Note: If you're reading this and are not yet a member of Peak Prosperity's Gold & Silver Group, please consider joining it now. It's where our active community of precious metals enthusiasts have focused discussions on the developments most likely to impact gold & silver. Simply go here and click the "Join Today" button.
Viewing 1 post (of 1 total)