PM Daily Market Commentary – 10/30/2018
Wed, Oct 31, 2018 - 04:08am

#1

Status Member (Offline)

Joined: Sep 03 2008

Posts: 2524

count placeholder0

PM Daily Market Commentary – 10/30/2018
Gold fell -6.70 [-0.54%] to 1229.23 on moderate volume, while silver climbed +0.01 [+0.07%] to 14.47 on moderate volume. The buck shot up +0.43 [+0.45%] to 96.54, which is a new closing high for the buck dating back to July 2017; this also accounts for gold's losses today. SPX shot higher, up +1.57%, managing to regain its losses from yesterday. The metals didn't seem to like either the SPX rally, or the dollar rally.
Gold's opening black marubozu was a bearish continuation; GC forecaster plunged –0.41 to -0.33, which is a sell signal for GC. Gold/euros also issued a sell signal today as well. The weekly forecaster remains in an uptrend, but may be about to reverse. Gold is now in a downtrend in both the daily and monthly timeframes.
COMEX GC open interest fell -5,569 contracts.
Rate rise chances (December 2018) remains at 70%.
Silver's doji candle was very mildly bullish (26% reversal), and forecaster moved up +0.08 to -0.55. That's still a strong downtrend. Silver is in a downtrend in all 3 timeframes. Still, it was interesting to see silver outperform gold for a change. That wasn't about the other metals – they did relatively poorly, with copper leading lower.
COMEX SI open interest fell -485 contracts.
The gold/silver ratio fell -0.52 to 84.48. That's bullish; the current level for the ratio suggests PM could be at or near a long term low.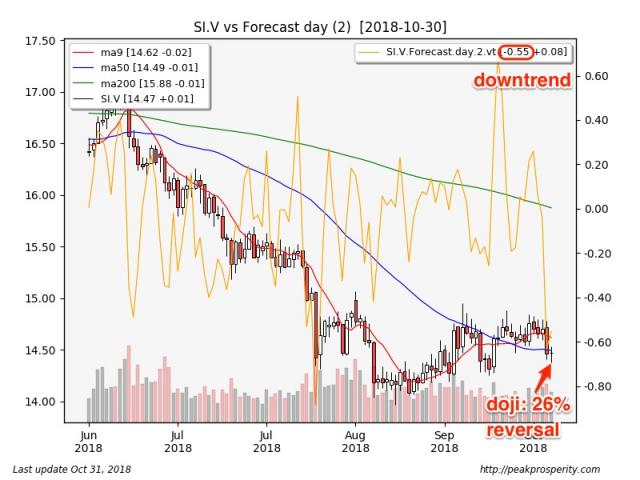 Miners moved higher, with GDX up +0.74% on moderately light volume, while GDXJ climbed +0.29% on heavy volume. XAU rose +1.14%; the bullish engulfing candle was neutral, but forecaster jumped +0.30 to -0.34, which is a positive sign. However, GDX looked much more bullish; a forecaster buy signal and a 51% bullish engulfing suggests we might have a low for the miners.  For the miners to rally on a day when gold drops is a reasonably good sign.  XAU remains in a downtrend in all 3 timeframes.
The GDX:$GOLD ratio rose +1.29%, while the GDXJ:GDX ratio fell -0.45%. That's somewhat bullish.
Platinum rose +0.45%, palladium fell -1.22%, while copper dropped -1.51%. Copper's decline is accelerating; it has dropped to 2.67, and looks to be headed down to re-test the lows just under 2.60. Copper might be signaling something "economic", perhaps about China. Copper is in a downtrend in all 3 timeframes.
The buck climbed +0.43 [+0.45%] to 96.54, breaking out to a new closing high. The closing white marubozu was a bullish continuation, forecaster moved higher. Really there's not much to say – the buck keeps rising, and is in an uptrend in all 3 timeframes. CNY has risen to 6.97, breaking above the previous high of 6.95 set back in late 2016. Money is leaving China – perhaps headed to the US, among other places. Round number 7 is just ahead.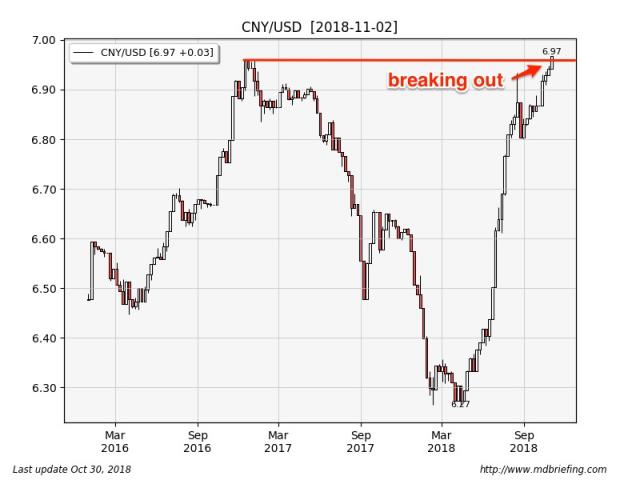 Crude fell -0.37 [-0.55%] to 66.47. Really, that's good news; crude made a new low to 65.45, but rallied back more than a buck; the long black candle was mildly bullish (28% reversal) but forecaster does not concur, dropping -0.34 to -0.22, which is a sell signal for crude. The API report after market close was bearish (crude: +5.69m, gasoline: -3.5m, distillates: -3.1m), but crude popped higher anyway. That's a positive sign: market rallying on bad news. Perhaps the bears used today's move to ring the cash register after the 4-week $10 drop. Crude remains in a downtrend in all 3 timeframes. I'm cautiously optimistic. The EIA report might be the deciding factor.
SPX jumped +41.38 [+1.57%] to 2682.63. The long white candle was an inside day – not rated – while forecaster shot up +0.50 to -0.16. That's a strong recovery, but still a downtrend. Even so, another day like that and we should see a buy signal for SPX. SPX remains in a downtrend in all 3 timeframes.
Sector map has communications (tech) leading (XLC:+2.73%) along with energy (XLE:+2.31%), while utilities did worst (XLU:+0.39%). Sector map looked relatively bullish.
VIX fell -1.35 to 23.35.
TLT fell -0.50%, resulting in a forecaster sell signal, following through off yesterday's swing high. The move wasn't too surprising given the SPX rally. TY agreed, dropping -0.23%, printing a 3-candle swing high. Still, TY remains in an uptrend in both the daily and weekly timeframes. The 10-year yield rose +2.3 bp to 3.11%.
JNK moved up +0.06%, not a great move given the sharp rise in equities. JNK has avoided large moves in either direction after the initial large move down 3 weeks ago. I'm not sure what that means. JNK forecaster jumped +0.32 to -0.18; it could be putting in a low.
CRB plunged -0.86%, with all 5 sectors dropping, led by industrial metals (-1.53%). Commodities are are down maybe 5% since early October. I'm not sure it is a thing yet, but falling commodity prices sure doesn't feel like good economic news.
If the US equity market rallies, gold might see some selling pressure, as the US safe haven component disappears.  I still believe we have buyers coming in from Europe and China, but we might end up seeing a correction in gold in USD.  The sell signal yesterday led to more selling today.
Still, the miners and silver are looking all right, especially compared with gold.  That suggests a safe haven unwind, at least to a degree anyway.
Crude might be a tell for the equity market.  Crude may have run out of sellers, at least for now – given how the market responded to the bearish-looking API report.  Today's EIA report could be a trigger for a strong rebound.  Oil equities have been hurt badly over the past four weeks, and if oil isn't going to drop into the 50s, there are probably some bargains to be had in that space.
Note: If you're reading this and are not yet a member of Peak Prosperity's Gold & Silver Group, please consider joining it now. It's where our active community of precious metals enthusiasts have focused discussions on the developments most likely to impact gold & silver. Simply go here and click the "Join Today" button.
Viewing 1 post (of 1 total)