PM Daily Market Commentary – 10/17/2018
Fri, Oct 19, 2018 - 01:12am

#1

Status Member (Offline)

Joined: Sep 03 2008

Posts: 2075

count placeholder

PM Daily Market Commentary – 10/17/2018
Gold rose +3.65 [+0.30%] to 1233.01on moderately heavy volume, while silver fell -0.04 [-0.24%] to 14.60 on heavy volume. The buck moved up +0.35%, which makes the move higher in gold that much more interesting. The important move today was in equities: SPX plunged -1.44%. The drop in equities roughly aligned with the move higher in gold.
Gold fell in Asia, falling briefly for no reason I could see, then rallied more strongly when the equity market started to fall in the US. The spinning top candle was neutral, while the forecaster moved up +0.05 to +0.10, which is a slight uptrend. Gold remains in an uptrend in both the daily and weekly timeframes. Gold in Euros ended the day right at the 200 MA, which it hasn't seen since June 2018. Gold/Euros is in an uptrend in all 3 timeframes.
COMEX GC open interest rose +4,686 contracts. Now why on earth would traders go short gold with equities selling off so hard? I wonder.
Rate rise chances (December 2018) fell to 79%.
But now look at gold/Euros.  The chart looks a whole lot more promising, doesn't it?  You can see today's new high, and the close right at the 200 MA.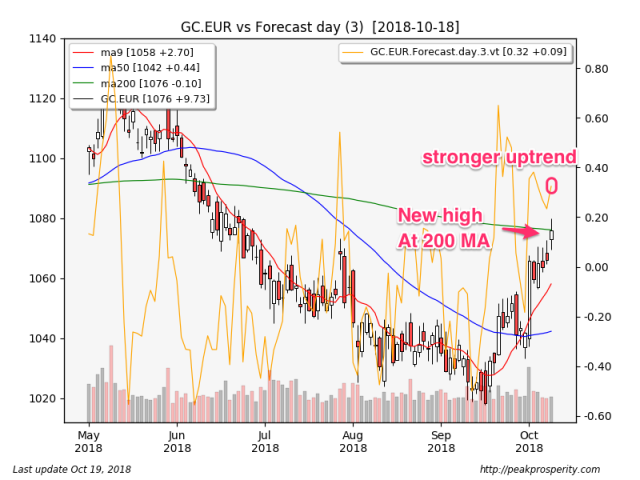 Silver fell relatively hard in Asia, making a low to 14.47, but then bouncing back strongly, fading somewhat into the close. Silver's high wave candle was neutral, while forecaster moved up +0.03 to -0.15. That's still a downtrend for silver, but not a very strong one.  Silver remains above both the 9 and 50 MA lines, and today's relatively long lower shadow shows that the dip-buyers remain, even though the buck had a strong day.   Silver remains in a downtrend in all 3 timeframes. 
COMEX SI open interest fell -1,334 contracts.
The gold/silver ratio moved up +0.42 to 84.11. That's bearish, but the gold/silver ratio at these levels still suggests we are at or near the low point for PM.
Miners rallied for most of the morning, with the day high coming just after noon, after which they lost most of those gains into the close. GDX rose +0.45% on moderate volume, while GDXJ fell -0.48% on moderately light volume. XAU rose +0.27%; the shooting star candle was neutral, but forecaster plunged -0.51 to -0.22, which is a sell signal for the miners. It sure didn't like today's action for some reason. Perhaps the long upper shadow (a failed rally) alongside a bad day for equities was not a great sign for the mining shares. Even so, XAU remains in an uptrend in both the weekly and monthly timeframes.
The GDX:$GOLD ratio moved up +0.15%, while the GDXJ:GDX ratio fell -0.92%. That's bearish.
Platinum fell -0.61%, palladium dropped -0.14%, and copper lost -1.64%. Copper is looking ill, and may be on track to re-test the lows set back in early September. All 3 other metals are now in downtrends.
The buck rallied +0.33 [+0.35%] to 95.46. The big rally happened during the US session, starting in the afternoon and rising all the way into the close.  Curiously, that happened roughly alongside the sell-off in US equities that happened at about the same time. Today's action caused the forecaster to jump +0.43 to +0.46, which is a medium-strength uptrend. The buck is in an uptrend in all 3 timeframes.
Mostly today's move was about the Euro (-0.42%), which had issues relating to concerns about the Italian budget as well as the banking system in Italy. The Italian 10-year yield rose +14 bp to 3.68%. At the same time, the German 10-year debt fell -5 bp to +0.41%. Money is fleeing Italy for Germany, France, and the US.
Crude fell -1.32 [-1.89%] to 68.70, following through on yesterday's bearish EIA report. The ugly-looking closing black marubozu candle was actually bullish (48% reversal), and forecaster ticked up just +0.02 to -0.34. I didn't see anything bullish about the day's actions, but crude is fairly oversold (RSI-7=26). Crude does have this history of falling for a day or two and then bouncing. Crude is now below its 9 and 50 MA lines, and remains in a downtrend in both the daily and weekly timeframes.
Crude also could be influenced by the growing economic slowdown in China; the SSEC plunged -2.94% today, making a new multi-year low that dates back to 2014. The SSEC is down 30% from the high of 2018, and down a massive 52% from the highs in 2015. China and India combined are responsible for 60% of projected oil demand growth in 2019, and so a slowing Chinese economy will impact the price of oil. Perhaps some of the slowdown in China are due to the 58% rise (in CNY) of crude since May 2017.  CNY/USD ended the day at 6.94, which is a new high for the year.  Cheaper CNY means more expensive oil, which acts just like a rate increase for the Chinese economy.  This "oil acting as rate increase" issue is why the Saudi threat to raise oil prices to $100 or $200 is an empty one – any such action would yank the world right into recession, and maybe even precipitate a 2008-style crisis, which would end up destroying both growth and oil consumption for years to come.
SPX plunged -40.43 [-1.44%] to 2768.78. Equities more or less fell off a cliff at 11 am, making a low in the early afternoon, and then bouncing back maybe 20 points into the close. SPX ended the day just above the 200 MA. Candle print was a confirmed bearish doji (40% bearish reversal), and forecaster dropped -0.23 to +0.13, which is a weak uptrend for SPX. SPX remains in an uptrend in both the daily and monthly timeframes.
Tech led lower (XLK:-1.96%0 along with discretionary (XLY:-1.92%), while utilities did best (XLU:+0.15%). That's a bearish sector map.
VIX jumped +2.66 to 20.06.
TLT fell -0.04%; it was a bit of a failed rally for TLT, which remains in a downtrend. TY rallied strongly, up +0.20%, the long white candle being a possible bullish reversal (38%). Forecaster remains in downtrend for all 3 timeframes. TY did manage to close back above its 9 MA today, which is mildly positive. The 10-year treasury yield dropped -0.4 bp to 3.18%. It looks as though money is moving into shorter-duration bonds right now, but its not enough to pick the 10-year off the floor just yet.  Perhaps it is those 4 rate increases from the Fed that has the bondholders worried.
JNK plunged -0.45%, causing a forecaster sell signal, and signaling a return to risk off.
CRB plunged -1.14%, with 4 of 5 sectors falling, led by energy (-1.24%).
Gold did surprisingly well given the relatively strong rally in the buck.  The move was probably tied to the selling in equities, which was fairly intense.  Today looked as though money continued to flee Europe for the US, and from risk into the safer haven of shorter term treasury debt and to some degree gold.  Weakness in China probably encouraged copper to sell off.
I'm tempted to follow the gold/euros chart, not because I like to see uptrends, but because that one is probably the driver at this point.  Europe has most of the scary stuff happening to it, and so when we see a sustained uptrend in gold (and we do) in Euros, that suggests that gold/USD will be probably dragged along behind it, regardless of selling pressure from the US traders.
At least that's the hope anyway.
Note: If you're reading this and are not yet a member of Peak Prosperity's Gold & Silver Group, please consider joining it now. It's where our active community of precious metals enthusiasts have focused discussions on the developments most likely to impact gold & silver. Simply go here and click the "Join Today" button.
Viewing 1 post (of 1 total)