PM Daily Market Commentary – 1/28/2016
Fri, Jan 29, 2016 - 01:06am

#1

Status Member (Offline)

Joined: Sep 03 2008

Posts: 2076

count placeholder

PM Daily Market Commentary – 1/28/2016
Gold fell -9.30 to 1115.60 on heavy volume, while silver plunged -0.26 to 14.24 on moderately heavy volume.  There was some funny business with the silver fix in London; this ended up smashing silver down hard at around 07:15 Eastern, and that event put a damper on PM for the remainder of the day.
Gold sold off relatively hard just after 09:10 eastern, and for the most part didn't really recover through end of day.  The 9 EMA did seem to provide support, however, which is a positive sign. Gold managed to avoid printing a swing high by about fifty cents.  Next step for gold is a close above the 200 MA.  If gold loses the 9 EMA, it may signal an end to this particular attempt at the 200.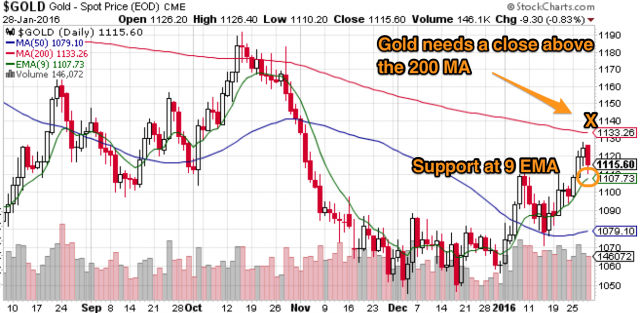 Silver was smashed lower at COMEX at 07:15, a 38 cent drop, following some sort of failure at the LBMA to set the daily price for silver – called the "silver fix" – for a 14-minute period.  The London silver fix was set at $13.58, while the futures were trading at around $14.42.  That's a big deal if you were selling silver using today's London silver fix as your benchmark price.  Zero Hedge had the story: http://www.zerohedge.com/news/2016-01-28/silver-market-disarray-after-benchmark-price-fix-manipulation.
On the chart, we see a swing high printed today, but we also see support at the 9 EMA, which is reassuring.  Its hard to know what would have happened if not for the silver shenanigans at the LBMA.
Miners were pulled lower today by gold's fall; they tried to rally on their own, but the rally failed.  GDX was off -2.39% on moderately heavy volume, while GDXJ lost -2.09% on moderately light volume.  GDX did manage to find support on the 50 MA, however, which is a reassuring sign.
Platinum fell -1.81%, palladium dropped -1.62%, and copper dropped -0.27% – copper has run into trouble at the 50 MA.
The buck dropped for the fourth day in a row, falling -0.33 to 98.62, falling below its 50 MA and breaking its uptrend line.  If the buck continues to drop, it should help PM and commodities.
SPX moved higher today, rising +10.41 to 1893.36 after first testing the lower and upper bounds of its recent trading range.  Currently it looks as though SPX is chopping sideways, and my rough sense is that its failure to rally off a nice swing low is a sign of weakness.  I initially bought the swing low, but I've since backed off.  Whatever is going on, its not particularly bullish.  Even a strong move higher in XLE (oil equities) was not enough for SPX to climb.  VIX fell -0.69 to 22.42.
JNK rose +0.46%, now above the 9 EMA and starting to look a bit more constructive, probably as a result of the rally in oil.
TLT rose +0.18%, a reasonably good move given the rise in equities.  It remains above its 9 EMA and in an uptrend.
CRB rose +0.63%, continuing its move off the lows.  Commodities are slowly recovering.
WTIC staged another nice rally, climbing +1.56 [+4.85%] to 33.72, supposedly rising because of news that Russia is finally willing to join OPEC in discussions about production cuts.  Interesting how the news reaches us 5 days after oil has bottomed out.  This is why I say watch prices, not news.  Any bets if people in Russia already knew about this, bought futures 5 days ago, and are now pocketing the 20% move?
See, its not that "the market" knows more than we do.  Its that the well-connected insiders are greedy and want to make money, and by acting, this can't help but cause "information" to leak out.  For instance, if your trading firm held the brokerage account of a Senator on the Senate Banking Committee, and you saw him buy a bank stock, what would you do?
But I digress.
I see two paths; 1) PM rally is taking "the pause that refreshes" on the way to gold challenging the 200 MA.  2) This cycle is over.  The COT report on Friday should help us sort through which option is more likely, as will the moving averages.  If they act as support, its probably scenario 1.  At least oil & commodities are helping now, not hurting, as is the buck.  Equity market weakness is a friend to PM as well.
Note: If you're reading this and are not yet a member of Peak Prosperity's Gold & Silver Group, please consider joining it now. It's where our active community of precious metals enthusiasts have focused discussions on the developments most likely to impact gold & silver. Simply go here and click the "Join Today" button.
Fri, Jan 29, 2016 - 09:58am

#2

Status Platinum Member (Offline)

Joined: Feb 03 2010

Posts: 1814

count placeholder

Industrial control
In Australian dollars on the 10 year spread, silver is being controlled beautifully.
If that was a control valve in a industrial plant and I were the instrument tech, I would look at that line, grunt in satisfaction and walk away. The feedback loop Is beautifully tuned.
Sorry I can't lift the graph. Android.
https://www.goldbullionaustralia.com.au/charts-prices.php#silver-prices
Viewing 2 posts - 1 through 2 (of 2 total)