PM Daily Market Commentary – 1/25/2018
Fri, Jan 26, 2018 - 02:04am

#1

Status Member (Offline)

Joined: Sep 03 2008

Posts: 2346

count placeholder0

PM Daily Market Commentary – 1/25/2018
Gold fell -10.90 [-0.80] to 1346.90 on extremely heavy volume, while silver plunged -0.28 [-1.59%] to 17.29 on very heavy volume. Today the ECB met and did nothing, then Draghi gave a press conference about doing nothing (which sent the Euro skyrocketing), and then Trump opined that he (eventually) really did want a stronger dollar, which immediately unwound the Euro rally. All of this combined to create a great deal of volatility in the currency markets. The buck first made new lows, but then rapidly rebounded on Trump's interview, ending the day up +0.24%. Gold and silver did not like the dollar rebound at all.
Gold was more or less unchanged through the first part of the day, rising slightly as the Euro rallied off Draghi's commentary. Then at 2pm, Trump gave his interview where he said he really did like a stronger dollar (its just a byproduct of just how strong America was becoming now) and bang, gold plunged $10 in about an hour.  There was a bit of a bounce at end of day.  Candle print was a bearish harami, a 37% chance of being a bearish reversal. Gold's forecaster dropped -0.29 to +0.29; still, gold remains in an uptrend. Volume today was the highest in months.
COMEX GC open interest fell by -16,174 contracts today. This surprises me – I would have thought the commercials were going heavily short today, but it seems that they were covering instead.
Rate rise chances (March 2018) rose 12% to 77%.
Silver tracked gold, first moving slowly higher following Draghi's press conference, and then getting slammed at 2pm after Trump's interview caused the buck to rebound. Silver's bearish harami was only a 27% chance of a bearish reversal, and silver forecaster fell -0.32 to +0.48. Silver also remains in an uptrend. Watching things in real time it sure felt like the damage was worse than this, but the forecasters for gold and silver don't look all that bad.  Silver remains above its 9 MA.
COMEX SI open interest rose +733 contracts today.
The gold/silver ratio rose +0.62 to 77.92. That's bearish.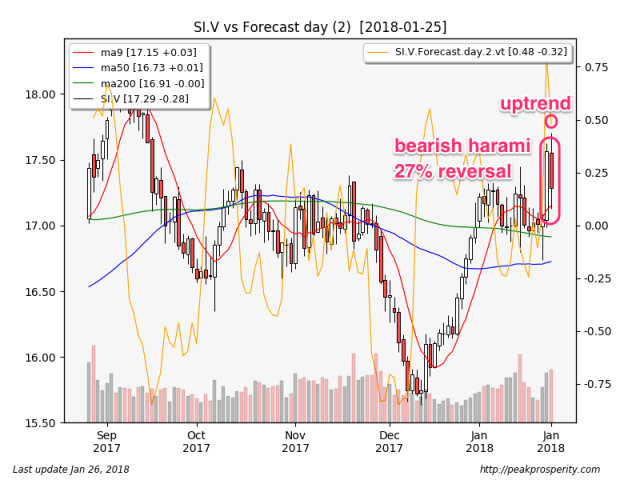 The miners had a bad day, with GDX off -1.91% on very heavy volume, while GDXJ plunged -3.41% on extremely heavy volume. The GDX candle was a bearish engulfing (51% reversal), while the GDXJ print was a whole bunch of things (swing high, conf bearish doji, bearish engulfing) all of which added up to an 81% chance of a bearish reversal. XAU forecaster plunged -0.49 to +0.17. That's still an uptrend – but it is fading rapidly.
Today, the GDXJ:GDX ratio fell hard, as did the GDX:$GOLD ratio. That's quite bearish.
Platinum fell -0.24%%, palladium dropped -1.51%, and copper fell -0.87%. The other metals didn't look all that bad; platinum's dark cloud cover was a 44% bearish reversal and its forecaster fell -0.13 to +0.02, but copper remains in an uptrend (-0.02 to +0.32) while palladium is chopping sideways near its highs.
As mentioned, the buck had a wild day, first dropping to a new low of 88.13, and then it came roaring back, ending the day up +0.21 [+0.24%] to 89.11. The bullish high wave candle had a 59% chance of being a bullish reversal – it was a very positive rating for this candle type. On the other side of the pond, the Euro printed a long-legged doji with a very large upper shadow – I don't have volume so the candle code won't interpret it, but it definitely looks like a bearish reversal bar to me. DX forecaster jumped +0.21 to -0.48. It will need more than one day to get the slow-moving forecaster to reverse course.  The buck remains well below its 9 MA, and it is still in a downtrend.
Crude also fell, losing -0.64 [-0.97%] to 65.24. Crude initially made a new high to 66.66 (!) but then fell back as the dollar reversed. Crude's spinning top candle had a 67% chance of marking the top, but crude forecaster dropped just -0.12 to +0.36.  Crude remains in its uptrend also.
SPX rose +1.71 [+0.06%] to 2839.25. SPX did sell off a bit, but then rallied back – really not much happened to the index. Under the covers, sector rotation was very strong: utilities did very well (XLU:+1.55%) while energy did worst (XLE:-0.79%). Money pretty much moved from energy (which is up strongly in recent months) to utilities (which has been pounded down hard during that same time period). XLE printed a swing high (49% bearish reversal) while XLU had a conf bearish NR7 (75% bullish reversal).
VIX rose +0.11 to 11.58.
TLT shot up +0.82%, printing a swing low (64% bullish reversal), sending its forecaster up +0.72 to +0.56, which is a buy signal for TLT. TY wasn't quite as bullish, up +0.16%, with the TY forecaster climbing +0.25 to -0.20. Still, it appears as though bonds may be in the process of putting in a low here. Combined with the low in utility stocks and the potential dollar reversal, it feels as though traders are finally willing to buy the dip in yield.
JNK fell -0.11%, the sole sour note in the bond space. The move didn't amount to very much; JNK remains in an uptrend.
CRB edged down -0.08%; only 2 of 5 sectors fell, led by livestock which plunged -2.11%. Since a fair amount of the damage to commodities occurred after the "pit close" at 2:30 pm, I don't think CRB reflects what happened following Trump's comments at 2:03 pm. It will show up in tomorrow's price.
Today could mark the low point for the buck for a while. Here's how I read it. Yesterday, Mnuchin's unexpected weak-dollar comments plus the plunge through 90 caused the longs to capitulate, panicking out of the buck and into gold, but this happened at a time where the buck was already fairly stretched. So with all the sellers having already sold, the market was ripe for a reversal. Trump's comments did the trick – all the new shorts scrambled to cover, and price reversed hard.
For his part, Draghi was adamant at his press conference that rates would stay low well past the end of money printing – whenever that happened to be – and then he forcefully told us all in very simple language that the end of money printing was still undecided. Amusingly, as he talked, the Euro shot up a full point – pretty clearly not what he wanted to see. It was remarkable to see just how little effect his words had on prices, even though they were very pointed comments – as though he was talking to a disobedient three-year-old. It was clear what he wanted the market to do – and it was also clear he was quite frustrated that the market was not cooperating.
Yet when Trump told us six hours later that "ultimately I want to see a strong dollar" in a 3-minute interview on CNBC, after telling us just how much stronger the US was getting in every way, the impact was instantaneous: EUR/USD immediately plunged, unwinding the entire day's rally.
https://www.cnbc.com/2018/01/25/trump-says-dollar-to-get-stronger-and-stronger.html
The inescapable conclusion? Market believed Trump – it did not believe Draghi. In the distance, I hear the gods laughing. Trump has more credibility!  Now that's surely a sign of the times.  You have to wonder what the emotional impact of that is on Draghi.  "But I'm a respectable central banker…I say all the right things…and he's…TRUMP!" Here's what that looked like on the chart.
While the damage today to the PM uptrend was significant, it isn't over yet. No swing highs for gold, silver or XAU – although the juniors looked quite weak. Are they the tell? Also, the sector rotation into utilities from energy, and the rally in bond prices also suggest money might be ready to come back into the dollar.
Now we just have to see if there is any follow-through. From what I see of trading in Asia, PM is rallying, and so is the Euro. It is possible that concerns over inflation and rising commodity prices will end up prevailing after all.  How we close on Friday is probably a clue.
Note: If you're reading this and are not yet a member of Peak Prosperity's Gold & Silver Group, please consider joining it now. It's where our active community of precious metals enthusiasts have focused discussions on the developments most likely to impact gold & silver. Simply go here and click the "Join Today" button.
Viewing 1 post (of 1 total)