PM Daily Market Commentary – 1/10/2018
Thu, Jan 11, 2018 - 03:43am

#1

Status Member (Offline)

Joined: Sep 03 2008

Posts: 2088

count placeholder

PM Daily Market Commentary – 1/10/2018
Gold rose +3.80 [+0.29%] to 1317.40 on very heavy volume, while silver fell -0.01 [-0.06%] to 16.99 on very heavy volume also. There were some large currency moves today – the Euro shot up +0.80 at about 5:30 am, dragging gold higher right along with it. The Euro rally didn't last, however, and as the Euro fell back to earth, so did gold and silver.
Gold shot higher on the big Euro move, making a new high on an up-spike to 1328.60, but the absolute high was quite brief, and gold slowly dropped as the Euro retreated. Volume was very heavy – it appears there were a number of shorts that were stopped out on the spike higher. Candle print was a spinning top, which the code felt was neutral. The forecaster jumped +0.23 to -0.16, which is a positive outcome but not nearly enough for a reversal.
COMEX GC open interest rose by +13,901 contracts today. This big (43-paper-ton) increase leads me to suspect the commercials helped to stuff the gold rally today. Or maybe they just piled on once they saw that the Euro rally wouldn't last.
Rate rise chances (March 2018) rose to 67%.

Silver's pattern was a bit different – it started the rally a bit earlier, and the move higher wasn't quite as spiky, but silver steadily retreated once it was clear the Euro couldn't hang on to its new high. Print was a southern doji, which was a bearish continuation. Forecaster was unchanged at -0.24 – which is still a downtrend.
COMEX SI open interest rose +2,193 contracts today.
The gold/silver ratio rose +0.27 to 77.54. That's bearish.
The miners gapped up at the open, and then chopped sideways for the rest of the day, with the seniors doing a bit worse than the juniors. GDX rose +0.61% on moderate volume, while GDXJ climbed +1.23% on heavy volume. GDXJ actually printed a swing low (49% bullish reversal) while GDX's spinning top was neutral. XAU forecaster rose +0.20 to -0.16. Miners looked ok today.
Today, the GDXJ:GDX ratio rose, as did the GDX:$GOLD ratio. That's bullish.
Platinum climbed +0.53%, palladium fell -1.48%, while copper rallied +0.47%. Platinum and copper both remain in uptrends, while palladium's drop caused it to issue a sell signal today – also a swing high, which had a 54% chance of marking a top.
The buck fell -0.20 [-0.22%] to 92.01. The buck actually made a low of 91.59 on the big Euro move, but rebounded higher as the Euro retreated. The hammer candle was a bullish continuation, while the forecaster for the buck was unchanged at -0.13.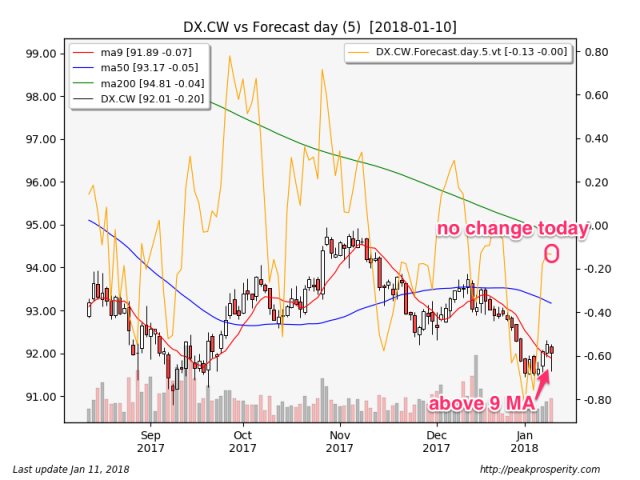 Crude was basically unchanged, up +0.01 to 63.44. The EIA report was substantially less bullish than the API report: crude -4.9m, gasoline +4.1m, distillates +4.3m. While crude inventories continue to decline, products are increasing – that seems bearish to me overall. However, the market didn't seem to care – it dropped briefly, and then moved back higher almost immediately. Here's an article from oilprice suggesting that Venezuela's troubles (among other things) might end up resulting in a fairly large drop in oil production. Prices would really scream higher if we lost 3mbpd, so this is probably mostly hyperbole. Probably. https://oilprice.com/Energy/Energy-General/3-Million-Barrels-Per-Day-Could-Go-Offline-In-2018.html
SPX fell -3.06 [-0.11%] to 2748.43. Equities suffered a minor sell-off, but managed to bounce back, printing a takuri line candle – neutral. SPX forecaster dropped -0.23 to +0.54. That's still an uptrend. Financials were the sole sector that went up today (XLF:+0.84%) while utilities led the rest of the sectors down (XLU:-1.09%). So much for the XLU swing low a few days back – XLU made a new low today.
VIX fell -0.26 to 9.82.
TLT plunged early, but bounced back before end of day, closing down just -0.12%. Candle code says its neutral, and TLT forecaster moved up just +0.06 to -0.56. That's not a reversal for TLT. TY on the other hand printed a southern doji, which had a 70% chance of marking a low. The TY forecaster moved up +0.07 to -0.64. While the candle code liked the day's move, the forecaster wasn't so impressed. RSI7 for TY is 22, which is oversold. Just looking at what the utilities did, I'm guessing we haven't made any sort of real reversal in bonds.
JNK fell -0.19%, moving lower but definitely finding some buyers intraday. The high wave candle had a 62% chance of marking the low – but the forecaster disagreed, dropping -0.39 to -0.44, which is a definite downtrend.
CRB rose +0.37%; 4 of 5 sectors rose, led by industrial metals. Although the industrial metals did best overall today, energy remains the strongest-looking chart.
I'm taking my cue from the miners today.  Although gold & silver had some troubles, the miners did fairly well.  Juniors led seniors, which is risk on behavior.  Its not dramatic, but it is positive.
Today's rebound in the buck came alongside a buy-the-dip event in treasury bonds.  I expect the fate of the dollar is linked to what happens in the bond market, and while we had a strong reversal bar today for TY, that is just one small step on the road to recovery for bonds – and I think the fundamentals are pointing in the opposite direction.  Fed normalization, debt-funded tax cuts, hints of wage inflation, etc.
So, bond weakness = dollar weakness = probably a bullish PM and commodity market.
Note: If you're reading this and are not yet a member of Peak Prosperity's Gold & Silver Group, please consider joining it now. It's where our active community of precious metals enthusiasts have focused discussions on the developments most likely to impact gold & silver. Simply go here and click the "Join Today" button.
Viewing 1 post (of 1 total)