PM Daily Market Commentary – 02/25/2021
Status Gold Member (Offline)

Joined: Jun 29 2012

Posts: 1093

count placeholder1

Whoknew79
Nothing personal….just trying to illustrate what could be a major blunder on your part. I guess I did get your attention.
Good luck as you learn about markets. I sincerely wish you success.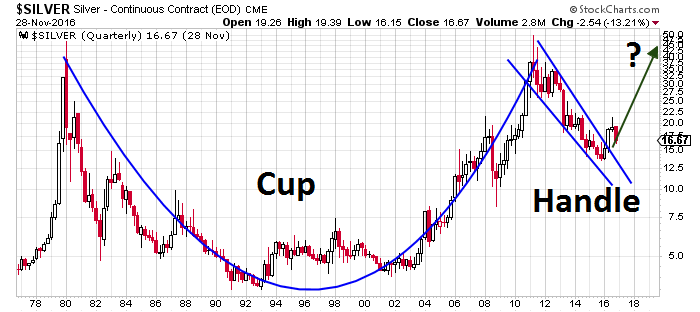 Dave,
With silver's recent volatility and the chatter about silver squeeze, I decided to look for a long-term chart of its price. This is one I found from about 4 years ago here: Silver Prices: This Chart Says $95.14 an Ounce Silver Could Be Possible (lombardiletter.com)
The author is suggesting that when the handle gets completed, the price of silver could spike up to $95.14 per ounce. Based on your knowledge and experience, does this expectation seem reasonable? Any other thoughts?
Grover
Thank you for that advice, everyone.  Let's see what I have learned so far from these posts:
1.) Nobody knows what will happen in the future. I shouldn't assume that I know because I definitely don't. No one has a crystal ball.
2.) Even though I have been sitting out of the market for more than a decade, I've actually gotten a lot of other things accomplished.
3.)  Cash might be a good decision at some point in the future.
4.) Oil stocks and ETFs might be a good investment this year.
5.)PHYS is a good place to buy and sell paper gold
6.) Stay away from shorting
7.) Ask: "What happens if I'm right?" and "What happens if I'm wrong?" in every trade.
8.) Prices move in three ways and use charts to look for possible trend changes.
9.) Be humble.
10.)  Stop looking for the get rich quick schemes.
count placeholder0

PM Daily Market Commentary – 02/25/2021
Oliveoilguy,
I was a little harsh in my response. I'm sorry. You were trying to send me a message that I needed to hear. A number of recent events have caused me to make a personal financial realization. It has led to some feelings of insecurity. I have had this "I'm in a financial rush and don't have time for…." attitude.
I need to just breathe! It's seed starting time. All will be what it will be.
Thanks,
Will
Sat, Feb 27, 2021 - 12:13pm

#35

Status Member (Offline)

Joined: Sep 03 2008

Posts: 2377

count placeholder0

will
I think you mostly have it.  Here is some fine tuning.
When you are thinking of making a trade, try to sort out what the current trend is first.  If you are in a downtrend – buying is a bit dangerous.  Generally, trends continue going in their trend direction until some unknown time in the future; respect the trend in place.  If you are in an uptrend, shorting is dangerous.  It is a good idea to trade "with the trend."
[That said – if prices are very extended to the upside – if prices are going vertical, well that's a dangerous time to buy too.  See: "trading is difficult", below]
Related: trying to "pick the low" in a downtrend – fraught with difficulty.  This is very hard to get right.  It is much easier to get right when you see things starting to go sideways instead.
Right now, I am thinking gold is in a long term uptrend, but a shorter-term downtrend.  I'm trying to "buy the dip" in an uptrend.  If I'm wrong – and we are moving into a gold downtrend – well – it won't work out so well for me!
If gold ends up turning into a long term downtrend, I will probably sell my PHYS.  "Oops.  I was wrong about that uptrend.  Better bail out."  It is ok to be wrong.  Bail out when you are wrong.  Nobody will put it on your "permanent record."  Just shrug and move on.  This isn't about victory laps or winning points or boasting at parties.
It is hard to make money trading.  If it were easy, we'd all be sitting at the beach sipping margaritas.
There's a reason we aren't all sitting at the beach.  The sneaky big traders play with our minds to make us sell at the lows, and buy at the highs – via the media, "financial TV", etc.  Ignore the news.  Look at the price chart.  Be informed by the macro situation, but – watch the prices.
Net-net: trading is hard.  For me – I trade as little as possible.  To reduce my odds of making a mistake.  I have made so many.
I acknowledge going in they are smarter than me.  They have a whole machine for harvesting money from us.  Our only defense is to take long term, easy-to-see trades, and just sit and wait for them to play out.  Sitting on your winning trades is really important.
Lastly: most of the time, there is no trade to make.
(I'm cheating; I got a bunch of this from Jesse Livermore)
count placeholder0

PM Daily Market Commentary – 02/25/2021
I fully agree with your last paragraph.  Storing BTC on exchanges is a big problem.  I have positive experience w Ledger Nano S. There is newer version X