Peak oil science and evidence – please help
Hi All,
I would like to see if there are people here who are interested in exploring science and current data regarding peak oil. I am a high school teacher and I am in the process of piloting a 3-month unit on big shifts in our civilization, with peak resources receiving the most attention in that unit.
The great thing about this is that my students and I come up with all sorts of questions that I would be unlikely to think of if I were just studying these topics on my own.
I spend time at The Oil Drum and some other sites/blogs about peak resources, but as far as I know, I cannot create a new thread on the Oil Drum. Also, the site is so vast that I haven't always had great luck finding answers to basic questions there, and the editors seem to be too busy to answer email inquiries.
So, if there are people out there who are interested in hammering out some of the details of peak oil, I'd be grateful. Also, if there is already a thread or forum or group somewhere on Peak Prosperity that is better suited for this discussion, please let me know, but so far I haven't found it, as the posts on the Peak Oil chapter (17a) of the Crash Course are not very active.
My first question is, what are the best, most up-to-date annual global oil production graphs that show a relatively long time series? Ideally, I'd like a graph that goes from 1900-2011ish, but even 1950-2011ish would be great too. The reason for this is that my students and I want to compare Hubbert's 1956 projection of the global peak with the actual global peak.
Here is Hubbert's 1956 projection, from his paper Nuclear Energy and the Fossil Fuels, presented to the API in that year.
Now to compare Hubbert's forecast with what actually happened…
First, Hubbert was only five years off in terms of the date, if we agree that the date was 2005, but there are some problems with that (see below). That's pretty impressive, and in the same ballpark, in terms of accuracy, as his projection of the U.S. peak.
Second, he was pretty far off of total annual production for the peak year, as his projection seems to be roughly 12.5 billion barrels per year, whereas, according to the EIA, we produced about 26 billion barrels in 2005. (Source: I used this index mundi graph and multiplied the 2005 figure by 365.) I recall reading somewhere in one of Kenneth Deffeyes's books that Hubbert was not counting all of the oil reserves that we are now exploiting. Certainly this is true for non-conventional sources, and maybe also for some offshore sources?
Next, people sympathetic to the idea of peak oil claim that the peak was 2005. Yet, if we look at the EIA yearly production data again, then in 2011 we produced about 72.9 million barrels per day in 2011, which is about 900,000 mbpd more than in 2005. I am aware of at least two ways that the EIA's accounting of crude oil may have changed: 1. Is it counting natural gas liquids (NGLs), and if so, when did it start counting those? 2. Is it counting syncrude from the Albertan tar sands and other non-con oil, and if so, when did it start counting those?
Finally, we'd like to compare Hubbert's graph to an actual graph of oil production. However, the best graphs I can find, with a long enough time series to compare to Hubbert's, only reach to about 2007 or so, at best. Here is one of my favorites, which I can't seem to post in here because it's an HTML document.
If anyone knows of a nice annual global crude oil production curve with a long enough time series to compare to Hubbert's graph above and that goes until 2010 or 2011, I would be grateful.
For now I am just interested in finding the answer to these questions. In class, we talk about these issues, and I tell them that I don't know the answer to all of them, but that the fact that the price seems to have entered a new mean level since 2007 or so (roughly $75/barrel if you draw a mean line from 2007 to 2012, I think), suggests that we are clearly in a different world, where oil prices are higher and energy return on investment is lower. So, to some extent, the questions above are not that important if we understand the context. On the other hand, for the purposes of comparing Hubbert's theory and projections with observed data, knowing the answers would be helpful.
Thanks a lot to anyone out there with some insight that could help high schoolers and their teacher better understand this.
Hugh
Dear all,
One of the things that I really appreciate about Peak Prosperity are the posts about specific things that people are doing in terms of adapting their lives for a different future, and often at the same time enjoying that process during the moments along the way. Chris refers to this as doing the next thing, and his article by that name has a lot of such wonderful examples, ranging from beekeeping to cultivating blueberries to living a more healthy lifestyle. Wendy Delmater, Ferralhen and Woodman, among many others here, have also shared about their own impressive gardens, energy systems, and success with time management and energy conservation.
I live in a boarding school, I don't own any property, and, currently I don't have a garden, so I don't have a lot to share in terms of practical action as of now. But, I did want to share some of my efforts towards doing the next thing, in this case, trying to interest high school students in the big shifts that we face as a civilization and as individuals.
Last spring, when studying peak oil and the relationship between oil and economic growth, the 11th graders that I work with did a series of posters about oil, and then a few of them and I collaborated on a more professional poster. We had a lot of fun doing these and while some were better than others, giving the students an opportunity to create something physical was a welcome change from the days we had spent learning more abstractly about oil production curves and declining EROI.
When we study big destabilizing shifts in civilization, students sometimes get a little depressed or alienated at first, because no one wants to hear that the future might entail less of some things, but we always try to focus on the positive opportunities that may arise, whether in terms of a potential for a more healthy and holistic lifestyle to new avenues cooperation and community.
So, here are the posters:
Uses of oil
Total global energy use by source
Top oil producing, consuming, importing, and exporting nations
Fun facts about peak oil
Alternative energies: Wood/biomass and hydropower
Oil, Economic Growth, and Civilizational Stability (teacher project)
There were also posters on solar and wind energy, M. King Hubbert and Hubbert's Peak, the energy of oil in terms of human labor, and a rough draft of per capita oil consumption by country.
So, this is what my students and I have been up to, towards the goal of creating a world worth inheriting.
Cheers,
Hugh P.S. The (not quite) professional-style poster is in the next post.
This post is a continuation of the one above.
Here is the poster that several students, a few other teachers, and I collaborated on. It shows daily per capita oil use for a selection of countries and also has a few graphics that we made. A 12th grade Japanese student did almost all of the graphic design. All students and their families have given permission for this poster and their pictures to be shared. We took the photos on our school's international day, in order to get students wearing some of their national clothing (in most cases).
First there is an image of the whole poster, and then detailed shots of each part, for easier viewing. Many PP readers are probably already aware a lot of this data regarding oil consumption, so if anyone has any ideas on how to improve upon this information or any ideas at all for teaching the three E's in school, I'd love to hear it.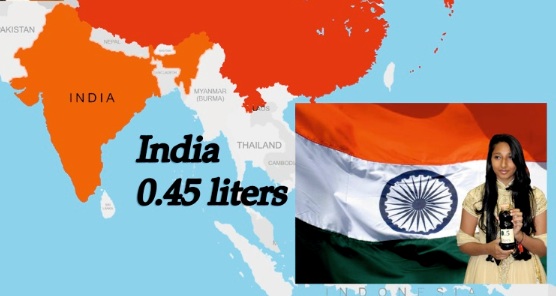 I have one specific question for the community, and that is, on the "Energy Efficiency Compared" graphic, what we are actually comparing is the amount of GDP (USD, in purchasing power parity terms) reported in a given year divided by the amount of oil consumed. With a few conversions, which I hope we did reasonably accurately, we were able to compare how many dollars are "produced" (or reported…) per liter of oil consumed. I have the spreadsheet that we used for that, so if anyone wants to take a look, I'd be happy to share it. Also, if people have other ideas for how to compare energy efficiency across nations, I'd be very interested to hear that.
Cheers,
Hugh
Hi all,
For my Comparative Government and International Politics class, which is as close as we come to a contemporary issues class at our school, we'll be doing contemporary economics in October and in November, oil resources and biophysical economics, followed by a week on climate change and other destabilizing environmental shifts, and we'll cap the semester with a brief look at how these factors may or may not contribute towards a partial (or total) civilizational collapse, based on the criteria for such a collapse put forth by Jared Diamond and Joseph Tainter. If anyone has any input or interest in contributing to these units, please feel free to make suggestions here. Next semester we will study and compare specific nation-states, with an emphasis on their governmental structures, but in the context of the three E's, which the main thing that differentiates this course from a typical high school comparative politics course.
Also, we are playing a semester long game in this class, once a week, during our 90 minute block period, on the rationale that students like games and simulations. We started with small farmer groups last week, and later we'll form a government, then a system of currency, we may try a war, but I'm not sure about that part, then add some industrial fossil fuel energy and a modern industrial-agricultural complex into the mix, have a currency and banking crisis, all the while dealing with various types of environmental limits, from soil depletion in the early days of the agricultural civilization to (possibly) some type of climate-related crisis near the end. The students are having fun with it, and while I don't know if I can engineer a collapse by the end of the semester, I'll certainly do my exponential best. 🙂 The idea is to help students imagine some possible relationships between primary wealth, symbolized in the game by wheat, soybeans, cows, and possibly a few other things, energy, money, and human institutions, especially government. Again, any suggestions are welcome, so if anyone out there wishes that they could somehow have an impact on how these ideas are taught in high schools, you're welcome to post a message and I'll do my best to pass the idea/information along to my students.
Cheers,
Hugh
Dear PPers,
This is a post that I added to a student forum used by the geography teacher at my school. Without having taken another look at the Limits to Growth model recently posted by Arthur
here
, I probably wouldn't have thought about this in quite the same way as ended up happening. So, while this is nothing new for people at PP, I still wanted to share it, and to thank Chris, Adam, Arthur, and the rest of the community for providing such a rich field of ideas and interchanges.
Cheers,
Hugh
Her research question is: will Zimbabwe ever reach the 4th stage of the DTM, which is to say, will Zimbabwe's birth rate fall to become basically even with its death rate, and will both stabilize in line together?
According to that model, resource depletion will become an increasingly heavy drag on global civilization in the decades to come, eventually increasing the death rate and turning the population curve downwards, away from whatever number we peak at (8 billion? 9 billion?) and back towards 6 billion or 5 billion, or less.
The basic difference between the two models has a lot to do with the assumptions upon which they rest. The DTM rests upon the assumption that many developing nations can re-create the material progress and comfort of MEDC's like Germany, Japan, and the U.S. It assumes that the very sharp exponential rise in human population since 1800 will make a transition to a stable plateau. In short, it is based on our civilization's assumption that technological innovation and economic progress will continue to make our lives more stable and comfortable.
The members of the Club of Rome, who developed the Limits to Growth model, assumed that resource depletion matters, no matter how clever humans are, and no matter how much incentive for innovation capitalism provides. This model implies that while
Malthus
, and later the Erlichs might have been wrong in terms of timing, they were right about the basic mismatch between a geometric increase in human population and an arithmetic increase in available resources. They assume that this time is not different, and that sharp, exponential rises in nature almost always entail a sharp decline on the other side of the peak.
Which model and which assumptions are more accurate matters for a number of reasons. One of them is that a lot of our academic paradigms in the social studies are based on the experience of the last 100 years, a time of very rapid technological progress and economic expansion. This is especially true in economics and finance, which rely upon real GDP growth for the dominant paradigms to work correctly. But in nature, almost nothing grows forever, and rapid growth in a population of organism is often followed by a period of rapid contraction.
One advantage of studying geography, is that this is one of the most down-to-earth of the social sciences, the one that recognizes the human connection to and dependence on natural resources and natural systems. Maybe that's why National Geographic seems to take both peak oil and climate change a lot more seriously than does The Economist.
Hi all,
As part of a project to facilitate the exploration of limits to growth at our school, about 17 students took part in a simulation game called Boom and Bust: An Exploration of Oil Discovery and Production.
The basic idea is to have teams of students divided into four "countries" (see pic above) discover and produce "oil"- actually water in various types of containers, which were buried in different parts of each country. Most of the containers were 0.5 and 1.5 liter ice tea bottles, but we also had some larger reservoirs such as 5 liter yogurt buckets. The water was mixed with dirt, pinecones, leaves, and in a few cases we also put cut up pieces of sponges and a stiffer foam in the bottles to try to more closely approximate the porous nature of an petroleum deposit. This pic was taken after the game was over and the bottles had already been gathered together.
But, during the game, the students were not allowed to move these "oil wells"; they had to dig around them, and pump the oil out, first using the cheapest, lowest quality spray bottle pumps that I could find.
The students transported the oil to a central point where they were able to sell it for cash. At the beginning of the game, their only transport vessel was a 0.2 liter plastic cup.
Our simplified oil market was at the center of the four oil provinces. We called it the
Titusville
General Store and after exchanging their oil for play money, the students could make any number of capital investments. This capital included
better pumps, a larger transport container, filters, and pieces of duct tape or hose.
But, it was also possible to buy certain types of weapons (i.e. cards bearing a picture of a gun, tank or aircraft) which teams could use to hijack money (or oil in transport) from other teams. To keep things simple, we only allowed wars for oil at the market. We didn't have a rule that allowed one to just invade another country.
The most expensive capital improvement was a university, which allowed teams to receive 20% more for their oil in cash. This was the best approximation for R&D that we could come up with.
There were four supergiants – plastic bins with about 20 liters of water – placed on the border between provinces, so that each province had the potential to exploit up to two of these. The students were allowed to make holes in the thin plywood and/or cardboard covering these, but not allowed to put their hands below the top line of the tubs, again to try to simulate the idea that it's not possible to directly reach an oil well from the surface with human hands.
The winning team was not necessarily the team that produced the most oil, but the one with the most money at the stop time. (We do cover inflation, quantitative easing and the unreliability of very stretchy fiat currencies as a unit of measurement, but there was only so much we could simulate.)
One student was set up at the market, where he recorded production data for each team.
Here's a graph of the total amount of oil produced "worldwide." The x-axis is time, going from 12:40 – 14:40 and the y-axis is number of liters produced by all teams.
There was a lot happening while they were playing, and the other teacher and I were facilitating, so I'm not sure what caused the big dive in production around 14:00. I think it was geopolitical in nature, as this is when one team figured out how to hijack oil from other teams and once the other teams caught onto their plan, they waited to produce more until the hijacker left the market (b/c she had scored some money).
The big jump up in the graph was when most of the teams developed enough capital to be able to exploit the supergiant oil fields, i.e. plastic tubs. And, as
Kjell Aleklett
and others remind us, once the supergiants have peaked, global production peaks:
If we acknowledge that these supergiant oilfields are finite, then we have a good reason to increase our efforts towards a deep and meaningful energy transition. In our simulation, the 4 supergiant fields (i.e. clear plastic bins) contained a combined total of 60 liters, about 57% of the total "oil" available in the game. We were trying to make that percentage roughly match the stats above.
The next paragraph is from a write-up I did for colleagues and students. It's a bit obvious for most of us here at PP…
"In the real world, once
Saudi's Ghawar Oil Field
and the other supergiants go into steep production decline then we are almost certainly looking at exponentially decreasing global crude oil production. This is a prime example of a key limit to growth. The decline of these supergiants is a question of when, not if. What conclusions this leads us to make may be a question worth asking."
It was a great exercize and I think that, if nothing else, students developed some notion of the transitory nature of oil production. A couple of them have seen enough evidence to wonder if this also means our industrial civilization itself is by nature a boom and bust sort of affair, with a very high peak, but also subject to a sharp contraction.
Cheers,
Hugh
Sat, Nov 29, 2014 - 04:52pm

#7

Status Platinum Member (Offline)

Joined: Jun 07 2007

Posts: 5309

count placeholder

Wow! Hugh that is an amazing piece of educating!!
What an amazing example of great hands-on learning.
Simulating is the next best thing to actually doing (i.e. being in the oil business for 30 years) and you've certainly given your students as close to a real-world appreciation of the dynamic of the oil business (and predicament) as I can imagine.
You thought of everything, including hi-jacking, the race to deplete before your competitors do, size of te oil finds, etc.
Really well don!!
Are you going to make that lesson plan available for other educators?
Sat, Nov 29, 2014 - 05:51pm

#8

Status Silver Member (Offline)

Joined: Jan 14 2012

Posts: 405

count placeholder

What an impressive diversity
What an impressive diversity of students as well. I went to a public school that was 99% white (European descendent) here in the northeastern United States and I'm very jealous of the opportunity your students have to engage with other cultures. I'm sure the Saudi individual offers a lot of perspective on this subject which you have done a tremendous job putting together,.
We shared Thanksgiving dinner with two Chinese women, a Serbian woman, and a Brazilian woman and the conversation was very rich with everyone sharing their cultures and appreciating the opportunity to spend time with each other.
Great stuff
Thanks for the kind words, Chris and WT. I would certainly be happy to share a more detailed plan for this simulation with teachers, camp counselors, or anyone else who is interested. If anyone out there would like more info, just send me a private message I can share that.
Also, if people have suggestions for how to make this very artificial simulation more realistic or compelling, I'd love to hear them. Stan has given me some good ideas in the past (see higher up on this thread), and I'd love to hear anyone's ideas.
I'd like to develop a good EROI game. We tried one a couple of years ago, but it wasn't really that great. It involved searching out cardboard and burning it in BBQ grills. The goal was to keep your team's fire burning the longest, and we didn't say anything about the size or intensity of the fire. The energy plays were all on a central table, and consisted of a bunch of images of different oil fields (or oil provinces) around the world (e.g. Ghawar, Oseberg, Bakken, etc.) The players had to give one standardized piece of cardboard to choose one of the pictures and then they received a bundle of cardboard that corresponded to the EROI of that energy play. For example, for the Oseberg picture the player would receive 20 or 30 pieces of standard cardboard in exchange for the one piece given up, whereas for Bakken he/she would have only received three or four pieces. I'd like to figure out a way to make a better EROI game for next term; it's always a great game to play outside in the winter, especially if there's snow on the ground
, as that makes the fire all the more appreciated.
Here are two more examples of student posters related to energy and civilization, from this year. Unfortunately, these are the rough drafts, as the students did not save the final digital copies before returning their school computers, but they did a great job using Photoshop so I still wanted to share them. Paper copies were on display at our school for several months.