Massive Fire In Napa/Sonoma Counties in California
Thu, Oct 12, 2017 - 03:27pm

#51

Status Bronze Member (Offline)

Joined: Dec 03 2008

Posts: 231

count placeholder0

KSRO Live Stream
For those interested in following events as they happen our local radio station is doing an unbelievable job interviewing all of the officials involved in this disaster. You can live stream them.
Thankfully, the winds predicted for last night did not materialize. The county assessor was just live on KSRO saying that they plan to reduce assessed values of damaged properties prior to the December 1st tax bill.
Thu, Oct 12, 2017 - 03:40pm

#52

Status Platinum Member (Offline)

Joined: Jun 07 2007

Posts: 5820

count placeholder0

265 square miles
Thu, Oct 12, 2017 - 07:19pm

#53

Status Platinum Member (Offline)

Joined: May 25 2009

Posts: 7556

count placeholder0

How To Support Fire Victims
A coalition of local organizations including The Farmers Guild, Community Alliance with Family Farmers, North Bay Organizing Project, Daily Acts, the School Box Project, Arlene Francis Center, Sebastopol Grange, Sierra Club Redwood Chapter and Conservation Action are holding a fundraising benefit tonight at the Sebastopol Grange. I plan to be there.
Those who can't make it can donate via this link.
Funds will be provided to victims, including to local family farms, farmworkers and those suffering losses not covered by insurance or served by traditional relief services as well as to help Sonoma County better prepare for the future.
The North Bay Fire Relief Fund is currently held under the CAFF 501c3 and all donations are tax-deductible.
Thu, Oct 12, 2017 - 07:32pm

#54

Status Bronze Member (Offline)

Joined: Nov 15 2009

Posts: 66

count placeholder0

Grim outlook
This makes me wonder what things will be like after the oil age. No large scale co-ordinated fire fighting. No large scale co-ordinated search and rescue. Limited ability to support survivors. Limited ability to rebuild. The recent run of natural disasters really brings the message home.
NOT ALL GROWTH IS GOOD
"The wildfire season has grown from five months, on average, in the 1970s to seven months today, and the annual number of large wildfires has increased by more than 75 percent over the same time period"
http://www.ucsusa.org/global_warming/regional_information/ca-and-western-states.html#.Wd_MJLjAGed
INTENSE WEATHER FORMULAS
"The long-term drought is over, but there's still the legacy of that drought in terms of stressed forests. And on top of that we had a wet winter, which meant that the grasses and brush grew like crazy this spring,"
Then, the state experienced its hottest summer on record, with a record heat wave in late August and September that dried vegetation to a crisp. "California summers are always warm and dry, but this one had a particularly warming and drying effect," Swain said. "And we know there's a long-term trend toward warmer and hotter summers."
Daniel Swain, a climate scientist at UCLA.
Thu, Oct 12, 2017 - 10:34pm

#56

Status Platinum Member (Offline)

Joined: Apr 13 2011

Posts: 2764

count placeholder0

Feeling insecure
The recent hurricanes and wildfires striking US areas are leaving me feeling pretty insecure about the future. Am I safe where I live?
I can prepare for one or two type of emergencies but not for all types. Loss of a job/income? Health deterioration? Crime wave? Earthquakes? Nuclear war? EMP/grid down apocalypse? Totalitarian state?
At least I can regard the Zombie risk as pretty low.
…. Can't I?
Thu, Oct 12, 2017 - 10:54pm

#57

Status Silver Member (Offline)

Joined: Feb 06 2011

Posts: 114

count placeholder0

Zombies
Actually, zombies should be high on everyone's list. Just think about it for a second. What will people be like without their SSRI's, (psych meds), normal daily meds, alcohol, pot, drugs, coffee, social media fix and not to mention thirst and hunger?
Disease, dehydration, withdrawal, yep people won't be thinking straight and it's the Zombie Apocalypse!
Get your cardio exercise in so you can out run them
Thu, Oct 12, 2017 - 11:18pm

#58

Status Platinum Member (Offline)

Joined: Apr 13 2011

Posts: 2764

count placeholder0

Oh Dear Granny– I will start to restudy the manual
Let's start with a basic assumption: There is No Place that is perfectly safe. You cannot prepare physically for every possible disaster.
Knowing that, you are left with mental preparedness and resilience. You have learned valuable skills, you have a personal awareness of your situation and environment. You will know if/when the place where you are at is no longer a place where you can thrive. You can plan. You can adapt.
The zombies are those that are not prepared, have no skills, have no clue, and cannot adapt.
I know of many things that might kill me. I live under an airport landing path and a plane might fall on me. That is a risk that I feel is low enough that I can live with it. I live in an earthquake zone, so I have braced my house to survive a local 7.0. Will one be worse that that eventually? Well, yes. What are the odds? Perhaps once in a hundred years. Can I live with those odds? For me the answer is yes.
Just for yourself, list the ten things that you are most worried about. Then rank them by severity and likely-hood. Take the top five and determine if you want to mitigate your risks.
If you live on a hill, flooding might happen but it is extremely unlikely that it will ruin your life, so you might not want to do anything about that. Wind damage can happen, but where you live and the relative elevation can mitigate a lot of that. Having a metal roof and stucco exterior walls in a fire zone greatly reduces your risk of losing your house. Having some food and water on hand or nearby mitigates a large number of possible issues.
Remember that you have relationships that will also provide resilience in the face of adversity. Some of those are here at this site.
Fri, Oct 13, 2017 - 01:03pm

#60

Status Platinum Member (Offline)

Joined: Jun 07 2007

Posts: 5820

count placeholder0

Eyeballing the losses
Here's a quick attempt to line up a crude fire outline with a Zillow map for the northern parts of Santa Rosa as a means of eyeballing the costs of the fire.
First, here's the fire outline with some colored circles to help us orient to the next maps:
I'm not sure if the fire has spread any beyond this, as the map is 2 days old, but I don't think it's headed any further south into the populated areas.
Next here's a wide-view Zillow map showing all the homes for sale with my crude, hand-drawn fire boundary on it. Each dot is a home for sale. The green line is Rte 101, the purple circle is a lake, and the green circle to the south is Rte 116.
Zooming in a bit, this next image allows us to eyeball the prices of the homes for sale in the affected area. The second purple circle to the south is the Rte 12/101 intersection.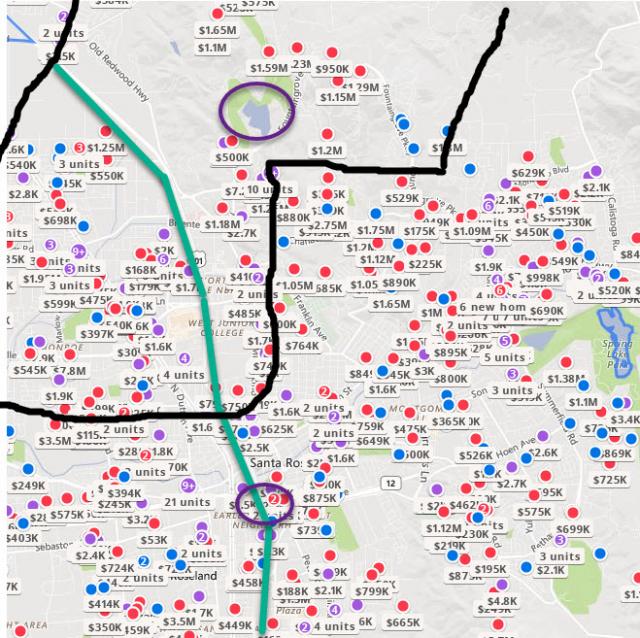 None of this was very exact. Just trying to get a sense of things.
Those were some pricey homes, which isn't a surprise.