Masks Don't Work?!!
Hey Chris,
I've been following your channel since February and I must say that you've been more on top of this virus than our own health officials and media.
I am a firm believer that masks DO work, yet I find myself arguing with people who oppose this belief on social media, most of whom cannot cite one study, most simply fire back with 'merica or the word "freedom".
But yesterday was different…
A belligerent lady on one of my friends posts was defending the notion that masks do not work, throwing the F word around (not freedom lol) and sounding super ignorant. I thought to myself, "This is going to be easy".
Instead of posting studies, case studies, ect, I simply asked her to cite hers.
She came back with some pretty creditable science (although it looks that way on the surface).
Check this out and tell me what you think:
https://www.rcreader.com/commentary/masks-dont-work-covid-a-review-of-science-relevant-to-covide-19-social-policy
This website sites multiple medical studies…
Others she posted:
https://www.ncbi.nlm.nih.gov/pmc/articles/PMC4480558/?fbclid=IwAR2foBxOavyUTAHR1L0iMyAgAme3dm3IOCBLNBCD3db5xTyL47UzR8-jFKE
https://www.nejm.org/doi/full/10.1056/NEJMp2006372?fbclid=IwAR1kojF26OarTS8al6Jkuy1J5GctxwVZkCdbSVa5djNUjeOMYGm9HyeHKqQ
I am not medically trained nor do I have a degree in the medical field, I have a bachelors in Computer Science and value logic over everything, so the logical next step would be to consult with someone who would give me a fair answer.
The anti maskers are getting smarter, I need some more ammo to fight the good fight, Chris!
Thanks and hope to hear from you soon.
Jason
Fri, Jul 10, 2020 - 10:32am

#3

Status Bronze Member (Offline)

Joined: Nov 27 2017

Posts: 175

count placeholder1

Masks Don't Work?!!
Reply to Synbeatz,
For N95 respirators, if you don't design a study beforehand, how can you control for variables:
1. Fit testing
2. Doffing and donning procedures
3. Respirator storage or disposal
4. Change rooms/air locks
5. Particulate and aerosol generating activities
6. Per infection control standards patient rooms should be under negative air
7. Protocol monitoring and feedback
8. Certification of respirators
Fri, Jul 10, 2020 - 12:24pm

#5

Status Bronze Member (Offline)

Joined: Nov 27 2017

Posts: 175

count placeholder1

Masks Don't Work?!! – probabilities
This editorial by Taleb was posted by another community member. (Can't find the thread via search function, so can't acknowledge…sorry.)
But here it is, may be helpful. Among other things, it speaks to a misunderstanding of compounding effects when everyone wears them, even though they don't protect 100%.
https://nassimtaleb.org/2020/06/masks-masquerade/
Thanks All! appreciate it!
Here's a list of some of these studies, which deploy a wide range of methodologies across a variety of settings:
IMO, if you use a proper mask correctly It probably works.  Trouble is many are using them as fashion accessories.  The masks live in their cars, which at the moment gets hot which is good but come fall the disposable mask that gets reused for two week or the cloth mask that aunt Susie made are going to be another surface covered with germs.
Washing your hands, not touching your face, and protecting eyes, nose, mouth from contamination are good infection control measures for any outbreak, but they have limits of effectiveness. Mainly they help reduce direct contact which lowers your "initial load" meaning how much of the bad stuff you get at once. Like food poisoning, if you get a smaller dose you'll still be ill, but recover faster.  That's the purpose.
I wear masks to help prevent direct contamination into nose and mouth by large particles like mucous when in close contact. These do not stop infection. SARSCov2 meets AMRID's definition of airborne:  Travels over 2 meters/78.8" (Hunan bus cluster >14.5ft), stays in the air over 10 minutes (shown at 30min+), particles size can be small (aerosolized by flushing toilet), found in air ducts/ sewer systems (HKG apt. building). As it is airborne, no amount of distance is a "safe" zone.
Face masks do NOT protect against infection per CDC study  – J. Rappoport
The reference is: "Nonpharmaceutical Measures for Pandemic Influenza in Nonhealthcare Settings—Personal Protective and Environmental Measures." Published in: "Emerging Infectious Diseases, Vol.26, No. 5, May 2020." (That journal is published by the CDC.)

I quote from the abstract: "Here, we review the evidence base on the effectiveness of nonpharmaceutical personal protective measures and environmental hygiene measures in non-healthcare settings and discuss their potential inclusion in pandemic plans. Although mechanistic studies [*] support the potential effect of hand hygiene or face masks, evidence from 14 randomized controlled trials of these measures did not support a substantial effect on transmission of laboratory-confirmed influenza. We similarly found limited evidence on the effectiveness of improved hygiene and environmental cleaning."

Here are quotes from pages 970-972 of the review: "In our systematic review, we identified 10 RCTs [randomized controlled trials] that reported estimates of the effectiveness of face masks in reducing laboratory-confirmed influenza virus infections in the community from literature published during 1946–July 27, 2018. In pooled analysis, we found no significant reduction in influenza transmission with the use of face masks…"

"Disposable medical masks (also known as surgical masks) are loose-fitting devices that were designed to be worn by medical personnel to protect accidental contamination of patient wounds, and to protect the wearer against splashes or sprays of bodily fluids… There is limited evidence for their effectiveness in preventing influenza virus transmission either when worn by the infected person for source control or when worn by uninfected persons to reduce exposure. Our systematic review found no significant effect of face masks on transmission of laboratory-confirmed influenza."
https://blog.nomorefakenews.com/2020/07/20/face-masks-dont-work-study-published-by-your-very-own-cdc/?utm_source=whatfinge
Newly published data about the virus: Do you know who has reached herd immunity of >50% locals with antibodies? Slum dwellers in Mumbai. Millions of people in close contact, poor food and hygiene w open sewers are immunologically in a better place than all the over zealous social distancees. Since little or no running water, no vigilant "sing Old McDonald " ridiculously while hand washing. Mask, if they have them, are thin paper or cotton.  Not sure in this population if they were dosed with HCQ as many have been in India. Be interesting to see. If they were, then the science is settled.
There's a fairly strong case that can be made against mask-wearing: https://www.covid19refusers.com/heres-the-science-that-shows-face-mask-mandates-are-political-and-not-medical/ – But of course there's an enormous difference between wearing them in appropriate situations vs. mandates to wear them everywhere outside at all times, and wearing one in the supermarket vs. wearing one 8h a day 6 times a week at work. To say there are no health consequences to extended mask wearing is absurd, a product of unawareness (because YOU don't have to wear it 8h a day) or slave mentality.
But more importantly, realize that, while to you and decent people around the world, wearing a face mask is about stopping the spread of the virus (based on the belief in the already-officially-retracted claim of extensive asymptomatic spread, whether true or not), but to a minority of criminals, having us wear face masks (muzzles) is about submission, silencing, domination, fear, control, enslavement agendas… while they censor us to prevent the truth about effective cures coming out.
The situation is actually much like this: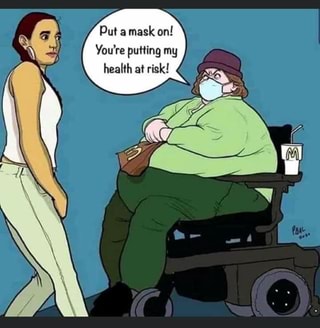 Viewing 10 posts - 1 through 10 (of 10 total)