Guyenot: Who are the Neocons?
The Untold Story of Christian Zionism's rise to power in the United States (MPN)
"One year after his ministry appeared to be on a better financial footing, Falwell received an invitation to visit the state of Israel and was personally invited on the all-expenses-paid trip by Menachem Begin, then the prime minister of Israel and leader of the Likud Party. The trip would mark the beginning of a long friendship and close relationship between Falwell and Begin and, more broadly, a relationship between American evangelical leaders and Israel's Likud Party. As Israeli historian Gershom Gorenberg notes in his book The End of Days: Fundamentalism and the Struggle for the Temple Mount, the Begin administration "was the first to tap evangelical enthusiasm for Israel and turn it into political and economic support."
Soon after returning from Israel, Falwell's finances again came under federal scrutiny after a federal investigation found that Falwell had transferred the health insurance policies of his employees to an unlicensed shell company with just $128 in assets and hundreds of thousands in dollars in unpaid claims. Just as Falwell's financial troubles began to mount yet again, he received a generous gift from none other than Begin in the form of a private Learjet valued at $4 million. Shortly thereafter, Falwell went on to found the Moral Majority organization, "after consultations with theologians and political strategists."
The Moral Majority is widely credited with turning the Christian evangelical right into a major political force in the United States, promoting extremely pro-Israel policies, increased defense spending, a Reaganite approach to the challenges of the Cold War, as well as conservative domestic policies. Falwell frequently utilized his gift from Begin in traveling and promoting the new organization, as well as himself as a major public figure.
The Moral Majority marks a clear turning point in the Israel-U.S. evangelical relationship, as it made fervent support for Israel an area of major importance to evangelical voters and also led many evangelical voters to pay closer attention to events going on in the Middle East. Yet, given Falwell's strong promotion of Christian Zionism, many evangelicals who became increasingly politically active following the organization's founding not only supported Israel's policies of the era but also supported many of the future ambitions of Begin and the Likud Party. This support was solidified by the beginning of the Israeli Ministry of Tourism's ongoing practice of offering U.S. evangelical leaders free "familiarization" tours to Israel in the early 1980s.
Begin's vision of "Greater Israel" — the complete annexation of Palestine as well as large parts of Lebanon, Syria, Iraq and Egypt by Israel — was also shared and promoted by Falwell. In 1983, Falwell stated that "Begin will quickly tell you, 'We don't have all the land yet we're going to have,'" and further predicted that Israel would never relinquish control over the occupied West Bank because Begin was determined to keep the land "which has been delivered to them (the Israelis).""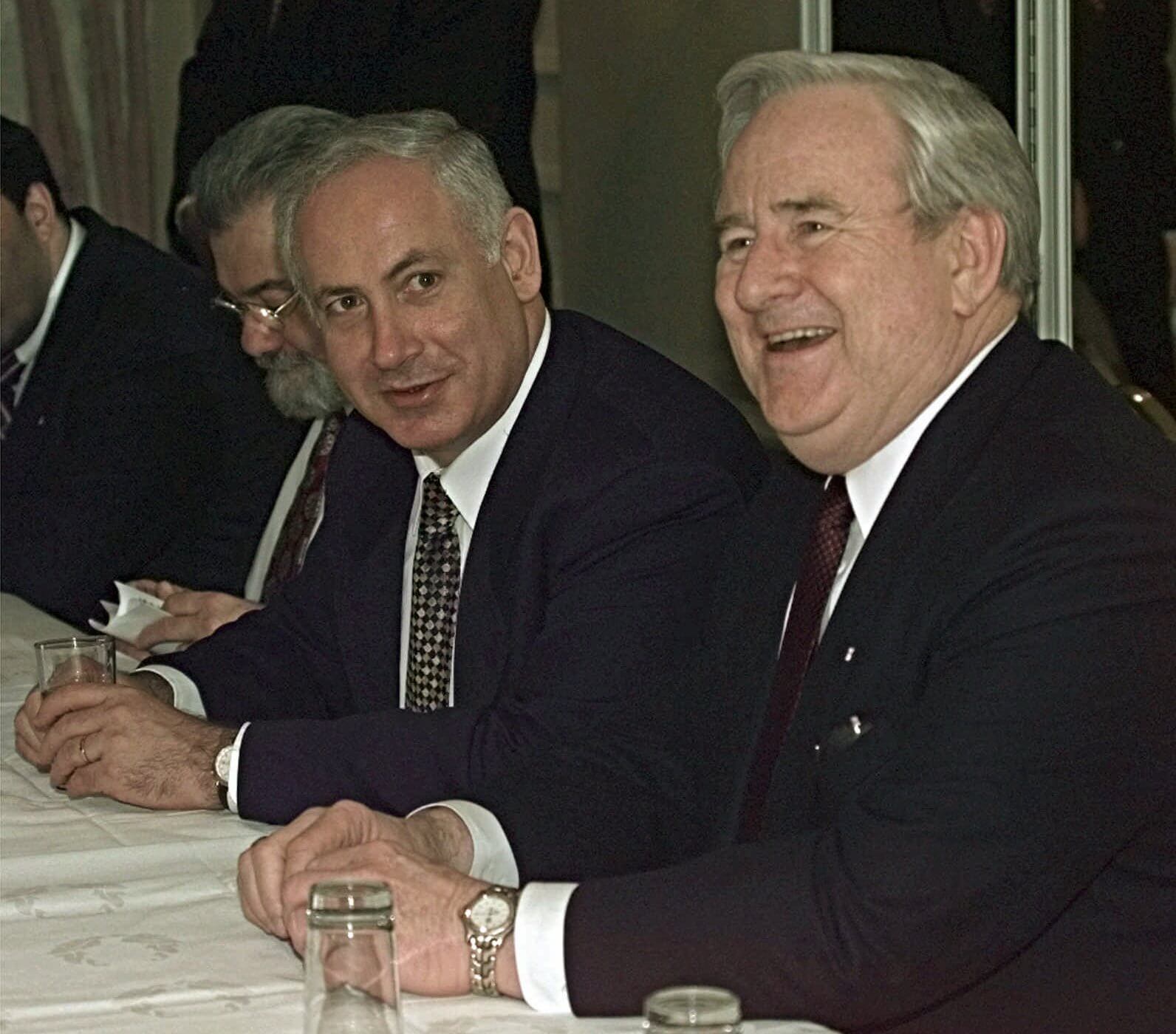 Netanyahu, left, meets Falwell at a hotel in Washington, Jan. 19, 1998. Greg Gibson | AP
Trump is completely controlled by criminal Zionists (PressTV)
""Trump has been largely indifferent to his heinous act (Khashoggi) citing that billions of dollars in arms sales to the Saudis means something to him. This relationship between the Saudi and US governments is one of many contradictions. Like hinting that Saudi Arabia was behind 9/11 yet conducting business as usual," Peretto said.
"Evidence has proven that the 9/11 attacks were planned, carried out, and covered up by neocon factions in the US government with heavy Israeli impetus.  Yet the official narrative still implicates 19 fictional hijackers of which 15 were said to be Saudi nationals," he added.
"In recent years, hint, after suggestion, after innuendo, has been put forth by US politicians and controlled media that the Saudi government played a major role in the attacks," he stated.
"In the aftermath of 9/11, the US and its allies have destroyed Afghanistan, Iraq, and Libya, while they are teaming with the Saudis to destroy Syria and Yemen. While Iran has been attacked economically and through rhetoric and further innuendo," he noted.
"This US foreign policy makes no sense objectively or strategically if we use the premise that these operations are being carried out in the name of US security and national interests," he said.
"However, these operations make perfect sense for Israeli foreign policy. Since Israel has Trump, the Congress, and the official press wrapped around its finger, Israel simply dictates American foreign policy. 9/11 was used to cement this dominant/submissive relationship in place," the analyst said.
"The ruse is that Saudi Arabia does not officially recognize Israel, yet in reality they are staunch allies. Therefore the US will continue to conduct normal relations with the Saudis despite this latest move by the State Department.""