Gulf Oil Spill Reaches Land
Thu, Jun 10, 2010 - 03:11am

#211

count placeholder

Re: Gulf Oil Spill Reaches Land
I've grown gardens for 20 years, swam with dolphins twice and am very confident that the only species that has a right to liberty and the pursuit of happiness is us humans.
"Numinous" Are you kidding? Is that what happens when you smoke grass and lay with dogs in a flower filled valley watching your co-inhabitants of this sacred earth flutter over your head?
I think she knows the oil-spill sucks…but accidents do happen. Crying over spilled milk etc.
Thu, Jun 10, 2010 - 05:51am

#212

count placeholder

Re: Gulf Oil Spill Reaches Land
[Ed. Note: Comment removed. Religious debate is not allowed on the forums.]
Thu, Jun 10, 2010 - 10:54am

#213

count placeholder

Re: Gulf Oil Spill Reaches Land
[quote=V]
First she says capitalism is perfect then goes on to say no system is perfect.
[/quote]
I don't think that is what she is saying. I knew this article was going to be controversial but I thought it was worth the discussion of another viewpoint. Thomas Franks original article was the following.
http://online.wsj.com/article/SB10001424052748704875604575280863037577600.html
Laissez-Faire Meets the Oil Spill

Sarah Palin is trying to outflank Obama to the left.

Among the chatterati these days the favorite topic of conjecture is what the catastrophic Gulf oil spill means for President Obama. Pundits argue hotly over the correct historical comparison: Will the spill prove to be his Hurricane Katrina? His Three Mile Island? Or maybe his Iranian Hostage Crisis?

Meanwhile, a strange reticence has taken hold of Mr. Obama's ideological opponents. Where are the livid patriots who enthralled us for months with their fevered dreams of a socialist-minded, power-hungry federal government?

Only a short while ago, of course, the populist right was riding high, sweeping the primaries and insisting that the operations of the market must not be interfered with; that government intervention of even the slightest kind dangerously diminishes human freedom.

Just last week, for example, the Washington Post featured a 2,500-word essay by Arthur C. Brooks, head of the American Enterprise Institute, calling for a "New Culture War" for laissez-faire capitalism—a grand moral debate over the right relationship of business and government that Mr. Brooks felt his side was sure to win.

Well, the Gulf spill has given Mr. Brooks and his movement the perfect opportunity to stage that debate. On one side, we've got the liberty-minded oil companies, the gentle giants that, just two months ago, the right was so keen to liberate from federal interference and to unleash on the nation's coastline.

And on the side of government, we've got the Obama administration, which has backtracked on its new offshore-drilling policy and even announced plans to beef up drilling regulations. True, for most Americans that's not a lot of statism to deplore, but the tea party movement is accustomed to regard even the most insignificant regulatory initiative as a front in the eternal war between freedom and socialism.

Back in April, for example, Rep. Ron Paul (R., Texas) greeted the president's drilling policy with the suggestion that the Environmental Protection Agency be abolished and "the energy market" freed from bureaucrats so that it might answer to "the demands of the people and the decisions of private investors."

But what say the tea partiers today? Who will step forward now and demand that the "energy market" be rescued from regulatory bondage?

Other than Rand Paul, who will honor the snakeflag slogan and demand that the government stop treading on BP? Who will unmask the Gulf situation as just another fake crisis manufactured by power-hungry liberals? Who will lament the persecution of productive business executives by the looters of Washington, D.C., posturing so arrogantly in their hearing rooms but trembling in private as they contemplate the tsunami of liberty heading their way this November?

Most importantly, who will find an inventive way to blame government for the disaster? Not blame it for reacting too slowly after the spill—that is merely a statist reflex in disguise—but for somehow causing the spill with its meddlesome concerns for safety and the environment?

The answer, as far as I have been able to determine, is almost nobody. True, newspaper columnist Charles Krauthammer attempted last week to divert a little blame toward "environmental chic," arguing that one reason the oil companies were even drilling in the Gulf is that environmentalism has blocked their access to other spots, such as the Arctic National Wildlife Refuge.

But for the most part, what we hear from the right these days is essentially the same as what we hear from the liberals: complaints about corporate misbehavior, the need for more federal action, and demands for a shakeup of the regulatory agencies involved so that they might regulate better in the future.

In fact, one of the people leading the criticism of the Minerals Management Service—the regulator in question—has been conservative paladin Darrell Issa (R. Calif.), who correctly accuses MMS of having "too cozy of a relationship" with industry. Former GOP vice presidential candidate Sarah Palin, for her part, has actually used the spill to outflank Mr. Obama on the left, suggesting that someone should find out whether his administration's vacillating response can be attributed to the sizable campaign contributions he has received from BP employees over the years.

These are refreshing arguments to hear from the right. After hurricane Katrina wrecked New Orleans, you will recall, conservative pundit Amity Shlaes famously described the Bush administration's vacillating response as the traditional observance of the "Federalist Pause."

And Galt only knows how many times "coziness" of the MMS variety has been celebrated as part of the struggle for free markets and free people. For a reminder, just pull out that famous 2003 photograph of James Gilleran, then director of the Office of Thrift Supervision, a bank regulator, "cutting red tape" along with a smiling group of bank-industry lobbyists.

But things are different today. The catastrophe is too great to brush it off with the usual laissez-faire scholasticism. So the great debate must wait. We are all liberals for the duration.

Write to [email protected]
I think Wendy was trying to do exactly what Thomas was asking when he said "Who will step forward now and demand that the "energy market" be rescued from regulatory bondage?". I think Wendy was making an Anarcho-capitalist argument which is generally too radical for the mainstream press. Like I said I am largely sympathetic to this arguement but it is a bit utopian in nature and I am still not convinced that it can fully handle commons problems like the environment.
One thing you must keep in mind is that you can not start with the current mess and then just say the Anarcho-capitalism would allow BP to get away with it. What you must do is immagine, if that was the system we lived under would the BP spill have even happened and if it did, would the impact have been as bad. It is really not possible to know but it makes for an interesting thought exercise.
Thu, Jun 10, 2010 - 11:06am

#214

count placeholder

Re: Gulf Oil Spill Reaches Land
Sat, Jun 12, 2010 - 02:12pm

#215

count placeholder

Paul Stamets very recently wrote…
Mon, Jun 14, 2010 - 03:47am

#216

count placeholder

Re: Gulf Oil Spill Reaches Land
Anyone seen this post on TOD? It paints an extremely frightening picture above and beyond the scope of this already horrible disaster. The poster seems to know what he's talking about too…
[quote=dougr]
First of all…set aside all your thoughts of plugging the well and stopping it from blowing out oil using any method from the top down. Plugs, big valves to just shut it off, pinching the pipe closed, installing a new bop or lmrp, shooting any epoxy in it, top kills with mud etc etc etc….forget that, it won't be happening..it's done and over. In fact actually opening up the well at the subsea source and allowing it to gush more is not only exactly what has happened, it was probably necessary, or so they think anyway.
So you have to ask WHY? Why make it worse?…there really can only be one answer and that answer does not bode well for all of us. It's really an inescapable conclusion at this point, unless you want to believe that every Oil and Gas professional involved suddenly just forgot everything they know or woke up one morning and drank a few big cups of stupid and got assigned to directing the response to this catastrophe. Nothing makes sense unless you take this into account, but after you do…you will see the "sense" behind what has happened and what is happening. That conclusion is this:
The well bore structure is compromised "Down hole". [/quote]
For the rest of the post explaining this conclusion go here – http://www.theoildrum.com/node/6593#comment-648967
Mon, Jun 14, 2010 - 06:24pm

#217

count placeholder

I am just saying ….
Tue, Jun 15, 2010 - 07:37pm

#218

count placeholder

Re: Gulf Oil Spill Reaches Land
BP Deepwater Horizon engineer called rig a 'nightmare,' days before Gulf oil spill ignited
BY Sean Alfano
DAILY NEWS STAFF WRITER
Tuesday, June 15th 2010, 9:21 AM
Herbert/AP
The Deepwater Horizon rig one day after it exploded April 21, 2010.
The Deepwater Horizon rig was a "nightmare" before it turned into a catastrophe.
And almost no one seemed to care, according to e-mails of BP engineers and officials released to Congress Monday.
A wave of new details about the doomed rig have emerged, including how its registration as a boat in a tiny South Pacific country helped it skirt tougher U.S. safety laws.
The timing of these details comes as BP executives, including embattled CEO Tony Hayward, hit Washington this week to meet with President Obama and answer questions from a fired up Congress.
"Time after time, it appears that BP made decisions that increased the risk of a blowout to save the company time or expense," Reps. Henry Waxman, (D-Calif.), and Bart Stupak, (D-Mich.) wrote in a letter to Hayward. "If this is what happened, BP's carelessness and complacency have inflicted a heavy toll on the Gulf, its inhabitants, and the workers on the rig."
The congressmen pinpoint five questionable decisions BP made, particularly on the day before the April 20 explosion that triggered the worst oil spill in U.S. history.
The oil giant chose a cheaper, faster option of securing the rig, a choice BP engineer Brian Morel lamented in an April 14 e-mail to a colleague.
"We could be running it in 2-3 days, so need a relative quick response. Sorry for the late notice, this has been nightmare well which has everyone all over the place," he wrote.
Waxman and Stupak claim BP rejected suggestions from a subcontractor to further bolster the rig's stability.
A BP official e-mailed a co-worker April 16, saying "who cares, it's done, end of story, will probably be fine."
The rig's array of international hands and private subcontractors involved with its manufacture and production may also be partly to blame for the explosion.
The Deepwater Horizon was built in South Korea and operated by a Swiss company (Transocean) working for a British oil company (BP).
And under international law, rigs can be treated as ships, with less governmental oversight. The Deepwater Horizon was registered as a ship in the Marshall Islands, the Los Angeles Times reports.
Basing it in the tiny South Pacific nation protected the Deepwater Horizon from stricter safety laws.
The Marshall Islands licensed the rig to Transocean, which allowed an oil drilling expert more power than the rig's sea captain the day it blew up, the Times reports.
The rig's chief mechanic since 2000 said the number of employees on the rig had decreased to dangerous levels.
"I believe that safety was compromised by this," Douglas Brown told the newspaper.
A spokesman for Transocean fired back, calling complaints, "egregiously unfounded and inflammatory."
Obama plans a primetime speech Tuesday to address the growing crisis in the Gulf. He made his fourth trip to the region Monday.
With News Wire Services
?
Read more: http://www.nydailynews.com/news/national/2010/06/15/2010-06-15_bp_deepwater_horizon_engineer_called_rig_a_nightmare_days_before_gulf_oil_spill_.html#ixzz0qx63NWks
Tue, Jun 15, 2010 - 07:46pm

#219

count placeholder

Burning Oil in Gulf?
Hey Doug and DTM
Check this out. This could greatly add to AGW worries but really it is okay as the Bilderbergers are working on Global Cooling. Maybe this has something to do with that?
V
Your request is being processed…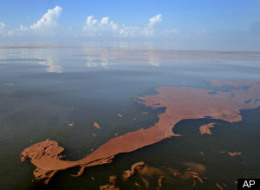 Oil from the Deepwater Horizon spill floats on the water as the sky is reflected in sheen on Barataria Bay off the coast of Louisiana Monday, June, 7, 2010. (AP Photo/Charlie Riedel)
NEW ORLEANS (Associated Press) — Now that crews are collecting more and more oil from the sea-bottom spill, the question is where to put it.
How about burning it?
Equipment collecting the oil and bringing it to the surface is believed to be nearing its daily processing capacity. A floating platform could be the solution to process most of the flow, BP said.
To burn it, the British oil giant is preparing to use a device called an EverGreen Burner, officials said. It turns a flow of oil and gas into a vapor that is pushed out its 12 nozzles and burned without creating visible smoke.
Methods for gathering and disposing of the oil collected from the seafloor gusher are becoming clearer. What's not is how much oil is eluding capture.
Scientists on a team analyzing the flow said Tuesday that the amount of crude still spewing into the Gulf of Mexico might be considerably greater than what the government and company have claimed.
Their assertions – combined with BP's rush to build a bigger cap and its apparent difficulty in immediately processing all the oil being collected – have only added to the impression that BP is still floundering in dealing with the catastrophe.
Story continues below
A cap placed on the ruptured well last week to channel much of the billowing oil to a surface ship collected about 620,000 gallons Monday and another 330,000 from midnight to noon Tuesday, BP said.
That would mean the cap is collecting better than half the escaping oil, based on the government's estimate that around 600,000 to 1.2 million gallons a day are leaking from the bottom of the sea.
A team of researchers and government officials and run by the director of the U.S. Geological Survey is studying the flow rate and hopes to present its findings in the coming days on what is already the biggest oil spill in U.S. history.
In an interview with The Associated Press, team member and Purdue University engineering professor Steve Wereley said it was a "reasonable conclusion" but not the team's final one to say that the daily flow rate is, in fact, somewhere between 798,000 gallons and 1.8 million gallons.
Whatever the amount, all that oil has to end up somewhere. The floating production and storage vessel BP plans to bring in could be part of the answer, officials said.
"It's being brought in because it can handle far more oil than this well is producing," said Wine, who did not know where the vessel would come from or when it would arrive.
The burn rig will be moved away from the main leak site so the flames and heat do not endanger other vessels, BP spokesman Max McGahan said.
Depending on which model is used and its settings, it can handle from 10,500 to 630,000 gallons of oil a day, according to promotional materials by Schlumberger Ltd., the company that makes the device and whose website touts it as producing "fallout-free and smokeless combustion."
It's unclear how many times the EverGreen burner has been used, but it has been proposed for at least one offshore rig in the North Sea to get rid of unwanted gases produced during oil processing.
Environmental documents produced as part of that project, an exploration well proposed by Total E&P of Britain, said burning the oil posed "a moderate risk to the environment" that would release sulfur dioxide, nitrous oxides, methane and other chemicals.
But Wilma Subra, a chemist with the Louisiana Environmental Action Network, said BP should avoid burning the captured oil – which she said raises new health risks – and instead bring in more processing equipment.
"This is one of those decisions that will have negative impacts," she said. "Even though it's crude dispersed in water, the burning of crude will raise some health issues."
When it sells the oil recovered from the Gulf, BP will use the revenues to create a fund to protect wildlife in the region, the company said.
Attempts to skim the oil from the surface are progressing as well. Boats fanned out across the Gulf on Tuesday, dragging boom in an attempt to corral the oil. But it's an enormous task.
In some spots, the oil is several inches thick and forms a brown taffy-like goo that sticks to everything it touches.
John Young, chairman of Louisiana's Jefferson Parish Council, said additional equipment has been ordered and more dredgers will be moving into the area soon, along with barges that will help block the passes.
"It's nice that BP has put up the money, but they need to ramp up not only the manpower but the equipment out there because we're losing the battle," Young said. "Unfortunately, we're on day 50 and it's too little too late, but I guess it's better late than never."
In the seven weeks since the oil rig explosion that set off the catastrophe, BP has had to improvise at every turn. The most recent government estimates put the total amount of oil lost at 23.7 million to 51.5 million gallons.
When asked why BP did not have containment systems on standby in case of a leak, BP spokesman Robert Wine said there was no reason to think an accident on this scale was likely.
"It's unprecedented," he said. "That's why these caps weren't there before."
President Barack Obama is scheduled to return to the Gulf Coast on Monday and Tuesday for a two-day update on the Gulf oil spill.
Tue, Jun 15, 2010 - 07:57pm

#220

count placeholder

Re: Gulf Oil Spill Reaches Land
Sorry guys but I just found this. THe previous post on oil burning did not include that it neede approval from the Feds. Well BP just got it today. To me this falls righ tin line with the Corexit fiasco. If we can't see it then it is okay. THe worst case scenario in terms of PR for BP is to have oils soaked beaches and oil soaked birds. So the solution is to make it invisible. THe way to do this is to put the equivalent of the Santa Monica freeway in operation 50 miles off shore.
Just what is it that comes after surreal anyway.
V
BP cleared to start burning oil
(UKPA) – 2 hours ago
BP has been cleared to start burning oil and gas piped up from its broken well as part of a pledge to more than triple how much crude it stops from spewing into the Gulf of Mexico.
Federal authorities gave permission for BP to use a new method that involves pumping oil from the busted wellhead to a special ship on the surface, where it will be burned off rather than collected.
The British oil giant said it hopes to trap as much as 2.2 million gallons of oil daily by the end of June as it deploys additional containment equipment, including the flaring system.
The plan, unveiled after the federal government pressed BP to work faster on containing the gusher, came as President Barack Obama paid his fourth visit to the stricken Gulf and promised residents that life would return to normal after the worst oil spill in US history, which has disrupted fishing and tourism and spoiled ecologically rich estuaries.
The president visited Mississippi and Alabama on Monday as part of a two-day stop. He sought to assure residents – and the country – that the government will "leave the Gulf Coast in better shape than it was before". He visits Florida later today ahead of a national address on the worst environmental disaster in US history, which has become a stern test of his presidency.
While the president was on the Gulf, congressional investigators released documents that showed BP made a series of money-saving shortcuts and blunders that dramatically increased the danger of a destructive spill from a well that an engineer ominously described as a "nightmare" just six days before the April blowout.
Investigators found that BP was badly behind schedule on the project and losing hundreds of thousands of pounds with each passing day, and responded by cutting corners in the well design, cementing and drilling efforts and the installation of key safety devices. The House Energy and Commerce Committee released dozens of internal documents that outline several problems on the deep-sea rig in the days and weeks before the April 20 explosion that killed 11 workers and set in motion the catastrophe.
"Time after time, it appears that BP made decisions that increased the risk of a blowout to save the company time or expense. If this is what happened, BP's carelessness and complacency have inflicted a heavy toll on the Gulf, its inhabitants, and the workers on the rig," said Democratic Representatives Henry A Waxman and Bart Stupak. Asked about the investigation, BP spokesman Mark Proegler said the company's main focus right now is on the response and stopping the flow of oil.
BP spokesman Bill Salvin said the company has contracted with actor Kevin Costner and Ocean Therapy Solutions to use 32 of their centrifuge machines designed to separate oil from water. We recognised they had potential and put them through testing, and that testing was done in shallow water and in very deep water and we were very pleased by the results," Mr Salvin said.
Meanwhile, the US government is ready to take over the handling of oil spill damage claims from BP if the British company doesn't set up an "independent entity" to do it, a presidential spokesman said. Speaking from Washington, Robert Gibbs said the oil giant's claims processing work has been unsatisfactory. He noted that Barack Obama "has the legal authority" to make the claims process independent. Mr Gibbs said "the best way to prevail upon BP is to take the claims process away from BP". He added: "The president will either legally compel them or come to an agreement with BP to get out of the claims process, give that to an independent entity."