Fish in a Barrel: Las Vegas shooter
Here's an article by Wayne Allyn Root, a conservative Las Vegas radio talk show host, with 20 questions about the Vegas shooting. I agree with him that it still stinks to high heaven. It's been almost 6 months and we still haven't heard anything. The article is long with lots of relevant links. I only read his commentary and didn't pursue any of the supporting links he provided.
In #17, he mentions the autopsy and that it took a court order to release it. Even then, the esteemed LVPD wanted $500,000 to release it. He didn't mention that Paddock's body was cremated in early December. It can't be that hard to preserve the body for future inquiries. Of course, that's not possible now.
Grover
http://www.thegatewaypundit.com/2018/03/wayne-allyn-root-vegas-massacre-expose-really-happened/

The Vegas massacre is clearly the new "JFK Murder Conspiracy" updated for the 21st century. The whole story stinks to high heaven. It's rancid. Clearly our own government, FBI, and Las Vegas Police are involved in some sort of cover up. The question is- what are they covering up?
Courtesy of Sane Progressive:
http://raconteurreport.blogspot.com/2018/03/out-with-bang.html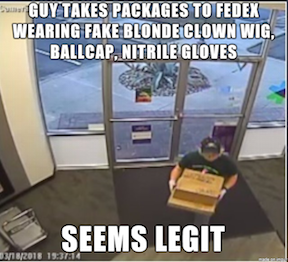 Pinned down by APD and self-detonated within minutes of authorities releasing the video of him dropping off the packages.

Yet, six months after the Vegas Shooting, we have not one single frame of video of the alleged shooter Official Patsy, or anyone else, entering, leaving or just being around the area, in the most heavily video-surveilled city in the world.

I'm sure that's just a coincidence, and doesn't indicate any official directed cover-up by the feds, who intervened in this case almost before the rounds had stopped landing on the concert.

And I have a bridge for sale, cheap.
https://truepundit.com/vegas-mole-hunted-by-rogue-fbi-brass-death-threats-made-to-true-pundit-over-mandalay-bay-investigative-series/
The rogue faction of the FBI — leftover disciples of the Andrew McCabe-school of federal law enforcement — have waged a manhunt to find FBI personnel who are leaking REAL details about the Mandalay Bay massacre to independent news media.

You might think the FBI would spend its time running down leads to pinpoint the details of the Las Vegas shooting spree that claimed the lives of 58 people and injured 500 more.

Not so. But it is imperative to understand the two FBIs at play in Las Vegas right now, One faction comprises the rank-and-file FBI who are working diligently to run down leads on Stephen Paddock and who helped him. And he did have help, The other faction at work are upper-echelon FBI who are trying to control and curate a carefully-constructed narrative: Paddock was a lone wolf, a mystery man who has stumped law enforcement. Even the Deep State's house organ, the New York Times was employed to try and stop the bleeding this week of the faulty official narrative.

"They want to plug the leak up as fast as possible," one FBI source said. "It's making a difference."

On Thursday, federal law enforcement sources reported to True Pundit's Thomas Paine death threats from rogue factions of the intelligence community. The Deep State. Angered by revelations from True Pundit's ongoing "Fear and Lying in Las Vegas" series, well-placed FBI sources warned the information in the series is endangering Paine's life…
Apparently, Paddock wasn't alone in his room at the Mandalay Bay Hotel. The police found 3 females in the room. Why did Sheriff Joe Lombardo repeatedly lie about that? What else did he lie about? These details weren't voluntarily released by the LVMPD. It took a court order after The Associated Press and other media outlets sued to get this information. Looks like the "press" is finally doing its job. Lots of new information is being released. Maybe we'll finally get some answers.
https://www.lauraloomer.us/blog/lombardo-lied-new-vegas-shooting-documents-reveal-three-women-found-in-stephen-paddock-s-room

 

In the coming days as more of the logs and witness statements are examined, more shocking information about the Las Vegas shooting will come to light. Information regarding the Las Vegas shooting that has yet to be process and released includes more than 20,000 hours of video footage, 251,099 images, and thousands of witness accounts and police phone calls.

 

It has been eight months since the Las Vegas shooting, and the world still doesn't know what happened in Vegas that night. Why did the Las Vegas shooting happen? Who are the three women who were found in Paddock's room? Was this an ISIS terrorist attack? These are only some of the many unanswered questions surrounding the mystery known as the Las Vegas shooting. However, one thing remains undisputed and continues to present itself to the public. Sheriff Lombardo intentionally misled the public about the details surrounding the Las Vegas shooting, and he continues to do so as he asks the public to grant him a second term as Clark County Sheriff on June 12, 2018.
Grover